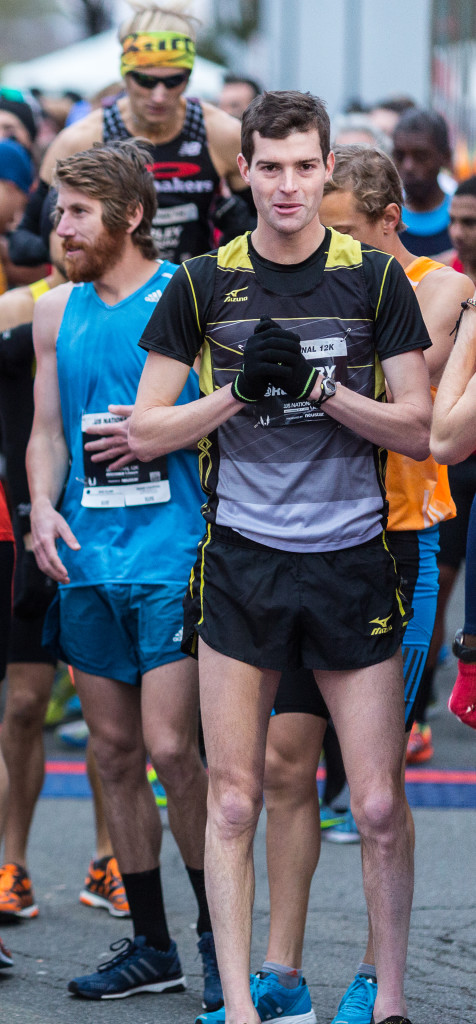 It wasn't a bad showing. He had placed fourth at the inaugural U.S. 12k championships, the culmination of the 2013 American professional road racing circuit.
For Christo Landry, who runs professionally for Mizuno, that year included three more top-five finishes in U.S. championships, including in the marathon, held just six week earlier. But this race was special for him — because the Northern Virginia native was racing on his home turf in Alexandria. "This race exceeded all of my expectations," he said.
You have to wonder, then: Imagine if Landry had known what was coming in the next year.
Imagine he knew, in April, he would return back to this place he still calls "home" for the Cherry Blossom Ten Mile Run, another national championship, and – as he would take the lead among Americans – hear spectators say things like: "Wait a minute, was that? Go Christo!"
Yes it was. The tall, lanky kid who led the Thomas Jefferson High School for Science and Technology to a state cross country title was performing on the big stage.
The race organizers planned to have separate tapes at the finish line for the American and overall winners, unless there was a sprint finish.  In the last mile, wanting to capture his first national title in style, Landry let an East African he'd been running stride-for-stride with zoom ahead of him so the tape would be there.
At the next national championship, a month after Cherry Blossom, Landry tied the American record for 25k. After the race he drove back to Ann Arbor, Mich., so giddy, so pumped beyond belief, that he belted out whatever classic rock tune came over the radio. And in the morning, after only a few hours of sleep, he reported for drug testing, confirming that USATF rules do actually allow for professional runners to experience a very rare night out on the town.
Then it would be Independence Day, and Landry would be in Atlanta for the Peachtree Road Race, host of the national 10k championships.
Coasting into the lead, he'd think to himself: 'Are we going that fast? Because I'm feeling good.'
Imagine, in Alexandria that day, if Landry had known that the slow-but-steady success of his first three years on the national road racing scene was fast approaching a tipping point.
Three national titles in one year.
***
About a year later, the day before the second running of the 12k championships, we had lunch at the Railstop Gastropub, at the Crowne Plaza hotel in Old Town Alexandria. I was concerned, for Landry, that the menu only seemed to offer items like burgers covered with fried eggs. "This is fine," he assured me.
At 6 feet 1 inch, Landry is on the taller side among professional runners. I've seen many lean, hungry-looking runners sport dark shadows under their eyes during periods of hard training, but Landry's look more like tattoos. His training log, as it happens, is full of 130- and 150-mile weeks and marathon-length-and-longer long runs.
As for his personality, Landry — and I agree with his coaches and friends on this point — is the following in roughly equal parts: pure jokester; the most serious person you'll ever meet; and hyper-logical all the way through.
He was drawn to running "because I was good at it," he said. "That's what started me at it. I'm a very competitive person, and you can't be competitive in every aspect of life — that's just not how the world works. So you pick and choose your spots, and running was the sport I chose."
His 2014 breakthrough, he said, was no mystery, either.
In high school and at the College of William and Mary, Landry was injured about as often as he was healthy. Rather than build fitness year by year, he would get injured, cross train like an animal, complete a crash course in training, repeat.
This didn't stop Landry, now 28, from leading TJ to a state title. It didn't stop him from becoming an All-American in college, either.
But it always left him wondering … What if I could just stay healthy?
For all of the high points of 2014, though, Landry, when we met, was also bouncing back both physically and psychologically from his last race, the Chicago Marathon, where he was 13th in a disappointing personal best of 2:14:30.
Making matters brighter, Landry's second USARC Running Circuit title was officially in the bag. Regardless of how he did in the 12k – regardless of if he even finished – he would receive a $25,000 check for winning the series.
His goal for the 12k, he said, was "to go out there, compete, see what happens – anything I do is icing on cake."
 ***
Landry comes from what he describes as an "athletic family." His mother ran track. His dad played basketball and volleyball.  His brother, to give you an idea of the endurance genes that run in this family, ran about 9:15 for two miles even though he could only train every other day.
After setting a kindergarten record for the mile in nine-plus minutes, Landry first went out for cross country in middle school at Falls Church City Public Schools.
But he liked soccer — a spring sport in Virginia. And while that at least opened up the door for high school cross country, the freshman-year Landry signed up for golf instead. When winter came around, he went out for indoor track, only to get in shape for soccer.
After flunking out of 500 meters, he turned to longer distances, breaking five minutes on a slow track.
"I don't think I ever had a kid do that; it's pretty rare," said Matt Ryan, who coached cross country and track at Thomas Jefferson from 1997 to 2009.
There was no big speech needed to convince Landry to skip soccer and set aside his golf clubs. Landry got the message on his own.
"By the end of my freshman year outdoors," he said, "I was running 4:30 for the mile and figured, 'Yeah, I should stick with this.'"
It was the early 2000s, and the Northern Virginia high school scene, with runners like Alan Webb, who would become the fastest miler in American history, was experiencing something of a renaissance.
This also was true, in a sense, of TJ, a state magnet school that grooms its students for careers in science, math, and technology.
 The 2002 team, which would win a state title, included a junior-year Landry; Keith Bechtol, who was a year older than Landry and would also go to William and Mary; Chris Mocko, who would run at Stanford; and Brian Hanak, who would run at Yale.
"My comment usually about the '02 team," Ryan said, "is that my daughter could have coached them to a state championship."
Landry considered Bechtol and others in the class above him as his mentors, he said.
"Keith," Ryan said, "was very much the taskmaster; Christo was more of an extrovert."
"There was an understanding," said Bechtol, "that to win a state championship as a team, we needed team depth, and all the training and workouts were geared towards that effort."
To that end, the team not only trained together – "we started doing everything together," Mocko said. "We went to summer camp together, trained together in the off-season … shared pre-race meals together — we were around each other all the time."
 School. Practice. Dinner and homework. Sleep. "That was pretty much what I did," Landry said.
Ryan added: "[Landry] may have been slightly underdeveloped physically, but mentally I was probably having conversations with him in the spring of his senior year" – while he was establishing himself as one of the top prep runners in the country – "that a college coach would be happy to have with a senior at that level."
Bechtol, by the way, is now an astrophysicist searching for the highest energy particles in the universe.
He's also run 2:16 in the marathon.
***
Landry struggled in the transition to college running.  "I was getting my butt kicked," he said.
In his freshman cross country season, while most of his William and Mary teammates raced at NCAA Pre-Nationals, Landry raced a home invitational meet.
He finished second, earning a spot on the conference team. There, Landry, again, finished second, earning himself a spot on the team for regionals.
At regionals, Landry finished seventh and qualified for the NCAA nationals. At nationals, Landry made All-American.
Fast forward to his senior season, when Landry was able to improve upon that result.
But much of the time in between was frustrating, he said. "I basically found a way to get hurt every winter."
In his fifth year, Landry earned a master's degree in accounting. In his sixth year he completed a year towards a Master's in Business Administration. That winter, he of course got injured.
"I said, 'This can't be it, there's more left. I know I am better than this."
Then-Tribe coach Alex Gibby seemed to know it, too
"I wouldn't call it a do-over," he said, of the opportunity to coach Landry after college, "but it was nice to get some extended time with him to correct some of the things that weren't identified early."
Landry planned to stay in Williamsburg.  But when Gibby took a job at the University of Michigan, Landry followed him there.
 "That turned out to be a lifesaver for me," Landry said. "Moving up there, setting new rhythms – it's where the [weights staff] figured out what had been ailing my knees for the past few years: my hips were out of alignment."
"Knock on wood," he added, "but it's been four years now and you can see the results. Every year you are building on the past instead of starting from scratch every year."
 ***
In the 2014 12k, Landry finished eighth in a more competitive field. For winning the series, Landry was not only given a check, but a big trophy-slash-road sign that he held up proudly and more than once described as sweeeet.
A month later, Landry was named the USATF men's long distance runner of the year. That same month, American runner Mo Trafeh received a four-year doping sanction and had to forfeit all of his results after January 1, 2012.
Landry, we would learn, did not win his first national title in Washington, D.C., or tie an American record for 25k. Because of Trafeh's disqualifications, Landry won his first national title in 2012, at 15k in Jacksonville, Fla., and the American record is now all his.
On Dec. 19, Landry would tweet: "Glad that the cheat is being removed from the books. There is no place [for] drugs in our sport. Next step: stopping EPO users in routine testing."
Landry's drug, it seems, is not getting injured. The question is: How far can he go if he stays on it?
When Gibby took a new job in Charlotte, N.C., Landry upped and moved again, setting them for up an 11th year that's all part of a long drive towards making an Olympic team in either the marathon or 10k.
Landry's sweet spot — his results will tell you — is somewhere in the middle of those distances.
Gibby, however, believes — though "it's probably two or three steps ahead of him" — that Landry will have his greatest success in the marathon.
 "I think for young distance runners," he added, talking about Landry's focus and drive, "if they don't understand it's a long-term commitment, I think they're missing the point."
 This article originally appeared in the Spring 2015 issue of RunWashington.
0
Comments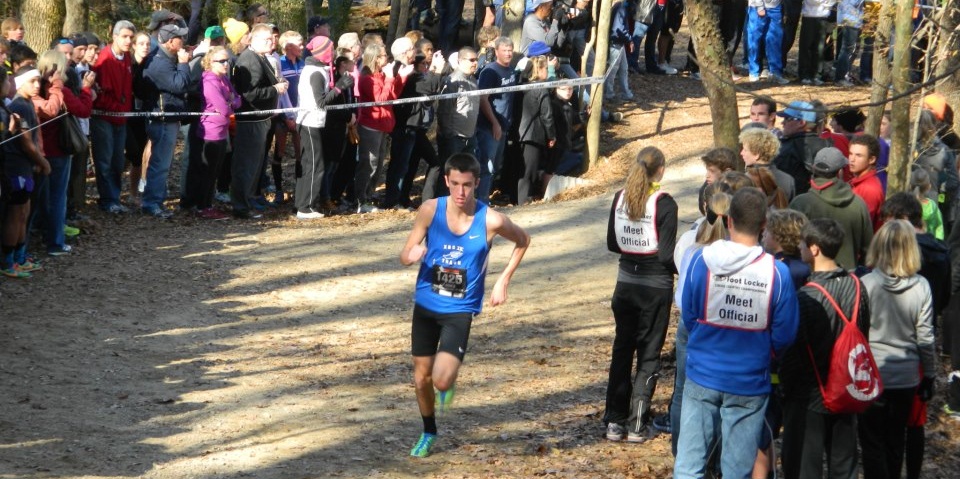 It's been a banner year for northern Virginia cross country, but it's not over yet.
[button-red url="http://runhigh.com/2012RESULTS/R111012AA.html" target="_self" position="left"] Virginia State Meet Results [/button-red]Four local runners are headed to the Footlocker Cross Country Championships this Saturday in San Diego to take on the nation's best high school runners. It's the largest contingent the area has sent to the race since 1996 and two of the runners have legitimate national title hopes.
No Virginian has won the Footlocker meet since Langley High School's Erin Keough in 1985 and 1986.
Chantilly's Sean McGorty and Lake Braddock's Sophie Chase, both winners of the Footlocker south regional Nov. 24 in Charlotte, also lead their teams to state titles Nov. 10 at Great Meadow in the Plains. It was Chantilly's first team title and Lake Braddock was somewhat of a surprise to many after not qualifying for the state meet the year before.
McGorty teamed with senior Logan Miller to go 1-3and lead the Chargers to a 15-point win over Midlothian. The two had finished second and eighth the year before when Chantilly finished fourth, with McGorty chasing Annandale's Ahmed Bile, whom he passed at last year's Footlocker final to finish 10th.
This year, he's been on his own, winning every race so far.
"He creates his own challenges," said Chantilly coach Matt Gilchrist. "Even though his goal has been Footlocker, we've treated each meet as an individual challenge. He really wants to make his mark in northern Virginia."
McGorty is shooting for a top five performance, and his dominating races so far support that goal.  He'll have to contend with defending champion Edward Cheserek of New Jersey.  After track season, it's off to Stanford University.
Most of Lake Braddock's girls team had to stay on the sidelines in 2011 as they watched Chase and
Hannah Christen race, with Chase winning her first cross country state title. Illnesses during the run up to the regional meet led to an off day. Despite his team's nonqualifiation, coach Mike Mangan knew the Bruins could compete.
This fall, after solid performances against nationally-ranked teams in Richmond and Texas, he knew they had a shot at the state title, though he didn't know what to expect from Midlothian, which had been shuffling its lineup all year.
This year, Chase, a senior, defended her title and Christen, a junior, followed in third, with sophomore Katie Roche in sixth, giving the Bruins a formidable score after three runners.
Junior Katy Kunc's ascension to the varsity team was a pleasant surprise to Mangan, which helped spur the team's dominance.
"You'll often have some freshmen who are new to high school running come in and assert themselves," he said. "Katy hadn't run track before, so we really didn't know how good she was going to be." She wound up 18th at the state meet, ahead of senior Misha Suresh (38th) whom Mangan said made a dramatic improvement in the last year.
Despite training two miles away from Chase and facing her five times so far this year, West Springfield's Caroline Alcorta hasn't backed down from any challenge so far.
"I sell it to her this way," said her coach Chris Pelligrini. "She can hang back and run with her people she can already beat, or she can push herself to run with the person she wants to beat. Some people let Sophie go, but Caroline aspires to be that fast, so she takes her on her tail and hopes that's the day she is stronger."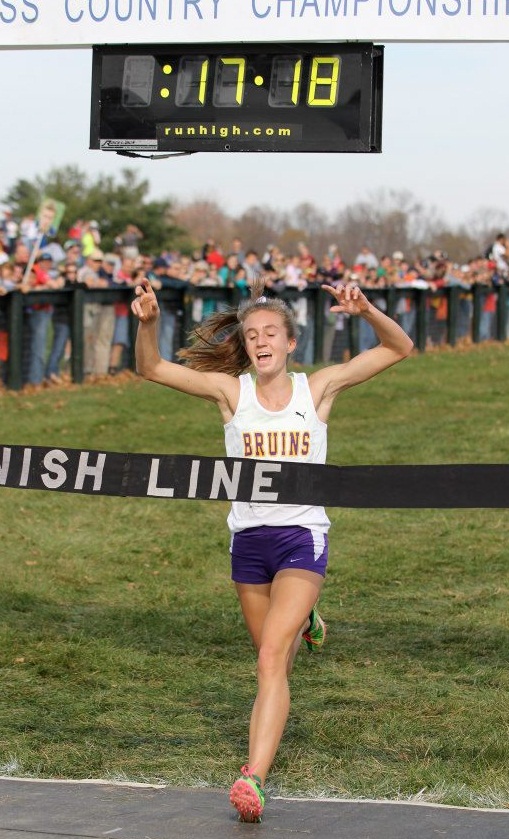 So far, a good day has meant a 15-second margin from Chase, so that's her goal on Saturday. She also aims to finish in the top half of the race and the top five among southern region qualifiers.
Her problem in the past had been her nerves, which would sometimes boil over into physical manifestation before races. Pelligirini made her a team captain this year, but with an important caveat.
"The other girls will look toher and if they see her freaking out, as good as she if, they would do the same. She had to set a good example, at least on the surface. I think in doing so, she's relaxed, herself. "
Oakton's Allie Klimkiewicz, a sophomore, also qualified for the Footlocker final.
Northern Virginia and Footlocker facts
Since Keough's victories, several Virginians have come close, including John Handley's Bobby Lockhart in 2001, South Lakes' Alan Webb in 2000, West Springfield's Sharif Karie in 1995 and 1996.
The D.C. suburbs have only been shut out twice- in 2007 and 1992.
In 1988 and 1995, eight northern Virginia runners qualified.
In 1986  and 1996, northern Virginia sent six runners.
In 1996, Karie finished second and Centreville's Laura Heiner finished fifth
The girls' best tandem was in 1985, when Keough won her first of two titles and Wendy Neeley of Lake Braddock finished third.
The best boys' tandem was Karie in second and Eric Kweder in ninth, in 1995.
2000 runner-up Webb holds the American record for the mile
1982's 28th place finisher Alisa Harms still competes, as Alisa Harvey, and coaches the George Mason High School Mustangs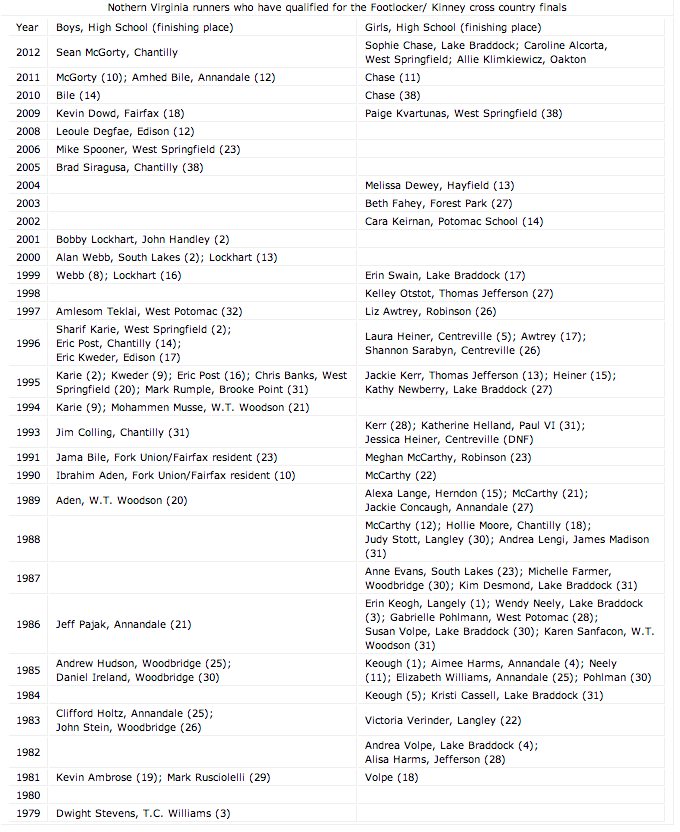 0
Comments