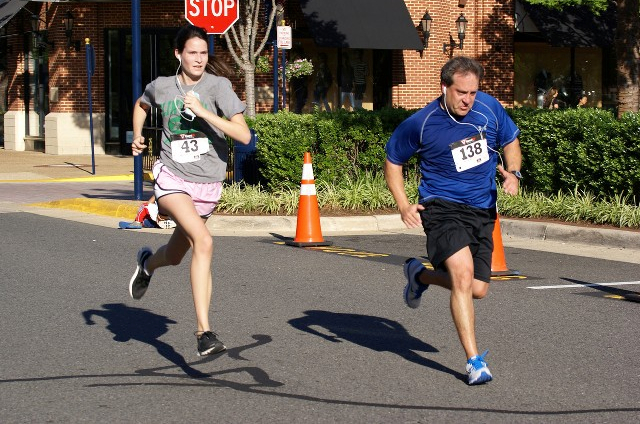 Sunday morning, the only crime was that more people weren't out racing on one of the most pleasant days of the summer. With temperatures in the 60s on an August weekend that is accustomed to heat and humidity, the nearly 200 runners who showed up to the inaugural Fairfax County Crime Solvers 5k at Fairfax Corner.
The race supported Fairfax County Crime Solvers, an independent nonprofit that pays for rewards leading to the arrest of criminals in Fairfax County.  Board member Jody Donaldson knew Cheryl Young of the Capital Area Runners team, which was interested in conducting a race. The team had 38 runners race and more than 15 volunteer.
[button-red url="https://runsignup.com/race/results/?raceId=3638″ target="_self" position="left"] Results [/button-red] [button-red url="http://youngrunner.smugmug.com/Race-Photo-Galleries/Crime-Solvers-5k-2013″ target="_self" position="left"] Photos [/button-red]
The great weather and fast opening mile by early leader, Falls Church's Chris Mills (4:38), helped propel Pat Fernandez to a 15:30 win, by 15 seconds, over Mills. Arlington's Bennett Stackhouse finished third in 16:46. All three are CAR runners. Fernandez, of Alexandria, pulled away halfway through the race and held his lead over the mostly-uphill third mile.
"It's a lot better to race this course today than in your typical August Virginia weather," he said. "We went out a little fast but held it together alright."
Women's winner Susanna Sullivan's only challenge was avoiding a fellow runner listening to music who weaved all over the course. Sullivan, of Falls Church, sped to an easy 17:30 victory, with a 42-second margin over Elizabeth Knize of Midlothian and third place Katie Sheedy of Washington (18:56). Sullivan and Sheedy run for CAR.
Though the dozens of CAR runners already knew one another, the race was also an opportunity for people to make new friends. Ann Hennigan of Oakton started out the race faster than she thinks she should have, and Phyllis Calloway of Leesburg eventually caught up with her. The pair ran most of the race together, encouraging each other throughout.
"We didn't know each other, but we helped each other," Hennigan said.
Calloway's strategy worked for the rolling hilly course.
"I like to walk up the hills and run down," she said.
Hennigan agreed. "I I can fall down the hill faster than I can walk down, so that worked for me," she said.
Phyllis Hennigan got into running after hears of invitations from her husband, Joe.
"He still has fun running." Phyllis said. "I'm a walker/runner, but it's been good for my health."
Runners didn't have to be pressing for the win to appreciate the cool weather. Robert Gaines of Clarksville , Md. was happy to find a mild race where he could work on his goal of averaging 10 minute miles.
"There was a lot of guidance on the course, and even though it was hilly, it wasn't too rough," he said.
Fairfax County Crime Solvers 5k * Aug. 4, Fairfax Corner, Va.
0
Comments
By James Moreland
December 31, 2011
Ashburn, VA
For the Washington Running Report
The Hogettes helped out in the fun run. They also noted that a race about hope would fit in nicely with the Washington Redskins.
This the third iteration of the Ringing in Hope races that began last New Year's Eve. It was followed by an early summer rendition started just down the road. After having a 3K to accompany the main event 10K last year, the races moved to a more logical 5K-10K format.
This year the two races started together with the 5K racing one loop in reverse of last year and finding new ground. For the 10K which was run as an out and back prior, the course offered two loops with slight adjustment. In the final quarter mile of the 5K the 10K split off to circumnavigate the shopping center and surrounding neighborhood, while the 5K raced around the final two corners of the plaza to cross the ChronoTrack mats.
This made things easier than having 10K runners cross the mats twice. And as there were nearly 2,000 runners with the 1K fun run included, it was easier to score. Many of the participants chose to walk the 5K. Often with two distances runners decide to change their race afterwards and it does make scoring a little harder to do.
The really fast runners easily lapped the walkers and many of the 5K runners. A curious phenomenon of racing is that often slower runners make a brilliant burst of speed at the very end leaving one to wonder why it took them so long to finish. On the other hand the truly gifted artisans will ease up when they have verily achieved their victory.
Joshua Hardin, 20, of Sterling, VA started about seven seconds late but bolted past the leaders early. He coasted in the file half mile to win easily in 33:32. He trotted across the line in what one scorer called a "ten minute pace" and at first was thought to be a mid pack 5K finisher. He may have needed to slow to get past the multitude of 5K finishers as he was alone among the 10K runners. Doubters need only see his 32:23 overall win at the Leesburg 10K last August ahead of Seife Geletu who earned 23rd place in the Elite division of the Fall Runner Rankings. Aaron Church set the standard last year in 32:14 as well as winning the summer version in 33:02.
Jonathan Phillips, 19, was the runner-up in 34:49 and then three submasters battled for the third spot. Brian Szabos, 38, took command in the end with a pure 6:00 pace and 37:18 finish.
For the women, the standard was a very solid 30:24 in the summer by Sarah Bard and Anna Bernal had been tops a full year ago in 39:45. Today Melissa Saunders, 19, ran away from three ladies more than twice her age. Her nifty 41:00 even had her as the fifteenth 10K finisher of the day. Lisa Chilcote (left) has been a busy bee racing all around the region this year but usually just over the official border. In the fall she settled a bright colored flower at the Veterans Day 10K in 40:04 to earn the fifth masters spot in the rankings. It also made her the favorite today but not by much. Cathy Ross, 41, had run a very solid Richmond Half Marathon.  Mandana Mortazavi, 48, had been used to ruling the Loudoun County races. These three did not begin to sort out until the second half of the race. Chilcote was runner-up in 41:39 on a reasonably flat course with a few deceptively tough hills. Ross was just a little way behind in 42:24 with Mortazavi cruising in with 43:05.
Ryan Hughes, 15, (left) battled three other runners for the 5K honors. His 17:08 is the second fastest time behind Axel Tarnvik, 18, who ran a 16:41 in the summer. Indeed the next 8 runners all bested the second fastest time of the summer. Last winter in the 3K only one runner beat 49-year-old Ted Poulos and his 10:55 and that was Tarnvik who ran 10:27.
Poulos, now 50, was sixth overall in 19:03 easily the top master as he enters his full first month as a grand master. For the year Poulos has run 170 races, just his tenth best yearly total. During one five- year stretch in the last decade he ran 1235 of his nearly 5000 career races. It has been many years since he has not had fifty overall wins in a year. This year his total is 64.
Just has in the summer the top three women included a record, with Amy Passeuer, 22, running 20:22 to reset the standard set by Karen Haddon in the summer, a teen with Jillian Stoddard, also faster than the old standard in 20:34, and a masters finisher. Cheryl Young, 42, just nipped Kathy Hoenig's summer crown of 21:20 with a crown making 21:18.
For the seasoned runners, Alan Rider, 75, jovially promised a victory in the 10K. Then he had to run for his life to head off James Chapman for the title 57:14 to 57:38. Margaret Collie, 67 was the oldest female finisher, winning her division.
In the 5K Maynard Weyers, 75, (right) generally has his way and dominated in 27:45. Most likely Rider was a few strides behind him when they split directions at the 5K finish.
For the ladies, Lee Glassco, 80, was the beneficiary of expanded age groups of 80 & older for another victory. If you build the division, they will come. Barbara Potzick, 71, was lured out of racing retirement to give it a go. This was only her second event in five years. She predicted about forty minutes, and even running "easily to avoid injury" she finished in a marvelous 36:27. Now she is thinking about another race to earn a coveted spot in the Washington Running Report Winter Runner Rankings, which end the day before the 2012 St.Patrick's Race in March.
             Awards Listing for the 10K (No Duplicate Prizes) updated 1/6/12

MALE OVERALL
    1  1835 Joshua Hardin           20 Potomac Falls VA        33:32 X 
    2   961 Jonathan Phillips       19 Oak Hill VA             34:49 X 
    3  1800 Brian Szabos            38 South Riding VA         37:18 X 

FEMALE OVERALL
    1   412 Melissa Saunders        19 Potomac Falls VA        41:00 X 
    2   829 Lisa Chilcote           41 N Bethesda MD           41:39 X 
    3   303 Cathy Ross              40 Burke VA                42:24 X 

MALE AGE GROUP: NET TIME 1 - 19
    1   912 Nathan Blevins          10 Manassas Park VA      X   40:27 
    2  1353 Marco Lim               15 Centreville VA        X   40:38 
    3  1390 Steven Hurwitt          19 Ashburn VA            X   41:49 

FEMALE AGE GROUP: NET TIME 1 - 19
    1  1957 Rachel Laveson          16 Annandale VA          X   48:34 
    2   247 Maddie Siegel           19 Aldie VA              X   49:36 
    3  1327 Grace Howard            12 Leesburg VA           X   51:16 

MALE AGE GROUP: NET TIME 20 - 29
    1  1124 Auguste Boti Bigore     28 Silver Spring MD      X   39:04 
    2   525 Alan Mendoza            29 Ashburn VA            X   39:53 
    3  2919 Miguel Perez            29 Silver Spring MD      X   40:45 

FEMALE AGE GROUP: NET TIME 20 - 29
    1   269 Amy Franklin            26 Leesburg VA           X   43:33 
    2  1861 Miranda Forte           26 Gaithersburg MD       X   44:32 
    3  1462 Dawn Gilbert            29 Manassas VA           X   45:33 

MALE AGE GROUP: NET TIME 30 - 39
    1  1923 Jeffrey Hiott           38 Washington DC         X   37:26 
    2   622 David Pattie            37 Ashburn VA            X   39:02 
    3   191 Anthony Deluise         36 Ashburn VA            X   40:03 

FEMALE AGE GROUP: NET TIME 30 - 39
    1   179 Danielle Newcome        34 Round Hill VA         X   43:59 
    2   403 Alison Gittelman        39 South Riding VA       X   44:24 
    3  1323 Carrie Leestma          32 Ashburn VA            X   44:37 

MALE AGE GROUP: NET TIME 40 - 49
    1  1850 Craig Hymes             49 Reston VA             X   38:09 
    2   286 Lawrence Kusko          42 Stephens City VA      X   40:28 
    3   393 Chris Godesky           40 Arlington VA          X   40:31 
FEMALE AGE GROUP: NET TIME 40 - 49
    1  1925 Mandana Mortazavi       48 Leesburg VA           X   43:05 
    2  2906 Christie Yang           40 Falls Church VA       X   44:25 
    3   340 Leslie Knibb            48 Washington DC         X   45:00 

MALE AGE GROUP: NET TIME 50 - 59
    1   616 Jeff Bowers             50 Ashburn VA            X   41:49 
    2   167 Timothy Scott           56 Sterling VA           X   42:55 
    3  1948 Bill Stahr              51 The Plains VA         X   43:42 

FEMALE AGE GROUP: NET TIME 50 - 59
    1  1774 Carole Jones            54 Ashburn VA            X   45:23 
    2   676 Elizabeth Baumgarten    55 Stone Ridge VA        X   46:54 
    3   547 Rosalind Poe            54 Leesburg VA           X   47:00 

MALE AGE GROUP: NET TIME 60 - 69
    1  2950 James Hozik             66 Great Falls VA        X   49:56 
    2  1258 Bill Koetter            63 Ashburn VA            X   54:29 
    3   512 Mike Thorson            69 Reno NV               X   55:53 

FEMALE AGE GROUP: NET TIME 60 - 69
    1  1089 Margaret Collie         67 Vienna VA             X   53:46 
    2   599 Janice Cooper           65 Annandale VA          X 1:14:58 

MALE AGE GROUP: NET TIME 70 - 79
    1   816 Alan Rider              75 Reston VA             X   57:14 
    2   198 James Chapman           70 Lovettsville VA       X   57:38 

MALE FIRST TIME RACER: NET TIME - NET PACE 1 - 99
    1   39:53   525 Alan Mendoza 29 M Ashburn VA                 39:53
FEMALE FIRST TIME RACER: NET TIME - NET PACE 1 - 99
    1   56:39   642 Noreen Holcomb 49 F Brambleton VA            56:39
              Awards Listing for the 5K (No Duplicate Prizes)

MALE OVERALL
    1  1083 Ryan Hughes             15 Ashburn VA              17:08 5 
    2  1842 Thomas Johnson          26 Arlington VA            17:16 5 
    3  1798 Gregory Steinberger     35 South Riding VA         17:22 5 

FEMALE OVERALL
    1  1276 Amy Passauer            22 Ashburn VA              20:22 5 
    2   655 Jillian Stoddard        18 Purcellville VA         20:34 5 
    3  1966 Cheryl Young            42 Reston VA               21:18 5 

MALE AGE GROUP: NET TIME 1 - 19
    1  1434 Chris Schopper          16 Broadlands VA         5   18:46 
    2  1373 Matthew Celsa           16 Sterling VA           5   19:04 
    3  1067 Adam Fischel            17 Broadlands VA         5   19:44 

FEMALE AGE GROUP: NET TIME 1 - 19
    1  1057 Ayan Adu                13 Brambleton VA         5   23:40 
    2  1367 Alyssa Coon             13 Ashburn VA            5   23:59 
    3  1951 Livia Sabloff            9 Leesburg VA           5   24:40 

MALE AGE GROUP: NET TIME 20 - 29
    1   281 David Pittman           27 Washington DC         5   19:07 
    2  1904 Danny Haley             24 Grasonville MD        5   21:43 
    3   667 Evan Stoddard           22 Purcellville VA       5   22:37 

FEMALE AGE GROUP: NET TIME 20 - 29
    1  1989 Brittan Holiday         22 Chandler AX           5   21:20 
    2  1410 Elisabeth Flores        20 Sterling VA           5   22:32 
    3  1123 Krystine Rivera         25 Ashburn VA            5   22:38 

MALE AGE GROUP: NET TIME 30 - 39
    1   405 Adam Borbidge           33 South Riding VA       5   17:41 
    2   302 Glen Case               36 Ashburn VA            5   19:38 
    3  1929 Ben Jones               38 Ashburn VA            5   20:24 

FEMALE AGE GROUP: NET TIME 30 - 39
    1   897 Nicole Knutson          32 Alexandria VA         5   21:21 
    2  1837 Shannon Nieves          30 Reston VA             5   23:12 
    3  1971 Elizabeth Clor          33 Chantilly VA          5   23:18 

MALE AGE GROUP: NET TIME 40 - 49
    1  1873 David Sousa             40 Fairfax VA            5   20:28 
    2  1214 Eric Whitaker           43 Fairfax VA            5   21:12 
    3  1817 Jason Warde             40 Vienna VA             5   22:14 

FEMALE AGE GROUP: NET TIME 40 - 49
    1   414 Kelly Saunders          42 Potomac Falls VA      5   24:49 
    2  1181 Constance Pullella      43 Leesburg VA           5   24:57 
    3  1256 Beth Alwin              48 Leesburg VA           5   25:46 

MALE AGE GROUP: NET TIME 50 - 59
    1  1934 Ted Poulos              50 McLean VA             5   19:03 
    2   862 Tom Nealley             52 Reston VA             5   21:16 
    3  1253 Gary Dunlap             50 Leesburg VA           5   22:20 

FEMALE AGE GROUP: NET TIME 50 - 59
    1  1987 Felice Berkowitz        52 Fairfax VA            5   24:22 
    2  2973 Shawn Miller            55 Ashburn VA            5   24:40 
    3   539 Cheryl Collins          53 Gainesville VA        5   26:28 

MALE AGE GROUP: NET TIME 60 - 69
    1   765 Robert Driscoll         65 Chantilly VA          5   25:09 
    2  1131 Randy Latimer           61 Vienna VA             5   29:59 
    3  1142 Paul Behrs              67 Sterling VA           5   30:25 

FEMALE AGE GROUP: NET TIME 60 - 69
    1  1224 Sherry Fitzsimmons      62 Ashburn VA            5   33:28 
    2   939 Kerry H Rader           62 Chantilly VA          5   41:22 
    3   646 Chris Ferrario          61 Fairfax Station VA    5   48:24 

MALE AGE GROUP: NET TIME 70 - 79
    1  1292 Maynard Weyers          75 Alexandria VA         5   27:45 
    2  1098 Thomas Grisard          70 Reston VA             5   38:43 
    3  1876 Norm Wingard            75 Loveland CO           5   40:58 

FEMALE AGE GROUP: NET TIME 70 - 79
    1   896 Barbara Potzick         71 Potomac MD            5   36:27 

FEMALE AGE GROUP: NET TIME 80 - 99
    1   773 Lee Glassco             80 McLean VA             5   53:31 

MALE FIRST TIME RACER: NET TIME - NET PACE 1 - 99
    1   22:38   320 Chase Strait  16 M South Riding VA           22:38
FEMALE FIRST TIME RACER: NET TIME - NET PACE 1 - 99
    1   24:34   381 Christina Lee 20 F Sterling VA               24:34
0
Comments