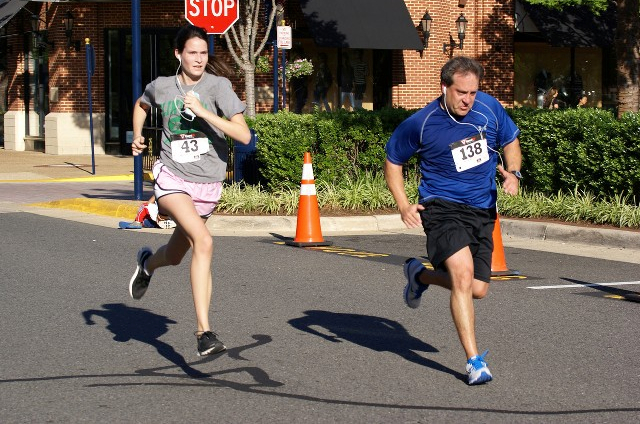 Sunday morning, the only crime was that more people weren't out racing on one of the most pleasant days of the summer. With temperatures in the 60s on an August weekend that is accustomed to heat and humidity, the nearly 200 runners who showed up to the inaugural Fairfax County Crime Solvers 5k at Fairfax Corner.
The race supported Fairfax County Crime Solvers, an independent nonprofit that pays for rewards leading to the arrest of criminals in Fairfax County.  Board member Jody Donaldson knew Cheryl Young of the Capital Area Runners team, which was interested in conducting a race. The team had 38 runners race and more than 15 volunteer.
[button-red url="https://runsignup.com/race/results/?raceId=3638″ target="_self" position="left"] Results [/button-red] [button-red url="http://youngrunner.smugmug.com/Race-Photo-Galleries/Crime-Solvers-5k-2013″ target="_self" position="left"] Photos [/button-red]
The great weather and fast opening mile by early leader, Falls Church's Chris Mills (4:38), helped propel Pat Fernandez to a 15:30 win, by 15 seconds, over Mills. Arlington's Bennett Stackhouse finished third in 16:46. All three are CAR runners. Fernandez, of Alexandria, pulled away halfway through the race and held his lead over the mostly-uphill third mile.
"It's a lot better to race this course today than in your typical August Virginia weather," he said. "We went out a little fast but held it together alright."
Women's winner Susanna Sullivan's only challenge was avoiding a fellow runner listening to music who weaved all over the course. Sullivan, of Falls Church, sped to an easy 17:30 victory, with a 42-second margin over Elizabeth Knize of Midlothian and third place Katie Sheedy of Washington (18:56). Sullivan and Sheedy run for CAR.
Though the dozens of CAR runners already knew one another, the race was also an opportunity for people to make new friends. Ann Hennigan of Oakton started out the race faster than she thinks she should have, and Phyllis Calloway of Leesburg eventually caught up with her. The pair ran most of the race together, encouraging each other throughout.
"We didn't know each other, but we helped each other," Hennigan said.
Calloway's strategy worked for the rolling hilly course.
"I like to walk up the hills and run down," she said.
Hennigan agreed. "I I can fall down the hill faster than I can walk down, so that worked for me," she said.
Phyllis Hennigan got into running after hears of invitations from her husband, Joe.
"He still has fun running." Phyllis said. "I'm a walker/runner, but it's been good for my health."
Runners didn't have to be pressing for the win to appreciate the cool weather. Robert Gaines of Clarksville , Md. was happy to find a mild race where he could work on his goal of averaging 10 minute miles.
"There was a lot of guidance on the course, and even though it was hilly, it wasn't too rough," he said.
Fairfax County Crime Solvers 5k * Aug. 4, Fairfax Corner, Va.