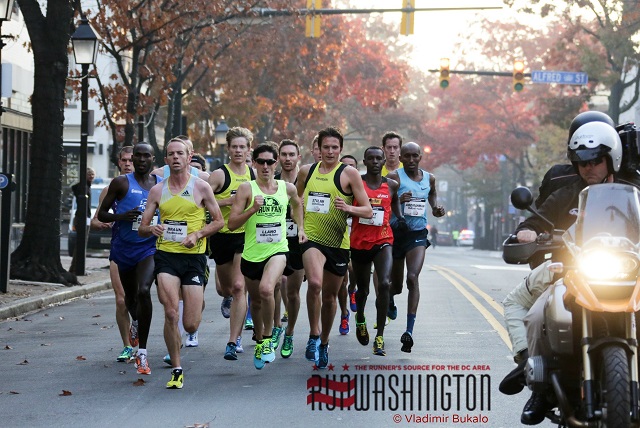 Season after season, on the track, on the roads – at one national championship after another – Aaron Braun has been in the mix, establishing himself as one of the top distance runners in the country.
Braun, 26, broke through to the top this morning on the streets of Alexandria – taking firm control at the 10k mark of the .US National Road Racing Championships to win his first national title. Results
The inaugural championship race capped the 2013 USA Running Circuit (USARC), a road racing series that includes national championships for races ranging from the mile to the marathon. The first 10 U.S. runners in these races earn points, with 15 awarded for a win.
The .US National Road Racing Championships, however, offered triple points, not to mention $100,000 in prize money.  And it was contested at the uncommon distance of 12k, an unfamiliar distance serving as something of a middle ground for 5k specialists and marathoners.
What made today's race interesting, though, was not so much the unique race distance; it was the time of year the race was held. Some of the pros entered in today's race had run marathons the month prior. Some had been racing relentlessly since January (and coming off a marathon), thus operating on fumes. Others, like Braun, came in focused and fresh.
The lead pack was at least a dozen strong through 5k. But Braun – from the very beginning on Union Street – seemed to be the one tugging the strings, injecting fresh pace at mile marks or surging off some of the course's tight and even 180-degree turns.
The opening pace through the first few mostly-flat miles was about 4:40. Spectators lined the intersections to cheer, and Abdi Abdirahman and Shadrack Biwott at times moved out into the lead.
Pre-race favorites Matt Tegenkamp, leading the USARC standings, and Chris Solinsky tucked into the group. Solinsky, who dropped out, started to fall off first, shortly around 5k. Tegenkamp started slipping back closer to a turnaround near five miles.
"Coming off the marathon, I was just locked into those 4:50s, 4:55, five-minute miles," said Tegenkamp, an Olympian who debuted in the marathon Oct. 13 in Chicago, clocking 2:12:28. "Trying to run any faster than that for a sustained amount of time, there was just never a comfort zone."
Tegenkamp fought through a tough day to finish eighth.
Braun, meanwhile, lowered the pace into the 4:30s. He said he knew dropping the field wouldn't happen and focused instead on staying aggressive: "… I just had to keep my foot on the pedal and keep it nice and steady, be able to hold that pace all the way to the finish."
Braun's time, 34:28, was two seconds shy of Steve Spence's American record. Maybe if Braun had not looked back in the closing stretch and waved to the crowd and enjoyed the moment … maybe then the record could have been his.
But the Englewood, Colo.-based runner was not the least bit concerned about that. His only goal, he said, was to win: "It's just so great to finally cross the line and be U.S. champion."
Braun recently returned to a former coach and his native Colorado, where he also attended running powerhouse Adams State College. He made the change, he said, out of concern that his performances had leveled off.
"To keep in this sport," Braun said, "you have to keep getting better – because everyone else is getting better, too. So if you're staying the same, you're getting passed. I am just determined to keep getting better year after year."
Sensing Braun was on his game, Shadrock Biwott – second in the standings – focused on not letting him get too far away.
Biwott has been racing without a break since January, he said. Six weeks ago he finished third in the national marathon championships – and afterward took just two days off. ("I'm exhausted," he said. "My legs are tired right now. I have never been so tired in the race.")
His near-breaking point came while heading up the bridge between miles five and six. There was a tight turn to make at its end – and Biwott, entering his rough patch, said his focus was further thrown by seeing Abdirahman take a hard fall there that ended his race.
But Biwott successfully re-grouped to hold on for second, seven seconds behind Braun – a result that earned him the USARC series title.
Next in the 12k was Tyler Pennel, 25, of Blowing Rock, N.C., finishing third in 34:37.
It was Pennel's first race since Peachtree in July, and his first race in a new season he hopes will peak in January at the national half marathon championships.
"It kind of validates the training I am doing with my coach," he said. "I know I can compete with these guys. I can go out here and run toe to toe with them."
Local Connections
Chris Kwiatkowski of Washington, D.C., recently finished fourth at the Army Ten-Miler in a new personal best of 48:17. He is coached by Matt Centrowitz and runs for the Pacers-New Balance team.
Kwiatkowski ran confidently this morning in the thick of the lead pack. He started to lose contact around five miles but held on to finish 12th.
"It's a different world the way these guys race," he said. "You got to be strong; you got to stay relaxed. So I'm working on it, and it was a good learning experience."
Matt Llano trains in Flagstaff, Ariz., but attended Broadneck High School in Annapolis and competed for the University of Richmond.
He finished seventh today in 34:49, matching his place at the national 20K championship in September and continuing his recovery from an injury that sidelined him for most of 2012. His parents, sister, college teammates and even his former college coach were there to see him race.
Llano hoped to crack the top five, but "I'm just confident that my fitness is still coming along," he said.
Thomas Jefferson High School graduate Christopher Landry, who now trains in Ann Arbor, Mich., finished fourth to cap a USARC season that also included top five finishes in the national championships for the marathon and 25k.
The College of William and Mary graduate wasn't sure how he would fare at 12k six weeks after a marathon. But today's race – "a homecoming," he said, with his family there supporting him – wasn't one he wanted to miss.
"This exceeded all my expectations," he said.
—
RunWashington's story on women's race.
0
Comments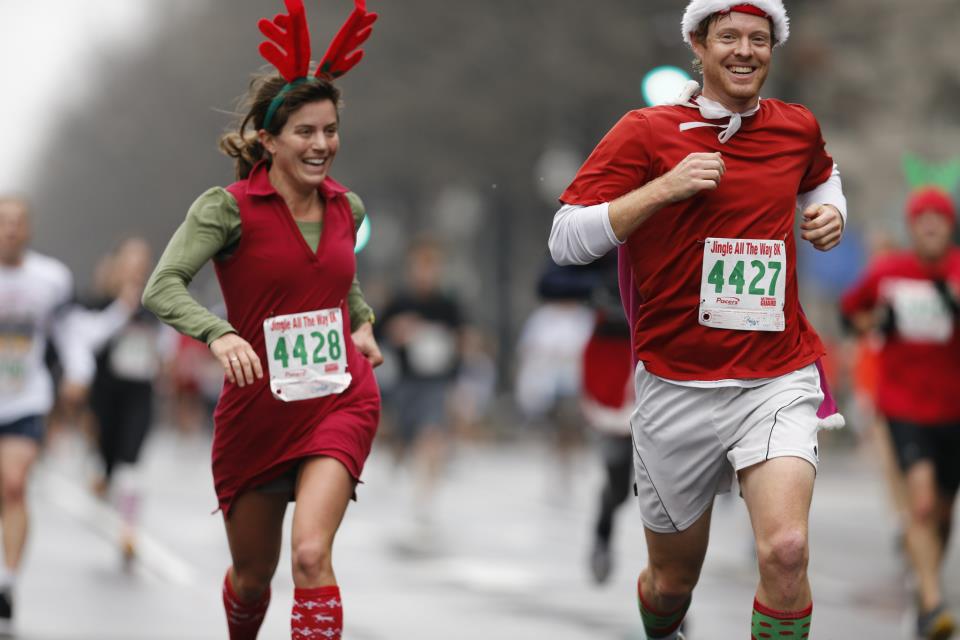 Just because Chris Kwiatkowski was running 4:50 pace for the Jingle All the Way 8k, it didn't mean he didn't take time to look around.
[button-red url="http://results.bazumedia.com/event/results/event/event-2402″ target="_self" position="left"] Results [/button-red]While he was  pulling away from Jeff Brannigan and Dereje Girma to win in 24:00, he glanced around at the Capitol and Pennsylvania Avenue, which he said made the race go by a little faster.
"In college, you run a lot of the same courses year in and year out, you see them so often that they get longer and longer," he said. "Since moving here, I've run three races in the city and each one has an incredible setting. I really enjoy those settings and they make the race go by quicker."
That wasn't all he saw. Lining up next to the former University of Oregon Duck, Pacers owner Chris Farley was dressed as Santa Claus, beard and all, and still managed to run 6:13 pace.
"I don't know how he did it," Kwiatkowski said. "I would have torn that beard off a mile in."
His plan was to run hard without straining, and that's what he got. Dropping Brannigan and Girma in the third mile, he cruised in to a 22-second victory in a light misting, following a lot of cold rain.
"Before any competition I make sure I have a goal and my coach (Matt Centrowitz) agrees that it will take me where I need to go," he said. "December is an important month for getting strong aerobically and this race gave me a chance to do that."
Kwiatkowski may run the Fairfax Four Miler on New Year's Even before switching his efforts to the track.
Kerri Gallagher also kept on a lookout for remarkable costumes while she was running away from Claire Hallissey and Erin Koch to win in 27:21.
Her favorite, among many, was a family dressed as Joseph and Mary, pushing a jogging stroller ostensibly carrying the baby Jesus. That variety spectators something to enjoy, just in case the Christmas costumers were tending to be too "commercial."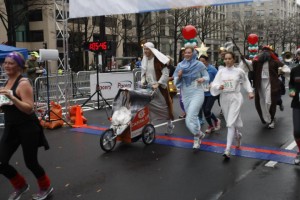 Gallagher also got away from her pursuers after two miles, and she confirmed what she had learned about herself as she raced well above her primarily middle distance events.
"I learned I can put myself out there, take charge and take risks in a race," she said. This fall, she also won the Army 10 Miler and Clarendon Day 10k (also over Olympian Hallissey) and finished second at the Veterans Day 10k. She'll also compete in several indoor track races this winter under Centrowitz's tutledge.
Back in the pack, Sarah Morgan struggled to get out of bed for the race, and had a tougher time rousting her friend Melissa Dorn to join her, given the rain that intimidated them.
"We almost didn't go," Morgan said. "It looked pretty awful outside. I don't even know how I got Melissa to go."
The pair of old high school rowing chums have run countless races together over the years. They arrived just in time for the rain to stop and the race to start. Though they found the race less crowded than last year, when the race was first moved from Hains Point and cut down to an 8k to meet registration demands, but they saw a dramatic improvement in the quality of costumes.
Among Morgan's favorites:
Santa's sleigh, led by nine reindeer tied together
A man with a tuba, playing Christmas carols
Twelve runners, dressed as the gifts from the 12 days of Christmas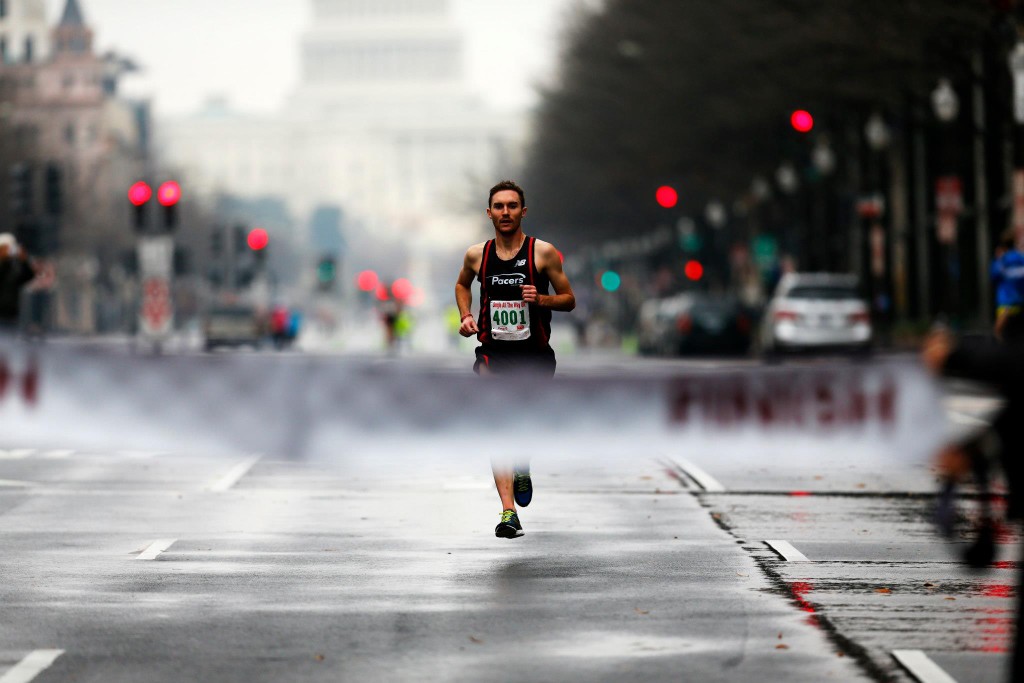 0
Comments