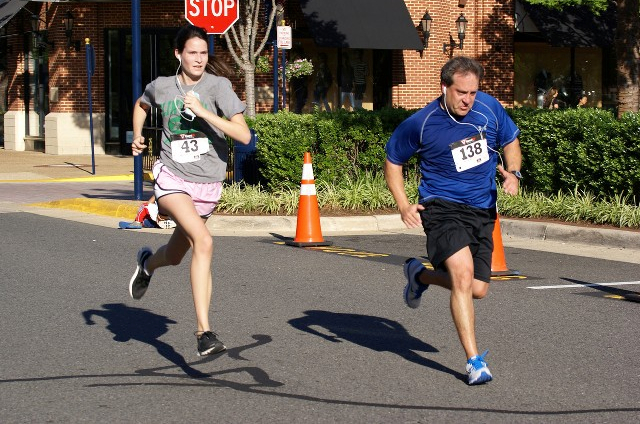 Sunday morning, the only crime was that more people weren't out racing on one of the most pleasant days of the summer. With temperatures in the 60s on an August weekend that is accustomed to heat and humidity, the nearly 200 runners who showed up to the inaugural Fairfax County Crime Solvers 5k at Fairfax Corner.
The race supported Fairfax County Crime Solvers, an independent nonprofit that pays for rewards leading to the arrest of criminals in Fairfax County.  Board member Jody Donaldson knew Cheryl Young of the Capital Area Runners team, which was interested in conducting a race. The team had 38 runners race and more than 15 volunteer.
[button-red url="https://runsignup.com/race/results/?raceId=3638″ target="_self" position="left"] Results [/button-red] [button-red url="http://youngrunner.smugmug.com/Race-Photo-Galleries/Crime-Solvers-5k-2013″ target="_self" position="left"] Photos [/button-red]
The great weather and fast opening mile by early leader, Falls Church's Chris Mills (4:38), helped propel Pat Fernandez to a 15:30 win, by 15 seconds, over Mills. Arlington's Bennett Stackhouse finished third in 16:46. All three are CAR runners. Fernandez, of Alexandria, pulled away halfway through the race and held his lead over the mostly-uphill third mile.
"It's a lot better to race this course today than in your typical August Virginia weather," he said. "We went out a little fast but held it together alright."
Women's winner Susanna Sullivan's only challenge was avoiding a fellow runner listening to music who weaved all over the course. Sullivan, of Falls Church, sped to an easy 17:30 victory, with a 42-second margin over Elizabeth Knize of Midlothian and third place Katie Sheedy of Washington (18:56). Sullivan and Sheedy run for CAR.
Though the dozens of CAR runners already knew one another, the race was also an opportunity for people to make new friends. Ann Hennigan of Oakton started out the race faster than she thinks she should have, and Phyllis Calloway of Leesburg eventually caught up with her. The pair ran most of the race together, encouraging each other throughout.
"We didn't know each other, but we helped each other," Hennigan said.
Calloway's strategy worked for the rolling hilly course.
"I like to walk up the hills and run down," she said.
Hennigan agreed. "I I can fall down the hill faster than I can walk down, so that worked for me," she said.
Phyllis Hennigan got into running after hears of invitations from her husband, Joe.
"He still has fun running." Phyllis said. "I'm a walker/runner, but it's been good for my health."
Runners didn't have to be pressing for the win to appreciate the cool weather. Robert Gaines of Clarksville , Md. was happy to find a mild race where he could work on his goal of averaging 10 minute miles.
"There was a lot of guidance on the course, and even though it was hilly, it wasn't too rough," he said.
Fairfax County Crime Solvers 5k * Aug. 4, Fairfax Corner, Va.
0
Comments
Claire Hallissey wasn't expecting to run an event record Saturday during the Lawyers Have Heart 10k.
"I did a track workout on Thursday," the 2012 British Olympian said.
Yet the 30-year-old Arlington resident still ran a 34:33, bettering the previous event record by 9 seconds on a cool, overcast morning in Georgetown.
In fact, Hallissey and second place finisher Susanna Sullivan of Falls Church are only the second and third women to break 35 minutes in the event's 23-year history, taking advantage of the good, June running conditions.
"She turned it on the last mile and just blew me away," Sullivan, 23, who won last October's Marine Corps 10k, said.
Sullivan finished in 34:48, just off the previous event record of 34:42 set in 1992 by Baltimore's Charlotte Thomas.Wayinshet Hailu, 26, came in third at 36:06.
Event organizers called the 1992 10k course much more difficult than Saturday's having trekked through many more hills around Georgetown's residential areas.
The course has changed several times in the event's history. This year's started on K Street under the Whitehurst Freeway in Georgetown. Runners looped up to the freeway, ran down Canal Street, and turned back near Georgetown's reservoir.
Hallissey's appearance on Saturday took runners and event organizers by surprise, not expecting the Olympian, who turned in a 2:35:39 marathon in last summer's London games, to run.
"I'm happy with how I'm running right now," Hallissey said, noting her last few 10ks were in the 34-minute range.
Sullivan was trying to sneak up on Hallissey after a slower start and moved just a few strides behind her at the race's turnaround point near the reservoir.
At that point, Capital Area Runner teammate and men's leader Chris Mills shouted encouragement, seeing her in second place.
"Then, it was game over," Sullivan said, referring to Hallissey's talent and experience. "I had to show my cards."
Hallissey said later she knew a female competitor was on her heels from the crowds yelling support to those behind her.
Mills, who went on to win the men's race, called the high 60 degree weather at the start the "perfect temperature."
Mills of Falls Church broke away from the pack after about 3.5 miles and cruised to a time of 31:15, better second place finisher Birhanu Mekonen by 26 seconds. Dave Burnham of Arlington came in third place with a 32:03.
The men were well off their event record of 29:51 set by Ethoipia's Gurmessa Kumsa in 2006.
Mekonen and Hailu said after the race they were hampered by a late arrival to the race site and didn't have a chance to conduct their full warm up.
Mills was proud of his running even splits, coming through the 5k at 15:38. The 23-year-old expected to run a great time, following a 29:09 performance at April 20's Pike Peek 10k in Rockville.
Women's fourth place finisher Barbara Fallon Wallace ran a 36:33 and called the conditions a bit muggy. The 39-year-old won last year's race just 18 months after giving birth to twins.
"At least it was cloudy," Fallon Wallace said. "It could have been 90 degrees."
In fact, extreme temperatures two years ago caused organizers to shorten the race to a 5k.
But the event hosted a 5k – aside from 2011's impromptu change – for the first time in several years in 2013.
The Capital Area Runners dominated the women's side, taking the top three spots. Erin Taylor, 31, of Arlington led the way with an 18:08, followed by Ashley Kollme of Chevy Chase in 19:07 and Mary Christopher of Washington in 20:32.
"Whenever you can get your teammates in the top three, that's great," Taylor said.
Jack Riely, 19, of Silver Spring won the men's 5k in 16:38.
Kristi Markowicz, 43, of Arlington was the women's masters winners with a time of 39:13. Edmund Burke, 43, of Burkesville, Md. won the men's masters race in 33:27.
The event, held annually since 1991, benefits the American Heart Association. Flocks of the law firms around the area organize teams to generate money for the group. So far, the event has raised more than $8 million for the cause.
So far this year, teams have raised in excess of $750,000, according to the event's website. McDermott Will & Emery raised nearly $20,000 as of Saturday.
"It's just nice to see some law firms — who don't have a reputation for promoting the common good — have one Saturday where we're out for the common good," Jones Day attorney Ben Katz, 28, said following the race.
His firm raised more than $2,600 for the American Heart Association.
"In the legal community you hear a lot about people who have heart disease," Jones Day's Owen Conroy, 30, said. "It's just nice to show support."
The backs of Krooth & Altman's bright yellow team shirts read "Run to remember, Run to Prevent," an ode to the event's well-being message.
"A lot of us have had family members or friends we've lost to heart disease," paralegal Kelly Behr said.
The grandfather of Jonathan Singer, 29, of O'Melveny & Myers had a stroke, and building awareness for that was important to him.
"We want to serve the community in a legal capacity, but also give back," Singer said, adding he ran his first ever road race Saturday, finish the 5k in 32:06.
His team had about twice as many people run this year with about 32 runners.
Many area attorneys run merely for the camaraderie.
"We've done this four years now, and every year have doubled in sized," Paul Brinkman of Quinn Emanuel said.
Lawyers competed in teams of based on law firm size and practice type. Individuals competed for awards based on time in categories such as private practice, corporate lawyer, government lawyer, non-lawyer legal professional, paralegal, law student, and summer associate.
[button-red url="http://results.bazumedia.com/event/results/event/event-4393″ target="_self" position="left"] Results [/button-red]
0
Comments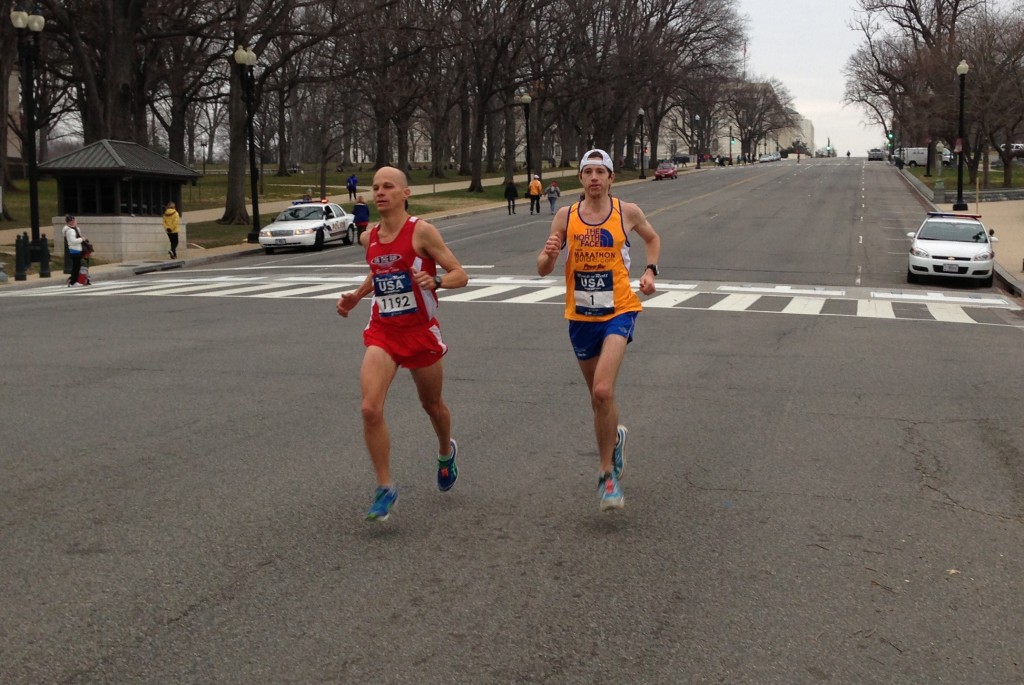 For the seventh year in a row, Washington, D.C.'s spring marathon champion was a college athlete who competed for something other than a track team. For the first time, though, it wasn't former lacrosse player Michael Wardian.
[button-red url="http://running.competitor.com/cgiresults?eId=54″ target="_self" position="left"] Results [/button-red]Peter Lawrence came to Washington with his family for a spring break trip requested by his daughter.After 20 hours of driving, with stops in New Orleans, Atlanta, the now-41-year-old, who played tennis at the Virginia Military Institute hit town for a week of sightseeing with a cadre of elementary school-age children.
[button-red url="https://www.facebook.com/media/set/?set=a.628521877175048.1073741833.189448104415763&type=1″ target="_self" position="left"] Photo [/button-red]
It just so happened that the Rock 'n' Roll Marathon was taking place while he was in town.
"I needed another marathon," he said. "I did Houston two months ago and it was time for another one."
He spent most of the race running alongside Wardian, of Arlington, who spent more than six months dealing with multiple stress fractures that disrupted his prolific long-distance racing schedule.
"I figured Michael knew the course, so he was the right guy to run with," Lawrence said.
Apparently not, because course revisions in Southwest Washington and a confused bicycle guide led the duo astray in mile 16, adding approximately 30 seconds to their times. Wardian's experience ended up serving neither of them, and for a while it seemed it only enlarged their gap behind frontrunner Jordan McDougal, who held more than a two-minute margin at 18 miles.
"It hurt my PR a little bit," Lawrence said, noting his 2:32:27 today was almost 2:30 better than his Houston Marathon finish Jan. 13, itself a dramatic improvement over the same race last year, when he ran 2:42:09.
McDougal's lead shrunk in mile 19 after his stomach got the better of him and he called it a day, not bad work for a guy who decided less than a week ago to give the race a shot. By then, Lawrence had broken away from Wardian and was on his way to checking off "win a marathon" on his bucket list.
"Once I saw I was in the lead, I just kept going and going, tightening the screws a little bit," he said. "By 25 I felt pretty comfortable."
He got a boost seeing his wife, son, daughter, niece and nephew in mile 18, where things started to happen for him and he saw himself realize a dream he didn't imagine having a few years ago. He wouldn't quite get the sub-2:30 he wanted, but he's not complaining.
"I started as a middle-of-the-packer," he said about his introduction to marathon running at age 39. "I got better with more miles and some track speed work. I never realized how much that helped."
In Houston, Lawrence trains with the Bay Area Running Club. He'll be back there less than two days after breaking the tape at RFK Stadium.
Meanwhile, Wardian didn't seem to mind trailing by almost two minutes. For his fourth run longer than 14 miles since he started running again in late January, he was surprised to have run so fast. Though he won the Lower Potomac River Marathon six days before in 2:42:31, it was not without its complications.
"I had to stop in the middle," he said. "My bladder's not used to holding so much fluid. Luckily I got by without a stop today."
He's running about a third of his normal mileage, but after staring into a huge chunk of his calendar unable to run at all, just being out there is a gift.
"I was unbelievably pumped," he said. "I started out just happy to be in the top 10, but then you get to the point where you realize you have a shot at the podium and you get a little greedy."
Third place finisher Eric Senseman, of Madison, Wisc. didn't mind feeling greedy as he moved his way through the top six when the half marathoners peeled off. He was racing in Washington for the first time, though he'll be returning in June for the North Face Endurance Challenge.
"I felt like they shut down the whole city for me," he said. "It was a cool way to see D.C."
The men's half marathon came down to a dramatic move made on the hill leading off of the Rock Creek Parkway to Calvert Street. Ethiopian Tumicha Horsa put a move on Falls Church's Chris Mills that Mills couldn't cover.
"We were moving along at a little under five-minute pace and all of a sudden there was a giant hill," Mills said. "He got me by about 15 seconds, but after that I didn't get any closer and he didn't get any farther ahead until the last mile. My coach thought I could catch him, but he had a kick."
Horsa, through an interpreter, said he wasn't familiar with the course, so he gauged his move on how the race was going with Mills and when he saw the hill, he took his shot.
"When I got to mile 12, I pushed," he said, via the interpreter.
Horsa ended up in 1:06:44, with Mills behind in 1:07:03 and George Mason University alumnus John Holt in third in 1:08:20.
0
Comments