As last season came to a close in North Carolina, Loudoun Valley's disappointment felt cushioned by potential.
Though the Vikings failed to make Nike Cross Nationals, they were on the cusp. They made up ground on a team that had beaten them soundly seven weeks earlier and one junior, Peter Morris, had qualified for the finals with another, Colton Bogucki, one spot away. Jacob Hunter, just a sophomore, was 20th.
"We weren't good enough to go," said coach Marc Hunter. "It would have taken one of those other teams to fall off. We ran well but we didn't run great, but everybody improved, and as a coach, that means everything."
With all of those runners and more returning, the clouds that hung over the team started to fade.
Then, in December, they parted. Jacob Hunter got a message from a kid he knew from Pennsylvania.
Loudoun Valley boys and Lake Braddock girls dominated their races while defending their Virginia state titles, while the James Madison boys and George Marshall girls won their first-ever championships.
Virginia High School League Championships
Nov. 12, 2016 – Great Meadows,
The Plains, Va
Kate Murphy broke the Great Meadows course record when she won her second straight 6A title, running 17:08 to beat Libby Davidson's 17:12 mark from 2014 and finish well clear of Rachel McArthur's 17:50 second place finish and making Lake Braddock's team race four on five against everyone else. That's all despite putting less emphasis on cross country, just months after competing in the U.S. Olympic Trials and world junior track championships, and not racing with the record in mind.
"I think I raced twice before the conference meet so I wasn't sure if I was in cross country shape," she said. "I needed to not compete for a while. It puts a little stress on you and it's nice to have a little rest. Getting back in was kind of a grind."
It was going to be a grind, because McArthur was coming back to cross country after missing the 2015 postseason with a quad tear that left her unable to defend her 2014 6A title.
"I couldn't just chill because Rachel definitely wanted to race, but I think I ended up running my best cross country race of the season," Murphy said, with the caveat that she hasn't raced much yet, with a focus on the Nike Cross Southeast and, with any luck, national meet.
The pair pulled away early as Murphy reeled McArthur in from a fast start. They came through the mile in 5:20, with a 10 second lead over Cosby sophomore Rachel Northcutt. Murphy took a slight lead through two miles in 10:56, with Northcutt nearly 30 seconds back, then gradually pulled away from McArthur before putting her away in the series of hills in the third mile.
"It wasn't any one move, but a few times I threw in a surge down a hill to see how she'd respond."
"Normally I'm physically ready to race but not mentally," McArthur said, "but I was focused this time. My mind was so in it. But then the hills… It wasn't a devastating loss, but I learned a lot about how I handle hills late in a race.The course definitely gets a lot harder at the end."
The two have committed to top collegiate distance programs — Murphy to Oregon and McArthur to Villanova and while the prospect of the pair racing tooth and nail, like the state 800 meter championship, was appealing, cross country just isn't their priority anymore.
"Cross country, I still want to do well, but track's my main focus, and I didn't expect to run a peak performance this season," McArthur said.
Murphy said it was a matter of proportion.
"It's a lot more time to suffer," she said. "Especially since it's been so hot this fall."
South Lakes junior Olivia Beckner was running her first state meet after two years of injuries, but she made the most of her opportunity, running 18:04 for fourth place and nearly catching Northcutt (18:01).
"I closed on her for a while, but she pulled away," she said. "I need to work on my turnover, but I think this was my best race of the season. I'm looking forward to coming back next year, now that I've had a real cross country season."
Lake Braddock scored 46 points to outdistance Oakton's 107, with James Madison in third with 113. West Springfield was fourth with 133 and Patriot fifth with 149, with Cosby (156) edging Chantilly (161). The Bruins had all seven runners in the top 35, with the scoring five in the top 30 overall — Sam Schwers in sixth, Taylor Kitchen in 10th, Emily Schiesl in 15th and Sarah Daniels in 29th. They'll head to Cary, N.C. for Nike Cross Southeast in two weeks.
The Bruin boys lost their bid for a third-straight 6A title when James Madison finished three points ahead, 63-66, for the Warhawks' first title. Lake Braddock was winning by the same margin at the second mile, but a strong stretch run, including senior Patrick Murphy outkicking LB's Evan Chase, fueled the comeback. Sean Grimm (seventh overall), Zach Holden (11th), Murphy (18th), Chamberlain Zulauf (21st) and Kevin Murphy (38th) scored for Madison. It follows a win over Braddock — and Oakton — at the regional meet, which showed the Warhawks what was possible.
"We knew we had to run well, because it was going to be tight with Braddock," said coach Craig Chasse. "If we didn't run our A game, we weren't going to win. We weren't running scared, but we didn't want to be complacent."
He credited consistency among this varsity runners and the variety of challenges they faced throughout the season.
"Back in June, we had a meeting and we decided this was going to be our year," Chasse said. "We got permission to go to Kentucky and race St. Xavier, we went to Great American,we raced some tough teams. When we won the Milestat Invitational, I knew we were in position to win."
The challenge, Chasse said, was to not slow down during turns and keep their effort up on the 1,000 meter finishing stretch.
"It's a tough balance on that stretch to not leave anything on the course but not run out of gas before the race is over," he said.
Lake Braddock's Conor Lyons came up just a little short on that stretch, losing second place to Cox's David Scherrer (both finished in 15:23) and within reach of winner Peter Smith of Oscar Smith High School, just a second ahead.
"I was conservative the first two miles but really worked the last mile," he said. "Last year I went out too fast, but this year there was a good lead pack and unless it broke up, those guys weren't going anywhere."
He made up five seconds on Sherrer in the last 1.1 miles.
The Northern Region teams swept the team standings, with Chantilly (118), Oakton(137), West Springfield (144) and Patriot (146) filling in third through sixth places.
Chantilly senior Brandon McGorty, an 800 meter specialist heading to Stanford next fall, got out fast.
"Last year I got caught up in a pack and I wanted to make sure that didn't happen again because it was tough to move up," he said. "Fifty meters doesn't take take much out of me, after a few second people caught up with me but it didn't take anything out of me."
He finished fourth in 15:39, one second ahead of Oakton's Ahmed Hassan.
"This over a 30 second PR, so I'm pumped."
Like the James Madison team, McGorty used a win at the regional meet to motivate him at states.
Just as in the 6A race, the 5A race featured two past winners — the 2015 winner in Tuscarora junior Emma Wolcott and George Marshall junior Heather Holt, who won as a freshman in 2014.
Holt didn't want to give anyone else a chance, so, as has been her custom this season, she took off early on and had the race to herself after the halfway point.
"I could hear them breathing right behind me," she said. "I knew I had to go, I just wanted to get away from them and focus on my race. I've learned to accept that I'm going to have nerves and I don't let them throw me off as much. I've learned to accept that I'm going to have nerves and I don't let them throw me off as much."
That they didn't, and she was able to put 22 seconds on Albemarle's Ryann Helmers by the second mile on her way to a 29-second margin to win in 17:18.
Wolcott moved up through the race to finish third in 18:01.
Holt's low scoring position helped Marshall to its first-ever team title, with 53 points, thanks to Ava Bir (ninth), Hannah Smith and Sophie Tedesco (14th and 15th) and Jenna Robbins (17th). Tuscarora trailed in second with 107 points, Broad Run was seventh with 184, Potomac Falls was one place back with 200 points and Thomas Jefferson was 10th with 226. They were sixth in their first state meet appearance in 2014 and fifth in 2015.
Smith is a senior; Tedesco is a freshman. They both saw dramatic drops in their times from the Great Meadows Invitational in August.
"My first race was almost 23:30," Tedesco said. "But then I started running faster in practice so the race pace didn't feel as tough and I was able to keep improving."
Smith said she transitioned into a more committed runner this year and credited Tedesco's company on her upward trajectory.
"I just ran to have fun before, but I didn't realize how fast I could be," she said.
Coach Darrell General said the team running within its character was the key to its season-long success. That went both for their individual tendencies as runners and the athletes' collective spirit.
"I just wanted it so bad for the kids, they work so hard," he said. "They get to see where all of that effort goes. It's unbelievable."
Holt said there was universal buy-in for the dedication necessary to win the state meet among her teammates.
"Because we set this goal together, it makes us really want to work hard for each other," Holt said. "We knew if someone was hurting, we just had to run that much harder."
General approached it from another angle.
"I tell the other girls to pretend we don't have Heather," he said. "And we pretend our 2-6 are racing everyone else's 1-5."
Their male teammate Patrick Lynch ran a hard last stretch to wrest control of third place from Thomas Jefferson's Saurav Velleleth in the 5A race, coming from two seconds back at the two mile mark. Lynch finished in 15:34, Velleleth was three seconds back.
"We went out way faster than I thought we would, but when I saw we were sub-10 at two miles (9:56), I knew this was going to be the race where I finally dropped a good time," he said. "It was the perfect race for me. I was trying to stay on Saurav and I caught him with 10-15 meters to go."
He has a lot of confidence in his kick, but the race environment injected a little adrenaline, too.
"It's states, you gotta go for it," he said. "This is the competition you want to run a good race with."
Douglas Freeman senior Waleed Suliman won the race for the second year in a row in 15:13, the fastest time of the day by a second.
Edison junior Yared Mekonnen also saved his strength for the end, but on a longer scale. He suffered from food poisoning on Wednesday and was in bad shape for a few days.
"I just drank a lot of water and Gatorade, at a lot of rice and other bland stuff," he said. "Anything to get my strength back."
Sure enough, on Saturday morning he was ready to go
"I thought we'd be 5:05 at the mile and we were 4:50," he said. "That definitely got me by surprise, but I felt good and just sat on guys in the top 10 and when we'd crest each hill in the third mile, I'd go for it."
He wound up fifth in 15:43.
Tuscarora was the top local 5A team, in third with 125 points behind Deep Run (76) and Glen Allen (105). Thomas Jefferson was fifth (159), Edison edged by Lee-Davis in tie for eighth (166) and Marshall edging Hickory in a tie for 10th with 195. Four teams scored 165 or 166.
Loudoun Valley's girls finished second, for the second straight year, behind junior Natalie Morris' runner-up finish in 18:19, behind Liberty Christian Academy senior Noel Palmer (18:04), who was third at the Glory Days Invitational.
"I tried to go with Noel when she passed Libby (Davidson) and I didn't really stick with her long, but that got me into second place (in the second mile) and I never gave it up," she said.
The Vikings scored 88 points to trail E.C. Glass' 36 points. Jefferson Forest (135), Rock Ridge (143) and Loudoun County (156) finished fourth through sixth.
Morris' twin brother, Peter, took top honors for the family, winning the 4A boys title in 15:14,  a second off of Suliman's time. That made Loudoun Valley's path to a repeat that much easier, as did Colton Bogucki's fourth-place finish in 15:37 and Jacob Hunter's 15:53 sixth-place finish. Jacob Windle was 20th and Chase Dawson was 29th.
"It's awesome to see all of this work pay off," Morris said. "Konrad Steck took the lead, I was with him for two miles, and right after that point there's a downhill before two uphills. I caught up to him there and decided I'd push him on the uphills. I knew that was the time to go."
The Vikings dominated with 45 points, ahead of Midlothian (90), Freedom (92) and locals Rock Ridge (seventh with 189 points), Dominion (eighth with 207) and Woodgrove (11th with 252).
Loudoun Valley will also head to the Nike Cross Southeast meet.
Sophomore Ryland Pettit was the first Woodgrove runner to break 16:00 — he ran 15:54 — and he ended up overshooting his goal.
"I was ranked 12th, so I was shooting for 11th," he said.
He ended up seventh. He studied the runners ahead of him and any timehe saw someone falter in their stride, he went for them.
"This was the best race I've ever had, not just because of my time, but because I was able to stay focused the whole time," he said.
[Best_Wordpress_Gallery id="8″ gal_title="Pep rally 2016″]
Chasing the Spotlight
Despite the loss of two national cross country champions, the D.C.-area cross country runners won't be overlooked this fall.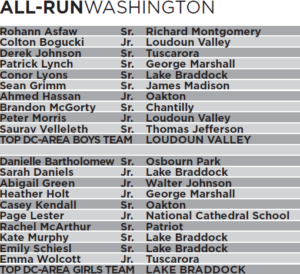 Not after Kate Murphy ran the third-fastest high school 1,500 when she qualified for the U.S. Olympic Trials. She made it to the semifinals a week before she finished 12th in the 3,000 meters at the world junior championships.
This follows a year when she won the Nike Cross Southeast meet and a state individual title. Coming back for her senior year at Lake Braddock, she headlines a local group of girls who have been getting a lot of attention for their exploits on courses near and far, including Patriot senior Rachel McArthur, who was an alternate to the world junior championships this summer in the 1,500 meters. Seven of 10 girls on the post-season All-RunWashington team return for the 2016 season.
The boys, on the other hand, are all coming out of the shadow cast by Drew Hunter and his 2016 classmates, with only Richard Montgomery senior Rohann Asfaw returning from last year's All-RunWashington team.
This year's cross country landscape inspired the most engaging discussion among our coaches panel that we've had in the past four years. They met after the three state meets to pick the 10 boys and 10 girls who represent the best of the D.C. metro area. They also picked the seven boys and seven girls from D.C., Maryland and Virginia. Virginia again dominates the All-RunWashington preseason team, with nine of 10 boys and eight of 10 girls.
The coaches selected the most promising teams heading into the season, though they will be no surprise to anyone who saw last November's state championships.
Once again, Maryland and Virginia will hold their state meets over the same weekend — Nov. 11-12, with the Maryland and D.C. private schools racing that Saturday, a week after all D.C. schools meet for their state championship.
---
Page Lester – National Cathedral School – Junior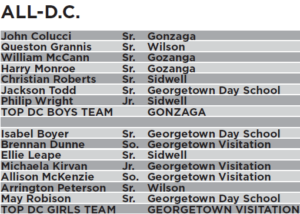 Page Lester, the National Cathedral School triathlete who moonlights as a runner, won both the 800 and 1,600 at the ISL championship, after trailing now-graduated Taylor Knibb across the line at the Maryland-D.C. Private School cross country championships.
A shoulder injury kept her from swimming normally, so she spent four months just kicking in the pool.
"It wasn't very fun, but my legs are stronger now," she said.
Her endurance has been improving as she's added distance to her weekly long runs.
"I used to do four, maybe five miles, now I'm up to 10 or 11," she said. "I'll run three afternoons a week, plus my long run," on top of five or six swims and three or four bike rides weekly.
Highlights – Nike Cross Southeast: 45th, MD-DC Private School Championships: 2nd
1600 meters: 4:57.7; 3200 meters: 10:47.88
---
Abigail Green – Walter Johnson – Junior
Abigail Green emerged from a swimming pool and shot to the front of Walter Johnson's team as a freshman, helping the Wildcats to the last two Maryland 4A championships. Now a junior, she's aiming to lead the team to its fourth straight title, while also targeting the indi
vidual crown, which Annapolis senior Maria Coffin won last year.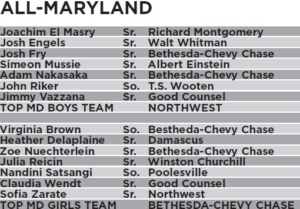 It's a rivalry she's embracing.
"Maria's very consistent with her running, and I ran my best time when we ran even then pushed it at the end," she said. "When I was a freshman, I'd just go out fast all the time, that's all I really knew how to do," she said. "I didn't know any better, sometimes I pushed a little too hard. I can follow other people's lead now, but I also know how to run my own race."
She broke 11 minutes in the 3,200 meters, getting down to 10:37, which changed the way she looked at racing.
"I broke a huge barrier for me when I broke 11 so early on, and breaking it every time I ran the 32. It helped me feel like I was on a higher level after that," she said. "To see a different number at the start of your results changed things more than I thought," she said.
Highlights – Nike Cross Southeast: 31st; Maryland 4A championships: 2nd
1600m: 4:59.62; 3200m: 10:37.60
---
Ahmed Hassan – Oakton – Junior
Ahmed Hassan had been cut from the basketball team his freshman year at Oakton when he decided to take his then-unapparent talents to the indoor track team, a week after the season started
"Coach cut me some slack and let me run," he said. "A lot of the older guys helped me out. I shuffled my feet a lot when I started."
He learned to fix that, and ran 4:32 for 1,600 meters his freshman year. But coming into his first cross country season as a sophomore, without the familiarity and base training to go along with the distance, left him ill-prepared "I was getting rocked in workouts," he said. "It was a major adjustment to the mileage."
It all paid off when his 1,600 meter time dropped to 4:17.56 to finish second in the outdoor state meet. He had started his track season with a 4:41 in January.
Highlights – Virginia 6A XC: 28th
1600m: 4:17.56 (2nd in Va. 6A); 3200m: 9:19.22
---
Heather Holt – George Marshall – Junior
Emma Wolcott – Tuscarora – Junior
Despite their polite demeanors, Heather Holt and Emma Wolcott grabbed the spotlight in Virginia's 5A division, winning the individual titles in 2014 and 2015, respectively, and setting up two more years of competitive races between the two. Now juniors, they're also leading teams that could match up well at the state meet, after Wolcott's Tuscarora team won and Holt's George Marshall team took fifth.
Holt avenged her state meet loss to Wolcott and nearly made the Foot Locker final in the process, finishing six seconds back from the last qualifying spot. She's in her third year of running, after playing soccer, and she's picking up the nuances outside of the 5k races.
"I've gotten more experience racing, but now I observe people's demeanors before races," she said. "It's helped me relax."
She went on to win the indoor and outdoor state 1,600 meter titles, the latter in 4:54.28.
Wolcott, on the other hand, is more of a distance runner, hitting 10:39 for 3,200 meters midseason during her abbreviated spring, good enough to be the fourth fastest time among returning Virginia runners.
As a result, she's a fan of more difficult courses that test her strength, where she can build a lead and tire the kickers out.
"I don't have a great kick so I like to put as much distance between me and anyone behind me so they can't surprise me," she said.
She started running for fun in seventh grade, but when she reached high school, things started to come together for Wolcott.
"I like the competitive aspect, pushing yourself, seeing how good you are," she said. "Once I got to race I just kept finishing close to the front."
Holt highlights: Virginia 5A XC: 2nd, Footlocker South: 11th
800m: 2:11.30   1600m: 4:54.28 (1st VA 5A)  3200m: 10:42.13
Wolcott highlights: Virginia 5A XC: 1st, Footlocker South: 22nd
3200m: 10:39.63
---
Saurav Velleleth – Thomas Jefferson – Senior
For Saurav Velleleth and his Thomas Jefferson teammates, running is a fun reprieve from their science and technology magnet school's grueling curriculum.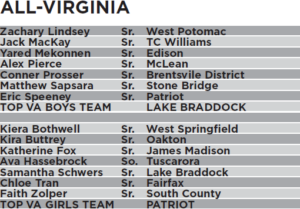 "School takes up so much of your life, there's so much homework," he said. "For a lot of us, we use running as a way to take our minds off of academics."
He has an added complication of commuting from his home in Loudoun County, about 45 minutes each way, where he got his start running with the Nova Athletic Club, directed by the Hunters. But they can't turn their focus on and off, and that's why the Colonials notched a runner-up finish in Virginia's 5A division last fall, with Velleleth leading the way in third place.
"We take our academic dedication and apply it to the sport," he said. "We're pretty motivated on our own." He followed that up with a second place finish in the 3,200 meters in the spring, after winning the indoor 3,200.
But what would his life be without running? "I'd be playing basketball, getting home at 5 instead of 8. Living like normal kids. I don't want that."
Highlights – Virginia 5A: 3rd
1600m – 4:16.25 3200m- 9:22.10 (2nd 5A)
---
Patrick Lynch – George Marshall – Senior
George Marshall senior Patrick Lynch put everything together during his junior year, culminating in a ninth place finish in the Virginia 5A meet. He was enthusiastic about the sport from the start, though. Without a fall sport as a freshman, he showed up to the first day of tryouts and loved it.
"I liked that, when with other sports you had to hold back, with running, you can just put it all out there," he said.
But there was a sport way to run, and he came around to it in 2015.
"I finally figured out how to push and when to push," he said. That savvy helped him hit 4:25.93 for 1,600 meters this spring.
Highlights: Virginia 5A XC: 10th
1600m: 4:25.93 3200m: 9:38.07
---
Sean Grimm – James Madison – Senior
Sean Grimm led the way for James Madison's surprising runner-up finish in the 6A race last fall with his 19th place finish. The Warhawks look to challenge Lake Braddock this fall, with four of their top five returning.
Grimm's journey to a pair of spikes started when he gave up baseball after eighth grade.
"I got bored sitting around when I was supposed to be playing a sport," he said, explaining why he would probably be swimming or cycling if he didn't run.
He's an endurance nut.
As he's matured, he's refined his approach to competition.
"There's a tactical part of the races," he said. "I'm learning to use different strategies and it feels like a whole new sport when you do that." He showed mastery of nuance in finishing eighth in the outdoor 3,200 meters at the Virginia 6A meet. And running has benefitted him outside of his athletic life. "I'm not normally academically motivated, but after I run I feel like I have a lot more focus," he said. "It's good for me all around."
Highlights: Virginia XC 6A: 19th
1600m: 4:26.82   3200m: 9:33.70
---
Conor Lyons – Lake Braddock – Senior
A transplant from Indiana, Lyons played a big, or tall, part in the Bruins repeating as team champions. He misses the slower pace of the Midwest, but that didn't stop him from finishing eighth in the Virginia 6A race to help Lake Braddock defend its title.
"We have a lot more speed-based stuff here. I never ran a 200 before I came here," he said. "I don't like intervals and I know they make me better." They helped gain the fitness that carried him to the 3,200 championship this spring in a PR of 9:16.80.
If he wasn't a runner?
"I'd probably be watching videos on YouTube."
Highlights: Virginia 6A XC: 8th    Nike Cross Southeast: 49th
1600m: 4:16.97   3200m: 9:16.80 (VA 6A: 1st)
---
Casey Kendall – Oakton – Senior
The Virginia 6A cross country championship race was run on guts and teamwork for Oakton's Casey Kendall.
"Cross country was kind of disappointing," she said. "I had a few quick races but had some rough ones toward the middle and the end."
Injuries and low iron couldn't keep her down all the time, though. She and then-senior Jill Bracaglia finished together, with Kendall given the edge for third place in the results.
"If she wasn't in the race, I don't think I could have done that," she said. "That's just teamwork there. That was the hardest race of my life."
Bracaglia is gone, as are Kendall's earlier role models who graduated, including her sister Kara, leaving her the undisputed leader.
"I like being captain. I'm really extroverted so it works out well," she said. "I like checking up on everyone in practice, making sure they're in line and doing what they're supposed to, but then on race day keeping their nerves down. "I tell them, 'It's just a race, do what you have to do. Do what we've trained for.'"
Highlights: Virginia 6A XC: 3rd
1600: 4:58.88 (VA 6A: 5th)    3200m: 10:41.56
---
Danielle Bartholomew – Osbourn Park – Senior
Danielle Bartholomew broke out at the Oatlands Invitational, finishing third and introducing Northern Virginia to the Osbourn Park junior who had spent two years toiling with injuries.
"I was a little freaked out by all of it," she said of the new standard for her performances.
"I ran for fun before, but then once I started running fast, I felt like I had to keep getting better," she said. "I was worried about disappointing people. Now there were expectations."
She's managed those expectations, while also justifying people's confidence. She finished seventh in the Virginia 6A cross country meet, then second in the outdoor 3,200 meters.
That success has bought her a little benefit of the doubt from her older sister, with whom Danielle creates costumes for cosplay conventions and now understands Danielle's commitment.
"We usually make the costumes without patterns, so it's a creative outlet," she said. "It's a good balance from all the running."
Highlights: Virginia 6A XC: 7th
1600m: 5:24.66   3200m: 10:59.29 (VA 6A: 1st)
---
Rohann Asfaw – Richard Montgomery – Junior
Rohann Asfaw went from a gawky teenager hoping to lose some weight to a near-national qualifier in just a few years. He's been doing that on relatively-low mileage, about 35 miles week, but with a lot of intensity. He was one place away from making the Nike Cross National meet last fall.
"I'll start boosting my mileage to get ready for college running, but for now I've done alright with short, faster stuff."
He's done more than alright. Asfaw dominated Montgomery County and nearly won the state 4A cross country title. He later avenged his loss to Dulaney's Eric Walz in winning both the 1,600 and 3,200 at the outdoor state meet, and he's the favorite to ascend to the title this year. He ran 9:11 at the New Balance indoor national meet and he was one place away from qualifying for Nike Cross Nationals.
"It was exciting to finish at the top of a lot of races, but I really want to make to Nike (Cross Nationals)," he said.  
Highlights: Maryland 4A: 2nd Nike Cross Southeast: 6th
1600m: 4:19.10  2 mile: 9:11.08
---
Rachel McArthur – Patriot – Senior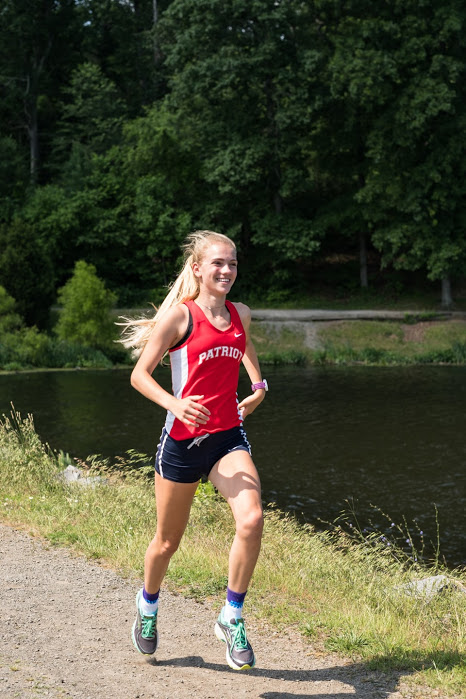 The last two years of Rachel McArthur's cross country career have taken her all over the emotional spectrum. An incredible streak toward the end of her sophomore year carried her to state and Nike Southeast titles. She and Kate Murphy ran the national race side by side, not pushing the pace because, as 10th graders, they were looking at two more chances.
"I just blew through everything and didn't have a care in the world," she said.
But as a junior, a quad tear bedeviled her for weeks, forcing the Pioneers to gamble on trying to make the state meet without her and allowing McArthur another week to recover. It didn't pay off, but she was able to make it back for the Nike Cross Southeast meet.
"I was feeling fine and then in the last stretch I collapsed," she said. "I crawled around then got up, walked across the finish line and passed out.
"Just a little."
She made it, but the national meet was a long shot that again didn't pay off.
"It was really tough to be sitting back and watching people run so well and not be able to be in those races," she said. To add more injury to that, she later broke her sacrum when a friend jumped on her back. "I felt the crack, and knew I was going to be out," she said. "I just didn't know how much pool running I'd end up doing. It was awful. It was just really upsetting."
That said, she came back in time, and in shape, for the indoor state meet, where she ran on the winning 4×800 team, then carried that success into the outdoor season, finishing second in the Penn Relays mile and winning the 800 state title, and edging Murphy en route to running 2:06.55.
Throughout, though, she was still not mentally present in a lot of races.
"I didn't feel like I was racing, sometimes," she said. "If I'm not mentally there, it feels like the race didn't happen."
Then she avoided a fall at the Brooks PR Invitational mile to finish third in 4:45.72 before also finishing third in the US junior championships in the 1,500 meters.
Even with that happy ending to the season, she knows the next season will be hard, with her friend and rival Murphy running so well, and there are pieces left to put together, especially in her mental approach to racing.
"I don't really have faith in what I can do," she said. "I know I can push myself, but after the last year, I need to prove to myself that I can run the way I remember."
Highlights: Nike Cross Southeast: 5th
800m: 2:06.55 (1st VA 6A) 1600m: 4:48.81  3200m: 10:35.19
---
Brandon McGorty – Chantilly – Senior
Of all of the high school runners in the United States, only one can claim to having beaten Hunter in the last year. That's Chantilly senior Brandon McGorty, who edged him in a mid-season 800 meter race. That was much more McGorty's wheelhouse than more than three miles of cross country racing. But toward the end of last fall, he started to value the sport for its opportunity.
"I basically use cross country to get in shape for track," he said. "It's not my strong suit."
The night before last year's 6A state championship, his father Kevin, a two-time Olympic Trials decathlon qualifier, convinced him to give the grassy race a chance on its own merits. He was in the championship, why not try.
"I was about ready to get started with indoors, but he reminded me that this race was an opportunity and I came in with a clear head," he said. "I used to hang onto the pack and then give it what I had at the end, but I kept fading. I think I'm going to start hanging back and kicking more."
Highlights: Virginia 6A XC: 6th
800m: 1:48:58  (VA 6A: 1st, USATF Jr, 5th)  1600m: 4:13.41 (VA 6A 1st) 1 mile 4:08.58
---
Derek Johnson – Tuscarora – Junior
Derek Johnson doesn't go in for that. He sat and kicked early on in his career at Tuscarora, but that was just as much due to his inexperience. He signed up for the team with little experience. And it was a little rough.
"For the first couple of weeks, I was sleeping all the time. It was so hard," he said. He stuck with it, though, thanks to the influence of his teammates and his coach, Troy Harry. "He's the best coach I've had in any sport," he said.
He embraces cross country for the chance it gives him to work on his strength and use a course's difficulty to his advantage.
"It's tough to compare times in cross country," he said. "You see the times people run — someone's in the low 16s and you wonder if it's the kind or the course. If we just wanted fast times, we'd run 5ks on the track. I love Oatlands, with its hills. It's a real cross country course."
Highlights: Virginia 5A XC: 6th
1600m: 4:31.97    3200m: 9:39.77
---
Colton Bogucki – Loudoun Valley – Junior
Peter Morris – Loudoun Valley – Junior
Loudoun Valley likely has a better team now than when the country's best runner wore its uniform. Despite Drew Hunter's graduation following an undefeated cross country season, most of the remaining Vikings are underclassmen. Without Drew, the Vikings swept the top seven spots in the conference 3,200 meters, with five of them underclassmen and all of them under 10:10. Hunter was the only top-five scorer, at the Virginia 4A state meet, older than a sophomore last fall. Colton Bogucki, Peter Morris, Jacob Hunter and Chase Dawson are setting up a foundation for another two years, at least, of dominance.
Bogucki and Morris, both juniors, ran nearly identical times this spring and finished fifth and sixth at the cross country state meet, then ran very similar times in the spring, with Morris hitting 4:20.64 and 9:23.21 for 1,600 and 3,200, respectively, and 4:21.20, 9:23.65 for Bogucki.
Bogucki discovered his affinity for running at summer camp, where, at age 10, he finished a five mile run feeling much better than expected.
"For a 10-year-old, I did pretty well," he said. "I don't know why I tried it in the first place."
Following his brother to the sport, he joined Vikings coaches Joan and Marc Hunter's year-round Nova Athletic Club, which has spawned the careers of many of the top runners from Loudoun County recently, including TJ's Velleleth. Nova is basically a sophisticated farm team for the Vikings' program, including sponsoring indoor track at Loudoun Valley — a first for a Loudoun County school.
Over the past two years, Bogucki has added mental strength to his physical growth.
"I learned how to push myself mentally," he said. "That confidence gives you a great advantage because you know you can go a little deeper."
Morris also followed a sibling into the sport: his twin sister, Natalie. Like Grimm, he left baseball behind.
"She wanted to do it, so I went along," he said. "I hadn't run competitively before."
"It was a sport we could do together," Natalie said.
Peter gets a lot of his confidence from looking back at the longer runs he has logged.
"Getting to longer runs helped me build a lot of strength," he said.
The team's success isn't a surprise to Morris and Bogucki.
"We have some of the best coaches around," Bogucki said.
Morris looked outward.
"We're a dedicated team, and when we do well, people notice," he said. "They want to be part of a great team."
Bogucki Highlights: Virginia 4A XC: 5th
1600m: 4:21.20 (VA 4A: 3rd) 3200m: 9:23.65
Morris Highlights: Virginia 4A XC: 6th
1600m: 4:20.64  3200m: 9:23.21 (VA 4A: 3rd)
---
Sarah Daniels – Junior – Lake Braddock
Kate Murphy – Senior – Lake Braddock
Emily Schiesl – Senior – Lake Braddock
Sarah Daniels has a similar rationale to Morris' as to why Lake Braddock's girls team has grown.
"We're the most successful team in the school," she said. "People want to be a part of that."
That's the way coach Mike Mangan likes it. He tells runners to bring their friends out for the team, even if they aren't fast. Then again, many end up becoming fast.
Lake Braddock has three girls on the All-RunWashington team and one on the Virginia team this fall. The Bruins return all of their scorers and all but one of their top seven, and figure to be one of the best teams in the country.
Kate Murphy has been a part of that, but she's just one scorer. That said, she will be probably be first in most races.
She has seen a lot in her three years of running. Portland twice, Hayward Field, Bydgoszcz, Poland. There's still more, though.
"Tokyo 2020," she says with assurance, looking forward to lining up to race the 1,500 meters.
And she didn't see the postseason of her first indoor track campaign, after Mangan didn't see the kind of preparation and effort in practice he thought she was capable of. It's not exactly Michael Jordan being cut from the basketball team, but it got her attention.
The race that stamped Murphy's ticket to this year's Olympic Trials showed a lot of promise for where she can take her running career. The 62-second last lap, for example, that carried her to 4:07.21 and the third-fastest time in high school history.
"When you get somewhere in a race you've never been before, it's a little scary to push, because you might blow up," she said.
She didn't blow up when she took over for the rabbit ahead of schedule, and the experience on the national and international stages will only make her more dangerous on the cross country course.
While she considers herself a track runner primarily, Murphy appreciates the strength building that is the routine in the cross country season.
"They complement each other: track makes you faster, cross makes you tougher and builds your form," she said. "No matter what season, I just have to put in the work."
She was formerly a field hockey player and if she wasn't running, she says she'd be "ballin,'" but cross country and track, in retrospect, seemed pre-ordained.
"I think running found me," she said. "I've always been athletic, but this is a sport where you can take control and be in touch with what your body can do."
As her ambitions for the track grow, she uses the cold numbers as a grounding mechanism.
"You need to be confident but remember that there's always someone better than you," she said.
Though she is near the pinnacle of high school running, Murphy doesn't draw her inspiration from the professionals. She gets fired up among her peers.
"I look up to my teammates when I see how much pain they push through," she said. "Every day you see someone do something they couldn't do before."
Daniels and Emily Schiesl were 11th and 10th, respectively, at the 6A state meet, and they're back, with hopes of finishing higher and driving the Bruins' score lower.
As much as they want to win, the team has built a positive atmosphere, which is tough when only seven runners get to lineup at championship races.
Schiesl saw it during her first days on the team. "I was excited," she said. "I thought it would be more cutthroat but everyone was supportive of each other. It's more of a family than I expected."
Daniels pointed to the team's tradition of writing letters to the other members of the postseason team as something special to her.
"It's motivating to know how many people support you," she said. "You don't forget that on race day when things hurt and you're looking for a reason to go on.
Daniels Highlights: Virginia 6A XC: 10th, Nike Cross Southeast: 29th
1600m: 5:15.03 3200m: 11:04.65
Murphy Highlights: Virginia 6A XC: 1st, Nike Cross Southeast: 1st
800m: 2:06.70 (VA 6A: 2nd) 1500m: 4:07.21 (reached Olympic Trials semifinals) 3000m: 9:17.01 (USATF Jr: 1st)
Schiesl Highlights: Virginia 6A XC: 11th, Nike Cross Southeast: 23rd
1600m: 5:14.46   3200m: 11:01.92
---
This article originally appeared in the Fall 2016 issue of RunWashington.
Dan Reeks believes in running. He knows what running did for him, and knows what running can do for others.
He started coaching in Montgomery County 43 years ago, during his early 20s. Back then he was a volunteer assistant for Paint Branch High School, and not necessarily volunteering by choice, either. Reeks, then a national-class runner, said he was concerned about an Amateur Athletic Union rule limiting how much money one could earn through coaching.
This was 1971. A year later, Frank Shorter would win gold in Munich, igniting the first running boom. Reeks — now heading into his 13th season with Sherwood High School — has not missed a Montgomery County cross country season since.
During his first decade of coaching, Reeks not only led Northwood High School's girls cross country team to three state championships, but launched girls running in the county with the help of fellow coaches Kerry Ward and Greg Dunston.
Ward had guided Reeks while he was a senior at American University, and coached in the county for decades, leading Bethesda-Chevy Chase and Walt Whitman high schools to numerous state championships. Ward, while at BCC, also hosted the county's first official girls cross country meet.
Dunston started coaching in the county in 1971, as well. The Georgetown Prep Coach, who previously coached at Walter Johnson, described their support for girls cross country thusly: "It was more a matter of thinking that you want equal rights for everyone."
Dunston and Reeks got in the habit of bashing out Sunday long runs together. These days, they go for bike rides instead. The point is, these two have spent countless hours — many decades, even — talking shop, and fine-tuning a common approach to coaching.
"We want [our athletes] to have fun," Dunston said, "and realize this is a sport you can do for a long time after high school."
An interviewer described Reeks' coaching streak as "amazing."
"But it's not," Reeks said, "because, one thing, it's fun. … I look forward to going to practice. I just like being around the kids." He added: "It's great to see them mature."
At the end of each season, the Sherwood coach asks his junior and seniors for feedback on his coaching.
"And while it might be a benevolent dictatorship," Reeks said, "the dictator does listen."
Making the Team
Heading into his junior year, Reeks transferred to Palos Verdes Peninsula High School in Los Angeles County, where he quickly made friends with members of the track team.
Reeks tried out for the team, and was cut. Senior year, he tried to change that.
"I trained and trained," he said. A few days a week, he said, he would run from his house up a big hill to the main road and meet up with a friend for training runs, an experience that taught him the value of group training.
Reeks made varsity cross country, "and that was it." He knew what his passion was.
At Los Angeles Harbor Community College, Reeks started running twice a day to improve, following the lead of a teammate who had won Los Angeles' city championship.
"He'd run, golly, I think he'd run in the high 9:30s [for two miles], and he got me to train with the coach who had coached him … and that got me down to 9:20 and 4:20 [for the mile]," Reeks said.
Those performances helped Reeks earn a scholarship to American University.
And as Reeks immersed himself in the sport, he quickly developed an interest in coaching.
"In college I liked supporting my teammates, and watching them, and just trying to figure out [what they were doing]," he said.
During his junior year at AU, Reeks mostly coached himself.
"I just followed the workouts I did the year before," he said, "because I kept a training diary." Then, as a senior, he met and was coached by Ward, who, like his first high school coach and others, had a big influence on Reeks' coaching philosophy.
"I still use a few of those workouts," he said. "I don't make my athletes run 10 miles on the track, though."
Years of Coaching
Reeks and his wife, Barbara, have been married for 40 years, and have two children, David and Emily.
His second coaching job, after Northwood, was at Eastern Middle School. From 1983 to 1998, he coached at Montgomery College — or "the MC," as he calls it — where he started the indoor track program and each year qualified athletes for the NJCAA championships. He coached 17 junior college All-Americans.
Los Angeles Harbor Community College had enabled Reeks, who had only been running for one year at that point, to develop in athletics and academics and earn a scholarship to AU.
At Montgomery College, he saw his job as helping others do the same: to balance work, training and school. He takes pride in knowing that many of his athletes transitioned successfully to four-year colleges.
From the fall of 1999 through Spring 2002, Reeks coached at Winston Churchill. In his last cross country season there, the boys and girls teams both finished third in the state meet.
The decision to leave Winston Churchill was difficult. Reeks cried while breaking the news to the team.
But he also taught social studies in the county for 39 years – mostly at Wheaton – and wanted to close out his career coaching and teaching at the same school to reduce his commute. He was able to do that at Sherwood, where, at that time, the boys hadn't won a dual meet in outdoor track in more than five years and the girls cross country team was at a low point.
This was the fall of the sniper shootings. John Allen Muhammad and Lee Boyd Malvo shot at people indiscriminately, causing widespread fear. Training was missed; many meets were canceled.
Still, that fall, two girls and two boys represented Sherwood at the state meet. That spring, the boys track team broke its losing streak.
Since then, in cross country, both teams have qualified for the state meet almost every year. In 2003, the Sherwood boys cross country team was second in the county, first in the regional meet, and won a state championship.
Reeks "always puts together competitive cross country teams," said Kevin Milsted, the founder of MoCo Running, which chronicles the county's high school running scene. "He has the technical knowledge to develop runners of all body types, and he has the personality and dry humor to engage athletes of all backgrounds."
It has worked for junior Gary Confrey. As his mother Jackie put it, his motivation was lacking in areas where he did not already show skill. That changed after one talk with Reeks.
"He told him that if you want to do well, you have to put in the work," she said. "It was simple but it flicked a switch. Now he doesn't want to miss school if he's sick because it means he can't go to practice." The first day of the school year, she said, "kids line up to see him and give him a hug."
Reeks understands his athletes have a lot on their plate.  They are focused not only on excelling at running and academics, but perfecting SAT scores and college applications. "You have to get as much as you can out of them during practice," he said, "and remind them that life is short." (Dunston said almost the exact same thing.)
Reeks puts team captains in charge of summer training, assigning mileage goals for each class. To that end, early in the summer, the captains choose a location for team members to meet up each morning for runs, said senior captain Courtney Nakamura.
"He just cares a lot about the team and each individual person. It makes us all want to work harder," Nakamura said.
Early in the season, they start with general workouts before gradually branching off into different training groups. A computer program called Running Trax, packed with performance charts, helps him individualize workouts.
"I have always written [out the workouts], printed them, and given them to the kids," he said
A staple workout for Sherwood is a tempo followed by 12 200-meter intervals. To prepare for the state championship at the punishing Hereford course, the team goes to Lake Needwood and practices in an area known as "the dip."
"His biggest priority," said Ariel Mahlman, who graduated from Sherwood in 2013, "is definitely to provide his athletes with an understanding and passion for the sport … He is very easy to talk to and always offers great advice whenever you ask a question."
Reeks' athletes describe him as "silly," as a "character," as someone who makes them laugh with "cheesy puns."
When athletes ask him how they can improve, though, Reeks gets down to business.
"You got to work," he said. "Distance running, I always tell the kids, and I have for years, is the Puritan work ethic. You get better because you train."
The MoCo Scene
One day in the late 2000s, Reeks was at his desk, grading papers, when, as he remembered it, "this exceptionally good-looking couple is at my doorway with a security guy who says, 'This guy wants to come to Sherwood and run.'"
This guy was Solomon Haile, who in 2009 would win the Foot Locker Cross Country Championship. Haile had been training in his native Ethiopia, and had come to the United States for two reasons: to run and go to school.
"He was always centered, he had a goal, and he was smart," Reeks said.
Asked to recollect highlights from 43 years of coaching, Reeks mentioned Haile setting the national record in the 5,000. He mentioned Northwood winning its first state cross country title in 1975. He mentioned, in 2003, the Sherwood principal running up to him on the Hereford hill and exclaiming, "We've won!"
But Reeks is well known and respected by Montgomery County coaches and runners for others reasons.
"I always thought it was really cool how supportive he was of me, even though I ran at a rival school," said Sean O'Leary, who ran for Walter Johnson.
O'Leary got to know Reeks through the Concord Retreat Cross Country Camp, which Reeks has run for 30 years.
"Bottom line," O'Leary said, "it doesn't matter if you're Solomon Haile gunning for the Footlocker National Championship or a freshman wearing basketball shoes running for a different team — Coach Reeks wants you to be successful."
When Kyle Gaffney, a committed runner at Blake High School, needed coaching and training partners, Reeks – thinking of his own experiences running at AU – provided it.
Reeks is matter-of-fact about it.
"You just do that," he said, "because you want to see the sport grow and you want to see kids run and do well."
All the while, Coach Reeks' legend in Montgomery County — whether he realizes it or not — grows with it.
"I have never seen anyone yell louder than him at meets," said Owen Miller, Sherwood's boys cross country captain. "He is incredibly enthusiastic."
Despite losing two national-class runners to graduation, the Chantilly boys and Lake Braddock girls started their state title defense with victories at the Monroe Parker Invitational Saturday in which was, for the most part, an early preview of the Northern Region meet.
Louis Colson staked his claim to the northern region, and perhaps the state, which has been vacated by three seniors who finished ahead of him last year. Before today, Colson, a Thomas Edison senior, had never broken 15:00 for the 2.98 mile course at Burke Lake. On his first race back, he won in 14:43 after breaking away from George C. Marshall's junior Mackenzie Haight after two miles (9:48).
He's had a strong summer, including a 15:37 at the Crystal City Twilighter 5k in July.
By Dustin Renwick
Around the region, high school athletes log sweaty summer miles in preparation for the 2013 cross country season.
Pavement, trails and maybe a track or two keep these runners in shape for a fall that will hold several changes, all of which affect the postseason. Washington, D.C., has a date for a real state championship. State qualifiers in Maryland will test a new course. Realignment kicks in for Virginia high schools. For the most part, regular seasons remain intact, but that means these shifts are all the more important because runners will test them at a time when the biggest trophies and the brightest glories are in reach.
DC finds a date
College coaches looking for top recruits have an easy starting point in the state meet results. A champion doesn't guarantee success, but a state meet title provides a glimpse of talent. Washington, D.C., hasn't been able to provide a definitive champion in the past because the city doesn't host an official state meet.
The mayor's office created the District of Columbia State Athletic Association in 2012 with the idea that sports should have parity and athletes should play by the same standards in the postseason.
This year, the DCSAA will host a meet on November 2, a date between the championship races for the public and private schools in D.C.
"We want to have a state championship at the end of the year like every other state does," said Kenny Owens, DCSAA statewide special events coordinator of athletics. "With this type of structure, we're able to give kids more exposure rather than the regular league championships."
The organization hosted its first state meet last year at Fort Dupont Park, but the date coincided with the Maryland and Washington, D.C., Private School Cross Country Championships. Teams were forced to choose between races, an untenable position for any event claiming to hold a definitive state title contest. Only a dozen schools attended.
Owens noted that one goal of the combined meet is to allow athletes to showcase their skills and give them a higher profile for college recruiters.
"You might be the best in your league, but there's another league or school across the city that has great athletes, too. It brings up the level of competition."
Right now, strictly comparing times between the events for the D.C. Interscholastic Athletic Association and the private school championships remains almost impossible.
That in itself stands as an illustration of the difficulty any athlete encounters when trying to claim the title of best runner in D.C.
"I think people have bought into what we've created and what we're trying to do," Owens said. "They see structure is being built where people are playing by the same rules."
The DCSAA has named 46 schools in D.C. eligible to play under its guidelines. The organization encompasses public schools, public charter schools, private schools and parochial schools in the District.
Membership is voluntary, and there's no guarantee of everyone showing up at the start line in November. Yet a fair opportunity presents itself this year.
"Our goal and our hope is that if you have a cross-country team, you want to participate," Owens said.
Marvin Parker, head coach at Dunbar, said the race makes sense given that D.C. stretches a mere 68 square miles.
"It's important to have our kids run together," he said. "If you're going to make an All-Met team, it's easy to make when everybody's had the opportunity to see each other."
His team competed in the inaugural DCSAA championship last year, held at Fort Dupont Park on a different course than the DCIAA meet. A site has not yet been determined for this year's race.
Hereford won't host in Maryland
"When you think Maryland cross-country, you think Hereford High School," said Seann Pelkey, head coach at Quince Orchard and this year's meet director for the 4A West region.
The school has held every cross-country state championship since 1980 with the exception of two years. Exception number three comes in 2013. Hereford Athletic Director Mike Kalisz sent an email detailing the changes. Pelkey received the email on July 5 and sent it to local running websites to post.
Kalisz wrote that "extensive school renovations" at the high school will force the cancellation of the Bull Run Invitational in September. The course itself won't experience any changes until November, according to the email, but Kalisz wrote that other elements of the construction process "will not allow us to guarantee a safe environment for all athletes and spectators."
The Maryland Public Secondary Schools Athletic Association has not yet identified a new course for this year's state championship.
"We've been spoiled at Hereford," Pelkey said. "The staff at Hereford do everything to get that course ready. Anyplace else we go is going to involve a lot more work, I'd imagine."
With the course out for at least this year, though, coaches who have lobbied to move the meet in the past have another opportunity. Complaints against the course have focused on the challenging layout that includes plenty of hills and the
fact that slower times at the event could negatively influence college recruiters or national meet selections.
"It'll be interesting to see if those people have more of a voice," Pelkey said. "Hereford is one of those courses that never lets you settle into a rhythm. Teams may be physically gifted and ready to roll come state time, but the course beats them mentally."
Quince Orchard took second in the girls 4A race last year, and Pelkey said the new course won't alter regular season training. But travel could become a factor in planning for the fall. He said the team might switch around its schedule to get a feel for a new course if there is a regular season race held at what would be the state site.
Virginia shuffles postseason structure
More than 300 high schools in Virginia all face the implementation of a statewide postseason overhaul. The changes come as part of the Virginia High School League's realignment plan for the 2013-14 and 2014-15 school years.
The most distinct modification is  that the state will switch from a three-group system to a six-class system.
Under the old arrangement, schools were separated into the three groups. Schools with the smallest enrollments comprised Group A. Each group had four regions composed of districts, each with up to 11 schools.
Now schools will be placed into classes, starting with the smallest enrollments in Class A. Classes A through 3A will split into east and west regions. Classes 4A through 6A will divide into north and south regions. All regions will contain four conferences, each with up to eight schools.
Such semantic changes do carry actual consequences.
For example, the Chantilly Chargers won the boys Group AAA state cross-country title in 2012. Chantilly ranks as the seventh-largest school in the state, according to March 2012 enrollment figures used by the VHSL's executive committee. That puts the school in the new Class 6A, the designation for the largest high schools.
"I don't consider these changes to be an advancement," said Chantilly head coach Matt Gilchrist. "I'm not happy about it. I think the realignment is a football- and basketball-motivated switch. From a track and cross-country opinion, if it isn't broke, don't fix it."
Several potential problems could arise with the new system when viewed from a cross country standpoint.
The state championship for cross-country will hold six races instead of three, meaning a two-day meet. Plus, six teams from each region now qualify for the state race instead of four. That math increases the total number of teams running on the state course to 72, from 48 in the old structure.
"What happens on Friday if it's raining, and the course really gets destroyed?"
Individual standards also undergo a revision in the VHSL guidelines. In the old setup, the top 15 runners in each region qualified to race at state. The new policy will cut the number of spots to 10, but those 10 individuals cannot be members of the six teams that qualify.
"Now that kid in 17th, you wait until meets over, and did I get one of the 10 spots?" Gilchrist said. "Maybe that's a blessing in disguise. I've had enough kids finish in my career in the 16th to 20th spots."
However, Gilchrist said the new rules need to be tweaked. If five runners from the same school were to qualify as individuals this fall, they could not score as a team at the state meet.
"Don't let them bring a full seven," Gilchrist said, "but if you have five individuals, you should be able to score as a full team just like any other team."
Gilchrist said he'll prepare his team as usual in light of the modifications.
"You train the same way. You race the same way. You assess your team based on what you think they can do, and hopefully come postseason, that's good enough to move on."
The realities of these changes mean area coaches and school administrators have to think about new schedules, different travel plans, and the general sense that questions might outnumber answers until closer to the start of the school year.