Simply put, last year was good for the D.C. area's cross country runners. West Springfield's Caroline Alcorta's third place was the best Footlocker Cross Country Championships race by a girl since Erin Keough won it all in 1986. Katy Kunc and Hannah Christen gave Lake Braddock two national championships qualifiers. Edison's Louis Colson and Marshall's Mackenzie Haight proved the 5A class' depth by making it, and St. Albans' Tai Dinger gave D.C. its first qualifier since Sidwell's John McGowan.
But that was last year.
[button-red url="https://www.facebook.com/media/set/?set=a.945276658832900.1073741857.189448104415763&type=1″ target="_self" position="left"] Pep Rally Photos by Swim Bike Run Photography [/button-red]
[button-red url=https://www.facebook.com/media/set/?set=a.700506883371575.1073741986.106970012725268&type=1″ target="_self" position="left"] More Pep Rally Photos by Ed Lull [/button-red]
And aside from Alcorta, none of those runners made it to the finals the year before. Oakton's Allie Klimkiewicz did in 2012, and she and Bethesda-Chevy Chase's Nora McUmber, who won the Nike Cross South Regional, bring the most national cross country experience back to the crowd that will take the fields in a few weeks to kick off the season. So with a combination of their experience and the emerging talent that became apparent over the recent track seasons, our runners will likely remain a force in the new year.
Let's meet some of our pre-season All-RunWashington team members.
How it's done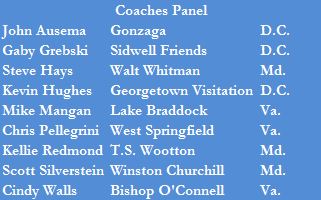 With the help of its panel of experienced coaches, RunWashington looked at runners from D.C., Northern Virginia and Maryland to peg who is primed for big things this fall. Coaches selected 10 runners whom the D.C. area would send to compete against other metropolitan areas' best. Coaches from Virginia, Maryland and D.C. then chose the seven best remaining runners for the All-Virginia, All-Maryland and All-D.C. team. Runners' schools determined which region they would represent.
Their prior cross country seasons played a big part, but track performances often point to major improvements on the horizon. Who knows whether a great mile time will hold up over 5k, but the panel's consensus was that talent tends to find a way.
Virginia
Fairfax's Alex Maguire is trying to prove the panel right. Though he considers cross country his weak sport, he has been focusing on building endurance this summer, part of which has been spent in the Cayman Islands. He wants the 4:15 he ran at the Virginia state meet in May to translate to grass, and he hopes the money he puts in the bank while on vacation builds up.
"It is very hot during the day and extremely humid, so naturally it makes it very difficult to run," he said. "But, it definitely is a positive because it teaches me to be able to run hard in adverse conditions."
Drew Hunter started coming on last fall with a 3A state championship in cross country. The Loudoun Valley sophomore cruised to a comfortable win at Great Meadows, but made his mark breaking nine minutes in the two mile at the New Balance Outdoor National Championships during track season, finishing second in 8:53.81. That's going to make him a player on the national scene, with that two mile ranking him fourth out of returning runners. His 4:10.04 1600 meter from New Balance demonstrates his range.
Klimkiewicz also brings national championship experience, having qualified for the Footlocker Cross Country Championships in 2012 and finishing two spots short of qualifying for a repeat trip to San Diego. Her sophomore teammate Casey Kendall is poised to make a jump in her second year as last year's second-fastest freshman at the 6A state championships.
Nearby at James Madison High School, Amanda Swaak is hoping to continue her late-season momentum that saw her finish 19th in the Footlocker South regional meet, where she ran a PR of roughly 40 seconds.
"I love distance," she said. "I wish we raced longer than 5k."
Swaak finished 12th at the state meet, one place ahead of Robinson's Lauren Berman but two behind Chantilly's Xaveria Hawvermale.
Outside of the 6A classification, Heritage's Georgie Mackenzie's 5:10.47 mile could adapt well to the cross country course, ala Alex Maguire.
Alex Corbett ran to a strong second place individual finish last year, leading his Lake Braddock team likewise to the runner-up position. Though he doesn't have the turnover that many high schoolers take for granted, his endurance allows him to run fast much longer.
"He's going to be a great 10k runner some day," said his coach, Mike Mangan.
Though the state meet wasn't his fastest race of the year, Corbett was pleased with his tactics and execution.
His teammate Kevin Monogue came out of nowhere during his sophomore cross country season, suffered an injury during track and then caught up by the end of his junior cross country season to be part of a pack of four Bruins who finished within five seconds. Monogue was third in that group, finishing 31st overall. Like Corbett, he excels at longer distances, with a 3200 meter best of 9:23.04.
West Springfield's Tim Ward is another distance specialist, with a 9:27 3200 best and a penchant for cranking out laps around Lake Accotink.
Ryan McGorty returns with another year of experience under his belt, one during which he took charge of the Chantilly team from his graduated brother and led the Chargers to a repeat state championships, and a narrow one at that (two points). Though his teammate Dakota Lange's move back to Utah will gouge the team's depth (McGorty and Lange finished third and fifth, respectively, at the state meet), McGorty is not shying away from the challenge.
"Once the season gets started, we'll see who's ready to step it up. We're still hoping to do big things," he said. "My favorite memory last year was seeing the Robinson kids and Battlefield kids saying they had won, and we all thought we'd lost. Then we saw our coaches hugging in the distance and we knew we'd made it."

D.C.
Tristan Colaizzi from Georgetown Day School's sophomore track season ended prematurely, but he filled in throughout cross country for his injured brother, then-senior Griffin. That season's high point was a tie for the D.C. state championship with teammate (and All-D.C. honoree) Aidan Pillard.
"It was great to share that with him, because we train together, put in the miles," he said. "We feed off of each other and it's great to see that all come together."
The two led the way for GDS's team victory and along with three other runners will return for the Hoppers, giving them a claim as preseason favorites among D.C.'s boys teams.
"I started off last year three seconds behind where I left off freshman year," he said. "It was great to see I was just as sharp as I was at the end of the year before."
Ellie Leape discovered early on at Sidwell Friends School how different high school training could be, but she grabbed ahold of her adjustment and asserted herself in her freshman season.
"When I got to high school, training was a lot more intense," she said. "I improved greatly just in the preseason. I had never followed a training plan before."
It kept working for her, as she ran to a healthy win at the ISL cross country championships, ahead of the Georgetown Visitation trio of Emily Kaplan, Lauren Cormier and Margaret Lindsay (all of whom are All-D.C. team selections) that will loom large over the D.C. team scene.

Maryland
In Maryland, Walter Johnson's girls team came on strong toward the end of the last cross country season, upending Bethesda-Chevy Chase in the regional and state championships. Coach Tom Martin attributed that success to mutual respect and support among the girls, which he insists was entirely their doing.
"I wish I knew how to make girls like each other, but this team works together and they run for each other, instead of against each other," he said after they won their state crown. "It makes a big difference."
Kiernan Keller finished fifth at the state meet and led the Wildcats throughout the year, but was a surprise for Martin, transferring from the Academy of the Holy Cross. It was there she saw the quality that may have been so key for the team.
"Everyone was very open and welcoming," she said. "They made me seem like I had been on the team for years."
Her teammate Emily Murphy spent most of her freshman year injured, so not only was she unaware of what she could do, she didn't even know what she was missing. When she started running consistently as a sophomore, her excellent performances were a bonus on top of the joy of running pain-free. She wound up seventh at the state meet, two places behind Keller.
Keller and Murphy will work to defend their state title from Bethesda-Chevy Chase, both teams losing one of their top fives to graduation. McUmber added outdoor state titles in the miles and two mile. She may, at some point, be rejoined by Caroline Beakes, a 2013 Maryland outdoor 3200 meter champion who spent essentially all of the last school year sidelined by stress fractures.
McUmber said losing Beakes threw her off her game, because she had earlier relied on her for pacing in workouts and races.
"I had never worn a watch before," she admitted."I spent a lot of time adjusting to not having her with me. I had to start racing on my own, with my own strategy."
She found training partners on the Barons' boys team, but wasn't crazy about their tendency to kick at the end of every interval.
"I guess that's how boys run," she said. "My dad always tells me to focus on what I can do myself, my time, not place, and work from there."
The Barons finished just four points behind Walter Johnson at the state meet, so if anything is a certainty this season, it's a competitive team race.
Northwest's Diego Zarate and Whitman's Evan Woods finished close to each other at big races, with Woods edging Zarate at the cross country state meet for fourth place, but Zarate gaining the edge in the outdoor 1600 in 4:15.95. He also won the indoor state meet in 4:21.83, and was third in the outdoor 3200 in 9:36.44.
Woods likes a fast race with a stacked field, a situation that gives him a chance to hang on and get in a good position toward the end.
"I think I have a pretty good kick, so as long as I have a shot at winning, I've run a pretty good race," he said.
That kick comes from his focus on the mile — he only ran the two mile once this spring — a distance he likes because it's short enough to really race hard but long enough to work in some strategy. He was the outdoor state runner up in 4:16.47. His father ran for North Carolina, and his guidance prompt Woods to switch from soccer before he started his freshman year at Whitman.
Woods' teammate Amir Khaghani relishes the chance to go places when he runs.
"I like starting in Bethesda and running the trails down to Georgetown," he said. "I get some food then take the metro home."
Though his cross country 5k times hovered around 17 minutes last fall, his 3200 improvement in the spring has him aiming for a drop. He finished fifth at the state meet in 9:49.76. For a guy who was running 21 minutes for a 5k as a freshman, it's quite a drop.

Despite losing two national-class runners to graduation, the Chantilly boys and Lake Braddock girls started their state title defense with victories at the Monroe Parker Invitational Saturday in which was, for the most part, an early preview of the Northern Region meet.
Louis Colson staked his claim to the northern region, and perhaps the state, which has been vacated by three seniors who finished ahead of him last year. Before today, Colson, a Thomas Edison senior, had never broken 15:00 for the 2.98 mile course at Burke Lake. On his first race back, he won in 14:43 after breaking away from George C. Marshall's junior Mackenzie Haight after two miles (9:48).
He's had a strong summer, including a 15:37 at the Crystal City Twilighter 5k in July.
"I've been hitting some great long runs," Colson said. "I just wanted to run the first two miles evenly and see what kind of kick I had."
Quite a kick, with some wide-eyed spectators remarking that he looked like a sprinter in the home stretch.
He's eyeing the Foot Locker championships, but wants to be a low stick for his Edison team as they try to make the state meet.
Haight, an All-RunWashington nominee, was thrilled with his 30-second PR.
"I ran even with Louis the first two miles before he pushed away- he's a little too strong right now," he said. "But I held off the chase pack and ended up pretty happy."
The hilly course mixes grass, pavement and packed dirt trails to compose a loop, a little shorter than 5k, that has been run consistently since 1974.  A small railroad track crossing hits runners with roughly a quarter to go, forcing dexterity out of legs that probably have not run that fast since track season.
West Springfield senior Caroline Alcorta jumped to an early lead over Lake Braddock's Hannah Christen that she never relinquished to win by 30 seconds in 16:58.
While no surprises came out of the race, meet director Mike Kiernan said it served its purpose to preview the regional qualifier for the state meet, a road that got tougher for the Northern Region with the state's recent redistricting, which enlarged the candidate pool.
"It confirmed that redistricting is going to make this a brutal region to get out of," he said after the results were in.
Read about Virgina's redistricting here.
At the top of the pile for team qualifications, Chantilly's boys, despite graduating four of its top seven from the state championship team, had a comfortable lead over second-place Patriot, which will now figure in to the region.
"I feel like the miles we put in over the summer are working," said Chargers coach Matt Gilchrist. "They definitely did the work. We have a nice blend of guys who were on the state team and guys who hadn't run varsity at all last year. It was a new experience for them and they did well.
"We have six weeks until the postseason but this is as good of a start as you could hope for.
Junior Ryan McGorty and Utah native Dakota Lange finished third and fourth to lead the Chargers.
Robinson, despite finishing third, also figures to challenge Chantilly. John Tolbert, a RunWashington All-Virginia team preseason selection, dropped out after suffering a calf injury, one assistant Matt Lewis said would need evaluation before they determined what it would mean to his recovery and return to racing. Another Ram lost his shoe.
Christen and Katy Kunc led the Bruin girls to a four-point win (159-163) over James Madison, with Chantilly eight points behind.
"I wasn't sure how we won and I didn't believe it until I saw the results, but the way our girls ran said it all," said coach Mike Mangan. "Mary Krump (a senior) had never scored a point before today, but she finished fifth for us. How awesome is that? She's small, so I worried she'd be pushed around, but she kicked down a bunch of girls and made the difference."
Sonya Butsea (19:10) hadn't broken 20 minutes at Burke Lake before, but she nearly eclipsed that by a minute to finish third for the Bruins.
Teams had an opportunity to race 10 athletes in the varsity races, but from here on they'll have to select their top seven in invitationals and the postseason.
Even off the podium, the first major race of the year gave teams a chance to see where their summer training took them.
Westfield coach Debbie Long knew the race would be frightening for her runners, 10 runners competing as individuals in five different races.
"They're all young, all new to it and all really nervous, but when the gun went off they relaxed and ran some good races," she said. "Every member of the team was there for the starting line for every race. They supported each other there and out on the course and that was even better than how they ran."
Langley coach Gifford Krivak saw a lot to get excited about from his freshman trio of Erin Frederick, Marina Smith and Emma Saunders, who competed against other ninth graders but among the Saxons' varsity figure to be in the top five. "They'll be moving up, this was a great test."
Marshall also saw some good put a big freshman team to the test. Aiden O'Leary and Patrick Lynch had great races in the freshman race, said assistant Alex Hill, and their number of classmates is a good sign for the program.
"A few years ago we fielded 30 for the entire team. This year we have 15 freshmen and we're pushing 70 for the entire team. It's a nice growth."