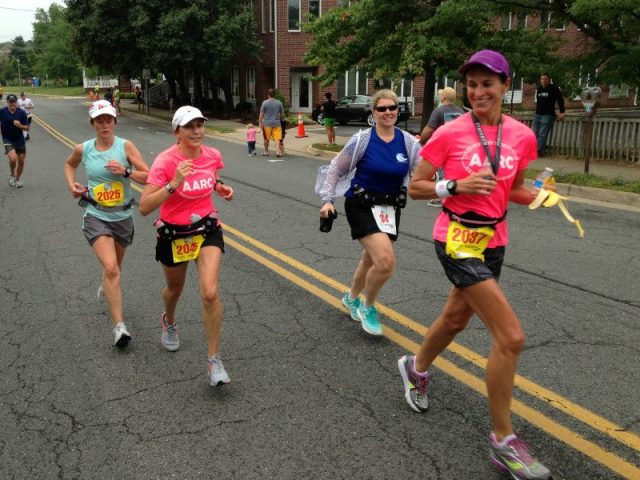 Any runner who understands the basics of delayed gratification — a principal so central to this sport — could appreciate the Leesburg 20k's new course, now in its second year. The rolling hills on Dry Mill Road are gone, replaced by a long, grinding grade on the W&OD Trail, one that snuck up on South Riding's Tatiana Sheptock.
"My eyes wouldn't see it, but my legs felt it," she said. "It definitely felt a lot better on the way back."
She made her return to the race after an eight-year absence. She's seen some change since then — when she ran she ran 1:40:47 on her way to finishing the Marine Corps marathon in 3:42:40 two months later.
This year, she ran 1:19:48 for third place, and will head into another marathon training effort with hopes of running 3:05 at Marine Corps.
"I'm a completely different runner now," she said. "The race feels different, and I'm running paces for long races I could barely keep up for shorter distances."
Both winners took advantage of the relief that came with the downhill to make their moves. Men's winner Sean Barrett pulled away from Kieran O'Connor after the turnaround and ran to a 1:06:18 finish. Women's winner Meghan Ridgley, of Ashburn,  broke away from Arlington's Erin Taylor after 7.5 miles to go onto an almost one-minute margin of victory- 1:17:16 to 1:18:12. Both are training for marathons, Ridgley Philadelphia and Taylor Richmond.
"I love this course," Ridgley said. "It's fun and you can see other people on your way out and back. A bunch of people I coach were out here and they did great."
Ridgley coaches, and races, with the Potomac River Running training program, as does Sheptock and hordes of other top finishers.
Barrett's race strategy changed as soon as he realized that his trainers were not going to cut it. In the rush to get out the door of his Arlington home to get to Leesburg for the 7:30 start, he forgot his racing flats.
"I tried to push off on my toes, but after a few miles it wasn't happening," he said. "I became a heel striker for the rest of the race."
He's looking ahead to the Rock 'n' Roll Philadelphia Half Marathon, Army Ten Miler, .US Road Racing Championships 12k and USATF Club Cross Country Championships in Bend, Ore., where he's headed with some of his Georgetown Running Club teammates in December.
O'Connor, who finished as the eighth American at the 2012 Boston Marathon, hadn't competed since that scorcher, but acquitted himself well on the course to run 1:06:40.
"I was freaking out trying to find a bathroom seven minutes before the race, and ended up not taking my inhaler," he said. "So I had my torso feeling pretty uncomfortable for a while."
Though runners from farther east cleaned up on the men's top spots, 249 of the 892 20k finishers were from Leesburg, Ashburn and Sterling, representing well at one of Loudoun County's top races.
Carole Jones estimated that the Ashburn Area Running Club had more than 30 runners out on the course, and many PRed.
"The camaraderie was incredible," she said. "It's hard not to run well when you have so much support out there. I felt like I saw people I knew every minute."
Jones ran 1:31:24 to finish 15th and second in her age group, second if only because Oak Hill's DeeDee Loughran ran 1:22:35 to dominatingly win the women's masters title.  McLean's John Zimmerman ran 1:11:41 to lead the male masters.
Kris Wolcott loved the opportunity to run near home.
"It was a home course advantage," she said. "I run here every day and knowing the course made the race a lot less nerve-wracking."
She was enthusiastic about seeing Ridgley, her coach, running so well.  Like Ridgley, she's headed to the Philadelphia Marathon in November — her first.
The race also included a 5k, won by Hugh Toland in 16:16 and Margie Shapiro in 18:19. That option appealed to Sterling's Jason Lovelady, who ran it while his wife, Suzanne, ran the 20k.
"I'm not a runner, but I like to come to races with her," he said. "The course was flat, so that appealed to me. It sounds like she wasn't crazy about the hills in the longer race."
The pair is considering their fall racing schedule, perhaps making a repeat trip to a costumed race, where last year the ran as Popeye and Olive Oil.
"Maybe not so much polyester this year," he said. "That wasn't really comfortable."
0
Comments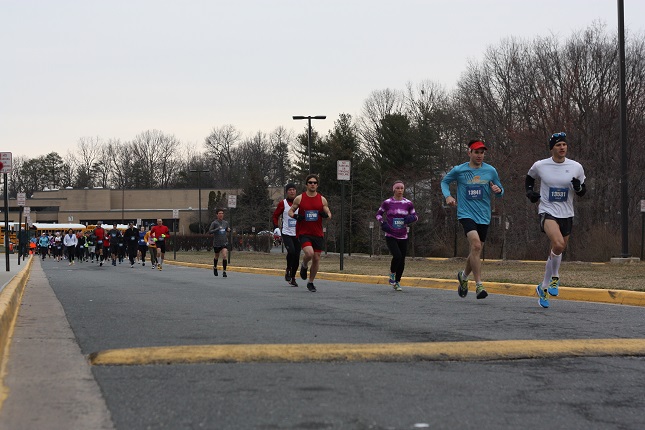 It wasn't Metro accessible, there weren't bands every mile and the race might not have had the panache of a national series, but sure enough, a marathon went off Saturday morning in Northern Virginia.
The inaugural Runner's Marathon of Reston and accompanying half marathon took charge of the streets and trails in a race that billed itself as being "designed by runners, for runners."
Two sisters, Devin and Alex Nehill, had hatched a plan over Thanksgiving to run their first marathon together. They chose Reston because of the proximity to their hometown and ease of pre and post-race logistics. At the time, they had no goals other than to finish.
As Devin, 17, a senior at Bishop O'Connell, entered the home stretch around the South Lakes High School track, passing half marathoners still finishing, tears were streaming down her face. She took the female win and finished in an impressive 3:09:49, amidst cheers from her entire lacrosse team.
Wearing a shirt that said "The faster you run. The faster you are done," she had a hard time putting into words how she felt as tears still streamed down her face from the shock and joy of the win.
Though Devin is an amazing runner, lacrosse is her best sport. She was a first-team WCAC and Division I all-state lacrosse player and an honorable mention All-American, as chosen by U.S. Lacrosse, she will be attending Division I Drexel University to lacrosse.
While Devil was roaring down the home stretch, her sister Alex, 19 and a student at Virginia Tech, was still on course. Winning your first marathon is nothing short of amazing. Devin however didn't bask in her accomplishment, she quickly ran back on course to cheer on her sister.
Local masters runner DeeDee Loughran, 54, took 2nd in 3:15:14.  Alex Nihill rounded out the top three females with a time of 3:43:21.
On the men's side of the marathon, 20-year-old Lee Kaufman clinched the win with a 2:52. Second place in 2:59, was 48-year-old Ian Clements. Clements, a veteran of 14 marathons, described the course as "extremely challenging." He knew it was hilly but felt it was much harder than expected. His goal was to run around a 2:57 but early in the race knew that was not going to be possible on this course.
"There are trails and there are "trails," he said, "The C & O Canal is flat and straight. The W & OD is straight and relatively flat. The trails in Reston aren't straight, and they aren't flat. It really takes a lot out of you as a runner."
He had planned to run the Rock 'n' Roll USA Marathon but when a work tripped forced his to make other plans, the Alexandria resident said the Reston race was a no-brainer.
The half marathoners took off 30 minutes after the start marathon, and ran the same loop the marathoners did twice. Nate Spong, of Reston, took the win on the men's side with a time of 1:24:03. Close behind him was Mike Honicker of Sterling, in 1:24: 55. Honicker and Spong are both prepping for triathlon seasons. Both felt the race logistics wise was well run, but did note that there were a lot of false flats and the course was extremely hilly.
Spong sung praises of the new race. "Well marked, the volunteers were awesome, Reston really needed a good half marathon and full marathon and Reston Runner's delivered on that."
On the women's side, Kristen Herring took first in 1:32:08. Reston resident Sharon Adams, who eight days ago became the mother of an adopted 8-year-old from Haiti, took second with a time of 1:35:21. Adams said the race was very special for her. Having her third child there cheering her, screaming "go mommy go" was the icing on the cake to a fun race morning in her home town. Robin Witlin rounded out the top three women with a time of 1:35:48, finishing on her former high school track.
The Reston Runners decided last year to start a half marathon and marathon in Reston, to complement its variety of road races and triathlons. Dennis Hayes, Reston Runners club president and co-race director of the race, boasted of the tremendous community support the race not only had in the planning stages but also on race day. "Reston has needed a full marathon and a half marathon for a number of years and we are excited to make this a reality today."
Hayes and his team of six co-race directors put together the race with runners in mind. "We wanted a race where we took the good parts of races we have run and improved upon issues we have encountered at other larger marathons." Free pasta dinner the night before, morning packet pick up, and a buffet of post-race food that included pizza, buffalo wings, corn bread, oranges, bagels muffins and more, were a few of the perks of this low key long distance race.
The club chose the March date, so as not to compete with other large fall marathons, and to ensure relatively cool weather for participants.
Volunteers were plentiful at the race, making everything run smooth for participants. Mary Mullaney of Reston believes as a runner and triathlete it's important to give back. "Volunteers make these races happen, and I participate in many throughout the year, so I also volunteer my time on the ones I'm not racing." Aprille Sherman of Sterling, a member of Reston Runners, was really excited to be volunteering. The spirit here today is infectious; it makes you want to sign up to run another race. Sherman who is training for the Cherry Blossom 10 Miler also felt that it's important for runners to not just participate but to also give back to the sport they love.
Post-race, runner's enjoyed the plentiful food in the South Lakes Cafeteria, staying warm while sharing their stories of what may become a favorite race of many.
0
Comments
By James Moreland
Ashburn, VA
May 22, 2011
For the Washington Running Report
May is the month of maybe. It may be really hot (2009). It may be real humid (2010). Or it may be both (2011). Running is still booming so the field drew 25% more than last year race for the two events, 5K and 10K. The awards expanded out to two deep in ten year age groups.
Before the race Bernie Gallagher, 70, proudly announced he would be running the 5K with his granddaughters. Gallagher, always near the top of his division when healthy, claims he has recovered from an injured humerus (like he needs an arm to run a race), and will soon be mounting a charge for the division crown. He allowed Greer to step on the ChronoTrack mats a second ahead of him. Her older sister Taitumn jetted on ahead to finish eighth overall in 24:11.
The race is very well marshaled and policed. Still with the 5K and 10K going off together a half block from the first turn onto Ashburn Village Boulevard, bodies jammed the racing lane. The 5K turnaround comes around 2K into the race. As runners fold back, longer distance racers now have clear sailing.
Last year the 5K race was won overall by Katherine Hoenig in 21:22. Before the race Ted Poulos was lining up for the race. Having finished the Atoms 5K yesterday in 17:25, it seemed unlikely that Hoenig would get a repeat. With nearly 5,000 races in his résumé, Poulos saw the hand writing on the wall. Six months shy of fifty, he was not going to take down Justin Fritzius, 26, for the win. As he approached the turnaround he was right with second place Robert Jones, 41, but nobody else. A quick, measured look around and a shot of adrenaline and he whipped past the turnaround to take the lead in the 10K race.
Like most of us Poulos likes to win. In his case, usually about fifty races a year. He had 39-year-old Rob Meadows riding his wake to keep him honest. He would not get to coast to victory today. Christopher Green, 42, was not too far behind hoping to mop up if the heat altered their second half tempo.
Poulos returned to finish line around the last corner alone to win it all in 37:59. Meadows piled in 25 seconds later.
Five of the top eight finishers in the 10K were masters. The first grandmaster was Mark Drosky in 41:02, seventh overall. Coming in next was the first woman 52-year-old DeeDee Loughran (41:46). Comparisons have been made with this race and Pike's Peek, mostly because both races have been run on the same date, (2009) and killer heat made for some slower times. "Don't write that this course is flat or fast," was the refrain heard at the end of the race.
No, the course is not flat but the rolling hills are not monsters that you hear about on the "scenic" courses. None of the little rises were enough to even slow your pace. They just gave you incentive to glide by the runner in front of you that was feeling the reverse placebo effect. Indeed the courses many turns helped because as you turned a corner if you fired up the after burners for a couple hundred meters, the competition would round the corner and think you were gone.
Last year's woman's winner in the 10K would have been fifth this year. Runners do go to www.runwashington.com and read race results. When the winning times are soft, the next year there is much stiffer competition. Coming in for her 53rd race of the year, people might think last year's runner up Karen Young would be due for a vacation. Rumor has it she is going across the pond next week but that she has already lined up four races for next week. She won handily yesterday in Annandale but had to settle for third in her age group today. Tonya Stotler, 44, was the masters winner in 44:16. Stotler won the 5K in 2007 as nearly every year a master runner takes the top spot.
Back to the 5K, Katherine Hoenig repeated as the women's winner in 21:34, though she was tenth overall this year just behind 59-year-old Dan Eddy, 21:34 (10K equivalent of 44:59). The answer to whether it was hot or slower than Pike's Peek can be answered by Eddy's 41:26 at Pike's Peek. The second woman was also a masters, Susan Winklosky in 22:10.
The 10K race had five runners with a combined 250 races run already this year. Top with 61 races was second grandmaster Bill Stahr, followed by Poulos with 57. Young has 53 races which keeps her just behind 76-year-old Bob Gurtler who has 55. Normally it would not be fair to have an extended 60 and older division. Today, Al Rider, 75, looked around at the finish and said, "I didn't see any other old guys. I may have won an award." He did, first place, followed by Gurtler in second.
Karen Young and Bill Stahr relax after a combined 114 races in 2011.
MALE OVERALL
    1     9 Ted Poulos           49 McLean VA               37:59 X 
    2   593 Rob Meadows          39 Ashburn VA              38:24 X 
    3   636 Christopher Green    42 Sterling VA             38:47 X 

FEMALE OVERALL
    1   438 Deedee Loughran      52 Oak Hill VA             41:46 X 
    2   617 Meredith Samson      30 South Riding VA         42:37 X 
    3   634 Tammy Tribett        38 Manassas VA             43:20 X 

MALE AGE GROUP: NET TIME 01 - 12
    1   426 Jack Knibb           11 Washington DC           54:10 X 

FEMALE AGE GROUP: NET TIME 01 - 12
    1   311 Kate Brunotts        11 Ashburn VA              53:22 X 

MALE AGE GROUP: NET TIME 13 - 19
    1    59 John Baldwin         19 Reston VA               41:33 X 
    2   483 Kyle Czech           14 Ashburn VA              54:35 X 

FEMALE AGE GROUP: NET TIME 13 - 19
    1   425 Taylor Knibb         13 Washington DC           45:25 X 
    2   259 Alison Mabery        16 Ashburn VA            1:04:01 X 

MALE AGE GROUP: NET TIME 20 - 29
    1    71 Gregory Mihalik      27 Ashburn VA              40:20 X 
    2   378 Adam Jones           25 Ashburn VA              47:41 X 

FEMALE AGE GROUP: NET TIME 20 - 29
    1   233 Allyson McKechnie    22 Oakton VA               46:13 X 
    2    51 Natalie Nguyen       29 Leesburg VA             51:19 X 

MALE AGE GROUP: NET TIME 30 - 39
    1   266 Rui Rodrigues        35 Ashburn VA              40:46 X 
    2   320 Sergey Yudkovsky     35 Reston VA               41:45 X 

FEMALE AGE GROUP: NET TIME 30 - 39
    1   641 Jennifer Schwartz    39 Bethesda MD             47:42 X 
    2   468 Rebecca Walter       32 Washington DC           50:22 X 

MALE AGE GROUP: NET TIME 40 - 49
    1   194 Bryan Tenney         43 Ashburn VA              39:03 X 
    2   153 Chris Stotler        43 Leesburg VA             42:59 X 

FEMALE AGE GROUP: NET TIME 40 - 49
    1   424 Leslie Knibb         47 Washington DC           44:07 X 
    2   267 Tonya Stotler        44 Leesburg VA             44:16 X 

MALE AGE GROUP: NET TIME 50 - 59
    1   506 Mark Drosky          50 Alexandria VA           41:01 X 
    2   630 Bill Stahr           50 The Plains VA           42:57 X 

FEMALE AGE GROUP: NET TIME 50 - 59
    1   435 Jan Merna            51 Fairfax VA              53:03 X 
    2   269 Carol Beaupre        55 Ashburn VA              54:51 X 

MALE AGE GROUP: NET TIME 60 - 99
    1   603 Alan Rider           75 Reston VA               57:04 X 
    2   601 Robert Gurtler       76 The Plains VA         1:04:38 X 

FEMALE AGE GROUP: NET TIME 60 - 99
    1   491 Pat Welch            66 Vienna VA               59:31 X
0
Comments