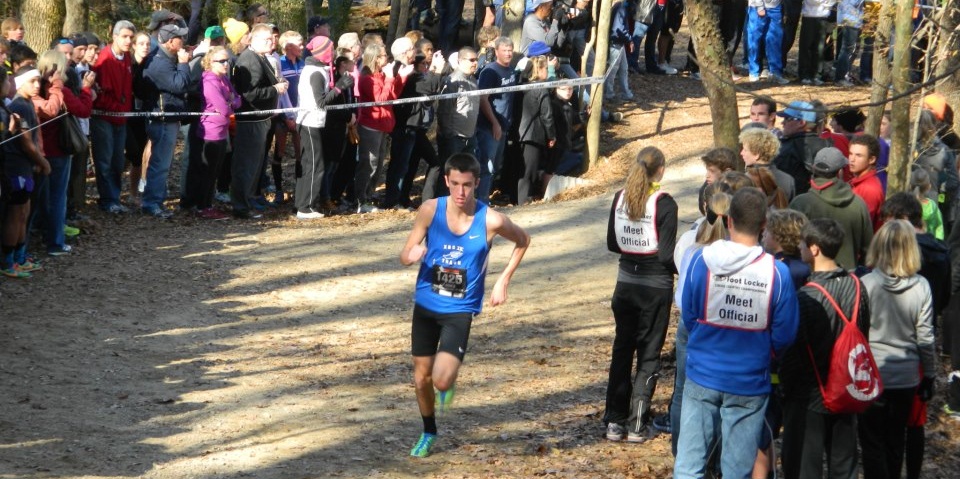 It's been a banner year for northern Virginia cross country, but it's not over yet.
[button-red url="http://runhigh.com/2012RESULTS/R111012AA.html" target="_self" position="left"] Virginia State Meet Results [/button-red]Four local runners are headed to the Footlocker Cross Country Championships this Saturday in San Diego to take on the nation's best high school runners. It's the largest contingent the area has sent to the race since 1996 and two of the runners have legitimate national title hopes.
No Virginian has won the Footlocker meet since Langley High School's Erin Keough in 1985 and 1986.
Chantilly's Sean McGorty and Lake Braddock's Sophie Chase, both winners of the Footlocker south regional Nov. 24 in Charlotte, also lead their teams to state titles Nov. 10 at Great Meadow in the Plains. It was Chantilly's first team title and Lake Braddock was somewhat of a surprise to many after not qualifying for the state meet the year before.
McGorty teamed with senior Logan Miller to go 1-3and lead the Chargers to a 15-point win over Midlothian. The two had finished second and eighth the year before when Chantilly finished fourth, with McGorty chasing Annandale's Ahmed Bile, whom he passed at last year's Footlocker final to finish 10th.
This year, he's been on his own, winning every race so far.
"He creates his own challenges," said Chantilly coach Matt Gilchrist. "Even though his goal has been Footlocker, we've treated each meet as an individual challenge. He really wants to make his mark in northern Virginia."
McGorty is shooting for a top five performance, and his dominating races so far support that goal.  He'll have to contend with defending champion Edward Cheserek of New Jersey.  After track season, it's off to Stanford University.
Most of Lake Braddock's girls team had to stay on the sidelines in 2011 as they watched Chase and
Hannah Christen race, with Chase winning her first cross country state title. Illnesses during the run up to the regional meet led to an off day. Despite his team's nonqualifiation, coach Mike Mangan knew the Bruins could compete.
This fall, after solid performances against nationally-ranked teams in Richmond and Texas, he knew they had a shot at the state title, though he didn't know what to expect from Midlothian, which had been shuffling its lineup all year.
This year, Chase, a senior, defended her title and Christen, a junior, followed in third, with sophomore Katie Roche in sixth, giving the Bruins a formidable score after three runners.
Junior Katy Kunc's ascension to the varsity team was a pleasant surprise to Mangan, which helped spur the team's dominance.
"You'll often have some freshmen who are new to high school running come in and assert themselves," he said. "Katy hadn't run track before, so we really didn't know how good she was going to be." She wound up 18th at the state meet, ahead of senior Misha Suresh (38th) whom Mangan said made a dramatic improvement in the last year.
Despite training two miles away from Chase and facing her five times so far this year, West Springfield's Caroline Alcorta hasn't backed down from any challenge so far.
"I sell it to her this way," said her coach Chris Pelligrini. "She can hang back and run with her people she can already beat, or she can push herself to run with the person she wants to beat. Some people let Sophie go, but Caroline aspires to be that fast, so she takes her on her tail and hopes that's the day she is stronger."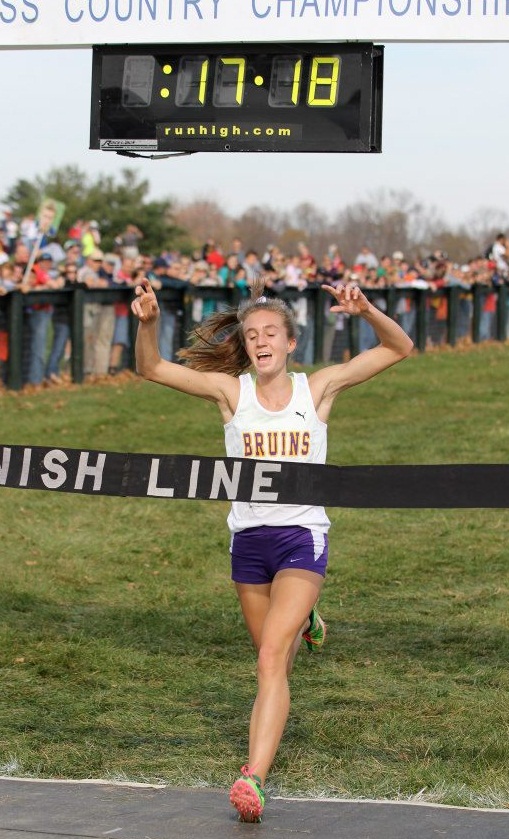 So far, a good day has meant a 15-second margin from Chase, so that's her goal on Saturday. She also aims to finish in the top half of the race and the top five among southern region qualifiers.
Her problem in the past had been her nerves, which would sometimes boil over into physical manifestation before races. Pelligirini made her a team captain this year, but with an important caveat.
"The other girls will look toher and if they see her freaking out, as good as she if, they would do the same. She had to set a good example, at least on the surface. I think in doing so, she's relaxed, herself. "
Oakton's Allie Klimkiewicz, a sophomore, also qualified for the Footlocker final.
Northern Virginia and Footlocker facts
Since Keough's victories, several Virginians have come close, including John Handley's Bobby Lockhart in 2001, South Lakes' Alan Webb in 2000, West Springfield's Sharif Karie in 1995 and 1996.
The D.C. suburbs have only been shut out twice- in 2007 and 1992.
In 1988 and 1995, eight northern Virginia runners qualified.
In 1986  and 1996, northern Virginia sent six runners.
In 1996, Karie finished second and Centreville's Laura Heiner finished fifth
The girls' best tandem was in 1985, when Keough won her first of two titles and Wendy Neeley of Lake Braddock finished third.
The best boys' tandem was Karie in second and Eric Kweder in ninth, in 1995.
2000 runner-up Webb holds the American record for the mile
1982's 28th place finisher Alisa Harms still competes, as Alisa Harvey, and coaches the George Mason High School Mustangs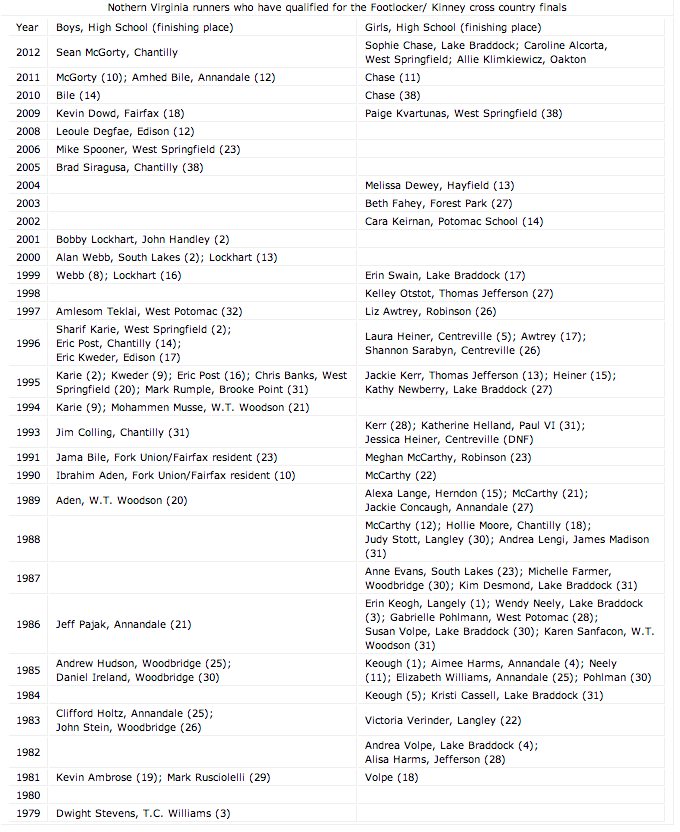 0
Comments