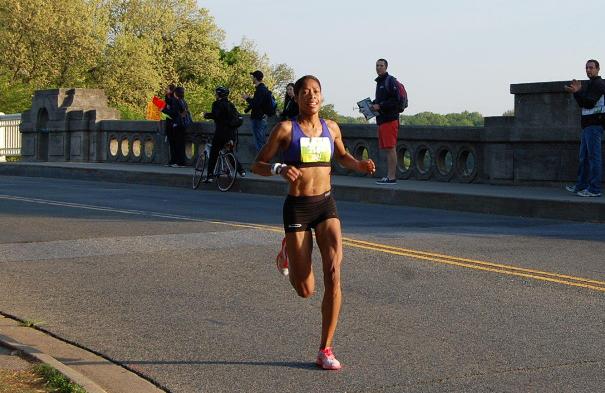 Almost 15,000 runners had a perfect day for the inaugural Nike Women's Half Marathon, though one stood out more than others.
Leading the packs of first-time half marathoners and visitors seeing the nation's capital on foot for the first time, Alexandria'sSamia Akbar felt happy to run again.
[button-red url="http://werundclive.com" target="_self" position="left"] Results [/button-red]As she ran far ahead of her competition from the first mile, having the city to herself, on her way to winning in 1:19:32 over McLean's Wendi Robinson's 1:21:06, Akbar felt each step bringing her closer to the kind of appreciation for the sport that had worked itself out through repeated workouts, races and seasons.
"I got really nervous on the starting line because I've run for a living for years and I'd have such an ultra-competitive mindset before the gun," she said. "This was a really nice chance for me to just go out and enjoy what I was doing. For the first time in a long time in a road race, I was able to actually hear the people cheering and it was fun seeing bands and step teams."
It's not as though running was bad for Akbar, who started running at Oakton High School before earning All-American honors at 10k at American University and running professionally for Reebok, including an Army 10 Miler win and qualifying for the 2008 Olympic Marathon Trials. But the routine that went into that training wore on her, and she hasn't raced much lately.
"Had I run this a few years ago, I don't think I would have appreciated it the same way," she said. "It had a lot of switchbacks that slow you down, but those switchbacks gave you a chance to hear cheering on the other side every step of the way."
Impressive as her pace was, Akbar served as a warmup act for nearly 14,500 others, many of whom were thrilled to finish.
Elainna Wright, of Alexandria, had never run more than 10 miles before, but with the help of coworker Samantha Bennett, she conquered the vicious 11th mile and broke through to the finish.
When confronted with the distance she had never run before, she gained a lot of motivation from the music in the 9th Street tunnel under the mall and a point when she told herself: "I can do this. I know I can, I'm just going to do this."
The crowds on Pennsylvania Avenue pumped her up, and she got a lot of support from the volunteers.
"I'm not great at pacing myself, so Sam helped a lot," Wright said. "She stayed back with me."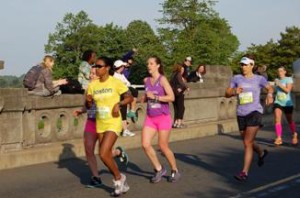 Among those who stayed back were 1984 Olympic Marathon champion Joan Benoit Samuelson and Olympic distance runner Shalane Flanagan, who ran with Samuelson's daughter, Abby, all finishing in 1:32.
The race partnered with the Leukemia & Lymphoma Society's Team in Training program, which attracted many visitors to the race. A group of four women from Ottawa all delighted in what the race had to offer.
"It was unreal," said LeeAnne Ashfield. "You feel a real sense of community with all of these runners. It's a special and emotional race for everyone."
Nadia Maruschak got to see a single cherry blossom on a tree, her goal for the trip.
Sisters Alisha Prater and Chandra Von Tiechman ran in memory of their mother, whom they lost to multiple myeloma 10 years ago.
The course started at Freedom Plaza and after a trip through the Ninth Street tunnel, followed much of the Cherry Blossom course, come back through the tunnel after a trip around Hains Point for a loop around the Capitol reflecting pool before finishing back at Freedom Plaza. Prater enjoyed the trips across the Alrington Memorial Bridge in mile three, being able to see runners ahead of and behind her. The race's entry fee was steep–$160 for most with a  $40 college student discount, but much of that went to cover the silver Tiffany's necklace awarded to all finishers.
RunWashington's Maggie Lloyd wrote about working the finish line
Though it was billed as the women's half marathon, the race was open to men, and more than 538 ran. Some, like Arlington'sMatt Meldroum, were pressed into service when friends or significant others couldn't make it. His girlfriend, Kristin Salvatora, prepared for the race with Team in Training, and made it to her 11-mile training run before spraining her ankle two weeks ago. Concerns that she could also be suffering a stress fracture led her to drop out, a decision she called "heartbreaking," and have Meldroum run for her. Except she didn't tell him it was a primarily female race.
"I was a little overwhelmed on the metro, all the women," he said. "I definitely stood out, people were looking at me a little weird, but I kept going on strong.
"There were a lot of signs for free high fives. I cashed in on that, I was just trying to raise the energy!"
Some, like North Bethesda's Darren West, ran to lend support. His wife, Elizabeth, was running her first half marathon and he wanted to be there with her. Though they ran separately, he got to see her on the course and said she was doing great.
"I didn't feel weird at all, there was fantastic energy," he said. "She was really excited to take her running to the next level. The Tiffany's 'bling' was definitely an incentive."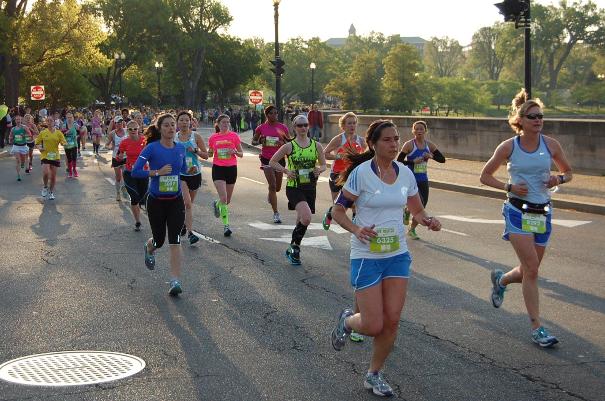 0
Comments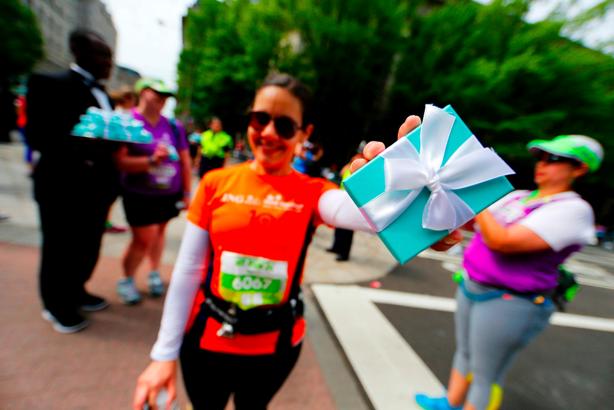 Yes, you can learn a lot about a woman by the contents of her purse, but I think it's more telling to watch the way she reacts at a finish line, and I saw the whole emotional spectrum while volunteering for DC's inaugural Nike Women's Half Marathon.
My job was simple: scan runners' race bibs as they filed through the finish area towards some seriously glamorous swag. Between the volunteers offering water bottles and foil blankets, a squad of ROTC men in tuxedos hand-delivered Tiffany's pendant necklaces housed in that iconic baby blue box tied with a simple white ribbon. Whenever there was a lull in the crowd, all it took was a "who wants their Tiffany's necklace?" yell to get exhausted finishers to smile and "woohoo!"
I saw the proud. Scores of half-marathon rookies exchanged high-fives and hugs with complete strangers; they then asked me if I knew their time yet.  Oh, and where are the necklaces? I saw women run to those necklaces, as if the previous 13.1 miles were the warm-up for this moment.
I saw the relieved. One woman marched right up to me, stuck her bib out, and exclaimed "scan me!" before marching on to the food and foil blankets.
I saw countless Boston shirts, hats, pins, and bracelets that I couldn't help but feel Boston strong and Boston proud all morning.
I saw some interesting nutrition theories being tested. At the start of the race, a woman set a can of Diet Coke by my feet as the crowds inched forward. Another strapped a bag of chocolate chips to her belt. Perhaps they're on to something.
I saw tutus. Actually, I saw a lot of tutus.
I saw more iPod headphones in that three-hour span than I have in my entire life. Finishers showed no shame when doing a little dance in the middle of the crowd as race-day playlists came to a close. How they still had the energy to dance after their race is beyond me.
The finish line may have featured high-fives from Joan Benoit Samuelson and Shalane Flanagan, but those ROTC guys were definitely the center of attention. I asked one of the dashing young gentlemen how it felt, and he said it was like the Grammy's.
But instead of red carpets and extravagant gowns, we had pavement and all those tutus.
0
Comments
By Dickson Mercer
Washington, DC
April 1, 2012
For the Washington Running Report
Main field gets underway.
A year after Frank Shorter took gold at the 1972 Munich Olympics and ignited the first running boom, fewer than 200 people showed up on a muggy day for the inaugural Cherry Blossom Invitational Run. Billed as a final tune-up for the Boston Marathon, the founders believed 10 miles was the perfect distance. Ten miles. It was long enough to provide an adequate test. It was not, however, long enough to [button-red url="http://www.cherryblossom.org/aboutus/results.php" target="_self" position="left"] Results [/button-red]leave runners feeling "too pooped out," according to the Credit Union Cherry Blossom Ten Mile Run's 40th anniversary race program.
One runner tearing up the local scene back then was Phil Stewart. Stewart, in fact, was this region's top finisher at the 1975 Boston Marathon.
Stewart is now race director of the Credit Union Cherry Blossom Ten Mile Run, a race that now attracts tens of thousands in celebration of "the Runner's Rite of Spring" and over the years has showcased the best of the best – be it in the world, in America, or within the local scene.
Bethesda's Ben Beach today finished his 40th Credit Union Cherry Blossom, a feat he shares with no one else.
This year's event celebrated that history and more. Past champions who spoke at the expo Friday and Saturday and raced today included Bill Rodgers, who, in addition to winning the New York City and Boston marathons four times apiece between 1975 and 1980, won four Cherry Blossoms in a row starting in 1978.
There was Greg Meyer, who set the American record (46:13) here in 1983 before becoming the last American to win Boston.
There was Carl Hatfield, who won the race in 1974 and 1975.
There was Credit Union Cherry Blossom course recorder Colleen De Reuck and 1984 Olympic Marathon gold medalist Joan Benoit Samuelson (left).
Samuelson was 28th today in 1:02:27. At 54, her time was almost 10 minutes faster than the inaugural winning time set by women's running pioneer Kathrine Switzer.
Today, 174 women ran faster than Switzer's time from 1973. Today, Dave Burnham's time of 51:23 would have put him right on the heels of Sam Bair, the inaugural men's winner.
Burnham, who lives in Arlington and races for Georgetown Running Company, was 17th.
Men's race: Training partners set the pace
Last year it was nine miles of back-and-forth battling with Ethiopia's Lelisa Desisa, a battle that Kenya's Allan Kiprono (photo below of Kiprono winning in 2012) ultimately lost.
At this year's Credit Union Cherry Blossom, it was Kiprono's turn to take the lead, and the win. By the time he and his training partner Lani Kiplagat passed the one-mile mark, they already held a decent-sized lead on the rest of the field. But as that lead on Kenya's John Korir – a three-time Credit Union Cherry Blossom winner – increased, Kiplagat turned to his teammate and offered a suggestion.
"I told him, 'Allen, let's maintain the pace. Don't reduce the pace. Let's push," Kiplagat said.
Push they did – but the day ultimately proved to be Kiprono's. Taking advantage of perfect racing conditions, the 22-year-old soared to the lead shortly after 5K and lowered the event record to 45:15, this year's fastest time in the world for 10 miles. Kiplagat, meantime, came through in 46:28.
Korir, who at 36 has more than a decade of racing in his legs than Kiprono and Kiplagat, was third in 47:33. Still, he was unfazed. "Now I know these guys are so tough," he said. "I'll catch up in other races."
After falling off the pace set by Kiprono and Kiplagat, Korir fell back to the chase pack, then managed to hold off Ian Burrell, 27, of Tucson, AZ by just a second. This was Burrell's first race since January's U.S. Olympic Marathon Trials, where he was 15th in 2:14:04.
Burrell said he struggled with allergies. In other words, as he settled into a pack with Korir and Jesse Cherry, 24, of Blowing Rock, NC, the best he could do was hang on while Cherry did most of the leading. Then, at the 800 meters to go sign, Burrell dug up some leg speed. "I was just kind of gritting my teeth and thinking about all the diapers I could buy with the prize money," he said.
As top American, he earned an extra $1,000 in prize money.
Cherry, who finished fifth in 47:40, was also running his first race since the Trials, where he was 16th in 2:16:31.
Top American runners Josh Moen, 29, of Minneapolis, MN and Patrick Rizzo of Boulder, CO finished 7th and 8th in 48:38 and 49:14, respectively. They were followed by two runners from Washington, DC, Pacers' Stephen Hallinan (left), ninth in 50:18 and Paolo Natali, 10th in 50:44.
A top local runner and Olympic Trials qualifier, Hallinan's 10-mile best is more than a minute faster than what he ran today. As with Burrell though, Hallinan cited allergy difficulties.
"I knew kind of a mile in, it was going to have to be one of those days where I tough it out, so I was trying to hang on to five-minute pace the best I could," said Hallinan, who ran alone starting a quarter mile into the race.
Women's race: Tinega repeats
In the elite women's race, which started 10 minutes before the rest of the field, Kenya's Jelliah Tinega dismissed her competitors even earlier in the race than Kiprono to win in 54:02.
It was her second straight title. Tinega said she will return next year to go for a three-peat.
Places two through five were separated by just 13 seconds with Malika Mejdoub, 29, of Ethiopia coming out ahead in 54:24.
Mejdoub was followed by Yihunlish Delelecha, 30, of Ethiopia in 54:33 and Agnieszka, 26, of Poland in 54:36.
The top local finisher, Claire Hallissey, 29, of Arlington, who was fifth, was just a second behind Agnieszka. The next race for the England native is the Virgin London Marathon on April 22. There, Hallissey, who has a marathon best of 2:29:27, is hoping to put up a performance that establishes a solid case for claiming a spot on England's Olympic marathon team.
Still, this race holds special meaning for her, Hallissey said. Credit Union Cherry Blossom was her first race in the District after she moved here a couple of years back and she would like to return one day with fresher legs.
"I want to come back and finish in the top three," she said.
Top American honors went to Stephanie Pezzullo, 29, of Charlotte, NC, who finished sixth in 55:16. Pezzulo was followed by Kristen Zaitz of Boulder, CO, who ran 55:24, and Emily Harrison, formerly of Front Royal, VA, who ran 56:04. Harrison now trains in Flagstaff, AZ.
After Hallissey, the next local was Georgetown Running Company's Andrea Garvue. The 27-year-old Chevy Chase resident caught a side stitch early in the race. In the second half, feeling stronger, she hooked up with a pack that pulled her along to a time of 58:50, good for 12th overall.
Meanwhile, in the master's division, competition was stiff. Fourteen years ago, DeReuck (below) set a world record time here of 51:16. Today, at 47, the Boulder, CO was top master – and 10th overall – in 58:14.
0
Comments