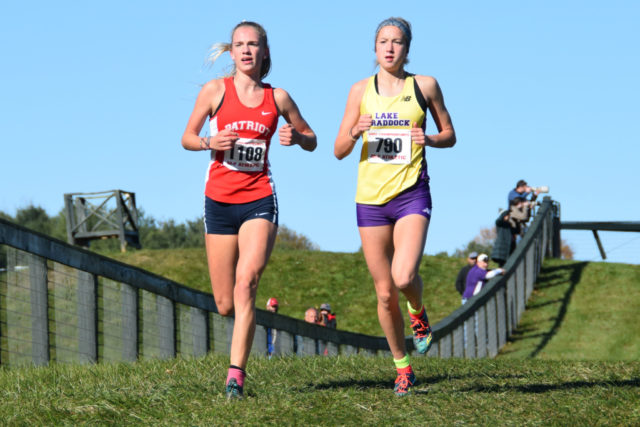 Loudoun Valley boys and Lake Braddock girls dominated their races while defending their Virginia state titles, while the James Madison boys and George Marshall girls won their first-ever championships.
Virginia High School League Championships
Nov. 12, 2016 – Great Meadows,
The Plains, Va
Kate Murphy broke the Great Meadows course record when she won her second straight 6A title, running 17:08 to beat Libby Davidson's 17:12 mark from 2014 and finish well clear of Rachel McArthur's 17:50 second place finish and making Lake Braddock's team race four on five against everyone else. That's all despite putting less emphasis on cross country, just months after competing in the U.S. Olympic Trials and world junior track championships, and not racing with the record in mind.
"I think I raced twice before the conference meet so I wasn't sure if I was in cross country shape," she said. "I needed to not compete for a while. It puts a little stress on you and it's nice to have a little rest. Getting back in was kind of a grind."
It was going to be a grind, because McArthur was coming back to cross country after missing the 2015 postseason with a quad tear that left her unable to defend her 2014 6A title.
"I couldn't just chill because Rachel definitely wanted to race, but I think I ended up running my best cross country race of the season," Murphy said, with the caveat that she hasn't raced much yet, with a focus on the Nike Cross Southeast and, with any luck, national meet.
The pair pulled away early as Murphy reeled McArthur in from a fast start. They came through the mile in 5:20, with a 10 second lead over Cosby sophomore Rachel Northcutt. Murphy took a slight lead through two miles in 10:56, with Northcutt nearly 30 seconds back, then gradually pulled away from McArthur before putting her away in the series of hills in the third mile.
"It wasn't any one move, but a few times I threw in a surge down a hill to see how she'd respond."
"Normally I'm physically ready to race but not mentally," McArthur said, "but I was focused this time. My mind was so in it. But then the hills… It wasn't a devastating loss, but I learned a lot about how I handle hills late in a race.The course definitely gets a lot harder at the end."
The two have committed to top collegiate distance programs — Murphy to Oregon and McArthur to Villanova and while the prospect of the pair racing tooth and nail, like the state 800 meter championship, was appealing, cross country just isn't their priority anymore.
"Cross country, I still want to do well, but track's my main focus, and I didn't expect to run a peak performance this season," McArthur said.
Murphy said it was a matter of proportion.
"It's a lot more time to suffer," she said. "Especially since it's been so hot this fall."
South Lakes junior Olivia Beckner was running her first state meet after two years of injuries, but she made the most of her opportunity, running 18:04 for fourth place and nearly catching Northcutt (18:01).
"I closed on her for a while, but she pulled away," she said. "I need to work on my turnover, but I think this was my best race of the season. I'm looking forward to coming back next year, now that I've had a real cross country season."
Lake Braddock scored 46 points to outdistance Oakton's 107, with James Madison in third with 113. West Springfield was fourth with 133 and Patriot fifth with 149, with Cosby (156) edging Chantilly (161). The Bruins had all seven runners in the top 35, with the scoring five in the top 30 overall — Sam Schwers in sixth, Taylor Kitchen in 10th, Emily Schiesl in 15th and Sarah Daniels in 29th. They'll head to Cary, N.C. for Nike Cross Southeast in two weeks.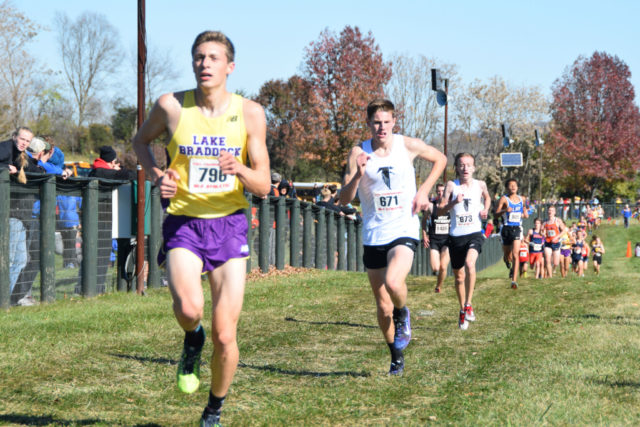 The Bruin boys lost their bid for a third-straight 6A title when James Madison finished three points ahead, 63-66, for the Warhawks' first title. Lake Braddock was winning by the same margin at the second mile, but a strong stretch run, including senior Patrick Murphy outkicking LB's Evan Chase, fueled the comeback. Sean Grimm (seventh overall), Zach Holden (11th), Murphy (18th), Chamberlain Zulauf (21st) and Kevin Murphy (38th) scored for Madison. It follows a win over Braddock — and Oakton — at the regional meet, which showed the Warhawks what was possible.
"We knew we had to run well, because it was going to be tight with Braddock," said coach Craig Chasse. "If we didn't run our A game, we weren't going to win. We weren't running scared, but we didn't want to be complacent."
He credited consistency among this varsity runners and the variety of challenges they faced throughout the season.
"Back in June, we had a meeting and we decided this was going to be our year," Chasse said. "We got permission to go to Kentucky and race St. Xavier, we went to Great American,we raced some tough teams. When we won the Milestat Invitational, I knew we were in position to win."
The challenge, Chasse said, was to not slow down during turns and keep their effort up on the 1,000 meter finishing stretch.
"It's a tough balance on that stretch to not leave anything on the course but not run out of gas before the race is over," he said.
Lake Braddock's Conor Lyons came up just a little short on that stretch, losing second place to Cox's David Scherrer (both finished in 15:23) and within reach of winner Peter Smith of Oscar Smith High School, just a second ahead.
"I was conservative the first two miles but really worked the last mile," he said. "Last year I went out too fast, but this year there was a good lead pack and unless it broke up, those guys weren't going anywhere."
He made up five seconds on Sherrer in the last 1.1 miles.
The Northern Region teams swept the team standings, with Chantilly (118), Oakton(137), West Springfield (144) and Patriot (146) filling in third through sixth places.
Chantilly senior Brandon McGorty, an 800 meter specialist heading to Stanford next fall, got out fast.
"Last year I got caught up in a pack and I wanted to make sure that didn't happen again because it was tough to move up," he said. "Fifty meters doesn't take take much out of me, after a few second people caught up with me but it didn't take anything out of me."
He finished fourth in 15:39, one second ahead of Oakton's Ahmed Hassan.
"This over a 30 second PR, so I'm pumped."
Like the James Madison team, McGorty used a win at the regional meet to motivate him at states.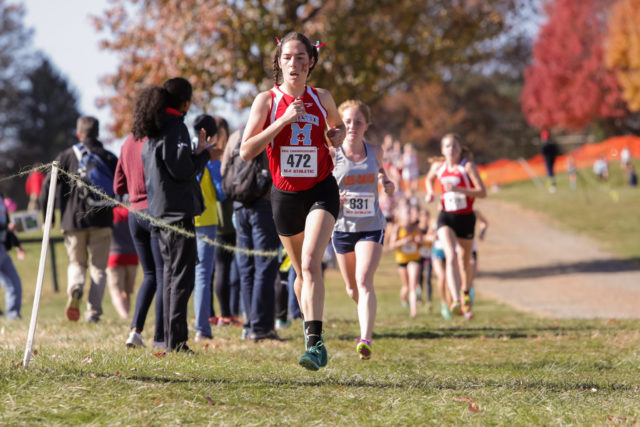 Just as in the 6A race, the 5A race featured two past winners — the 2015 winner in Tuscarora junior Emma Wolcott and George Marshall junior Heather Holt, who won as a freshman in 2014.
Holt didn't want to give anyone else a chance, so, as has been her custom this season, she took off early on and had the race to herself after the halfway point.
"I could hear them breathing right behind me," she said. "I knew I had to go, I just wanted to get away from them and focus on my race. I've learned to accept that I'm going to have nerves and I don't let them throw me off as much. I've learned to accept that I'm going to have nerves and I don't let them throw me off as much."
That they didn't, and she was able to put 22 seconds on Albemarle's Ryann Helmers by the second mile on her way to a 29-second margin to win in 17:18.
Wolcott moved up through the race to finish third in 18:01.
Holt's low scoring position helped Marshall to its first-ever team title, with 53 points, thanks to Ava Bir (ninth), Hannah Smith and Sophie Tedesco (14th and 15th) and Jenna Robbins (17th). Tuscarora trailed in second with 107 points, Broad Run was seventh with 184, Potomac Falls was one place back with 200 points and Thomas Jefferson was 10th with 226. They were sixth in their first state meet appearance in 2014 and fifth in 2015.
Smith is a senior; Tedesco is a freshman. They both saw dramatic drops in their times from the Great Meadows Invitational in August.
"My first race was almost 23:30," Tedesco said. "But then I started running faster in practice so the race pace didn't feel as tough and I was able to keep improving."
Smith said she transitioned into a more committed runner this year and credited Tedesco's company on her upward trajectory.
"I just ran to have fun before, but I didn't realize how fast I could be," she said.
Coach Darrell General said the team running within its character was the key to its season-long success. That went both for their individual tendencies as runners and the athletes' collective spirit.
"I just wanted it so bad for the kids, they work so hard," he said. "They get to see where all of that effort goes. It's unbelievable."
Holt said there was universal buy-in for the dedication necessary to win the state meet among her teammates.
"Because we set this goal together, it makes us really want to work hard for each other," Holt said. "We knew if someone was hurting, we just had to run that much harder."
General approached it from another angle.
"I tell the other girls to pretend we don't have Heather," he said. "And we pretend our 2-6 are racing everyone else's 1-5."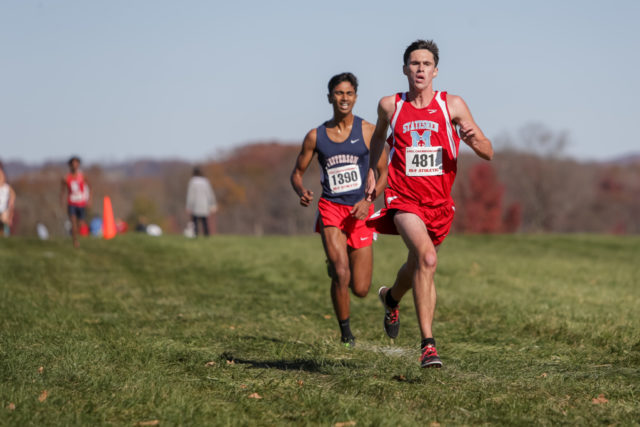 Their male teammate Patrick Lynch ran a hard last stretch to wrest control of third place from Thomas Jefferson's Saurav Velleleth in the 5A race, coming from two seconds back at the two mile mark. Lynch finished in 15:34, Velleleth was three seconds back.
"We went out way faster than I thought we would, but when I saw we were sub-10 at two miles (9:56), I knew this was going to be the race where I finally dropped a good time," he said. "It was the perfect race for me. I was trying to stay on Saurav and I caught him with 10-15 meters to go."
He has a lot of confidence in his kick, but the race environment injected a little adrenaline, too.
"It's states, you gotta go for it," he said. "This is the competition you want to run a good race with."
Douglas Freeman senior Waleed Suliman won the race for the second year in a row in 15:13, the fastest time of the day by a second.
Edison junior Yared Mekonnen also saved his strength for the end, but on a longer scale. He suffered from food poisoning on Wednesday and was in bad shape for a few days.
"I just drank a lot of water and Gatorade, at a lot of rice and other bland stuff," he said. "Anything to get my strength back."
Sure enough, on Saturday morning he was ready to go
"I thought we'd be 5:05 at the mile and we were 4:50," he said. "That definitely got me by surprise, but I felt good and just sat on guys in the top 10 and when we'd crest each hill in the third mile, I'd go for it."
He wound up fifth in 15:43.
Tuscarora was the top local 5A team, in third with 125 points behind Deep Run (76) and Glen Allen (105). Thomas Jefferson was fifth (159), Edison edged by Lee-Davis in tie for eighth (166) and Marshall edging Hickory in a tie for 10th with 195. Four teams scored 165 or 166.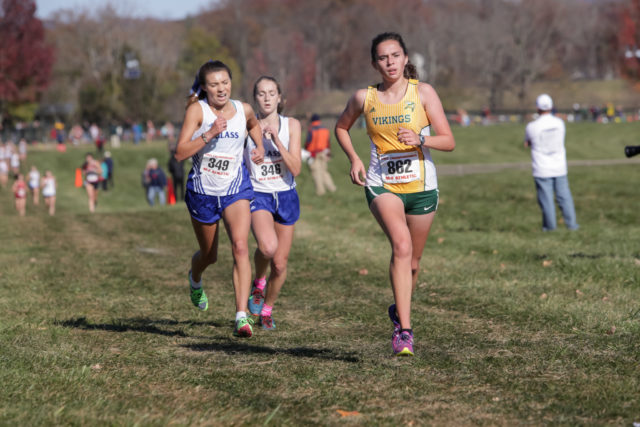 Loudoun Valley's girls finished second, for the second straight year, behind junior Natalie Morris' runner-up finish in 18:19, behind Liberty Christian Academy senior Noel Palmer (18:04), who was third at the Glory Days Invitational.
"I tried to go with Noel when she passed Libby (Davidson) and I didn't really stick with her long, but that got me into second place (in the second mile) and I never gave it up," she said.
The Vikings scored 88 points to trail E.C. Glass' 36 points. Jefferson Forest (135), Rock Ridge (143) and Loudoun County (156) finished fourth through sixth.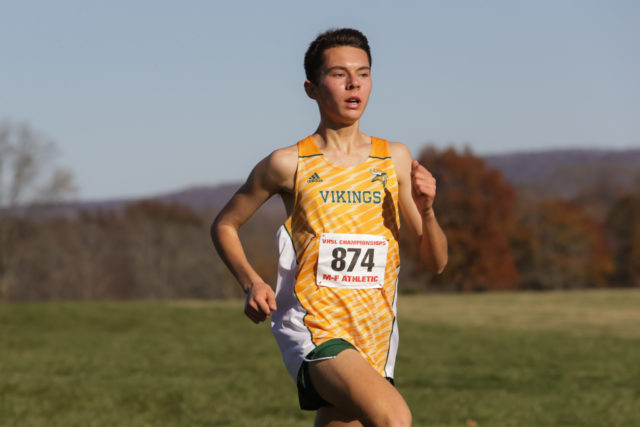 Morris' twin brother, Peter, took top honors for the family, winning the 4A boys title in 15:14,  a second off of Suliman's time. That made Loudoun Valley's path to a repeat that much easier, as did Colton Bogucki's fourth-place finish in 15:37 and Jacob Hunter's 15:53 sixth-place finish. Jacob Windle was 20th and Chase Dawson was 29th.
"It's awesome to see all of this work pay off," Morris said. "Konrad Steck took the lead, I was with him for two miles, and right after that point there's a downhill before two uphills. I caught up to him there and decided I'd push him on the uphills. I knew that was the time to go."
The Vikings dominated with 45 points, ahead of Midlothian (90), Freedom (92) and locals Rock Ridge (seventh with 189 points), Dominion (eighth with 207) and Woodgrove (11th with 252).
Loudoun Valley will also head to the Nike Cross Southeast meet.
Sophomore Ryland Pettit was the first Woodgrove runner to break 16:00 — he ran 15:54 — and he ended up overshooting his goal.
"I was ranked 12th, so I was shooting for 11th," he said.
He ended up seventh. He studied the runners ahead of him and any timehe saw someone falter in their stride, he went for them.
"This was the best race I've ever had, not just because of my time, but because I was able to stay focused the whole time," he said.
0
Comments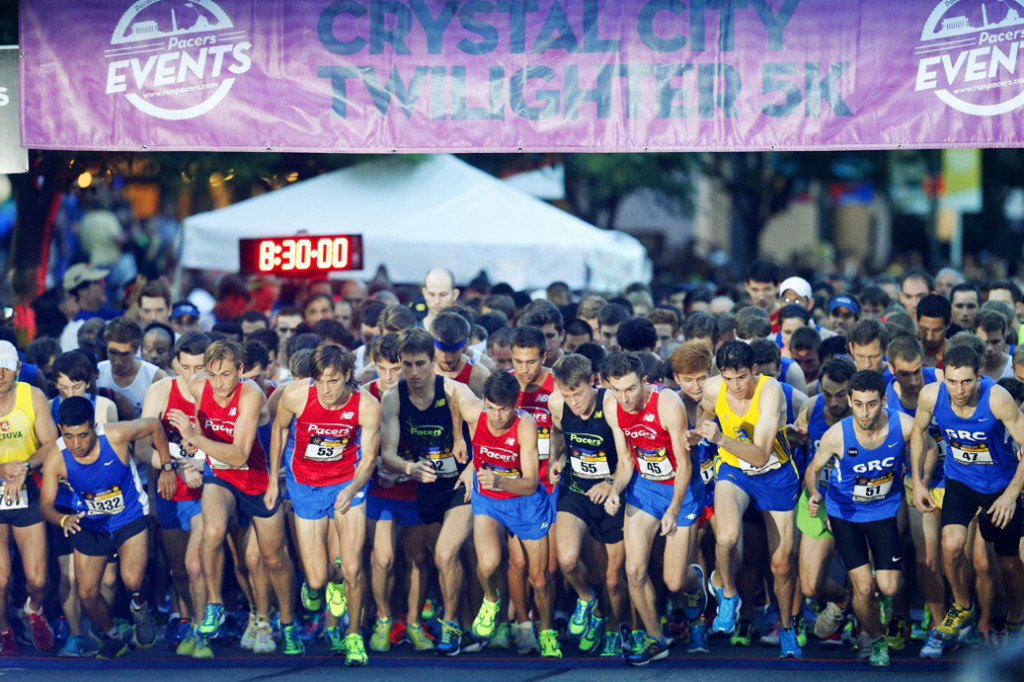 The Crystal City Twilighter 5k's seventh running was a who's who of the regional running scene.
Area running clubs emptied their stables. The course was new – faster, with fewer turns. And conditions, while not good for racing, exactly, were about as good as they get for late July in downtown Arlington. No 98 degrees (2011) or downpours (2013).
[button-red url="http://www.zippyraceresults.com/search.php?ID=4127″ target="_self" position="left"] 5k Results [/button-red]All told, 28 men broke 16 minutes, with Chris Kwiatkowski, RunWashington's top-ranked runner in 2013, breaking the tape in 14:37. Kwiatkowski, 25, also led his Pacers/New Balance team to victory in the co-ed club team competition, a squad that included women's winner Kerri Gallagher, who came through in 17:22. (In the women's race, by the way, the top 23 broke 20 minutes, with 11 going under 19.)
"It's a great atmosphere," Kwiatkowski, who ran close-to-even 4:40 miles, said. "This was my first time doing this. I have been a part of this for four years – coming to watch, helping out – but never to race. So it was an excellent day to come out and compete and have some fun."
Kwiatkowski was followed by Pacers-New Balance teammates Landon Peacock (14:47), Leoule Degfae (14:50), and Frank Devar (14:51). Kevin McNab, in 14:55, was the fifth and final runner under 15 minutes, leading Georgetown Running Club to second in the team standings. GRC was followed by DC Road Runners Club, Northern Virginia Running Club, and Capital Area Runners.
Last year, Claire Hallissey led Gallagher through a too-quick first mile. Gallagher faded to third, she recalled.
This year she had a very different strategy. "The plan," Gallagher's roommate and training partner, Amy Laskowske, said, "was that she could help me through the first mile. And then I kept telling her to go, and she wouldn't go."
At the three-mile mark, Gallagher finally gave in, while Laskowske still finished just three seconds back. Lindsay O'Brien, of Georgetown Running Club, was third in 17:56.
"It was really good to kind of go in with a better plan and be a little more conservative," Gallagher said.
Kwiatkowski and Gallagher each earned $200 for their efforts. The top three teams each received $250.
In the masters division, Patrick Kuhlmann, 43, won in 16:12. Shannon Smith, 48, was top female master in 21:20.
"I'm the old guy," the unassuming Kuhlmann, said, as a way of identifying himself at the award's stage. He took the same honor last weekend at the Rockville Twilight.
***
If you think racing in the summer can be tough, try two in one day. That's what Mike Cannon, 56, of Fairfax Station, did as part of his quest to run more than 100 races in 2014.
Asked how his race went, Cannon said, "I ran a 5k up in Baltimore this morning so I didn't have the legs for it."
Andrew Gray and Alan Bornbusch, two Arlington runners and members of one of Pacers' Tuesday night running groups, enjoyed the race, they said, though perhaps for slightly different reasons.
Bornbusch, 53, said his 22:39 finish served him well in training for his first half marathon this fall.
"It's a nice little piece of speed work," he said.
For Gray, 31, who came in just a few seconds shy of breaking 20 minutes, the race was more like a piece of cake, even if a head cold made it difficult.
"It's a good way to spend my birthday," he said. "That way I can make room for brunch tomorrow."
***
He finally had it.
After years of trying, Arlington's Matt Deters broke 16 minutes by a clump of hairs – 15:58. He confirmed his time at a laptop at the registration table.
"When I was in high school, if you ran under 16 you were a god," he said. "I didn't think I'd be able to do it, after a torn Achilles and knee surgery."
He was close on the fourth of July, running 16:06 at the Firecracker 5k in Reston.
At Crystal City, he split 4:49 and 10:03 before hanging on as the heat, and the hurt, turned up.
***
Look out for Thomas Edison High School's cross country team.
The Edison Club won its second-straight title in the high school team competition. Gonzaga, Annandale, Wilson, and J.E.B. Stuart also fielded clubs.
The Walt Whitman Club won in the high school girls division, followed by Annandale, Lake Braddock, Wilson, and Georgetown Visitation.
Brandon Rockers, a rising senior at Edison who was third for his club in 17:47, said running the Crystal City Twilighter has become a team tradition. "The race has always been before a running camp" members of the team attend, Rockers said.
In the high school results, Aviad Gebrehiwot, 17, of Annandale High School, was top male in 16:44. Sonya Butseva, 16, and teammate Kate Murphy, 14, both running for Lake Braddock Club, were the top females, both finishing in 20:49.
Look out, as well, in the 11 to 14 age group.
Madalyn Wright, 11, was 3rd in the female division behind Murphy and Angelica Gaughran, also 14. Her time was 22:57.
Wright was wearing a tutu, and said she has now run about half-a-dozen races between 5k and 10k.
"I love running," said Madalyn, whose mother, Myra Wright, ran in high school and is a longtime runner.
Madalyn was 6 when she ran her first race. "I kept saying," Myra Wright recalled, as they ran together that first time, "the tortoise wins: slow and steady finishes the race. And she kept saying, 'Mom, I want to go faster.' So at two and a half I said, 'Madalyn, 'Go!' and she just took off.'
That's how it has been ever since, said Wright, who had a finishing time of 24:16 on her watch.
"I tell you, it motivates me to run faster when you know your little girl is up there."
3
Comments