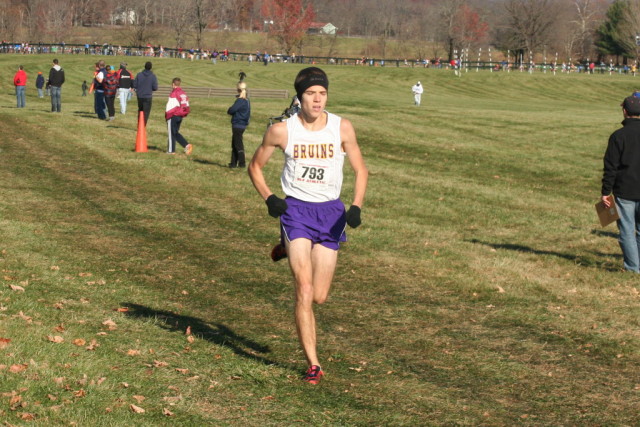 But for some more fortuitous scheduling, Lake Braddock's boys may have had "throwback Thursday" on their hands. A throwback to something none of the Bruins were alive to remember.
So they settled for a #sometimeagoSaturday. But that's all the settling they did.
With an individual title by senior Alex Corbett and a dominating team victory, they put their names in the state championship history books as winners for the first time since 1987, when Brad Baker got the scoring started with one point, en route to a 48-60 win over Woodbridge.
[button-red url="http://www.runhigh.com/2014RESULTS/R111414AA.html" target="_self" position="left"] Results [/button-red]The Bruins had finished a close second, 87-85, to Chantilly last year, in a 6A class team competition that saw four teams separated by four points. It wasn't even close this year at Great Meadows, as they gapped West Springfield 41-92, placing three runners in the top seven, led by Corbett and Kevin Monogue sweeping the top two spots.
"I just wanted to be patient during the race," he said. "I knew it would go out fast because of all the other guys out there."
Coming in off a North Region championship and a strong senior season, with a 15:17 5k PR set in September at the DCXC Invitational, Corbett was confident his plan would play out to his liking.
Chantilly's Ryan McGorty (fourth, 15:26), T.C. Williams' Anteneh Girma (sixth, 15:36) and Cox's Jonathan Lomogda (third, 15:21) led the way through the mile, and a quartet of Bruins sat in wait a little bit behind.
"Me, Kevin, Colin (Schaefer, seventh, 15:39) and Ben (Fogg, 18th in 16:10), we were just chilling back there in the chase pack," he said. "After the second mile, I caught back up and got to work. I made my move with 1200 meters to go, and it worked. When I turned around and saw Kevin was coming in second, I couldn't believe it."
Monogue's 15:19 was a PR, and put him five seconds ahead of Stoney's winning time last year.
"I think I was able to go out faster than last year and keep it going longer," he said. "I think I was faster in all stages of the race."
In 2013, Monogue ran 16:16 for 31st place, so that was a bit of an understatement.
"It's nice when your teammate is the one making the move, and you know what he's going to do," coach Mike Mangan said. "It gives you a great advantage. The pack moved, he held on that was enough to get him into position."
When Schaefer moved to Northern Virginia from Nevada over the summer and joined the Bruins' cross country team, he was introduced to a team on a mission.
"My first time meeting the guys was in July and they were running a hard workout," he said. "They all crushed me. Really really badly. I knew these people meant business. It's been great training with them — they're the best in the state."
The Bruins will see how they stack up against the rest of the Southeast and possibly the nation when they take a shot at qualifying for the Nike Cross National meet in Oregon. Mangan is used to taking runners to the Footlocker Cross Country Championships after several successful years with now-graduated girls.
"I guess I don't get to take my December trip to San Diego this year," he quipped.
While Lake Braddock had a year to stew over their two-point loss, their pursuers had been waiting even longer for a shot at the state title. West Springfield sent a boys' team to the state meet for the first time since 2006, and did it in style, finishing second.
Led by Tim Ward's 10th place finish in 15:56, the middle of the Spartans' scoring pack came in  places 25, 26 and 27.
Coach Chris Pellegrini explained that his team, while not flashy, got the job done.
"This is going to sound like it's not complimentary, but it is– I don't believe that we have a bunch of blue chip individuals on our team," he said, "Our one blue chipper (Owen Buck) moved to Seattle, over the summer, so our guys did a great job of rallying together."
Pellegrini gave a great deal of credit to junior Andrew Lackey (27th), the only underclassman in the bunch, who was running his first season of cross country after a playing in the marching band.
"He was running 11:30 for two miles last year in JV track, today just ran 16:22 for 5k to finish in the top 30," Pellegrini said. "He's small, he's skeletal, he looks like he can't be fast, and he can't sprint, but he can just will himself. Something clicked in his brain and he decided he was going to do that."
As Nahom Teshome (25th, 16:21)and Evan Fabish (26th, 16:22) faded in the third mile, Lackey caught them and snapped them back into the goal at hand.
"When he caught up to me and said it was time to go, I knew he was right," Fabish said, as Lackey came running over to the group carrying a t-shirt and yelling "I can run all day!"
Lackey deferred to his teammates when he explained his motivation.
"These guys, the seniors, have been working at this for a while," he said. "I just wanted to help them get here."
He'll be the top Spartan returner in 2015.
"He's the 'how is he doing this, how is he running that fast' kind of kid that a program needs to get over the top," Pellegrini said.
McGorty led Chantilly to a third-place finish, with Oakton in fourth, led by Simon Iyob (12th, 15:58) Robinson in fifth led by Patrick Myers ( 14th, 15:59) and Hunter Jurtas (15th, 15:59) and Washington-Lee in eighth, behind Patrick Odlum (43rd, 16:42).
In the 5A race, Thomas Jefferson was the top local team in second, behind sophomore Saurav Velleleth's ninth place finish in 16:12. Heritage senior Joey Lightbody was the top local 4A runner in 34th place (16:57).
On Friday, Loudoun Valley junior Andrew Hunter broke Sean McGorty's two-year-old state meet record (14:47) with his 14:41, while Brentsville District took the team title behind junior Jack McNally in seventh place (16:11). McGorty went on to finish second in the 2012 Footlocker Cross Country Championships.
In the 2A race, George Mason finished sixth, behind senior Jackson Jost's 30th place finish (17:45).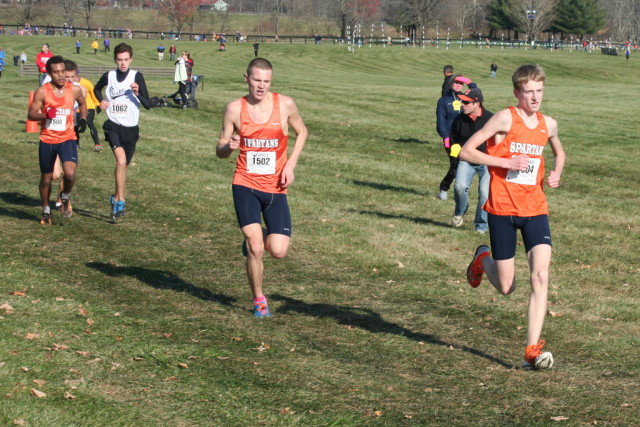 0
Comments
Adrenaline launches most kids through the first mile of a cross country race. Then reality catches up in the second mile, and when that's compounded with a long sunny stretch and temperatures well into the 80s, the overly bold typically pay for their exuberance.
Unless they are Ryan McGorty.
[button-red url="http://va.milesplit.com/meets/180507-monroe-parker-invitational#.VAzBXPldXDG" target="_self" position="left"] 2.98 mile Results [/button-red]With a 4:49 mile split through the Monroe Parker Invitational, the Chantilly senior cruised to a 20-second win in 15:02 over Burke Lake's 2.98 mile course, where his brother, Sean, won [button-red url="https://www.facebook.com/pages/Ed-Lull-Track-XC-Pictures-Northern-Region/106970012725268″ target="_self" position="left"]Photos and video by Ed Lull [/button-red]two years before. Behind him, Kevin Monogue and Alex Corbett finished second and third to lead Lake Braddock to a dominating win over West Springfield at the annual Northern Virginia season opening cross country meet. The Bruin duo led two more runners across the line in the top 10 (Colin Schaefer in seventh and Ben Fogg in ninth) to open a gap other teams had few hopes of closing. Defending 6A state champion Chantilly was fifth.
"I wanted to try to run 4:50s for the first two miles and hang on until the finish," McGorty said. "I was about 9:53 at two miles, so I slowed down after I got away from (Westfield's Johnny) Pace, but it felt great to hit '53 for two and keep going.
"In that last mile, I started to feel the heat a little, but I didn't see anyone in my peripheral vision so I took a chance and went for it. I wanted to get under 15 but I'll take 15:02."
He'll likely have his chance later; of the boys who have run under 15 minutes, all but one (Eric Kweeder, 1996) did it later than the Monroe Parker, according to Northern Virginia Cross Country/Track and Field Association records.
Race start times, ordinarily the least consequential of the five Ws, played a big part in the varsity races, with the boys' gun going off at 11:15 and the girls' at 11:45.
"We were very careful today," Lake Braddock coach Mike Mangan said. "We stayed back for a mile and a half. With temperatures like these, you'll hit the red line really fast."
Though the Bruins graduated three runners from their state runner-up team the year before, they also lost a few underclassmen whose families moved. But, in a fortunate coincidence, one new runner, Schaefer, moved into a departed runner's house.
"The start was a little funky, Alex and I didn't get out all that fast," Monogue said. "We made up a lot of time in the campground and had a good pack through the second mile."
The pair broke away in the third mile and Monogue edged Corbett by one second in 15:24.
Annandale's Aviad Gebrehiwot finished fifth (15:48) in a race he said demonstrated the gains he had made over the summer.
"I knew it at two miles," he said. "Usually, I'm absolutely dead heading up that hill (into the parking lot), but I had the strength to keep attacking there. It helped I was with a bunch of other great runners today. I've just never felt so strong on this course before. "
In the girls varsity race, a half hour later and even hotter, Chantilly senior Xaveria Hawvermale and James Madison senior Amanda Swaak battled for more than 2.5 miles before Swaak made a move with 600 meters to go that Hawvermale couldn't cover.
It was a much better result than Swaak expected, as recently as before the gun fired.
"I've had a hard training week, I didn't feel that good," she said. "Even on my warmup, I was going slowly and didn't know what to expect. I didn't want to focus on the time because of the weather, so I was just going to run for place."
She got stuck back in the lead pack early in the first mile, but before long had caught up with Hawvermale, at which point theybroke away.
"It was nice racing with her, because we worked together," she said. "I don't think I could have run as fast on my own."
Hawvermale said she was not made for running in the heat, but she put on as brave a face as she could for her team's sake and took a shot at the win. After racing sparingly in her first two years, she has had an unprecedented year of good health and is excited to build on that as the season progresses.
"Heat's something I struggle with, but when it gets cooler I should feel better," she said. "I'm much better off trying to run longer races, I avoid running the 800 on the track at all costs, so having weather where I can run hard will help."
Swaak's teammate, junior Morgan Whittrock, also was less than thrilled about the temperature, but she still managed to finish eighth, leading the Warhawks to a 75-99 win over Lake Braddock.
"It was beating on me," she said, "but I knew everyone had been out here for hours, just like us, so I tried to go out there, take it and race them."
James Madison sophomore Devon Williams finished 20th in her first cross country meet.
"She ran on our 4×8 team at states, so she's used to the competition, but three miles was a whole new race for her," said coach Craig Chasse. "The team as a whole, they did their work over the summer, they're off to a good start."
So is Chantilly freshman Harrison Shay, who ran 19:12 in the freshman boys' race for his first cross country meet.
"I felt awful at the end, and it wasn't even as hot as the later races," he said. "I was just trying to get up the next hill, around the next tree. I made it, and I didn't die."
A family running background got Shay into running, including an uncle who runs marathons.
"I liked being competitive," he said, noting that he eschewed team racing to go after his opponents one by one. "I think I'll stay with this."
0
Comments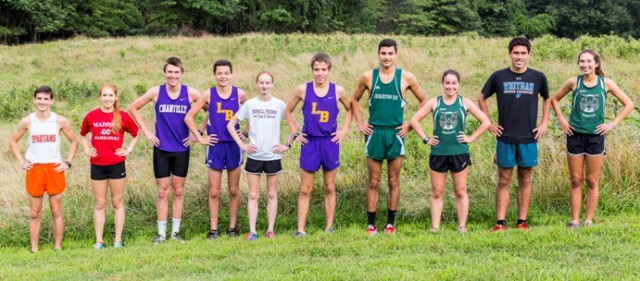 Simply put, last year was good for the D.C. area's cross country runners. West Springfield's Caroline Alcorta's third place was the best Footlocker Cross Country Championships race by a girl since Erin Keough won it all in 1986. Katy Kunc and Hannah Christen gave Lake Braddock two national championships qualifiers. Edison's Louis Colson and Marshall's Mackenzie Haight proved the 5A class' depth by making it, and St. Albans' Tai Dinger gave D.C. its first qualifier since Sidwell's John McGowan.
But that was last year.
2
Comment