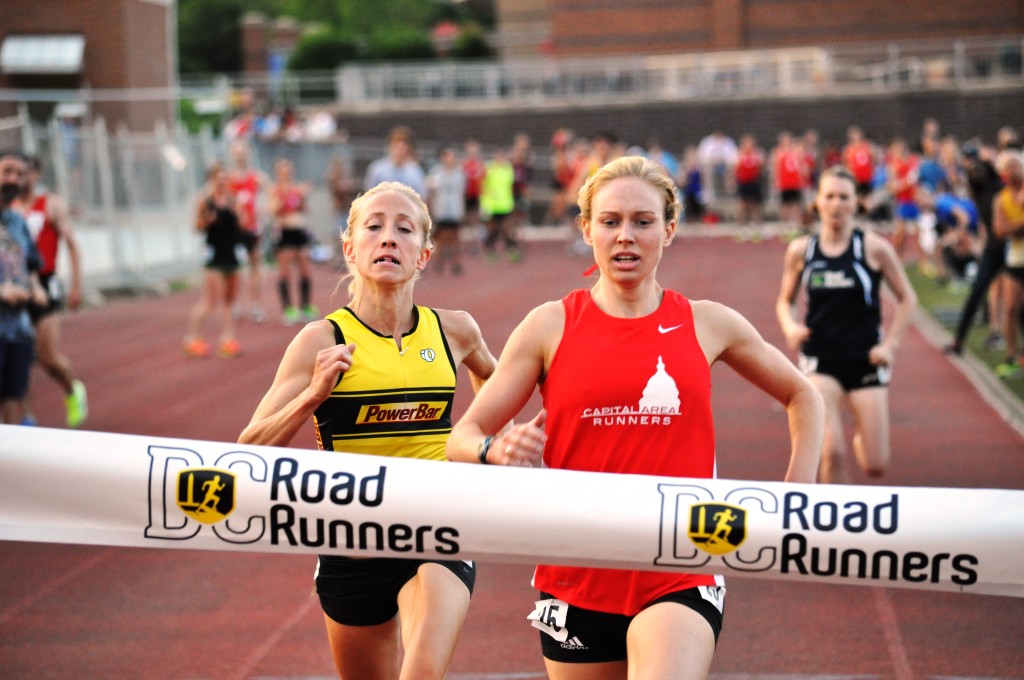 Track isn't over once you leave school.
There might not be as many opportunities to race on the track as there are on the roads, but the DC Road Runners Track Championship remains a mid-summer option with some panache. And some shock for the legions of marathon runners who switch it up for an evening. The race tactics on display for everyone to see throughout the entire meet, the consistent lap splits and the energizing sound of the bell on the final lap, all of the elements of great track races were on display at Washington-Lee High School.
No more dramatically than during the elite women's mile. Making a move with a lap to go, Susanna Sullivan pulled away from Kristin Anderson and Claire Hallissey and seemed ready to stake her claim to first place. Anderson wasn't done, though, and gave one last effort before falling just a hundredth of a second short at the finish line, with Sullivan taking the win in 5:00.0.
The Falls Church resident, who finished second in the same race last year and won the 2012 3k race later that evening, was nervous before the race.
"I know it's weird to be nervous before something so short, but it got better as soon as the race started," she said. She had no idea how close Anderson was until the finish.
Sullivan will focus on the Rock 'n' Roll Philadelphia Half Marathon in September. She was one of 61 of Capital Area Runners athletes who bathed the track in red.
David Chorney came from Boston to visit his girlfriend in Arlington, and while he was here, picked up a comfortable 4:13.67 win in the men's mile against Germantown's Joe Wiegner, who held off Arlington's Chris Mills, 4:17.18 to 4:17.7.  A graduate of Muhlenburg College in Allentown, Pa., Chorney will return to eastern Pennsylvania to race the Lehigh Valley Marathon in September, right before registration opens for the Boston Marathon. Chorney runs for the Boston Athletic Association and needs a qualifier.
The track meet had 14 heats of mile races, which allowed runners to seed themselves for exciting and challenging races.
Anthony Lambkin of Arlington tore through his heat to finish second in 5:11.49. The race itself was straightforward compared to his usual conditioning — touch rugby (it's apparently very popular in the D.C. area). The Australian native got into running three years ago thanks to his fiancé, Mary Doman. He has since run a marathon, a half and a smattering of 5ks.
"I don't feel great now that the race is over, but I enjoyed it," he said. "That last lap hurt."
Doman didn't have that problem, cruising through her heat to win in 6:12.03.
"I didn't run in the right heat, but I really didn't feel like coming in last today," she said. "That's no fun."
Jennifer Adams was another Massachusetts resident who ran away with a mile heat victory. Between school years coaching cross country at Mount Holyoke College, she spends the summers in Maryland with her boyfriend and runs with the Capital Area Runners.
"I went out a little fast today," she said. "My PR in the 400 is 68 seconds and I was out in 73. I was all over the place. Longer races are more my thing, more time to think."
Her three-second victory in 5:17.12 at least gave her a few seconds for thoughts.
Chris Carney of Falls Church used the race as a comeback from a series of injuries including plantar fasciitis and a quadriceps tear. He's aiming for the Marine Corps Marathon.
"It felt good to get out there," he said. "It's much different than a lot of races I run."
[button-red url="http://www.dcroadrunners.org/races/race-results/2013-results/2103-2013-track-championship-mile-heats.html" target="_self" position="left"] Mile Results [/button-red] [button-red url="http://www.dcroadrunners.org/races/race-results/2013-results/2104-2013-track-championship-3k.html" target="_self" position="left"] 3k Results[/button-red] [button-red url="http://youngrunner.smugmug.com/Race-Photo-Galleries/DCRRC-Mile-3k-7-24-2013″ target="_self" position="left"] Photos [/button-red]
2
Comment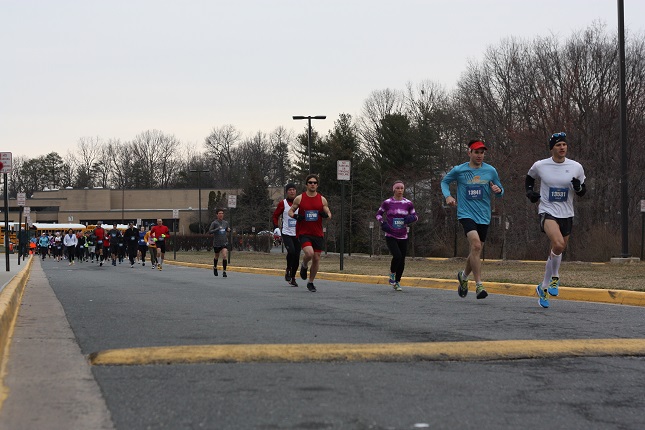 It wasn't Metro accessible, there weren't bands every mile and the race might not have had the panache of a national series, but sure enough, a marathon went off Saturday morning in Northern Virginia.
The inaugural Runner's Marathon of Reston and accompanying half marathon took charge of the streets and trails in a race that billed itself as being "designed by runners, for runners."
Two sisters, Devin and Alex Nehill, had hatched a plan over Thanksgiving to run their first marathon together. They chose Reston because of the proximity to their hometown and ease of pre and post-race logistics. At the time, they had no goals other than to finish.
As Devin, 17, a senior at Bishop O'Connell, entered the home stretch around the South Lakes High School track, passing half marathoners still finishing, tears were streaming down her face. She took the female win and finished in an impressive 3:09:49, amidst cheers from her entire lacrosse team.
Wearing a shirt that said "The faster you run. The faster you are done," she had a hard time putting into words how she felt as tears still streamed down her face from the shock and joy of the win.
Though Devin is an amazing runner, lacrosse is her best sport. She was a first-team WCAC and Division I all-state lacrosse player and an honorable mention All-American, as chosen by U.S. Lacrosse, she will be attending Division I Drexel University to lacrosse.
While Devil was roaring down the home stretch, her sister Alex, 19 and a student at Virginia Tech, was still on course. Winning your first marathon is nothing short of amazing. Devin however didn't bask in her accomplishment, she quickly ran back on course to cheer on her sister.
Local masters runner DeeDee Loughran, 54, took 2nd in 3:15:14.  Alex Nihill rounded out the top three females with a time of 3:43:21.
On the men's side of the marathon, 20-year-old Lee Kaufman clinched the win with a 2:52. Second place in 2:59, was 48-year-old Ian Clements. Clements, a veteran of 14 marathons, described the course as "extremely challenging." He knew it was hilly but felt it was much harder than expected. His goal was to run around a 2:57 but early in the race knew that was not going to be possible on this course.
"There are trails and there are "trails," he said, "The C & O Canal is flat and straight. The W & OD is straight and relatively flat. The trails in Reston aren't straight, and they aren't flat. It really takes a lot out of you as a runner."
He had planned to run the Rock 'n' Roll USA Marathon but when a work tripped forced his to make other plans, the Alexandria resident said the Reston race was a no-brainer.
The half marathoners took off 30 minutes after the start marathon, and ran the same loop the marathoners did twice. Nate Spong, of Reston, took the win on the men's side with a time of 1:24:03. Close behind him was Mike Honicker of Sterling, in 1:24: 55. Honicker and Spong are both prepping for triathlon seasons. Both felt the race logistics wise was well run, but did note that there were a lot of false flats and the course was extremely hilly.
Spong sung praises of the new race. "Well marked, the volunteers were awesome, Reston really needed a good half marathon and full marathon and Reston Runner's delivered on that."
On the women's side, Kristen Herring took first in 1:32:08. Reston resident Sharon Adams, who eight days ago became the mother of an adopted 8-year-old from Haiti, took second with a time of 1:35:21. Adams said the race was very special for her. Having her third child there cheering her, screaming "go mommy go" was the icing on the cake to a fun race morning in her home town. Robin Witlin rounded out the top three women with a time of 1:35:48, finishing on her former high school track.
The Reston Runners decided last year to start a half marathon and marathon in Reston, to complement its variety of road races and triathlons. Dennis Hayes, Reston Runners club president and co-race director of the race, boasted of the tremendous community support the race not only had in the planning stages but also on race day. "Reston has needed a full marathon and a half marathon for a number of years and we are excited to make this a reality today."
Hayes and his team of six co-race directors put together the race with runners in mind. "We wanted a race where we took the good parts of races we have run and improved upon issues we have encountered at other larger marathons." Free pasta dinner the night before, morning packet pick up, and a buffet of post-race food that included pizza, buffalo wings, corn bread, oranges, bagels muffins and more, were a few of the perks of this low key long distance race.
The club chose the March date, so as not to compete with other large fall marathons, and to ensure relatively cool weather for participants.
Volunteers were plentiful at the race, making everything run smooth for participants. Mary Mullaney of Reston believes as a runner and triathlete it's important to give back. "Volunteers make these races happen, and I participate in many throughout the year, so I also volunteer my time on the ones I'm not racing." Aprille Sherman of Sterling, a member of Reston Runners, was really excited to be volunteering. The spirit here today is infectious; it makes you want to sign up to run another race. Sherman who is training for the Cherry Blossom 10 Miler also felt that it's important for runners to not just participate but to also give back to the sport they love.
Post-race, runner's enjoyed the plentiful food in the South Lakes Cafeteria, staying warm while sharing their stories of what may become a favorite race of many.
0
Comments
By Dickson Mercer
Washington, DC
November 13, 2011
For the Washington Running Report
Frank Devar and Serena Burla each won $500 for winning today's Veterans Day 10K on a cool, blustery morning in Washington, D.C.'s West Potomac Park. Early on, though, the men's winner was a tad confused.
"Where are the Ethiopians?" Pacers Racing Team member Bert Rodriguez said to his teammate, Devar, on the starting line of this always competitive race. The question set Devar to wondering: Was the 12th annual Veterans Day 10K – contested on an out-and-back, flat-and-fast course starting on Ohio Drive – not offering its generous 10-deep prize purse?
Event host Capital Running Company, as it turned out, indeed offered its usual prize purse. And for at least one Ethiopian runner, it was a marathon, not a lack of prize money, which kept him off the starting line.
Last year Abiyot Endale won his second straight Veterans Day 10K the day after racing the HCA 8K in Richmond. While Endale was back in Richmond yesterday, this time it was for the SunTrust Richmond Marathon, in which he placed fourth in 2:19:19. That was enough to keep Endale away from attempting a potential three-peat, and the door was thus left open for top locals such as Rodriguez and Devar.
Devar's 7th place finish last year came in a personal best of 30:40. This year he took control of the race early to win in a new personal best of 30:23, a per-mile average of 4:53.
Rodriguez, who was 2nd in 30:53, stayed with the eventual winner "until I couldn't keep up with [him] anymore," he said laughing.
For Rodriguez, the time was just a second off his personal best, set here last year, in what might also be the 32-year-old Arlington resident's last local race before he and his wife move to Charlotte, N.C. in February. (He did announce plans to return for April's Credit Union Cherry Blossom Ten Miler.)
Look back at the Veterans Day results for 2005 and you will see that Rodriguez was 10th in 33:01. The next year he was 8thin 32:42. The year after that Rodriguez was training with Pacers and shaping up into a top local runner.
Devar graduated last year from the University of Mary Washington in Fredericksburg, VA. The 23-year-old Arlington native is working part time for Pacers while making a go at improving upon college bests of 8:13 for 3,000 and 14:10 for 5,000.
Georgetown Running Company's Sam Luff, 23, of Rockville was third in 31:00. His teammate, Ryan Witters, 23, of Washington, DC was fourth in 31:17. The master's crown went to Ray Pugsley, 42, of Potomac Falls, VA. His time of 32:44 put him just outside the top 10 overall.
For the women, this was Burla's race from the start. Having recently moved to Falls Church from Missouri, the 29-year-old Olympic Trials qualifier took out the opening mile right around 5 minutes en route to a near event record breaking time of 33:04, a per-mile average of 5:19. Svetlana Zakharova set the event standard in 2000 with 32:53.
Burla's Riadha running club teammate, Kristin Anderson, who was second in 35:04, a time good enough to win some years, admitted that Burla's quick early pace took her away from her race plan, or at least partially away from it.
Anderson's plan was to run five seconds off Burla through the mile. Thing was, she was expecting Burla to go through in 5:30.
"I tried to not get overwhelmed by it, just work hard," Anderson said of her 5:10 opening mile. "I just tried to take a deep breath, and keep working for it. It helped when some guys came around. Actually, I kept picturing every guy was a girl."
This was the 28-year-old adjunct college professor's first race since track season, she said. After some time off, Anderson, of Arlington, said she went into a base building phase that has been greatly aided by the arrival of Burla, her new training partner.
Burla, who ran 2:37:06 at the 2010 New York City Marathon, is preparing for January's U.S. Olympic Marathon Trials. After today's race she set out for another hour of running, up-tempo, making her unavailable for an interview. Riadha's Alisa Harvey, 46, of Manassas, VA was the top female master in 38:13.
The third place female, Anna Holt-Gosselin of Georgetown Running Company, knew better than to get mixed up in the early pace set by Burla and Anderson. Still, the 23-year-old Vienna, VA resident said, after clocking 35:39, that she had run her best race this year.
Many of today's participants ran in honor of men and women serving in the armed forces. Members of a Howard County, MD based group of women who met each through LiveNow Fitness ran in honor of Delma Johnson's husband, Eric Johnson, who is overseas with the U.S. Army.
Johnson, along with Lesley Smith, Evelyn Cooper, Kendra Booth, Grace Bristol, and Aixa Flanders push each other through boot camp-style workouts during the week, they said. On the weekends, however, they head to the races, where it is every woman for herself.
"We go, 'Go team!'" explained Johnson. "Then it's, 'See you at the finish!'"
The 12th Veterans Day 10K benefited Luke's Wings. A member of the Wounded Warrior Transportation Assistance Program, Luke's Wings provides travel planning and complimentary airline tickets to wounded warriors and their families during the service member's hospitalization and rehabilitation. This enables families to be with their loved ones at such a difficult time.
At the conclusion of the awards ceremony, Linda Duyen Nguyen of Annandale, VA won the grand random prize of a 7-day resort stay for two.
MALE Open
    1    48 Frank Devar          23 Alexandria VA         30:23 
    2    15 Bert Rodriguez       32 Arlington VA          30:53 
    3    20 Samuel Luff          24 Rockville MD          31:00 
    4    22 Ryan Witters         23 Washington DC         31:17 
    5  1854 Tristram Thomas      24 Baltimore MD          31:50 
    6    28 Ryan Hanson          23 Rockville MD          31:55 
    7     3 Wilson Komen         33 Washington DC         32:12 
    8     5 Christopher Sloane   28 Rockville MD          32:15 
    9  1706 Dennis Wolff         29 Hartford CT           32:17 
   10    45 Dickson Mercer       30 Washington DC         32:19 

MALE Masters
    1    13 Ray Pugsley          42 Potomac Falls VA      32:44 

MALE AGE GROUP: NET TIME - NET PACE 1 - 19
    1 John Morgan          18 M ANNAPOLIS MD          33:18 33:18  5:22 
    2 Alexander Waldt      18 M BALTIMORE MD          34:05 34:05  5:29 
    3 Noah Howard          16 M WASHINGTON DC         39:50 39:27  6:21 

MALE AGE GROUP: NET TIME - NET PACE 20 - 24
    1 Jerry Greenlaw       23 M ALEXANDRIA VA         32:58 32:58  5:19 
    2 Alexander Wepsala    24 M WASHINGTON DC         36:40 36:39  5:54 
    3 Cole Ashcraft        20 M WASHINGTON DC         37:17 36:42  5:55 

MALE AGE GROUP: NET TIME - NET PACE 25 - 29
    1 Paul Guevara         25 M ALEXANDRIA VA         33:00 33:00  5:19 
    2 Andrew Ciarfalia     29 M RESTON VA             33:37 33:37  5:25 
    3 Andy Sovonick        25 M GAITHERSBURG MD       33:45 33:45  5:26 

MALE AGE GROUP: NET TIME - NET PACE 30 - 34
    1 Ben Ingram           34 M WINCHESTER VA         34:08 34:08  5:30 
    2 Steven Staats        33 M WASHINGTON DC         35:29 35:26  5:43 
    3 Dwayne Bax           30 M WASHINGTON DC         37:17 37:17  6:00 

MALE AGE GROUP: NET TIME - NET PACE 35 - 39
    1 David Wertz          35 M ARLINGTON VA          32:38 32:38  5:16 
    2 Eric Lavigne         35 M PHILADELPHIA PA       32:40 32:40  5:16 
    3 Marcos Galicia       36 M SILVER SPRING MD      36:10 36:08  5:49 

MALE AGE GROUP: NET TIME - NET PACE 40 - 44
    1 Matthew Frank        44 M LOUISVILLE CO         36:42 36:40  5:54 
    2 Andrew Pugh          42 M WASHINGTON DC         37:28 37:23  6:01 
    3 Dave Cahill          40 M ARLINGTON VA          37:58 37:55  6:07 

MALE AGE GROUP: NET TIME - NET PACE 45 - 49
    1 Derik Thomas         45 M ALEXANDRIA VA         34:53 34:53  5:37 
    2 Poul Wisborg         48 M WASHINGTON DC         38:35 38:22  6:11 
    3 Warren Djuric        49 M SPRINGFIELD VA        38:46 38:46  6:15 

MALE AGE GROUP: NET TIME - NET PACE 50 - 54
    1 Jean-Christophe Arca 50 M ROCKVILLE MD          35:48 35:48  5:46 
    2 Kevin Dix            52 M MANASSAS VA           40:00 39:58  6:26 
    3 Terry Basham         52 M DUMFRIES VA           40:46 40:38  6:33 

MALE AGE GROUP: NET TIME - NET PACE 55 - 59
    1 Paul Serra           55 M LUSBY MD              41:28 41:20  6:39 
    2 Ken Krehbiel         58 M WASHINGTON DC         41:47 41:47  6:44 
    3 Rod Devar            58 M ALEXANDRIA VA         42:20 42:10  6:48 

MALE AGE GROUP: NET TIME - NET PACE 60 - 64
    1 Malcolm Senior       60 M NEW MARKET MD         40:43 40:41  6:33 
    2 Jim Wright           62 M GAITHERSBURG MD       41:46 41:42  6:43 
    3 Jay Jacob Wind       61 M ARLINGTON VA          44:17 44:17  7:08 

MALE AGE GROUP: NET TIME - NET PACE 65 - 69
    1 Jim Noone            67 M FAIRFAX VA            44:59 44:57  7:14 
    2 Bob Chase            66 M FALLS CHURCH VA       45:29 45:23  7:19 
    3 John Sullivan        66 M WASHINGTON DC         53:57 52:53  8:31 

MALE AGE GROUP: NET TIME - NET PACE 70 - 74
    1 Gerry Ives           72 M WASHINGTON DC         45:56 45:44  7:22 
    2 Malcolm O'Hagan      71 M CHEVY CHASE MD        48:20 48:12  7:46 
    3 Chan Robbins         74 M ARLINGTON VA          50:57 50:55  8:12 

MALE AGE GROUP: NET TIME - NET PACE 75 - 79
    1 Skip Grant           76 M CHEVY CHASE MD        50:06 49:54  8:02 
    2 Alan Rider           75 M RESTON VA             56:01 55:50  8:59 
    3 Robert Gurtler       76 M THE PLAINS VA         63:16 63:02 10:09 

MALE AGE GROUP: NET TIME - NET PACE 80 - 99
    1 George Yannakakis    80 M SPARKS GLENCOE MD     52:49 52:44  8:30 
    2 Jack McMahon         80 M SILVER SPRING MD      58:26 58:14  9:23 

MALE FIRST TIME RACER: NET TIME - NET PACE 1 - 99
    1  1378 Mike Cahill    33 M Washington DC         39:58 39:42  6:24
FEMALE Open
    1  1708 Serena Burla         29 Falls Church VA       33:04 
    2  1709 Kristin Anderson     28 Arlington VA          35:04 
    3    17 Anna Holt-Gosselin   23 Vienna VA             35:39 
    4  1704 Jacqui Wentz         23 Baltimore MD          36:07 
    5     7 Wendi Robinson       24 Washington DC         36:46 
    6    27 Maura Carroll        22 Washington DC         37:05 
    7     6 Lisa Thomas          35 Alexandria VA         37:10 
    8     8 Lindsay Wilkins      33 Arlington VA          37:30 
    9    19 Susan Hendrick       25 Washington DC         37:34 
   10    44 Laura O'Hara         31 Alexandria VA         37:42 

FEMALE Masters
    1     4 Alisa Harvey         46 Manassas VA           38:13 

FEMALE AGE GROUP: NET TIME - NET PACE 01 - 19
    1 Maggie Wood          14 F WASHINGTON DC         46:54 46:18  7:27 
    2 Christina Glasener   16 F WASHINGTON DC         46:36 46:18  7:28 
    3 Maria Luisa Navarro  19 F BALTIMORE MD          49:58 49:43  8:00 

FEMALE AGE GROUP: NET TIME - NET PACE 20 - 24
    1 Samantha Lee         23 F NEW PROVIDENCE NJ     38:51 38:48  6:15 
    2 Elizabeth Laseter    23 F WASHINGTON DC         39:33 39:27  6:21 
    3 Heather Jelen        24 F FALLS CHURCH VA       39:36 39:36  6:23 

FEMALE AGE GROUP: NET TIME - NET PACE 25 - 29
    1 Erin Swain           29 F ARLINGTON VA          38:31 38:31  6:12 
    2 Kelly Swain          26 F ARLINGTON VA          38:32 38:32  6:12 
    3 Ashley Palmer        28 F LYNCHBURG VA          39:25 39:25  6:21 

FEMALE AGE GROUP: NET TIME - NET PACE 30 - 34
    1 Christina Vanucci    33 F WESTLAKE OH           39:48 39:35  6:23 
    2 Jessica McGuire      31 F ARLINGTON VA          41:29 41:25  6:40 
    3 Ingrid Peterson      33 F WASHINGTON DC         41:50 41:35  6:42 

FEMALE AGE GROUP: NET TIME - NET PACE 35 - 39
    1 Barb Fallon Wallace  37 F ALEXANDRIA VA         37:46 37:46  6:05 
    2 Jackie Gruendel      36 F CLIFTON VA            38:08 38:08  6:09 
    3 Kristie Connelly     36 F ALEXANDRIA VA         38:41 38:41  6:14 

FEMALE AGE GROUP: NET TIME - NET PACE 40 - 44
    1 Samantha Cole        43 F ARLINGTON VA          39:23 39:23  6:21 
    2 Lisa Chilcote        41 F N BETHESDA MD         40:02 40:02  6:27 
    3 Julie King           44 F ALEXANDRIA VA         43:24 43:21  6:59 

FEMALE AGE GROUP: NET TIME - NET PACE 45 - 49
    1 Valinda Nwadike      46 F LEONARDTOWN MD        47:08 46:58  7:34 
    2 Mery-Angela Katson   47 F MCLEAN VA             47:58 47:34  7:40 
    3 Ellen Willison       45 F STAFFORD VA           47:56 47:47  7:42 

FEMALE AGE GROUP: NET TIME - NET PACE 50 - 54
    1 Patti Galleher       54 F DENVER CO             42:10 42:03  6:46 
    2 Carole Jones         54 F ASHBURN VA            44:38 44:27  7:10 
    3 Carla Freyvogel      54 F MCLEAN VA             50:12 50:01  8:03 

FEMALE AGE GROUP: NET TIME - NET PACE 55 - 59
    1 Betty Blank          58 F FALLS CHURCH VA       44:59 44:58  7:15 
    2 Liza Recto           55 F LEXINGTON PARK MD     48:50 48:48  7:52 
    3 Carol Brockschmidt   55 F WASHINGTON DC         52:20 51:56  8:22 

FEMALE AGE GROUP: NET TIME - NET PACE 60 - 64
    1 Ginny Hughes         61 F WARRENTON VA          49:14 49:05  7:54 
    2 Alice Franks         63 F ROCKVILLE MD          49:42 49:33  7:59 
    3 Mary Pultz           61 F SPRINGFIELD VA        66:06 64:38 10:24 

FEMALE AGE GROUP: NET TIME - NET PACE 65 - 69
    1 Joanne Murphy        66 F BALTIMORE MD          52:50 51:57  8:22 
    2 Karen Kautz          68 F SILVER SPRING MD      56:24 55:57  9:01 
    3 Nancy Malan          65 F WASHINGTON DC         68:04 67:43 10:54 

FEMALE AGE GROUP: NET TIME - NET PACE 70 - 74
    1 Jamie Wollard        73 F N BETHESDA MD         89:45 87:53 14:09 

FEMALE AGE GROUP: NET TIME - NET PACE 75 - 79
    1 Tami Graf            75 F LUSBY MD              61:47 61:42  9:56 

FEMALE FIRST TIME RACER: NET TIME - NET PACE 1 - 99
    1  1100 Dominique Gale 29 F Chantilly VA          50:57 48:15  7:46
0
Comments