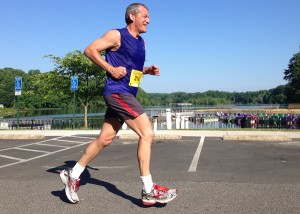 [button-red url="http://www.youstartifinish.com/130601%20Results%20-%20Springfield%205K%20Overall.htm" target="_self" position="left"] 5k Results [/button-red] [button-red url="http://www.youstartifinish.com/130601%20Results%20-%20Springfield%2015K%20Overall.htm" target="_self" position="left"] 15k Results [/button-red]
David Dang's reaction to the aftermath of the Springfield 15k was completely appropriate. He sat in the shade of a tent on the Lee High School field and cooled his head with a bag of ice that was rapidly melting in the late spring heat.
It was a rough day for Dang, for any number of reasons, but he was undeterred in his dedication to running.
He signed up Thursday night at Metro Run and Walk, near his home in Springfield.
"I went in to buy some shoes, then thought, 'hey why not sign up for a 15k,'" he said.
Though he went on to regret his decision initially, after two hours of sleep the night before and rushing to start the race as the last walker crossed the starting line.
"I passed a lot of people, but then I just got gassed out," he said, before walking much of the second half of the race, which started at the Springfield Mall, followed Commerce Road and Ole Keene Mill to the cross county trail before turning around at Lake Accotink and following Highland back toward the high school for a finish on the track.
"I feel a little bit disappointed in myself because I used to run a lot and it shows this is something you have to keep up consistently," he said. "I ran a marathon two years ago, but then I got a girlfriend, we started going out to eat and now I'm walking the second half of a race. This is the kind of kick I need to get back at it."
John Geraghty also came out for his hometown race and found the weather, humid in the mid 70s by the 8 a.m. start, a little oppressive.
"I started out fine for the first three miles, hung in there for the middle three, and the last three were ugly," he said. "There were a lot of volunteers though, they kept us going."
He did the race last year, another hot one. His wife, Lauren, pushed their children Jack and Elin in a stroller, though Jack got out and ran alongside when tensions boiled over with his little sister.
"She likes to ride along when I run and he needed to get away from her for a while, so we all did our things there," she said.
The distance wasn't a problem for Riaz Tyler, who is finishing his sophomore year at Hayfield High School. The young man from Lorton signed up for the race because he wasn't ready to be done for the year after track season ended. He put a gap on Vienna's Chris McGarrigal six miles in and won by more than half a minute in 59:51.
"It was extra hot, so you had to push through that," he said. "I might do another hot race. With a longer race, you get more of a racing experience. Track races are over in a hurry."
Katie Spaulding from Strafford surprised herself, despite a more challenging course than she expected and slowing down to avoid overheating and PRed.
"I haven't run many 15k races, so it's not hard to PR, but I'm happy with it," she said.
She's been on a tear since giving birth to her son, Kevin, three days after she ran the Arlington 9-11 5k. She and her husband also ran the Veterans Day 10k the morning after their wedding in "Mr." and "Mrs." t-shirts and she struck a smile during the race that led to her photo gracing the cover of the Washington Running Report, RunWashington's prior iteration.
"I was lucky with my pregnancy, I could run the whole time," she said. "Four weeks later, I was running again and I PRed at a Turkey Trot."
She and her husband, who shares her son's name and birthday, train with their nine-month old in a jogging stroller, which she credits with helping her with resistance training.
"When I'm not using it, I can really run fast," she said.
0
Comments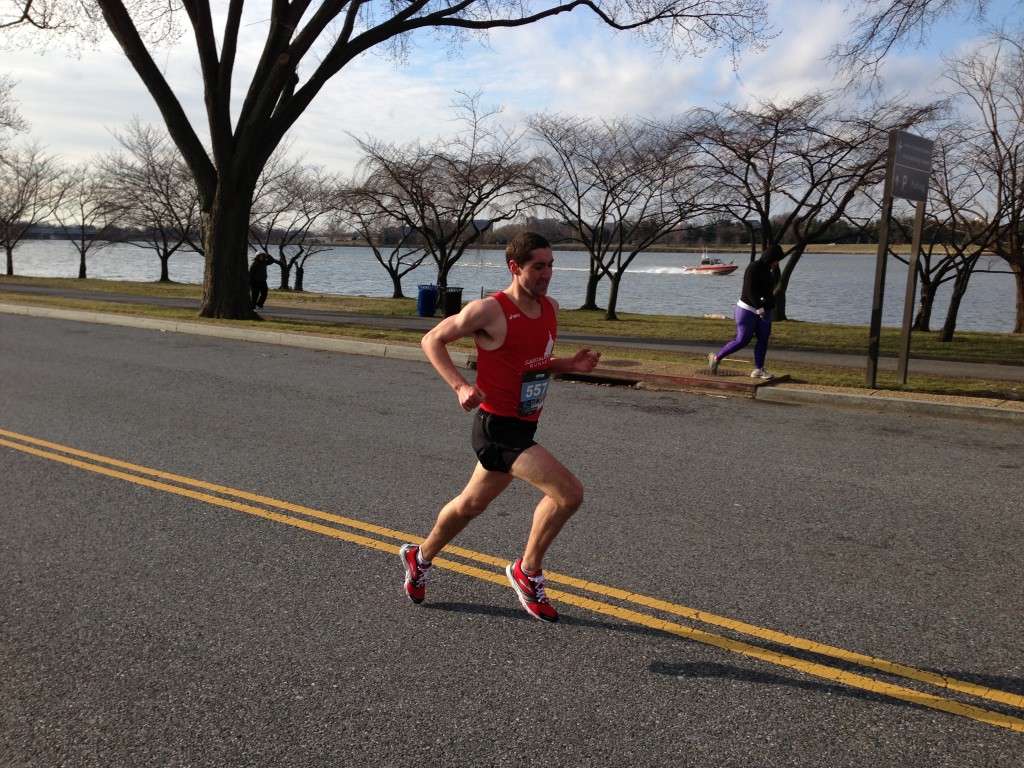 Beau Jackson knows running.
Even though it had been more than 10 years since his high school athletic heyday, he managed to put together a solid 26:21 finish at the Bright Beginnings 5k at West Potomac Park March 3.
Beau Jackson knows marriage.
After he finished, he turned around and went out looking for his wife, Lauren, to help her to the finish. She was the reason the Adams Morgan couple was out there on a chilly breezy morning. After the holidays, she was determined to break through her malaise and chose a 5k to help her focus.
"It seemed like it was enough time that I could train for it," she said. "March came a little faster than I expected, but it went alright. I liked it enough that I'll do it again."
Falls Church resident Chris Mills made short work of the field, cruising to a more than 90-second victory in 15:16. He has a big six weeks planned, with the Rock 'n' Roll USA Half Marathon, Cherry Blossom Ten Miler and Pike's Peek 10k on his Spring schedule before his turns his focus to the Chicago Marathon in the fall.
As for the women's race, another Falls Church resident came out on top—Jacqui Wentz—a recent transplant from Baltimore and a runner for the Riadha Track Club, who ran 17:38 to outdistance Erin Taylor's 18:23. She's a steeplechaser who is gearing up for the outdoor track season.
"I liked the race's community atmosphere," she said. She was joined at the race by a pair of teammates from the Massachusetts Institute of Technology.
Arlington resident Kirk Masterson's fourth place finish in 17:15 surprised him a bit. Primarily a marathoner, it was his first 5k in years, he said. He somehow found the gears to surpass his wildest expectations.
"A short race for me, this is better than getting on the track," he said. "I don't get on the track that often."
2
Comment