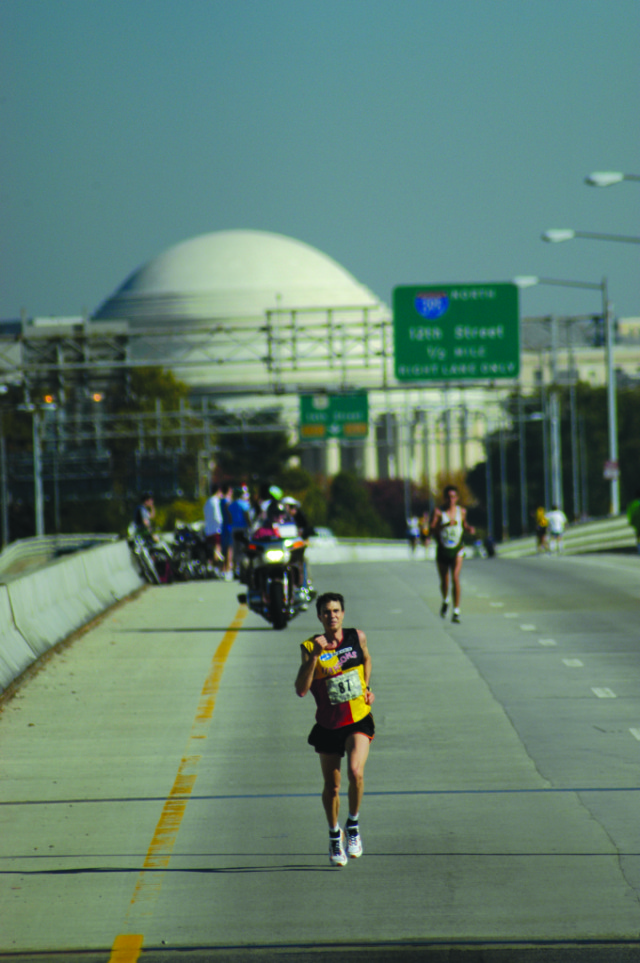 He could have cashed in at any number of marathons.
Instead, Carl Rundell chased a victory at the Marine Corps Marathon for four years, one that would have been lucrative only if wealth was measured in glory, honor and satisfaction from personal achievement.
It just so happens those rewards were right up his alley.
"Not running for prize money didn't bother me," he said, almost 10 years after his first attempt. He still lives in Birmingham, Mich. "If you're chasing the money, you're never going to be happy. If you're doing it for your true passion, that's what you'll remember."
Fifth place finishes in 2004 and 2007 bookended two runner-ups, one by just eight seconds in 2005. Rundell remembers his father, Reid, joking with him while he was still catching his breath after crossing the finish line, "You couldn't have run eight seconds faster?"
The lack of prize money at Marine Corps never dissuaded Rundell and may have emboldened him when he looked for racing opportunities while training and competing with the Hansons-Brooks Distance Project. His training partners were often focused on domestic marathon majors — New York, Chicago, Boston — but he had his sights set on the People's Marathon.
"There's certainly a place for prize money in road racing; it certainly helps professional runners support themselves and makes races competitive and interesting. But that didn't figure into my plans," he said. "It just seemed like a great race to run."
He loves the race for its focus on "everyday runners."
"There are people who you'd never think, if you knew them casually, that they'd be marathon runners, but those people show up on the starting line and you realize how much the masses mean to this sport," he said. "Marine Corps does a good job of showing everybody a great experience."
He never minded, at least in retrospect, waiting in long lines for the bathrooms before running in the low 2:20s.
Reid Rundell spent two years living in Arlington working on federal public school reform policy in the early 1990s. Carl, 10 years away from hitting his stride as a marathoner, would visit his father and hear about the race.
"I saw the course, heard about it from people who lived in Washington and knew the place it held in the community," he said. "When I started developing as a competitive marathoner, I knew I wanted to race here."
On top of his own experiences during the races, he appreciated the opportunities for Marine Corps spectators.
"My parents could come and watch the race and see me a few times," he said. "A lot of races I feel bad that they've come and they're going to be bored for a few hours until I'm done. They'll see me once and that's it. You can get around the Marine Corps course a lot easier than others."
His first try, in 2004, was hindered by heat, which broke him down after 23 miles, which he spent mostly in the lead. In 2005, he challenged eventual champion Ruben Garcia with a 5:10 mile in the middle of the race, and along the way ran his best time for the course — 2:22:26. In 2006, he again lost to Garcia, that time by more than a minute.
In 2007, he skipped the U.S. Olympic Trials to make another attempt.
"Everybody kept telling me that it's once in a lifetime to run the trials," Rundell told the Washington Post that year. "I was like, 'Yeah, well, to win the Marine Corps Marathon would be once in a lifetime.' . . . I'm not giving up."
After a fifth place finish in 2007, when he again led early before fading to fifth, he dialed back his running to focus time on developing his relationship with the woman who is now his wife, managing his business and volunteering.
Many bridesmaids complain that they will never want to wear their dress again after the wedding. Not Carl. Despite falling short, he relishes the experience. He helps coach the cross country team at Seaholm High School in Birmingham, Mich., his alma mater, and he has found that when regaling the 53 kids on the team with his racing experiences, they're most spellbound by stories from Marine Corps.
"Those are the stories that stick with me, running up to Iwo Jima and still thinking I had a chance to win," he said. "I never want to tell them about some time I ran and won a thousand bucks, and they don't really want to hear it. That's not why they're getting into the sport at that age, anyway.
"The kids who go on to run a marathon someday, I have a feeling half are going to want to make that happen at Marine Corps."
0
Comments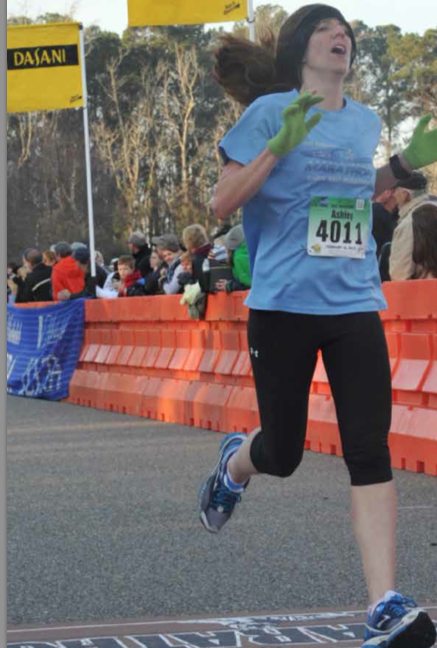 Soccer player. Elaborate cupcake decorator. Sub-1:30 half marathon specialist. Engineer. U.S. Corporate Athletic Association track star. Mother of two. A 5:45 a.m. out-the-door multiple-days-a-week dedicated running club member.
This may sound like three or four or seven people, but really it's just one local superstar who excels at balancing it all.
"I don't sleep much!" Ashley Flick of South Riding, Va. admits. Like so many adult runners, Flick came to running by way of another sport; in her case through the Lafayette College Division I soccer team.
"Everyone else ran a lot more during the games," the former goalie explains. "And at practice sometimes it was hard to keep up."
Not one to be left behind, she took matters into her own hands and started running solo outside of practice.
After college, she exchanged her cleats for running shoes full time and entered her first race, the Disney Half Marathon, in January 2004. She trained alone, had her parents come to watch and finished in a very respectable 1:46. Surprised and inspired by how well the race went — she was pleasantly shocked — she continued to run and improve at the half marathon distance.
Since moving to the Washington area five years ago, Flick has run 15 half marathons, plus three full marathons.
"I like the half because you can still run it pretty fast and the training is not quite as intense as it is for a full marathon."
Her half marathon PR is 1:29:23, and her full marathon is no joke, either – she earned her 3:23:36 PR in her third try at the distance in the 2008 Marine Corps Marathon.
"There are so many runners around here," Flick says. "And I love that there are a lot of big races – Marine Corps, Cherry Blossom – right here in our backyard."
In addition to road races, Flick's done a bit of track work. Before having kids, Flick competed two years in a row for Lockheed Martin and Booz Allen Hamilton at the Corporate National Championship Track Meet in California. She ran the 5k and 10k, running 19:35 and 39:30 PRs, respectively, impressing her co-workers.
"Training around here in the heat of July, then racing in California definitely helped," she says. "Now that
I have a family it's too hard to leave, so I probably won't do that again. But I am hoping to get back down to those times."
As if running and kids and a full-time job weren't enough, Flick has developed a unique hobby. In the little spare time she has, she makes elaborate cupcakes, decorated to portray different animals or people or things. She started decorating mid- 2008 shortly after moving to the area, and has created everything from aliens to shoes to pirates to hamburgers in frosting and candy.
"I'm an engineer in my full-time job," she said. "But it doesn't have a lot of creative elements, so the cupcake thing is just a fun way for me to be creative. I enjoy the challenge of 'engineering' how to design the cupcakes to fit the occasion or party."
She had her son Kellen in 2010 and her daughter Addie in late 2011, which has added a wonderful but extra degree of difficulty to her lifestyle.
"I don't sleep very much, which I think is why my times have not been that great recently." Her family is a major part of what keeps her motivated, and the support of her husband Jeremy allows Flick to keep up with her training.
"[My husband] does not understand why I want to run at 5:30 or 5:45 in the morning, but he does understand that it is a huge and important part of my life and I am much happier because of it, so he helps make it happen."
Her kids are supportive too. "Every time I come in the house wearing anything other than work clothes, my son asks if I'm sweaty. And my daughter and husband cheer me on when I'm doing workouts on the treadmill, and if my son sees a runner he points and says, 'Mommy your friend!'"
To stay motivated and keep running fun, Flick regularly meets friends from the South Riding Running Club, getting up before her kids and work and the sun to squeeze in the miles.
"It's been amazing, I can't even imagine going back and running alone. My PRs have all come down since moving to D.C. and finding a running group. It's a lot easier getting up at 5:45 when you know people are waiting for you."
The balance of it all is a constant puzzle, and Flick doesn't hesitate to admit that "as much as I still love running and running competitively, work and family life has taken a toll on my racing." With work and kids she can't manage a strict high-mileage plan, so Flick focuses on quality runs by doing tempos, track workouts, and a long run every week.
"Only time will tell, so for now I will just keep training and see what happens," she said.
Her advice for other runners: "I am not great at following training plans – as much as I'd like to, life inevitably seems to get in the way and you have to be flexible. It's about finding a plan or general outline of a plan/schedule that works for you – not every plan works for every lifestyle."
Now that her daughter is 1 and setting a more consistent schedule for the family, Flick is adjusting her own lifestyle and hoping to go for some PRs. This year her goals include getting back under 1:30 in the half marathon and setting personal bests in the 5k and 10k. Most of her races are local for family reasons, and also because "we live in a great area weather-wise, with so many runners and such good races. Just think, people come from all over the world to run here, and we live here!"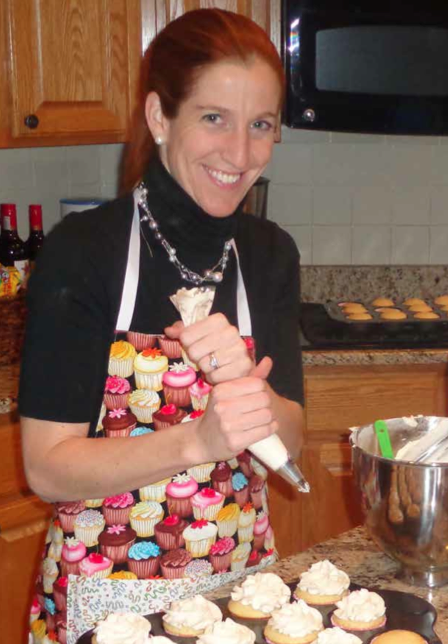 CARAMEL FRAPPUCCINO CUPCAKES
Ashley Flick shares a recipe for one of her latest cupcake creations.
Cupcake:
–  Box white cake mix
–  Half Starbucks Caramel Iced Coffee VIA Pack(add more coffee for stronger coffee flavor)
–  1 1/4 cup water
–  1/3 cup vegetable oil
–  3 eggs
–  3 TBSP Caramel Macchiato creamer
–  1 Cup butterscotch chips
In measuring cup, combine VIA coffee mix and water
Pour coffee mix and all other ingredients intomedium bowl
Mix with blender for 2-3 minutes
4. Add butterscotch chips, combine with spoon 5. Portion batter into cupcake pan with 24
cupcake papers,
6. Bake cupcakes for 15-17 minutes at 375, set out to cool
Icing:
– 1 stick butter or margarine – 1/2 stick Crisco stick
– 1 tsp vanilla
– 4 cups powder sugar
– 2TBSP Caramel Macchiato Creamer
1. Beat butter and Crisco,
Add vanilla and continue beating.
Slowly mix in powder sugar
4. On low combine sugar and butter mix
5. Add Caramel Macchiato and beat on high until
fluffy and smooth.
6. Pipe on with icing bag and tip or spread with knife
(OPTIONAL: Top with caramel sauce and green straw for full Frappuccino effect 🙂
0
Comments
By Brenda Barrera
Fredericksburg, VA
May 20, 2012
For the Washington Running Report
There was much to celebrate at this year's fifth anniversary of the Marine Corps Marathon Historic Half held in Fredericksburg, VA on May 20, 2012. The event has grown every year and had close to 6,000 finishers, compared to 3,800 from the inaugural 2008 event. For starters, it was a commanding victory for hometown favorite Bert Jacoby who came to the starting line with one goal: to win. And that he did in 1:11:33, almost three minutes ahead of defending champion Wyatt Boyd, from Washington, DC, who finished in 1:14:27. Brandon Dick, 25, from Fredericksburg took the final podium spot with his 1:15:36 finish.
What a far cry from Jacoby's 2011 race experience when he was the very last person to cross the start line and he raised money for charity for each person he passed.
"This time I was focused," smiled Jacoby. "Time did not matter; it was all about place." He stayed at the finish area with his mother who used her iPhone and the MCM Runner Tracking options to follow his sister, Anne. She completed the race in 1:35:27.
Next up for the Jacoby is a move to Charlottesville for graduate school at the end of the summer. "I'm looking forward to training with the group out of Ragged Mountain Running."
Courtney Chapman, 28, is juggling a heavy load at medical school in Norfolk, VA and yet still able to improve her race times. Chapman is best described as a tough competitor with a wide smile that is easy to spot whether she is clipping along at a fast pace or flying up a hill. And fly she did at the famous hospital hill on her way to a 1:21:56 victory. That is a big leap from her 2010 MCM Historic Half race when she posted a 1:31:10 finish.
Arlington's Katherine Marden, 31, fresh off last weekend's Ragnar Relay Cape Cod ("I had the longest leg") finished in 1:26:44. She was followed by Marine Capt. Erin Demchko, 27, from Dumfries, VA who was pleased with her 1:29:02 finish.
"The hill wasn't as bad as the hype," said Demchko, "I had a riot and got a PR!"
Top masters division finishers were Lt. Col. Thomas Blackwell, 41, of Vienna, VA in 1:19:58 and Alexandria's Stefani Watterson, 42, of Alexandria, VA who crossed the line in 1:33:41.
Mike Collotta, 58, (left) from Washington, DC has been running races for more than two decades and still finding interesting events like this one. "I especially liked the historical parts of the course," said the DC Road Runners member. "The Marines provided extra inspiration."
Deanna Cabrey, running for Team Fisher House, was pleased with her finish of 1:41:43. "I surpassed my goal of running a 7:45-8:10 pace," said the 20-year-old college student. Cabrey started supporting the Fisher House when she was just ten and began giving 10% of her allowance to the charity.
Wedding bells will be ringing soon for John Swift and Sarah Longava (right) from Bristow, VA who crossed the finish line together just under two hours. Swift presented her with an engagement ring. And she said, "Yes!"
NBC's "Biggest Loser" is a reality show about overweight contestants trying to lose weight and also adopt a healthy lifestyle. It has inspired not only contestants and viewers, but also First Lady Michelle Obama.
A highlight for many runners was to share the field with two familiar faces from the hit show. Contestant Lauren Lee, 27, from Poolesville MD, (right) sporting her yellow "Biggest Loser" tank top finished in 2:14:33 and the TV show's host, Alison Sweeney, wearing bib#1,not only had duties firing the starting pistol but jumped in and ran 2:05:30.
"The show really makes you believe in the human spirit and overcoming whatever your obstacles," said Sweeney who looked unfazed and fresh after the uphill finish. "I never would have dreamed of doing this [half marathon] before the Biggest Loser," smiled the host. As with many finishers she was pleased that she had beaten her projected time.
New Course Records Set in Semper Fred 5K
Kenyan Reuben Mwei, 26, living in Lithia Springs, GA  is planning on racing the MCM 10K this fall and wanted to check out the "Marine Corps" experience. Not familiar with the course, Mwei picked a good competitor to tuck behind, defending champion Jordan Zwick.
"I was off my goal of 14 minutes," said Mwei, an Academic All-American at Adams State. He crossed the finish line in 15:27, beating the 2010 course record of 15:59. Arlington's Zwick, 25, was anxious to stretch out his legs having driven 11 hours from Rochester, NY the night prior. He finished with an impressive 15:36. Stephen Harrison, 23, from Fredericksburg was third in 16:19.
Reigning women's champion Molly Roohi should probably listen to her coach, or maybe not. The advice for this day was not to race but Roohi did it anyway. It paid off as she clocked 19:03, setting a new course record (old course record 19:37 from 2009) and knocking 38 seconds off her 2011 time. Masters standouts Michelle Dolby, 44, from Fredericksburg finished next in 20:57 and Alexandria's Kristin McCann, 40, took third place in 21:49.
0
Comments