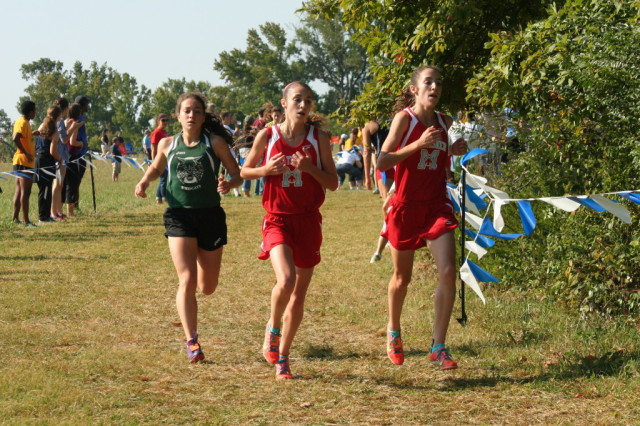 Loudoun County's cross country teams were gracious hosts at the Oatlands Invitational, but not pushovers.
Last year's 3A state champion Andrew Hunter of Loudoun Valley continued to exhibit his dominance that has been budding since last spring to win in 15:21, and Heritage newcomer and Eritrean native Weini Kelati surprised the field with an early lead that was never threatened, despite a loose shoelace that forced her to stop twice. She won in 18:12.
Kelati came to Leesburg to live with her cousin, Amselom Teklai, who serves as her guardian, after running the IAAF World Junior Championships in Oregon over the summer.
"The team has been very welcoming to her," he said. "They've taught her a lot and helped make her feel comfortable at school."
Without any fluency in English, Teklai said, the county considers her a freshman, but at 17, she has two years to compete. With a 9:12 3,000 meter to her name, a race without two stops certainly would have put the 18:04 course record, by Hannah Davidson of New York's  Saratoga Springs, in jeopardy.
Her emergence on the scene will turn some heads throughout the state and beyond, from the epicenter on the hilly course laid on the grounds of the Oatlands Plantation.
When Kelati took off, Loudoun Valley senior Ciara Donohue, who finished third in 18:57, was taken by surprise.
"I had no idea who she was, but I just let her go," she said. "She was either going to get tired and come back or not, and chasing her seemed like a bad idea that early on."
Heritage coach Doug Gilbert added that along with junior Georgie Mackenzie's (11th, 19:20) emergence,  the season is shaping up to be exciting for the Pride.
"(Kelati) is an amazing kid that is making the adjustment to high school running," he said. "It is, of course, very different for her and the language barrier presents us with some challenges, (but) just in the first week she has picked up a lot and I have no doubt that she figure the rest out quickly."
The race offered the first of several chances for teams from Virginia, Maryland and D.C. to compete against one another. Defending Maryland 4A champion Walter Johnson crossed the river to take on Virginia's James Madison, who looked strong in a win two weeks ago winning the Monroe Parker Invitational. Madison took the victory 109-133, with a wide gap back to last year's Virginia 6A runner-up, Washington-Lee with 286.
Madison senior Amanda Swaak, who won the Monroe Parker individual title, finished fourth in 19:05, followed by first-year cross country runner Devon Williams in 16th, Morgan Whittrock in 19th and Laura Sullivan in 26th.
"We figured we could have four in the top 25 and we were just off that," said Madison assistant Matt Kroetch. "We had a hard week of training and fit a 10 miler in on Thursday, so they weren't tapered but managed to run pretty strong anyway. You can't always prepare for the kind of hills you get here, but if you're mentally tough, you can overcome a lot of those things."
Despite coming up short, Walter Johnson assistant Ashley St. Denis saw a lot to tout from the race.
"We like to give our freshmen a chance to run at these big races to give them a taste of what it's like," she said, noting this was one of the largest fields the Wildcats will see. "You can'y run girls at that talent level in small races where they're beating everybody, that doesn't help them."
Senior Kiernan Keller led the team in 7th in 19:11 with freshman Abbey Green four seconds behind in 10th. Junior Emily Murphy followed in 13th, squeezing three between Madison's first and second finishers.
"I just love that fearless freshman mentality, where they don't know how talented they are," St. Denis said about Green. "It's so much fun…she doesn't know who anyone is, she just goes out there and races.
"They (the freshmen) are coming in and seeing how hard our team works and they follow. They're running faster than our freshmen have in years."
Freshmen also finished sixth and seventh for the Wildcats. Additionally, two rookies led Virginia's George C. Marshall team — Ashley and Heather Holt, who finished eighth and ninth at 19:14. The twins started their high school careers the week before, each running a 2.5k legs at the Braddock Relays, but Oatlands was their first high school 5k race.
"We just wanted them to run smart, get some experience and then they'll be ready to run faster," said Statesmen coach Darrell General. "I told them to just avoid getting boxed out, stay near the leaders, don't get overwhelmed."
Marshall finished sixth in the girls' varsity race and added a junior varsity title.
"It's the best girls team we've had since I started in 2002," General said. "We're very deep. We've had a good varsity squad before, but we have a really good junior varsity team too."
Hunter made short work of the field for a 34-second win over Walt Whitman's Evan Woods, just missing Louis Colson's 15:16 meet record from 2013.
"I made a significant move up the hill in the woods at 1.5 miles," he said. "When I hit the top of the big hill, I laid off a bit to save a little for the last 200 meters."
It was a 24-second improvement from his 15:45 finish last year.
"I just want to compete, try different things in races," he said of the early part of the season. "This is going to be the hardest course I run, so to run low 15:20s here makes me feel pretty good. Maybe if I had pushed harder early on I could have gotten the record but I can't complain about a win."
In contrast, Woods was pleased with a more conservative opening mile, downhill, around the high 4:40s.
"Last year I tried to run with the big guys and I spent the last two miles suffering," he said. "This year I hung back and didn't get worn out. It was a lot more fun."
Teammate Alex Roederer outkicked Millbrook's Alec Shrank to finish 10th and help Witman to the runner-up position. The Vikings (242 points), save for an asthma attack affecting one of their runners, were in a position to strike Brentsville District (177). Chantilly, lead by Ryan McGorty in fourth, finished with 258 points.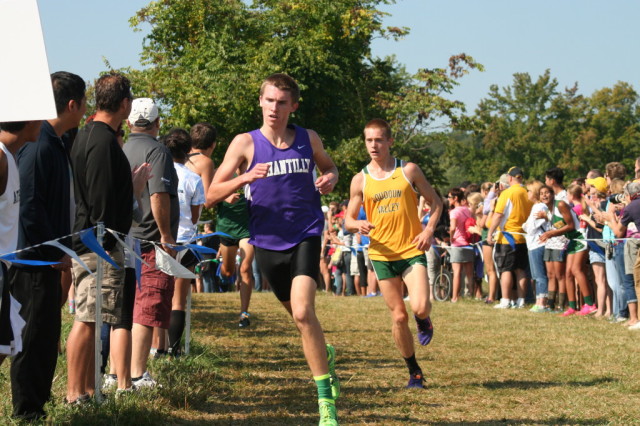 0
Comments