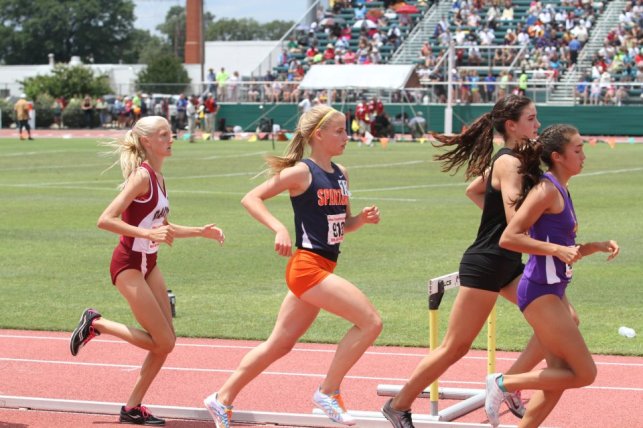 While she was worried about increased weekly mileage, fitting into a new team, and balancing running with schoolwork her first time away from home, Maddie Wittich's decision to run in college was ultimately easy.
"I can tell from the way I feel during my runs that I have so much left in me and I feel like I need to keep going," said Wittich, who is entering her freshman year at the University of Richmond. "I still want to improve so much and get new PRs and I know that college will offer that to me."
Wittich knew during her freshman year at West Springfield High School in Virginia that running in college was an option, having watched two of her senior teammates go on to run at Virginia Tech. She didn't seriously consider it, though, until her junior year, when she began receiving letters from college coaches and her dad, a marathoner, encouraged her to look at her opportunities. She toured Lafayette College, Virginia Tech and Richmond without contacting the coaches first.
"If I liked the school itself, I'd contact the coach to see if the program was interested in me," she said. "That's what I did … because I wanted to make sure I liked the school first."
She ended up visiting Richmond several times before contacting the coaches. The first was just a campus drive-through with her dad. When she liked the campus, her mother took her back for an official guided tour and visit. She fit firmly into one of Herndon High School coach Peter Sherry's typical prospective collegiate runner categories: She knew where she wanted to go and thought about competing later.
Other categories include students choosing a program based on the amount of scholarship money available and students who choose their college based on whether they can run on the team.
Wittich contacted the coaches during her junior year and the following summer made her official visit. The next fall, she had a partial scholarship offer and plans made for the next few years. The Springfield native is one of three new freshman girls to join the team this year, including Osborn High School's Emma Nowak.
Her approach to picking a college didn't surprise her coach, Chris Pellegrini.
"She's always been very mature," he said. "Her teammates call her either 'mom' or 'grandma' because she's the one they look to for leadership."
With fewer than 20 women on the Richmond Spiders, the coaches' personalized attention made her feel like she wouldn't get lost in the crowd.
"At a lot of big schools, I think there are so many athletes that the coaches have to focus on that they don't get personal focus," she said. "Richmond doesn't have that many athletes, so [the coaches] fit the program to you and make it very personalized. The coaches care a lot about each individual athlete."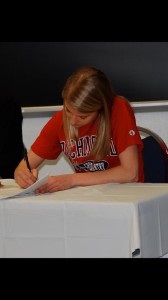 Wittich is already working on a personalized training plan designed by Richmond coaches Lori and Steve Taylor and assistant coach Jon Molz. It includes speed workouts, strides, and longer runs once a week combined with other basic runs to hit about 40 miles a week. Her total weekly mileage will increase to about 60 by the end of the summer.
She comes from a lower-mileage high school program that emphasized quality. While college would mean more miles no matter where she went, she was looking for a college program with a similar philosophy.
"It'll be higher mileage, but I'm pretty sure I'm ready for that. If something starts to hurt, I'll contact my coaches," said the athlete, who remained injury free through four years of competitive high school running.
Other things that influenced her decision to continue running in college included the opportunity to run with and against skilled athletes, the chance to travel with the team, and the outlet of a team to make new friends. There were some negatives she had to weigh in her decision. She won't be able to go out every weekend like a lot of college freshman, and will need to focus on eating well, taking care of herself, and getting a good night's rest. However, she said she's already gotten used to living this kind of lifestyle after running four years competitively in high school.
Newfound freedom, and its pitfalls, are a major obstacle for freshman student athletes. Debbie Wilson, associate athletic director for academic affairs at George Mason University, said time management skills are the crucial link between success and struggling with college academics and athletics.
"College athletes are typically sleep deprived," she said. "They need the same seven or eight hours as a normal college-aged person, but they need additional resting time to recover from what they're doing to their bodies."
Wittich is a little worried about balancing school work with training her first time away at school. The Richmond team practices from 7:30 to 10 a.m. every day, with additional time spent cross training solo each afternoon.
"It's a different team, a new set of coaches to get used to, and adjusting to college at the same time," she said. Luckily, Wilson said, most colleges, and especially Division I schools, have full-time academic support staff on hand to assist students with their college transition. That said, collegiate athletes tend to graduate on time more than non-athletes
and with higher grades.
While Wittich may be running more miles and more hours, she won't be competing as often. While high school
runners have races every week, college athletes only compete every other week, she said. Now that she's formally committed to Richmond and is preparing to get started training with the team in August, she's happy with her decision.
"I'm very confident with my decision," she said. "I believe I'll have an absolutely awesome time, I've heard nothing but positive things about the Taylors' program."
She can only hope her college experience mirrors her running career thus far.
"I joined cross country my freshman year to make friends before going into high school, because I'd heard how scary
it is and knew it would be good to join a sports team," she said. "I knew there would be great people and that's exactly
what I got. I love team and will miss them. It was a great atmosphere, the coaches were fantastic. It opened up a lot of great opportunities for me."
Wittich is a member of the Class of 2017, but she expects to be a runner for life.
"I am unbelievably happy I decided to start my freshman year because I've really come to love the sport," she said. "I will definitely continue to do it. I'd love to do a marathon at some point when I'm done with college, that's one of my big goals."
For athletes interested in competing collegiately, Herndon High School Coach Peter Sherry, who has 11 former athletes running collegiately now, has a few pieces of advice:• Pick the school regardless of who is coaching, or even regardless of whether you are running. "Going to school somewhere is different if you're running than if you're injured. Like the actual school you choose."•When looking at a college, don't spend too much time getting to know the juniors and seniors on the team. "They'll be gone by the time you get there. Hang out with the freshmen and sophomores, they'll be your teammates for a few years."• If you want to run in college, you can make it happen. "It might be a matter of going somewhere out of state or a smaller school, but there are opportunities for everyone to run for a college team."
0
Comments
By Brenda Barrera
Richmond, VA
November 12, 2011
For the Washington Running Report
It is not always the case, but sometimes everything just comes together perfectly on race day. Like ideal weather in the 40s on a historic course along lush fall scenery with a competitive field that pushes you to your best. That was the case for the many runners at this year's SunTrust Richmond Marathon, McDonald's Half Marathon and HCA Virginia 8K that set a record with 17,073 runners.
SunTrust Richmond Marathon
Kennedy Kemei (left) did not let a field that included the defending champion, Mark Chepses, and two-time winner Jynocel Baswetti, intimidate him. No, the 33-year-old Kenyan based in Chapel Hill, NC took command of this year's SunTrust Richmond Marathon and smashed the course record winning in 2:13:45. Njoroge Maina, 27, from Kenya took the runner-up spot in 2:15:16 and Baswetti, who missed last year's contest, had to settle for third place in 2:16:00.
Patterson Wilhelm, 24, from Lynchburg, VA was the top American to finish in his inaugural marathon. The William and Mary graduate posted an impressive 2:20:27.
"I was probably too aggressive in mile 13 to 18," he said and added this was only his second road race. In September he ran the Virginia 10 Miler where he finished 6th overall in 52:48.
Richard "Skeeter" Morris, 23, from Burkeville, VA is heading to New Zealand in a few weeks and will savor his 2:29:47 race. "I wanted to run a sub-2:30," he said.
Baltimore's Kris Simms, 39, ran 2:53:39 and at the finish line exclaimed, "I would definitely do this again."
With no past champions entered in the women's competition the top spot was up for grabs. Mekides Bekele, 25, from New York (right) ran 2:47:50 to capture the crown. Aimee Phillippi-Taylor, 34, from Spring Grove, PA was aiming for a U.S. Olympic Marathon Trials qualifying time of 2:46:00 and finished in 2:49:53 but earned the runner-up spot.
"I realized at mile 16 it wasn't going to happen [finishing in 2:46:00] so I just wanted to place as high as I could," said Phillippi-Taylor who won some prize money for her effort. When asked what she was going to do with her earnings, she looked at her husband and they both laughed and said it was already spent—they just bought a house.
Hirut Mandefro, 26, from Ethiopia took third in 2:53:26.
McDonald's Half Marathon
Kenyan George Towett, 27, defended his title and breezed through the 13.1 course to win again. His time was 1:04:34. Kipyegon Kirui, 31, also from Kenya, finished two minutes later in 1:06:31. Jay Lumpkins, 26, from Lakeland, FL tried to catch Kirui down the final stretch but had to settle for third place with his 1:06:34 finish.
The top Richmond finisher was Piotr Dybas, 24, (left) originally from Poland and who was a top runner for Virginia Commonwealth University. His time of 1:09:11 placed him 11th overall.
Sterling Parker, 46 was impressed with the organization and all of the spectators along the course. "My favorite band was the drummers [University of Richmond Taiko Ensemble,]" said the Glen Allen resident who finished under two hours in 1:58:25.
The women's competition had a clear winner in Bekelech Bedada, 19, from Ethiopia who set a course record with her 1:13:33 finish. Esther Erb, (below) who grew up in Richmond and now lives in Blowing Rock, NC ran 1:16:50 for second place. Sporting a Green Dragon tattoo on her cheek, the Maggie Walker graduate was cheered on by her parents. Erb would have liked to run faster but said her focus right now is on the upcoming U.S. Olympic Marathon Team Trials in January. She qualified with a 2:39:47 marathon in Spain.
Richmond's Rena Chesser, 29, finished third in 1:19:27. The fact that she was able to compete was a surprise. "I had the flu for ten days and couldn't run at all," said Chesser who was hoping to finish in 1:15:00.
The Capital Area Runners had several team members competing. Cristina Burbach who finished in 1:29:36 was pleasantly surprised by the course. "It had nice hills in the middle which was a nice variation," and she added, "It was also a visually interesting course."
American record holder for the mile, Alan Webb, was on hand to welcome the participants and had the role of official starter for the half marathon. His wife, Julia, took fourth place in 1:20:17.
HCA Virginia 8K
To say it was a nail biter finish is no exaggeration as the morning's first race came down to the wire with Donnie Cowart from Charlottesville, VA (left in photo) battling it out with Kenyan Julius Kogo down the homestretch and breaking the tape together. Last year Cowart finished fifth overall and this year he had a different plan.
"I wanted to win this year or at least battle for the win," said Cowart who ran for VMI.
All went according to plan as the lead pack of ten runners whittled down to four around 3.5 miles. At mile 4 Cowart said he and Kogo separated from the others and tested each other with neither taking a break. When Cowart saw the finish line banner he admits to having a fleeting thought about the prize money which was $1,000 for first place and $500 for second place. That gave him the extra nudge he needed because even though their times show up the same as 22:57, he squeaked ahead of Kogo, 22:56.20 to 22:56.26.
Kenyan Samuel Ndereba, 34, who set the course record in 2006, had to settle for third place with his 23:01 this year.
Ethiopia's Alemtsehay Misganaws no stranger to this course having won the half marathon in 2008 and 2009. Afterward, Misganaw said she took off after the second mile and no one gave chase. She won in 26:17 to add the HCA Virginia 8K title to her résumé VCU. Lilia Marlita, 23, from Kenya finished next in 26:26 and hometown favorite Nicol Traynor, 22, was very pleased with her third place finish.
"My coach originally told me to go 27:30 and then we changed that to 27:00," said Traynor who completes for the Richmond Spiders. Apparently her training is going well because she surpassed that goal finishing in 26:35.
Next year's SunTrust Richmond Marathon is scheduled for November 10, 2012. A special $55 marathon entry fee and $45 half marathon entry fee is available through 11:59 p.m. on Thursday, November 17.
0
Comments