By Brenda Barrera
Richmond, VA
November 12, 2011
For the Washington Running Report
It is not always the case, but sometimes everything just comes together perfectly on race day. Like ideal weather in the 40s on a historic course along lush fall scenery with a competitive field that pushes you to your best. That was the case for the many runners at this year's SunTrust Richmond Marathon, McDonald's Half Marathon and HCA Virginia 8K that set a record with 17,073 runners.
SunTrust Richmond Marathon
Kennedy Kemei (left) did not let a field that included the defending champion, Mark Chepses, and two-time winner Jynocel Baswetti, intimidate him. No, the 33-year-old Kenyan based in Chapel Hill, NC took command of this year's SunTrust Richmond Marathon and smashed the course record winning in 2:13:45. Njoroge Maina, 27, from Kenya took the runner-up spot in 2:15:16 and Baswetti, who missed last year's contest, had to settle for third place in 2:16:00.
Patterson Wilhelm, 24, from Lynchburg, VA was the top American to finish in his inaugural marathon. The William and Mary graduate posted an impressive 2:20:27.
"I was probably too aggressive in mile 13 to 18," he said and added this was only his second road race. In September he ran the Virginia 10 Miler where he finished 6th overall in 52:48.
Richard "Skeeter" Morris, 23, from Burkeville, VA is heading to New Zealand in a few weeks and will savor his 2:29:47 race. "I wanted to run a sub-2:30," he said.
Baltimore's Kris Simms, 39, ran 2:53:39 and at the finish line exclaimed, "I would definitely do this again."
With no past champions entered in the women's competition the top spot was up for grabs. Mekides Bekele, 25, from New York (right) ran 2:47:50 to capture the crown. Aimee Phillippi-Taylor, 34, from Spring Grove, PA was aiming for a U.S. Olympic Marathon Trials qualifying time of 2:46:00 and finished in 2:49:53 but earned the runner-up spot.
"I realized at mile 16 it wasn't going to happen [finishing in 2:46:00] so I just wanted to place as high as I could," said Phillippi-Taylor who won some prize money for her effort. When asked what she was going to do with her earnings, she looked at her husband and they both laughed and said it was already spent—they just bought a house.
Hirut Mandefro, 26, from Ethiopia took third in 2:53:26.
McDonald's Half Marathon
Kenyan George Towett, 27, defended his title and breezed through the 13.1 course to win again. His time was 1:04:34. Kipyegon Kirui, 31, also from Kenya, finished two minutes later in 1:06:31. Jay Lumpkins, 26, from Lakeland, FL tried to catch Kirui down the final stretch but had to settle for third place with his 1:06:34 finish.
The top Richmond finisher was Piotr Dybas, 24, (left) originally from Poland and who was a top runner for Virginia Commonwealth University. His time of 1:09:11 placed him 11th overall.
Sterling Parker, 46 was impressed with the organization and all of the spectators along the course. "My favorite band was the drummers [University of Richmond Taiko Ensemble,]" said the Glen Allen resident who finished under two hours in 1:58:25.
The women's competition had a clear winner in Bekelech Bedada, 19, from Ethiopia who set a course record with her 1:13:33 finish. Esther Erb, (below) who grew up in Richmond and now lives in Blowing Rock, NC ran 1:16:50 for second place. Sporting a Green Dragon tattoo on her cheek, the Maggie Walker graduate was cheered on by her parents. Erb would have liked to run faster but said her focus right now is on the upcoming U.S. Olympic Marathon Team Trials in January. She qualified with a 2:39:47 marathon in Spain.
Richmond's Rena Chesser, 29, finished third in 1:19:27. The fact that she was able to compete was a surprise. "I had the flu for ten days and couldn't run at all," said Chesser who was hoping to finish in 1:15:00.
The Capital Area Runners had several team members competing. Cristina Burbach who finished in 1:29:36 was pleasantly surprised by the course. "It had nice hills in the middle which was a nice variation," and she added, "It was also a visually interesting course."
American record holder for the mile, Alan Webb, was on hand to welcome the participants and had the role of official starter for the half marathon. His wife, Julia, took fourth place in 1:20:17.
HCA Virginia 8K
To say it was a nail biter finish is no exaggeration as the morning's first race came down to the wire with Donnie Cowart from Charlottesville, VA (left in photo) battling it out with Kenyan Julius Kogo down the homestretch and breaking the tape together. Last year Cowart finished fifth overall and this year he had a different plan.
"I wanted to win this year or at least battle for the win," said Cowart who ran for VMI.
All went according to plan as the lead pack of ten runners whittled down to four around 3.5 miles. At mile 4 Cowart said he and Kogo separated from the others and tested each other with neither taking a break. When Cowart saw the finish line banner he admits to having a fleeting thought about the prize money which was $1,000 for first place and $500 for second place. That gave him the extra nudge he needed because even though their times show up the same as 22:57, he squeaked ahead of Kogo, 22:56.20 to 22:56.26.
Kenyan Samuel Ndereba, 34, who set the course record in 2006, had to settle for third place with his 23:01 this year.
Ethiopia's Alemtsehay Misganaws no stranger to this course having won the half marathon in 2008 and 2009. Afterward, Misganaw said she took off after the second mile and no one gave chase. She won in 26:17 to add the HCA Virginia 8K title to her résumé VCU. Lilia Marlita, 23, from Kenya finished next in 26:26 and hometown favorite Nicol Traynor, 22, was very pleased with her third place finish.
"My coach originally told me to go 27:30 and then we changed that to 27:00," said Traynor who completes for the Richmond Spiders. Apparently her training is going well because she surpassed that goal finishing in 26:35.
Next year's SunTrust Richmond Marathon is scheduled for November 10, 2012. A special $55 marathon entry fee and $45 half marathon entry fee is available through 11:59 p.m. on Thursday, November 17.
Recent Stories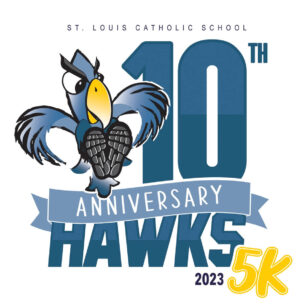 2023 will be the 10 year anniversary of the St. Louis Hawks 5K and Fun Run for Health & Wellness. The USATF certified course runs through the historic Hollin Hills neighborhood in Alexandria, VA.
The Hawks 5K goal, in conjunction