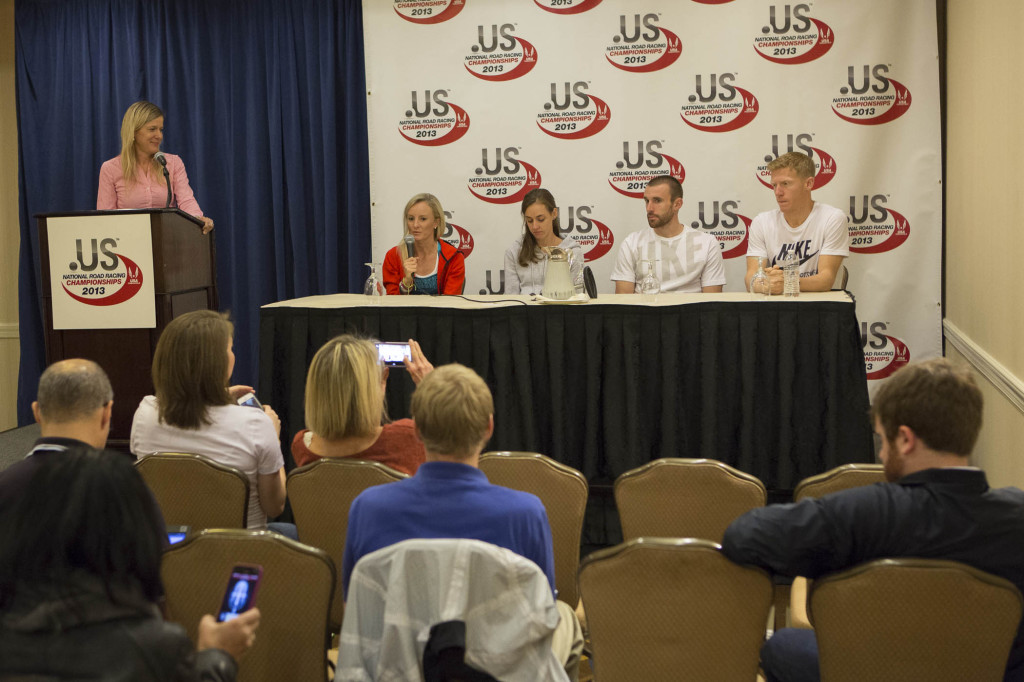 The 2013 USA Running Circuit (USARC) will culminate tomorrow morning on the streets of Alexandria, where some of America's best distance runners will compete for $100,000 in prize money, including $20,000 for the winners. The inaugural .US National Road Racing Championships – USA Track and Field's first wholly owned-and-operated road race – will take runners of all abilities on a 12k journey starting and finishing near Oronoco Bay Park, a spot local runners know well.
How it works: The road racing series includes national championships for races ranging from a mile to the marathon. The first 10 U.S. runners at each race earn points, with 15 points awarded for 1st, 12 for 2nd, and 10 for third. Tomorrow the top 10 finishers will earn triple points, which provides extra incentive for runners farther down on the leaderboard.
The top three on the men's side – Matt Tegenkamp (60 points), Shadrack Biwott (52), and Josphat Boit (50) – are entered. Among the top three women in the standings – Mattie Suver (47), Janet Bawcom (45), and Annie Bersagel (30) – only Bawcom is not entered.
As for tomorrow's favorites, keep an eye out for Shalane Flanagan (15) and Molly Huddle (15). On the men's side, Tegenkamp will be joined by training partner Chris Solinsky. Both fields are deep.
Brian Pilcher of Ross, Calif., and Kathryn Martin of Northport, N.Y., rank among the top entrants in the national masters championship.
Not Your Average Distance
Quick question for everyone running tomorrow: What's your 12k PR?
Exactly.
So how do you approach such an unfamiliar race distance?
Do you – as was suggested in a question to Huddle at a press conference this morning – race 10K and try to hang on for two more?
"More or less," said Huddle, who won the national 5k championships in September and the NYRR Dash to the Finish 5k two weeks ago (Flanagan was 3rd).
"This is pretty long for me," she said, "but I am excited to see what I can do over 12k and I think it is a pretty interesting distance for everyone else to try."
Asked to share his advice for taking on the 12k, Solinsky said to "find that comfortable rhythm that you are very confident you could do 10K or more at." If you feel good at halfway, go for it.
"Through the training," Tegenkamp said, "you have learned what you can handle in terms of pace." Late in the race, though, when things get tough, turn on the competitive switch. "That's what racing is all about," he said.
Flanagan won a national title this summer at 10,000 meters and went on to finish 8th in the world in Moscow. Tomorrow marks her debut at 12k.
"I am in the same boat as they are," said Flanagan, referring to the many runners who will race 12k for the first time tomorrow.
"It's a distance that I've never done. It's a brand new PR – so you have to just embrace it for the fun factor."
Flanagan's plan is similar to Tegenkamp's and Solinsky's: "I try to be smart the first half and then I switch over to being competitive – and that usually helps me pull out all the extra energy I have."
USATF spokesperson Jill Geer said 12k allows 5K specialists and marathoners to "compete on relatively even footing." But it's also a great distance for an event designed to celebrate both our sport's best runners and the many participants of all ages, levels of seriousness, and talent.
If you haven't run a 12k before, it's hard to cross the finish line, see the clock, and be disappointed. Take it from the first American to ever break 27 minutes for 10,000 meters.
"I've never run a 12k before so I know I'm going to get a PR tomorrow," Solinsky said.
Details
The women's championship race starts at 7:15 a.m. The men's championship, master's championship, and open race (also being referred to as the "community race") starts 10 minutes later. A 5k race starts at 7; a half-mile "Kids' Fun Run" starts at 9:30.
The 5K will include about 30 girls from the local Mount Vernon Woods Elementary School. The girls trained together for the race and Olympian Deena Kastor said she plans to meet them at the starting line for a pre-race pep talk. ("I think our greatest job as elite runners," she said at the press conference, "is to be able to inspire the Olympians of tomorrow.")
The race will be streamed live at USATF.TV.
RunWashington will cover both the men's and women's races.
0
Comments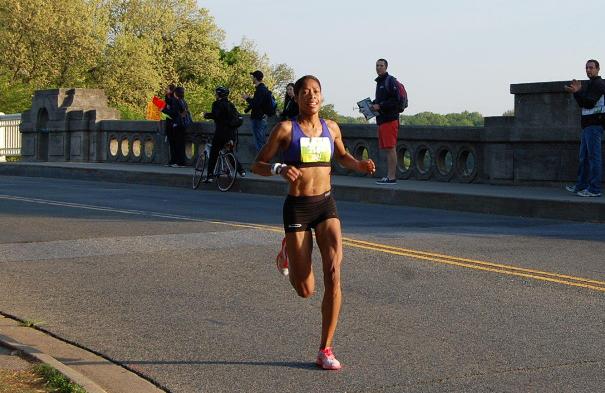 Almost 15,000 runners had a perfect day for the inaugural Nike Women's Half Marathon, though one stood out more than others.
Leading the packs of first-time half marathoners and visitors seeing the nation's capital on foot for the first time, Alexandria'sSamia Akbar felt happy to run again.
[button-red url="http://werundclive.com" target="_self" position="left"] Results [/button-red]As she ran far ahead of her competition from the first mile, having the city to herself, on her way to winning in 1:19:32 over McLean's Wendi Robinson's 1:21:06, Akbar felt each step bringing her closer to the kind of appreciation for the sport that had worked itself out through repeated workouts, races and seasons.
"I got really nervous on the starting line because I've run for a living for years and I'd have such an ultra-competitive mindset before the gun," she said. "This was a really nice chance for me to just go out and enjoy what I was doing. For the first time in a long time in a road race, I was able to actually hear the people cheering and it was fun seeing bands and step teams."
It's not as though running was bad for Akbar, who started running at Oakton High School before earning All-American honors at 10k at American University and running professionally for Reebok, including an Army 10 Miler win and qualifying for the 2008 Olympic Marathon Trials. But the routine that went into that training wore on her, and she hasn't raced much lately.
"Had I run this a few years ago, I don't think I would have appreciated it the same way," she said. "It had a lot of switchbacks that slow you down, but those switchbacks gave you a chance to hear cheering on the other side every step of the way."
Impressive as her pace was, Akbar served as a warmup act for nearly 14,500 others, many of whom were thrilled to finish.
Elainna Wright, of Alexandria, had never run more than 10 miles before, but with the help of coworker Samantha Bennett, she conquered the vicious 11th mile and broke through to the finish.
When confronted with the distance she had never run before, she gained a lot of motivation from the music in the 9th Street tunnel under the mall and a point when she told herself: "I can do this. I know I can, I'm just going to do this."
The crowds on Pennsylvania Avenue pumped her up, and she got a lot of support from the volunteers.
"I'm not great at pacing myself, so Sam helped a lot," Wright said. "She stayed back with me."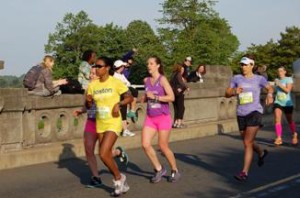 Among those who stayed back were 1984 Olympic Marathon champion Joan Benoit Samuelson and Olympic distance runner Shalane Flanagan, who ran with Samuelson's daughter, Abby, all finishing in 1:32.
The race partnered with the Leukemia & Lymphoma Society's Team in Training program, which attracted many visitors to the race. A group of four women from Ottawa all delighted in what the race had to offer.
"It was unreal," said LeeAnne Ashfield. "You feel a real sense of community with all of these runners. It's a special and emotional race for everyone."
Nadia Maruschak got to see a single cherry blossom on a tree, her goal for the trip.
Sisters Alisha Prater and Chandra Von Tiechman ran in memory of their mother, whom they lost to multiple myeloma 10 years ago.
The course started at Freedom Plaza and after a trip through the Ninth Street tunnel, followed much of the Cherry Blossom course, come back through the tunnel after a trip around Hains Point for a loop around the Capitol reflecting pool before finishing back at Freedom Plaza. Prater enjoyed the trips across the Alrington Memorial Bridge in mile three, being able to see runners ahead of and behind her. The race's entry fee was steep–$160 for most with a  $40 college student discount, but much of that went to cover the silver Tiffany's necklace awarded to all finishers.
RunWashington's Maggie Lloyd wrote about working the finish line
Though it was billed as the women's half marathon, the race was open to men, and more than 538 ran. Some, like Arlington'sMatt Meldroum, were pressed into service when friends or significant others couldn't make it. His girlfriend, Kristin Salvatora, prepared for the race with Team in Training, and made it to her 11-mile training run before spraining her ankle two weeks ago. Concerns that she could also be suffering a stress fracture led her to drop out, a decision she called "heartbreaking," and have Meldroum run for her. Except she didn't tell him it was a primarily female race.
"I was a little overwhelmed on the metro, all the women," he said. "I definitely stood out, people were looking at me a little weird, but I kept going on strong.
"There were a lot of signs for free high fives. I cashed in on that, I was just trying to raise the energy!"
Some, like North Bethesda's Darren West, ran to lend support. His wife, Elizabeth, was running her first half marathon and he wanted to be there with her. Though they ran separately, he got to see her on the course and said she was doing great.
"I didn't feel weird at all, there was fantastic energy," he said. "She was really excited to take her running to the next level. The Tiffany's 'bling' was definitely an incentive."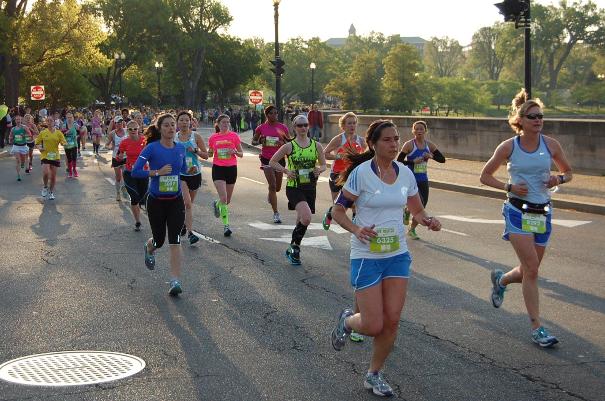 0
Comments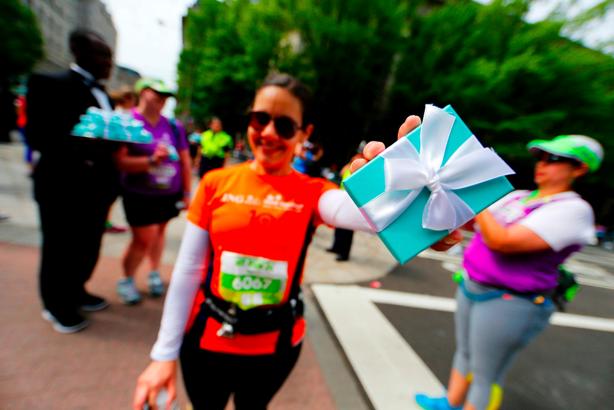 Yes, you can learn a lot about a woman by the contents of her purse, but I think it's more telling to watch the way she reacts at a finish line, and I saw the whole emotional spectrum while volunteering for DC's inaugural Nike Women's Half Marathon.
My job was simple: scan runners' race bibs as they filed through the finish area towards some seriously glamorous swag. Between the volunteers offering water bottles and foil blankets, a squad of ROTC men in tuxedos hand-delivered Tiffany's pendant necklaces housed in that iconic baby blue box tied with a simple white ribbon. Whenever there was a lull in the crowd, all it took was a "who wants their Tiffany's necklace?" yell to get exhausted finishers to smile and "woohoo!"
I saw the proud. Scores of half-marathon rookies exchanged high-fives and hugs with complete strangers; they then asked me if I knew their time yet.  Oh, and where are the necklaces? I saw women run to those necklaces, as if the previous 13.1 miles were the warm-up for this moment.
I saw the relieved. One woman marched right up to me, stuck her bib out, and exclaimed "scan me!" before marching on to the food and foil blankets.
I saw countless Boston shirts, hats, pins, and bracelets that I couldn't help but feel Boston strong and Boston proud all morning.
I saw some interesting nutrition theories being tested. At the start of the race, a woman set a can of Diet Coke by my feet as the crowds inched forward. Another strapped a bag of chocolate chips to her belt. Perhaps they're on to something.
I saw tutus. Actually, I saw a lot of tutus.
I saw more iPod headphones in that three-hour span than I have in my entire life. Finishers showed no shame when doing a little dance in the middle of the crowd as race-day playlists came to a close. How they still had the energy to dance after their race is beyond me.
The finish line may have featured high-fives from Joan Benoit Samuelson and Shalane Flanagan, but those ROTC guys were definitely the center of attention. I asked one of the dashing young gentlemen how it felt, and he said it was like the Grammy's.
But instead of red carpets and extravagant gowns, we had pavement and all those tutus.
0
Comments