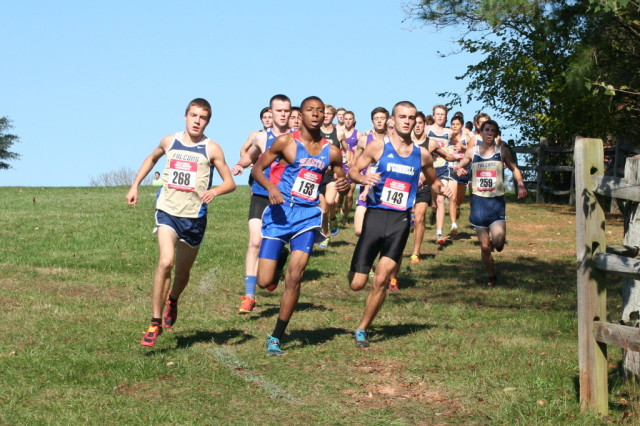 On his way down the hill with about 400 meters to go at the Washington Catholic Athletic Conference Cross Country Championships at Lake Fairfax Park, Good Counsel's Kevin McGivern took a headfirst spill on the mud, spooking Gonzaga's Jacob Floam, who managed to stay on his feet despite jumping to avoid McGivern.
McGivern recovered and eventually passed Floam on the way to a three-second margin in claiming second place. It was emblematic of the Falcons' team that day: just too strong.
"They beat us for every place," said Gonzaga coach John Ausema. "Even if we ran better, we'd close the gap by just a few points."
Good Counsel junior Jack Wavering ran 17:11 to win the individual title and lead his team to a 25-47 win over Gonzaga, with Bishop O'Connell third with 68. The Falcons had all five scoring runners in the top nine (1, 2, 5, 8, 9).
[button-red url="http://va.milesplit.com/meets/185067-wcac-xc-championships#.VE3OkPnF-PU" target="_self" position="left"] Results [/button-red]"We didn't run nearly as well as we had the previous three outings," coach Tom Arnold said. "Glory Days, Paul Short, Mercersburg, we had three real solid races were all seven of our guys were firing on all cylinders. So we're happy to get the win but we're disappointed to meet some of the goals we set. We didn't respond to some of the challenges that came up during the race. We had three perfect races in a row, and there wasn't much we could take away from them to learn, so now we have some things to critique and work on as we get ready for the state meet (Nov. 8)."
Good Counsel won the 2013 Maryland/D.C. Private Schools Championship with four of the boys who were on this year's WCAC team.
Wavering got out fast, getting away at a mile and a quarter, but found the course challenging.
"It was hard to keep pace because there were long flat straight-ish sections," he said. "It was tough motivating myself when nobody was on me."
When it was suggested he hold back longer to have company in that part of the course, Wavering said that was less attractive.
"I don't finish very fast," he said. "That would be risky."
Back in the pack of the boys' race, DeMatha senior co-captain Chris Jeletic ran the race with a heavy brace on his left leg, the result of a sprained MCL suffered in a fall baseball game, following a weird slide.
"It's rough," he said. "I took a week off, got in the pool and tried to keep my fitness up. I started running in the brace. It wasn't easy, it really hurt to move to the side, but I pushed through it."
He finished 26th to end up in third place for DeMatha, which fell one point short of fourth place, behind Paul VI.
Bishop O'Connell's girls won their eighth consecutive WCAC title, but it was close: a 36-43 win over Good Counsel.
"This was more difficult than I had anticipated," said coach Cindy Walls. "I knew it was going to be close but I thought we'd win by about seven more points."
The race nearly swung the other way.
"What surprised me was that we were in second place with 1200 meters to go," Walls said. "What shocked me was a line of four Good Counsel girls running shoulder-to-shoulder. Our girls started mixing it up and made that win happen. I couldn't have asked for a bigger and better effort from those girls.
"Historically my teams get stronger as the race goes on, I never panic if we're back at the mile, but this one got my heart racing."
Walls saw junior Briana Broccoli struggling at the mile, but senior Sarah Davis encouraged her to get after it before they disappeared into the woods, and the two eventually finished fifth (Davis) and seventh.
"Our girls ran that as much for each other as for keeping any streak going," Walls said. "They love each other."
Good Counsel freshman Claudia Wendt won the individual title in 20:12 over O'Connell sophomore Isabell Baltimore's 20:54
Wendt looked for Baltimore early to get her bearings, then pulled away within the first half mile, but didn't feel like she was in the clear until after the mile mark.
"In the state meet, I'll probably try to go earlier," she said.
Good Counsel fielded a six-girl team, one more than needed to qualify as scoring team, and Arnold saw big improvement throughout the season, but was disappointed to lose the close race.
"We were a poor-to-mediocre team early in the season and they've really come together, but we just didn't run well as a team today. We thought this year we'd be able to beat O'Connell, so now we have to wait a year.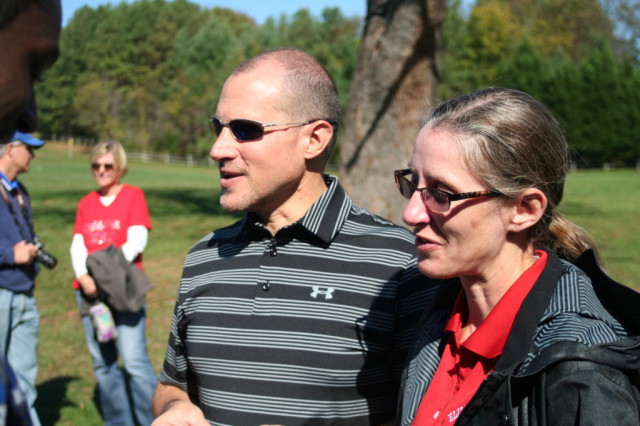 Becoming a running family
The conference features two close teams, DeMatha and Elizabeth Seton, both Prince George's County schools who share some philosophies about training. It's a natural result of their coaches sharing practically everything, including a last name, home, everything to their kitchen sink. Louisa Puffett teaches math at Seton
"I like getting to see our students in a whole different setting, outside of the classroom," she said. "Whether they're really fast or not, running is something they can enjoy their entire lives and I want to be able to encourage them to be active and make it a part of who they are."
She returned this year after taking a few years off to focus her out-of-classroom time on graduate school Her husband Mike took the reins at DeMatha, five years ago, after their son, Cory, finished his career, which included a trip to the Footlocker Cross Country Championship finals. Mike waited until he had graduated to start coaching. Their daughter ran for Seton.
"I wanted him to always be able to talk to me as dad, instead of dad or coach," Mike said. "He needed his coach in his head when he had a training question, not his dad."
He and Cory agreed that worked well. Cory, a student at the University of Maryland, helps out with the Stags when he can.
Mike picked up running while at High Point High School in Beltsville, then renewed his interest after knee surgery.
"I had to rehab it by being active, so brought my wife and kids along and we all started running as a family," he said. "We had no idea we'd get into this sport."
The teams convene three joint practices at Greenbelt Park and luckily, because they are both single-sex schools, they never have to worry about any in-family rivalries.
"We can argue about other things," Louisa said.
2
Comment