The starting line was crowded when George Mason showed up for the cross country conference meet this fall, especially for the men.
Instead of facing off against four other teams, the scene at the last Colonial Athletic Association meet, the Patriots were one of 13 teams in the Atlantic 10. The women had previously competed in a pool of eight teams. In their first year in the A-10, the Mason men finished third and the women eighth, with Bethany Sachtleben winning the overall women's title. Longtime conference member George Washington finished 11th in the men's race and didn't score in the women's race after a runner dropped out with an injury.
0
Comments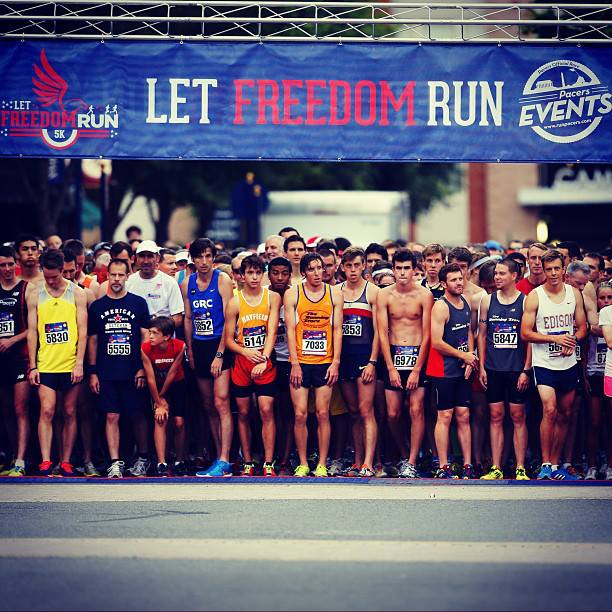 Ansley Howell seems ready for a real pair of running shoes. The 8-year-old from South Riding – running with tiny American flags behind her ears – was third in her age group this morning at the third annual Let Freedom Run 5k in Fairfax.
[button-red url="http://results.bazumedia.com/event/results/event/event-4601″ target="_self" position="left"] Results [/button-red]Howell was paced by her father, Gregg, while her sister, Grace, 12, was paced by her mother, Ann. Her older brother, Noah, 14, who runs cross country for Freedom High School – "too fast for the rest of the family," Gregg said – was on his own, finishing around 20 minutes.
"We do a lot of 5Ks together," Gregg said. "My wife and I have done marathons, and our two older ones are running cross country, so running is a big part of our lives."
The Howell family were among 1,304 finishers.  And on Independence Day, a holiday generally filled with relaxing, trips to the pool, cookouts, and fireworks, Gregg said they could think of no better way to start the day.
"We just wanted to do something together," Gregg said, "and [running a race] is the first thing that comes to mind for us."
Same for Dixon Hemphill of Fairfax Station, and his son and grandson, Peter and Joshua, who live in Centreville.  You kick off a long weekend with a race – a sense of accomplishment – and from there everything else just falls into place.
"We'll go out to breakfast," Peter said, "that's the first thing we'll do. Then we'll go home, take a shower, relax."
Dixon started running at 50, he said, and has been at it for close to four decades. He has been running races with his son for many years, and now the tradition is being passed on to Joshua, who this morning finished his fourth 5k at a time of about 35 minutes with his dad at his side. Peter, special for the nation's birthday, sported a pair of Texas-themed red, white, and blue racing shorts.
In the lead packs – on an overcast, humid morning – the defending champs were back to defend their titles, with Jordan McDougal aiming for a three-peat.
McDougal, of Linden, Va., ran his best time yet for this race, 15:43, but had to settle for second to Paul Thistle, 26, of D.C., who won in 15:30.
The top four places on the men's side were all under last year's winning time of 16:06. The top master, Rockville'sJean–Christ Arcaz, came through in 18:03.
On the women's side, last year's winner, Manassas' Bethany Sachtleben, a rising sophomore at George Mason University, took an early lead and went on to clock 17:53, more than 30 seconds under her winning time from 2012.
When Barb Fallon Wallace, 39, of Alexandria, reeled her in, the veteran local road racer knew she'd better keep pushing.
"I knew that she had been running in college … I didn't want to get in a kick with her," she said, laughing.
Little more than a year ago, Fallon Wallace ran a new personal best for 10k not long after giving birth to twin girls. Wallace's daughters are now two, while her 10k personal best is now about a minute faster.
Alisa Harvey, who was 2nd in the inaugural race, returned this year to finish 3rd overall and win the master's division. Harvey, 47, of Gainesville, finished in 19:07, not much slower than what she ran in 2011.
The 5k starts and finishes at the same spot in Fairfax Corner Shopping Center, and is held on a rolling, challenging course. Afterward, runners and families gathered for refreshments, treats, and dips in the water fountain. And regardless of whether you attended the packet pickup-slash-beach party at Pacers Fairfax on July 2, participants, rather than a free t-shirt, received a colorful beach towel to kick off summer.
0
Comments
By Steve Nearman
Washington, DC
March 17, 2012
For the Washington Running Report
There was little drama determining the champions of today's Rock 'n' Roll USA Marathon and Half Marathon around the four quadrants of Washington, DC. There was plenty of drama, however, from the thousands of runners whose bodies were not so acclimated to the unseasonably warm temperatures.
Local favorite Michael Wardian of Arlington and George Washington University medical student Meghan Bishop ran dominating races and easily tamed the field of 3,181 starters (3,129 finishers) at the seventh annual race. Wardian, who outruns the field in what seems like at least a marathon or ultra a weekend, covered the 26.2-mile course on autopilot, winning here for the sixth time in seven years in a pedestrian 2:26:35. He earned $1,000.
Wardian opened a big gap early, but had to fight off eventual runner-up Travis Barczak, a 22-year-old Detroit native in his marathon debut. Barczak charged a mile down North Capital Street and drew even with Wardian at 11 miles. But the rookie was no match for the 37-year-old veteran, and six miles later Wardian dismantled Barczak's hopes for a marathon victory.
"I was smelling blood," said Barczak, who competes in cross country and is on spring break from Wayne State University this week. "I saw the front guy was relaxed. You've got to take advantage of the down hills."
Wardian was unfazed.
"I started throwing in some 5:17 miles and putting some distance on him," Wardian recounted. "He was running pretty fast. It was cool. I like to race. And if somebody wants to race, let's get it on." Wardian traveled solo from the Southwest Waterfront past Nationals Stadium and all through Anacostia back to the finish.
Barczak slowed considerably over the second half (1:16:41) and ended in 2:28:56. Scott Allen of Washington, DC (2:36:05), Benjamin Emmanuel of Arlington (2:38:24) and Philippe Rolly of McLean (2:41:34) followed.
"I was hoping to run 2:35 but I ended up at 2:41," said Rolly, who turns 40 this year and is prepping for a successful masters campaign.
Bishop, meanwhile, had no visions of grandeur in her first race over 10 miles. Wearing headphones on a course full of live bands, the 26-year-old from Blue Bell, PA, said she was just happy to be running again after three busy years of medical school, working 80 hours per week to become an orthopedic surgeon.
"I was not expecting to win," said Bishop, whose last long race was two years ago at the Credit Union Cherry Blossom 10 Mile. "I was just hoping to go under three hours." Bishop, who was a top distance runner for the College of William and Mary, came close – 3:01:40 – leading the entire course. She took home a $1,000 check for her sweat.
Immediately upon cross the finish line, she took up residency in the medical tent. "My legs were wobbly near the end," Bishop admitted. "It is probably from dehydration."
Bethany Sachtleben, 20, from Manassas, trailed her by nearly 10 minutes in 3:11:25. Silvia Baage of Washington (3:13:50), Noalig Montagnon of New York City (3:15:05) and Patricia Soumoff of Southampton, NY (3:16:13) were next.
Four hours into the marathon, drama began to consume the finish area as many runners collapsed or nearly collapsed. The culprit most likely was the temperature, which was mid-50s with haze at gun time 8:00 a.m. but rose into the 70s and full sun by the afternoon.
"We were ready for everything, heat, cold, you name it," said Dan Cruz, head of media relations for the Rock 'n' Roll series. "There were about five minutes when it looked like a war zone."
In the accompanying half marathon, which drew 16,477 starters and 16,291 finishers, Ricky Flynn nailed his only goal, which was to win, speeding around 13.1 miles in 1:06:39. Flynn, with a personal best 1:04:15 last fall, said he signed up for the race more as a workout as he transitions from marathon training to track sharpening for this June's Olympic track and field trials. Flynn placed a surprising 12th in the Olympic Marathon trials in January in a debut 2:12:29.
"I was using it as more of a workout than a race, trying to get back in track shape," said the Lynchburg, VA, resident who grew up in nearby Damascus, MD. His "workout" banked him $1,000.
Flynn said he traded the lead with Washington-based Ethiopian Gurmessa Mergerssa for the first five to six miles. Once they hit Mile 7, Mergerssa abruptly backed off the pace and Flynn turned it on for the next mile. "I just pushed the pace to make sure he didn't come back on me," he explained. Mergerssa fell back more than a minute and posted a 1:07:57 time. Italian Paolo Natali was third in 1:08:07.
Ethiopians Askale Merachi and Tiringo Getachew swept the women's half in 1:16:52 and 1:20:42 respectively. Local favorite Lisa Thomas of Fairfax was third in 1:22:17.
Just before noon, Janette Ray and her training partner Dexter proudly completed the half marathon. Both received their finisher medal around their neck and their water. Then Dexter rolled over onto the pavement in total content.
Not to worry, Dexter is a 6-year-old white lab who has assisted Janette in four marathons and now her fourth half marathon in the past two years. Dexter is Janette's right arm, a limb she lost to cancer as a baby.
"He needs exercise and so do I," said Janette, a Kingstowne, VA, resident who was united with Dexter five years ago after a second surgery on her left arm. "I couldn't move the arm so he minimizes the load." Janette said Dexter pulls laundry out of the dryer and carries things on his back, along with walking with her five to six miles every day after her work at the Office of the Secretary of Defense Washington Headquarters Services.
Janette was waiting for her husband John to complete the full marathon.
"I'd like to do marathons again but I have a balance problem now and I'm afraid of falling on my face," the 49-year-old said. "Today we ran 10 minutes per mile which is pretty good for us. Dexter ran all the way through nine miles; then we walked. This is the first race where they actually gave him a finisher's medal!"
Marathon by division
| | | | | | | |
| --- | --- | --- | --- | --- | --- | --- |
| Div | Name | Sex | Age | City | ST | Net |
| 1 | Patrick Hearn | M | 21 | Sykesville | MD | 2:46:46 |
| 2 | Steel Flynn | M | 23 | Mount Washington | PA | 2:49:55 |
| 3 | James Graves | M | 21 | Winston Salem | NC | 2:56:26 |
| 1 | Benjamin Emmanuel | M | 26 | Arlington | VA | 2:38:23 |
| 2 | Jesse Contario | M | 28 | Arlington | VA | 2:46:59 |
| 3 | Andrew Zernovoj | M | 26 | Emerald Hills | CA | 2:50:31 |
| 1 | Nick Gramsky | M | 34 | Vienna | VA | 2:39:46 |
| 2 | Richard Velazquez | M | 31 | New York | NY | 2:42:16 |
| 3 | Daven Oskvig | M | 34 | Amherst | NY | 2:45:55 |
| 1 | Karsten Brown | M | 37 | Front Royal | VA | 2:48:18 |
| 2 | Chris Farley | M | 35 | Arlington | VA | 2:51:59 |
| 3 | William Uher | M | 37 | Odenton | MD | 2:53:21 |
| 1 | Camerino Ortega | M | 41 | Chantilly | VA | 3:02:44 |
| 2 | Joerg Schroeder | M | 44 | Rockville | MD | 3:04:43 |
| 3 | Stephen Sundown | M | 44 | Upper Montclair | NJ | 3:06:44 |
| 1 | Kelly Ricke | M | 46 | Olathe | KS | 3:04:53 |
| 2 | Robert Denmark | M | 46 | Arlington | VA | 3:06:04 |
| 3 | Gary Obert | M | 46 | Arlington | VA | 3:10:19 |
| 1 | Mark Neff | M | 50 | Derwood | MD | 2:47:27 |
| 2 | Glenn Trimboli | M | 50 | Bloomfield | NJ | 3:16:29 |
| 3 | Jim Cummings | M | 51 | Mannington | WV | 3:21:25 |
| 1 | Robert Towne | M | 59 | Spokane Valley | WA | 3:27:06 |
| 2 | Vernon Loeb | M | 56 | Wynnewood | PA | 3:28:12 |
| 3 | David Pinnick | M | 55 | Manassas | VA | 3:31:58 |
| 1 | Dana Beyeler | M | 60 | Russell | PA | 3:10:51 |
| 2 | Skotin Leonid | M | 62 | RU | | 3:15:01 |
| 3 | Von Jennings | M | 64 | Clarksville | MD | 3:53:14 |
| 1 | Gregory Chaconas | M | 66 | Washington | DC | 4:01:53 |
| 2 | Robert Walker | M | 67 | Pittsburgh | PA | 4:13:04 |
| 3 | Lynn Brown | M | 66 | Crownsville | MD | 4:22:01 |
| 1 | Won Yub Lee | M | 73 | Salamanca | NY | 5:14:29 |
| 2 | Benito Vazquez | M | 72 | PR | | 5:15:45 |
| 3 | James Simpson | M | 70 | Huntington Beach | CA | 5:36:17 |
| 1 | Elizabeth Bleuer | F | 22 | Arlington | VA | 3:16:37 |
| 2 | Esther Kendall | F | 24 | New York | NY | 3:18:22 |
| 3 | Alyssa Tewksbury | F | 23 | Wyalusing | PA | 3:22:40 |
| 1 | Ashley Duerr | F | 27 | Falls Church | VA | 3:15:30 |
| 2 | Sarah Moore | F | 29 | Aliso Viejo | CA | 3:18:21 |
| 3 | Keelin Wellott | F | 26 | Rochester | NY | 3:19:45 |
| 1 | Noalig Montagnon | F | 30 | New York | NY | 3:11:29 |
| 2 | Patricia Soumoff | F | 33 | Southampton | NY | 3:14:53 |
| 3 | Kathryn Claiborn | F | 31 | Philadelphia | PA | 3:20:13 |
| 1 | Ayano Murase | F | 35 | Washington | DC | 3:26:39 |
| 2 | Janie Hayes | F | 38 | Washington | DC | 3:29:15 |
| 3 | Leslie Kasmir | F | 36 | Arlington | VA | 3:30:56 |
| 1 | Sandrine Falgon | F | 41 | Washington | DC | 3:20:03 |
| 2 | Cathy Ross | F | 40 | Burke | VA | 3:21:51 |
| 3 | Melissa Senall | F | 40 | Fairport | NY | 3:24:46 |
| 1 | Ellen Komesarook | F | 47 | Gaithersburg | MD | 3:21:42 |
| 2 | Anne Helsabeck | F | 45 | York | PA | 3:39:20 |
| 3 | Phyllis Sevik | F | 47 | Ellicott City | MD | 3:43:00 |
| 1 | Barbara Haney | F | 53 | Fort Washington | MD | 3:45:05 |
| 2 | Theresa Gusman | F | 52 | Dickerson | MD | 3:52:39 |
| 3 | Patricia Keating | F | 50 | Dayton | MD | 3:55:25 |
| 1 | Myong Dunn | F | 55 | Hanover | MD | 3:52:29 |
| 2 | Elizabeth Baumgarten | F | 55 | Stone Ridge | VA | 3:53:50 |
| 3 | Stephany White | F | 56 | Grovetown | GA | 3:56:46 |
| 1 | Colleen Piccone | F | 60 | Pittsford | NY | 4:17:01 |
| 2 | Sandra Bradley | F | 60 | Portland | OR | 4:21:12 |
| 3 | Mary Fredlake | F | 62 | Washington | DC | 4:30:37 |
| 1 | Joanne Murphy | F | 66 | Baltimore | MD | 4:55:05 |
| 2 | Ruth Liebowitz | F | 69 | Staten Island | NY | 5:33:52 |
Half Marathon by division
| | | | | | | |
| --- | --- | --- | --- | --- | --- | --- |
| Div | Name | Sex | Age | City | ST | Net |
| 1 | Woohyun Kim | M | 14 | Centreville | VA | 1:59:20 |
| 2 | Jake Edwards | M | 14 | Sykesville | MD | 2:10:21 |
| 3 | Brandon Marquart | M | 14 | Ellicott City | MD | 2:12:21 |
| 1 | Thomas Selishev | M | 16 | Silver Spring | MD | 1:19:37 |
| 2 | Kevin Clark | M | 17 | Fayetteville | NC | 1:33:23 |
| 3 | Cory Staton | M | 15 | Fairfax | VA | 1:35:18 |
| 1 | Chris Hague | M | 23 | Kensington | MD | 1:14:37 |
| 2 | John Clark | M | 18 | Carlisle | PA | 1:17:17 |
| 3 | Conor Murphy | M | 18 | Greenlawn | NY | 1:18:11 |
| 1 | Darryl Brown | M | 29 | Exton | PA | 1:09:29 |
| 2 | Joe Kelly | M | 26 | Arlington | VA | 1:13:09 |
| 3 | Patrick Murphy | M | 27 | Washington | DC | 1:13:29 |
| 1 | Daniel Blouin | M | 33 | | CA | 1:09:00 |
| 2 | Phil Reutlinger | M | 33 | Alexandria | VA | 1:12:43 |
| 3 | Eddie Valentine | M | 32 | Arlington | VA | 1:16:02 |
| 1 | Matthew Thomas | M | 37 | Alexandria | VA | 1:13:21 |
| 2 | Tim Fahey | M | 38 | Arlington | VA | 1:15:02 |
| 3 | Mike Carriglitto | M | 36 | Pottstown | PA | 1:16:01 |
| 1 | Michel Couillard | M | 44 | | CA | 1:19:12 |
| 2 | Andrew Pugh | M | 42 | Washington | DC | 1:22:20 |
| 3 | Mike Bloemker | M | 43 | Shawnee | KS | 1:25:27 |
| 1 | Thomas Jensen | M | 48 | Oakton | VA | 1:21:07 |
| 2 | David Phipps | M | 48 | Severna Park | MD | 1:23:35 |
| 3 | John Michael Chapin | M | 45 | Alexandria | VA | 1:24:37 |
| 1 | Kevin D'Amanda | M | 50 | Bethesda | MD | 1:21:26 |
| 2 | Christopher Ryan | M | 53 | Washington | DC | 1:24:58 |
| 3 | John Whitridge | M | 50 | Rockville | MD | 1:26:52 |
| 1 | Bill Raabe | M | 57 | Washington | DC | 1:24:23 |
| 2 | William Loomis | M | 57 | Silver Spring | MD | 1:33:50 |
| 3 | Ken Krehbiel | M | 58 | Washington | DC | 1:41:21 |
| 1 | Bob Albritton | M | 60 | Vienna | VA | 1:28:04 |
| 2 | Carl Randall | M | 60 | Fredericksburg | VA | 1:31:10 |
| 3 | Bob Becker | M | 60 | White Hall | MD | 1:31:48 |
| 1 | John Morris | M | 67 | GB | | 1:32:57 |
| 2 | Michael Luke | M | 65 | Roslindale | MA | 1:53:13 |
| 3 | Michael Serene | M | 66 | Akron | OH | 1:53:40 |
| 1 | Malcolm Cohen | M | 70 | Ann Arbor | MI | 2:22:10 |
| 2 | David Loprinzi | M | 72 | King City | OR | 2:22:35 |
| 3 | Ken Morrison | M | 71 | Manassas | VA | 2:27:01 |
| 1 | Lou Wilson | M | 75 | The Woodlands | TX | 3:21:43 |
| 1 | Kerry Lane Magalis III | F | 13 | Front Royal | VA | 1:52:10 |
| 2 | Bryanna Leyen | F | 14 | Perry Hall | MD | 2:05:58 |
| 3 | Sarah Harmer | F | 14 | Wall Township | NJ | 2:07:27 |
| 1 | Rachel Labella | F | 16 | Bristow | VA | 1:41:19 |
| 2 | Mary Brass | F | 17 | Dunwoody | GA | 1:46:25 |
| 3 | Madison Oliver | F | 15 | Clifton | VA | 1:52:34 |
| 1 | Kerry Allen | F | 23 | Washington | DC | 1:26:40 |
| 2 | Susan Bentley | F | 23 | Jamestown | NY | 1:27:04 |
| 3 | Caitlin Dorman | F | 24 | Washington | DC | 1:29:20 |
| 1 | Teal Connor | F | 26 | Washington | DC | 1:24:17 |
| 2 | Wendi Robinson | F | 25 | Washington | DC | 1:24:39 |
| 3 | Laura Hutchinson | F | 29 | Holyoke | MA | 1:26:57 |
| 1 | Jeanna Composti | F | 31 | New York | NY | 1:24:42 |
| 2 | Bridget Holt | F | 33 | Gambrills | MD | 1:25:09 |
| 3 | Kendra Goffredo | F | 31 | EC | | 1:26:47 |
| 1 | Susan Dominowski | F | 35 | Germantown | MD | 1:24:31 |
| 2 | Chrissy Graham | F | 38 | Olney | MD | 1:28:01 |
| 3 | Jennifer Sober | F | 38 | McHenry | MD | 1:28:36 |
| 1 | Leslie Cohen | F | 44 | North Potomac | MD | 1:24:32 |
| 2 | Jennifer Smith | F | 41 | Baltimore | MD | 1:32:12 |
| 3 | Sally Foster | F | 40 | Linthicum Heights | MD | 1:33:19 |
| 1 | Grace McElroy | F | 45 | Sleepy Hollow | NY | 1:29:51 |
| 2 | Andrea Meuser | F | 45 | Vienna | VA | 1:33:07 |
| 3 | Shannon Smith | F | 46 | Washington | DC | 1:35:19 |
| 1 | Kathleen Russo | F | 52 | Salisbury | NC | 1:40:04 |
| 2 | Ruth McArthur | F | 54 | Boerne | TX | 1:42:23 |
| 3 | Teresa Lent | F | 50 | Arlington | VA | 1:42:46 |
| 1 | Linda Ottaviano | F | 56 | Cold Spring Harbor | NY | 1:44:42 |
| 2 | Susan Gold | F | 56 | Fairfield | CT | 1:45:26 |
| 3 | Linda Sheaffer | F | 56 | Washington | DC | 1:54:06 |
| 1 | Serge Harrison | F | 62 | Cockeysville | MD | 1:54:05 |
| 2 | Anne Forsha | F | 61 | Derwood | MD | 1:55:21 |
| 3 | Ann Rosenthal | F | 62 | Bethesda | MD | 1:57:10 |
| 1 | Chris Craun | F | 65 | Bethesda | MD | 1:56:59 |
| 2 | Janice Jacobs | F | 65 | Arlington | VA | 2:07:39 |
| 3 | Lucia Davidson | F | 66 | Arlington | VA | 2:17:00 |
| 1 | Sharon Leicham | F | 70 | Memphis | TN | 2:23:12 |
| 2 | Mary Dowell | F | 72 | Lynn | MA | 3:09:58 |
| 3 | Betty Wright-Thomas | F | 70 | Washington | DC | 3:15:34 |
| 1 | Anne Morris | F | 75 | Springfield | VA | 3:22:57 |
| 2 | Matilda Lowe | F | 78 | Sarasota | FL | 3:43:42 |
| 1 | Katy Curnyn | F | 91 | Littleton | NH | 3:11:16 |
0
Comments