The starting line was crowded when George Mason showed up for the cross country conference meet this fall, especially for the men.
Instead of facing off against four other teams, the scene at the last Colonial Athletic Association meet, the Patriots were one of 13 teams in the Atlantic 10. The women had previously competed in a pool of eight teams. In their first year in the A-10, the Mason men finished third and the women eighth, with Bethany Sachtleben winning the overall women's title. Longtime conference member George Washington finished 11th in the men's race and didn't score in the women's race after a runner dropped out with an injury.
"There's a lot more depth in the A-10," said Patriots coach Andrew Gerard. "For a few years, the CAA has been a dual meet between us and William and Mary, and that got old after a while. Now we have some new faces, new teams to compete against. We always want to have our best races at championship meets, so now we have a new challenge."
The men's field in the CAA has atrophied as James Madison and Delaware cut men's programs and Virginia Commonwealth and Georgia State left the conference.
Early leader Michael Conway (11th, 24:22) and John Holt (14th, 24:27) led the way with all-conference awards at Pole Green Park in Mechanicsville, Va., but Wil McRenolds (23rd, 24:43) Alex Ott (24th, 24:44) and Craig Morgan (25th, 24:45) all broke 25 minutes over 8k for the first time, closing the team's scoring and locking the Patriots in with 97  points behind La Salle (27) and St. Joseph's (75).
The men sported 10 finishers, a far cry from August 2008 when Gerard arrived with three distance runners on the roster.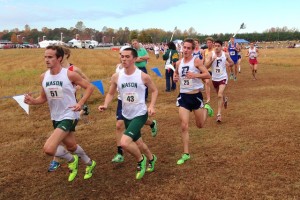 "We're light years ahead of where we were then," he said. "Now we're consistently getting looks from kids who can run 9:20 for two miles. We've been doing most of this work with home-grown kids, and that's what's been exciting — watching them develop."
One such runner was formerly-home schooled Sachtleben. Having led the Patriots throughout her entire first year, she found herself in the middle of a sophomore slump.
"I think I came back a little complacent," she said. "My first three races, I felt like I shouldn't be hurting that much, I didn't want to push it, so this race was the time I wanted to leave everything out there, because the pain would be nothing compared to what I'd feel after the race was over and I'd cross the line in first."
As the pack meandered through the first mile on slightly rolling but hard ground, she was comfortable and a few rows back from the lead.
"I felt like I was jogging, but had to stay patient because someone was going make a move any time," she said.
That someone was Richmond senior Jill Prentice, who won the 2011 conference title and saw the Pole Green course with relative familiarity.
"I went with her and decided to wait until she tired out and make my move then," she said. "It happened right before the second mile mark and I just went for it. I didn't know if she'd have anything left at the end, and I didn't feel safe until the last bend."
She cruised to an eight-second margin in 16:54.
"She's gained a lot mentally this season over last," Gerard said. "Last year, she'd do anything in a race, do it well and take it at face value. Now she has something to look back on and compare it to. It's better than being a blank slate."
He also commented that the 5k distance put her at a disadvantage, because she tends more toward long races. She qualified for the first round of the NCAA outdoor track championships last spring in the 10k.
"We'd be much happier if this was an 8k or 10k for her," he said. "Sometimes these shorter, faster races exposes her to some shortcomings."
With a hilly 6k coming up Nov. 15 in Charlottesville, Sachtleben isn't ready to move too far up in distance just yet. But she isn't the only long distance specialist at GMU. Holt finished third last spring at the Rock 'n' Roll USA Half Marathon, running 1:08:20.
"John had been putting in 130 miles for five weeks and he really thrives off of that, though you couldn't tell by looking at this body type," Gerard said. "He built that up over a long time and we figured it would be a good challenge for him to put that to the test."