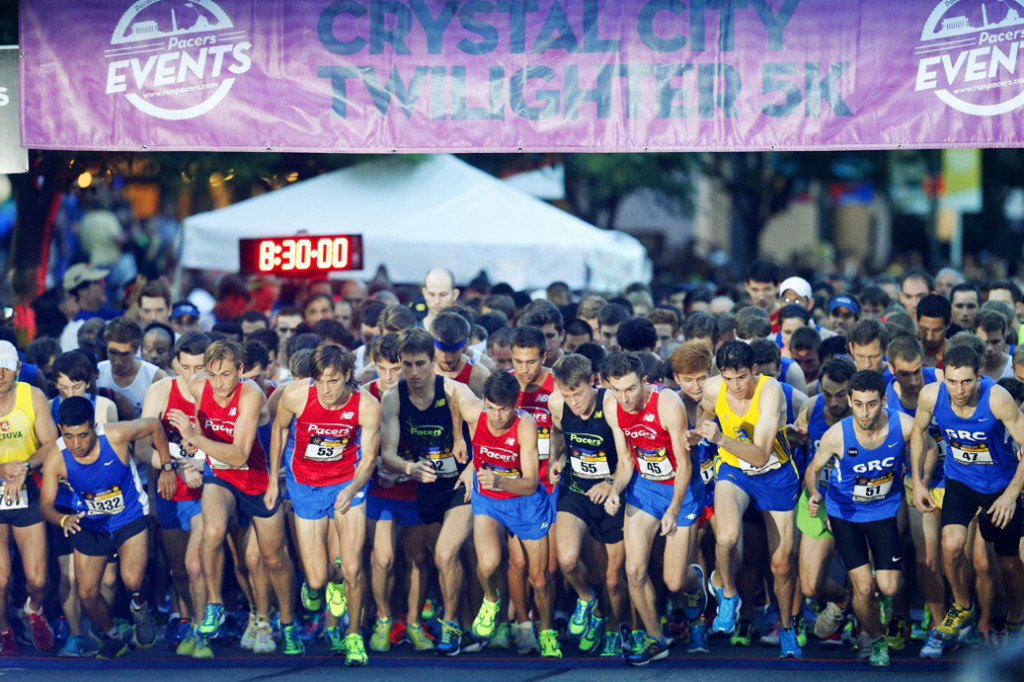 The Crystal City Twilighter 5k's seventh running was a who's who of the regional running scene.
Area running clubs emptied their stables. The course was new – faster, with fewer turns. And conditions, while not good for racing, exactly, were about as good as they get for late July in downtown Arlington. No 98 degrees (2011) or downpours (2013).
[button-red url="http://www.zippyraceresults.com/search.php?ID=4127″ target="_self" position="left"] 5k Results [/button-red]All told, 28 men broke 16 minutes, with Chris Kwiatkowski, RunWashington's top-ranked runner in 2013, breaking the tape in 14:37. Kwiatkowski, 25, also led his Pacers/New Balance team to victory in the co-ed club team competition, a squad that included women's winner Kerri Gallagher, who came through in 17:22. (In the women's race, by the way, the top 23 broke 20 minutes, with 11 going under 19.)
"It's a great atmosphere," Kwiatkowski, who ran close-to-even 4:40 miles, said. "This was my first time doing this. I have been a part of this for four years – coming to watch, helping out – but never to race. So it was an excellent day to come out and compete and have some fun."
Kwiatkowski was followed by Pacers-New Balance teammates Landon Peacock (14:47), Leoule Degfae (14:50), and Frank Devar (14:51). Kevin McNab, in 14:55, was the fifth and final runner under 15 minutes, leading Georgetown Running Club to second in the team standings. GRC was followed by DC Road Runners Club, Northern Virginia Running Club, and Capital Area Runners.
Last year, Claire Hallissey led Gallagher through a too-quick first mile. Gallagher faded to third, she recalled.
This year she had a very different strategy. "The plan," Gallagher's roommate and training partner, Amy Laskowske, said, "was that she could help me through the first mile. And then I kept telling her to go, and she wouldn't go."
At the three-mile mark, Gallagher finally gave in, while Laskowske still finished just three seconds back. Lindsay O'Brien, of Georgetown Running Club, was third in 17:56.
"It was really good to kind of go in with a better plan and be a little more conservative," Gallagher said.
Kwiatkowski and Gallagher each earned $200 for their efforts. The top three teams each received $250.
In the masters division, Patrick Kuhlmann, 43, won in 16:12. Shannon Smith, 48, was top female master in 21:20.
"I'm the old guy," the unassuming Kuhlmann, said, as a way of identifying himself at the award's stage. He took the same honor last weekend at the Rockville Twilight.
***
If you think racing in the summer can be tough, try two in one day. That's what Mike Cannon, 56, of Fairfax Station, did as part of his quest to run more than 100 races in 2014.
Asked how his race went, Cannon said, "I ran a 5k up in Baltimore this morning so I didn't have the legs for it."
Andrew Gray and Alan Bornbusch, two Arlington runners and members of one of Pacers' Tuesday night running groups, enjoyed the race, they said, though perhaps for slightly different reasons.
Bornbusch, 53, said his 22:39 finish served him well in training for his first half marathon this fall.
"It's a nice little piece of speed work," he said.
For Gray, 31, who came in just a few seconds shy of breaking 20 minutes, the race was more like a piece of cake, even if a head cold made it difficult.
"It's a good way to spend my birthday," he said. "That way I can make room for brunch tomorrow."
***
He finally had it.
After years of trying, Arlington's Matt Deters broke 16 minutes by a clump of hairs – 15:58. He confirmed his time at a laptop at the registration table.
"When I was in high school, if you ran under 16 you were a god," he said. "I didn't think I'd be able to do it, after a torn Achilles and knee surgery."
He was close on the fourth of July, running 16:06 at the Firecracker 5k in Reston.
At Crystal City, he split 4:49 and 10:03 before hanging on as the heat, and the hurt, turned up.
***
Look out for Thomas Edison High School's cross country team.
The Edison Club won its second-straight title in the high school team competition. Gonzaga, Annandale, Wilson, and J.E.B. Stuart also fielded clubs.
The Walt Whitman Club won in the high school girls division, followed by Annandale, Lake Braddock, Wilson, and Georgetown Visitation.
Brandon Rockers, a rising senior at Edison who was third for his club in 17:47, said running the Crystal City Twilighter has become a team tradition. "The race has always been before a running camp" members of the team attend, Rockers said.
In the high school results, Aviad Gebrehiwot, 17, of Annandale High School, was top male in 16:44. Sonya Butseva, 16, and teammate Kate Murphy, 14, both running for Lake Braddock Club, were the top females, both finishing in 20:49.
Look out, as well, in the 11 to 14 age group.
Madalyn Wright, 11, was 3rd in the female division behind Murphy and Angelica Gaughran, also 14. Her time was 22:57.
Wright was wearing a tutu, and said she has now run about half-a-dozen races between 5k and 10k.
"I love running," said Madalyn, whose mother, Myra Wright, ran in high school and is a longtime runner.
Madalyn was 6 when she ran her first race. "I kept saying," Myra Wright recalled, as they ran together that first time, "the tortoise wins: slow and steady finishes the race. And she kept saying, 'Mom, I want to go faster.' So at two and a half I said, 'Madalyn, 'Go!' and she just took off.'
That's how it has been ever since, said Wright, who had a finishing time of 24:16 on her watch.
"I tell you, it motivates me to run faster when you know your little girl is up there."
Water stops are largely a luxury at most 5k races. For the canine competitors at the Lost Dog 5k Friday night, they were a necessity.
When the evening weather Friday was markedly warmer than a week before, runners — with two legs or four legs — knew they'd have to adjust their expectations and race strategies. The second of the four-race series in August benefiting the Lost Dog and Cat Rescue Foundation saw 115 repeat runners from the first week. The out-and-back course on the Four Mile Run and W&OD trails included strips of natural surface along the paved trail, perfect for paws. This week, 60 dogs raced.
Runners were welcome to run with socially-adjusted dogs, and many did. Runners without dogs of their own had the opportunity to rent a pup for the race.
Cerbi took a few detours into the creek alongside the trail, to cool off, with owners  Maari Hanson and Jason Soules in tow.
"He gets along great with other dogs, if only for five seconds before he gets bored," Soules said.
Hanson said Cerbi has been the couple's training partner for a while.
"We usually do a few miles with him," she said. "We try to avoid the humidity–that was probably killing our times a bit. It's great for people to come out and see responsible pet owners, people who know how to handle a dog on a leash."
Greg Russell, of Centreville, took his dog, Taylor, to her first race, and it went well.
"During her initial bolt, when the gun sounded, I had to get her to slow down," he said. "She slowed down to walk, stopped to take care of business every once in a while, but she had a good time."
Russell is training for the Marine Corps Marathon. Taylor didn't get in before the race filled up.
"I was definitely a little slower from last week," said Colleen Lally of Alexandria. "Tonight was hot!"
She just started running a year ago and just got back into racing after finishing rehabilitation following foot surgery.
Sara Fiorini, of Alexandria, agreed with Lally's rough assessment, following the gift-like weather the first week.
"It was awful, I was dragging," she said. "The humidity kicked my butt. My goal was to not stop, and I met that goal. I guess I'm happy with that."
She runs to stay in shape for three different soccer leagues.
Not everyone suffered from the uptick in heat index. Overall winner Claire Hallissey of Arlington actually dropped six seconds from a her win on the cooler day, running 17:20. She took the lead at the turnaround and put 34 seconds on her closest pursuer in the second half. She went on to claim the top overall spot two days later at the DC Road Runners cross country three mile in Bethesda in 19:36.
Greg Hermanson, of Woodbridge, has been volunteering for the Lost Dog Foundation for more than 10 years, but he just started running last year.
"It was one of my slower times, but I still had a blast," he said. "Sequestration has kept me from traveling from work as much as I am used to, so maybe this is the time I adopt a dog of my own."
[button-red url="http://youngrunner.smugmug.com/Race-Photo-Galleries/Crime-Solvers-5k-2013″ target="_self" position="left"] Pictures [/button-red] [button-red url="https://runsignup.com/race/results/?raceId=3638″ target="_self" position="left"] Results [/button-red]
The clouds were apparently waiting for the gun to go off at the Crystal City Twilighter 5k Saturday night, because as soon as the runners started, so did the rain.
Increasing to a downpour within the first few minutes of the race, the deluge kept the race decidedly cooler than in years past, when the mercury pushed 100 a few years ago.
Ben Blankenship, no stranger to a drizzle in Eugene, Ore. where he runs for the Oregon Track Club, used a stop in Washington on his way home from the summer track circuit in Europe to score a one-second win over Demissi Gulti in 15:10.
"It affects the times a little bit, but you're coming out here to run the best you can, it's on the roads and you're mainly just stacking up to the people next to you," he said. "I wasn't too concerned with the pace of what we were doing. I was just hanging out with the front group."
Paul Thistle followed in 15:20. Also of note, Edison High School's (Va.) Louis Coulson finished sixth in 15:37.
In the women's race, Arlington's Claire Hallissey ran 16:45 for a comfortable margin over Waynishet Abebe (17:08) and Kerri Gallagher (17:27).
The Plank family spent most of Father's Day exploring Georgetown, kicking off a two-week vacation in Washington, D.C. Come evening, they were with more than 300 runners charging out and back on the C&O Canal Towpath for the fourth annual Father's Day 8k."I just grew up running. We all went on runs together," said Povi Plank, 13, of Flagstaff, Ariz., who was joined in the race by her father, Gary, and her younger sister, Sayti. [button-red url="http://www.safetyandhealthfoundation.org/20130616.html" target="_self" position="left"] Results [/button-red]
It was Povi and Sayti's first 8k.  And while Povi won her age group in 38:15, Gary, 56, was the top master in 30:05, making the duo the top father-daughter team.
Gary Plank, by the way, owns the second-fastest 1500 meter this year for his age group.
"4:34," Povi said proudly. "And that was just two weeks ago."
The top father-son team, Matthew and Dan Wittendorf of Alexandria, Va., started off with Matthew finishing second in his age group.
Meanwhile, another father-daughter team, Jeff Bernstein, 53, of Silver Spring, and
Julie Bernstein, 24, of D.C., typically run together three or four times a year. When it comes to racing, Jeff prefers 5Ks, while Julia has run half marathons.
"She can run further, so I bring her here to do an 8K," Jeff joked in the finish line area, where families-slash-sweaty runners reunited for cupcakes and checked out the Men's Health Network stand.
Running her third Father's Day 8K, Paula Fergusson, 56, of Vienna, Va., won her age group in 53:44. Her daughter, Elena, who runs cross country for Langley High School, finished in 49:07. Dad, though injured, was there to cheer them on, and for family dinner at Chadwicks, which hosted the awards ceremony.
Andrew Morton, 44, and his son Ari, who won the 9-and-under age group in 43:41, ran every step of the way together, just as they always do.
And for the Arya family, the Father's Day 8k was something of a reunion. Sisters Monisha and Anita and their father Suresh used to run a lot of local races together.  But Monisha now lives in Houston, while Anita lives in Las Vegas.
"It's a nice tradition to run on Father's Day with our father, so we both flew in," Monisha said.
Anita added: "We start together, end up separate, then we always go back for everybody."
Ryan Witters, 24, of D.C. and Claire Hallissey, 30, of Arlington, both defended their titles.  Witters clocked 25:47, while Hallissey's time of 28:15 was good for fourth overall.
Scott Anderson, 39, of D.C. was 2nd in 27:16, with Brian McMahon, 30, of D.C. taking 3rd in 27:37.
GRC's Avril Ogrodnick, 26, of D.C. was second female in 30:32. Arielle Elyse Davanzo, 23, of D.C. was 3rd in 33:48.
For Witters, one of GRC's top runners, Father's Day 8K was, on one hand, the last race of a long spring track season in which he lowered his 5K personal best to 14:31.  On the other, it's his way of remembering his father, who died when Witters was 13.
It was a humid night, and Witters suffered from it. Having his teammate Sebi Devlin–Foltz on the lead bike helped keep him focused, he said. When chills set in, he intentionally slowed down a bit.
"This is a way to really pay tribute," Witters said. "Even though it is the end of the season and I am ready to take a break, I can always muster something up for this race just because it means so much to me."
Count on him to return in 2014 and go for a three-peat.
Claire Hallissey wasn't expecting to run an event record Saturday during the Lawyers Have Heart 10k.
"I did a track workout on Thursday," the 2012 British Olympian said.
Yet the 30-year-old Arlington resident still ran a 34:33, bettering the previous event record by 9 seconds on a cool, overcast morning in Georgetown.
In fact, Hallissey and second place finisher Susanna Sullivan of Falls Church are only the second and third women to break 35 minutes in the event's 23-year history, taking advantage of the good, June running conditions.
"She turned it on the last mile and just blew me away," Sullivan, 23, who won last October's Marine Corps 10k, said.
Sullivan finished in 34:48, just off the previous event record of 34:42 set in 1992 by Baltimore's Charlotte Thomas.Wayinshet Hailu, 26, came in third at 36:06.
Event organizers called the 1992 10k course much more difficult than Saturday's having trekked through many more hills around Georgetown's residential areas.
The course has changed several times in the event's history. This year's started on K Street under the Whitehurst Freeway in Georgetown. Runners looped up to the freeway, ran down Canal Street, and turned back near Georgetown's reservoir.
Hallissey's appearance on Saturday took runners and event organizers by surprise, not expecting the Olympian, who turned in a 2:35:39 marathon in last summer's London games, to run.
"I'm happy with how I'm running right now," Hallissey said, noting her last few 10ks were in the 34-minute range.
Sullivan was trying to sneak up on Hallissey after a slower start and moved just a few strides behind her at the race's turnaround point near the reservoir.
At that point, Capital Area Runner teammate and men's leader Chris Mills shouted encouragement, seeing her in second place.
"Then, it was game over," Sullivan said, referring to Hallissey's talent and experience. "I had to show my cards."
Hallissey said later she knew a female competitor was on her heels from the crowds yelling support to those behind her.
Mills, who went on to win the men's race, called the high 60 degree weather at the start the "perfect temperature."
Mills of Falls Church broke away from the pack after about 3.5 miles and cruised to a time of 31:15, better second place finisher Birhanu Mekonen by 26 seconds. Dave Burnham of Arlington came in third place with a 32:03.
The men were well off their event record of 29:51 set by Ethoipia's Gurmessa Kumsa in 2006.
Mekonen and Hailu said after the race they were hampered by a late arrival to the race site and didn't have a chance to conduct their full warm up.
Mills was proud of his running even splits, coming through the 5k at 15:38. The 23-year-old expected to run a great time, following a 29:09 performance at April 20's Pike Peek 10k in Rockville.
Women's fourth place finisher Barbara Fallon Wallace ran a 36:33 and called the conditions a bit muggy. The 39-year-old won last year's race just 18 months after giving birth to twins.
"At least it was cloudy," Fallon Wallace said. "It could have been 90 degrees."
In fact, extreme temperatures two years ago caused organizers to shorten the race to a 5k.
But the event hosted a 5k – aside from 2011's impromptu change – for the first time in several years in 2013.
The Capital Area Runners dominated the women's side, taking the top three spots. Erin Taylor, 31, of Arlington led the way with an 18:08, followed by Ashley Kollme of Chevy Chase in 19:07 and Mary Christopher of Washington in 20:32.
"Whenever you can get your teammates in the top three, that's great," Taylor said.
Jack Riely, 19, of Silver Spring won the men's 5k in 16:38.
Kristi Markowicz, 43, of Arlington was the women's masters winners with a time of 39:13. Edmund Burke, 43, of Burkesville, Md. won the men's masters race in 33:27.
The event, held annually since 1991, benefits the American Heart Association. Flocks of the law firms around the area organize teams to generate money for the group. So far, the event has raised more than $8 million for the cause.
So far this year, teams have raised in excess of $750,000, according to the event's website. McDermott Will & Emery raised nearly $20,000 as of Saturday.
"It's just nice to see some law firms — who don't have a reputation for promoting the common good — have one Saturday where we're out for the common good," Jones Day attorney Ben Katz, 28, said following the race.
His firm raised more than $2,600 for the American Heart Association.
"In the legal community you hear a lot about people who have heart disease," Jones Day's Owen Conroy, 30, said. "It's just nice to show support."
The backs of Krooth & Altman's bright yellow team shirts read "Run to remember, Run to Prevent," an ode to the event's well-being message.
"A lot of us have had family members or friends we've lost to heart disease," paralegal Kelly Behr said.
The grandfather of Jonathan Singer, 29, of O'Melveny & Myers had a stroke, and building awareness for that was important to him.
"We want to serve the community in a legal capacity, but also give back," Singer said, adding he ran his first ever road race Saturday, finish the 5k in 32:06.
His team had about twice as many people run this year with about 32 runners.
Many area attorneys run merely for the camaraderie.
"We've done this four years now, and every year have doubled in sized," Paul Brinkman of Quinn Emanuel said.
Lawyers competed in teams of based on law firm size and practice type. Individuals competed for awards based on time in categories such as private practice, corporate lawyer, government lawyer, non-lawyer legal professional, paralegal, law student, and summer associate.
[button-red url="http://results.bazumedia.com/event/results/event/event-4393″ target="_self" position="left"] Results [/button-red]
With some time, confusion and grief following the two explosions along the Boston Marathon sidelines turned to resolve and determination not to let terrorists ruin running. Hordes turned out Friday and Saturday to show that they would not be intimidated.
The bombing that left three dead and almost 200 wounded, including a Springfield woman who broke her leg, and the subsequent chase that claimed the life of a campus police officer only motivated those who turned out to the Crystal City Friday 5k, which took place as the surviving suspect was cornered in Watertown, Mass.
Adam Schans exited the Crystal City metro station Friday night with little time to spare.  On the sidewalk, about a quarter mile from the start, the Wilson High School freshman slipped into orange-black running shoes with neon laces, handed his track bag to his father, and took off for the starting line of the third of four Crystal Run 5K Fridays with an easy, feathery stride. Wilson High's track team was off today; he'd race an evening 5k on the streets of Arlington instead.
Arlington's Andy Murphy, 40, raced Friday night wearing his long-sleeved 2012 Boston Marathon shirt. He ran that year to raise money for the Dana-Farber Cancer Institute while his father, battling cancer, cheered him on.
During this year's Boston Marathon, Murphy attended his father's funeral in Arlington National Cemetery. Later that afternoon, after bombs exploded and tragedy struck Boston, his cell phone filled with text messages sent by concerned friends worrying he might be there.
Emily Dorsey, 30, also of Arlington, was racing 5k partly to celebrate her friend's birthday. Next weekend, she'll run the Nike Women's Marathon. But for the two-time marathoner and Boston University graduate, racing last night also just seemed like the right thing to do.
Watching the race last night, and hundreds of runners take to the streets (not long after work let out for many of them), showing no signs of fear or doubt. Few, if any, complained about increased security such as bag searches for those planning to use the gear check.
Nobody loudly expressed worry about the possibility that unsafe weather conditions might delay the 6:30 p.m. start by up to 30 minutes and require runners to take shelter until it all passed, or that if severe weather persisted past 7 p.m. the  race would be postponed until May 3.
Bags were checked. The weather was the weather – the big downpour holding off.
Jane Webster, 35, of D.C., said after the race, "I love it when it's overcast. She" – D.C.'s Rebecca Johnson, who she ran with – "loves it when it rains. Perfect."
After a moment of silence, the runners were off.
From teens like Schans to 70-something-year-old mega-racers like Robert Gurtler of the Plains, Va., the race was on.
And with less than a mile left, as Michael Roethel, 24, of Herndon made the turn onto Crystal Drive, Arlington's Claire Hallissey, who represented Britain in the marathon at the London Olympics, appeared to be reeling him in.
Roethel had heard about the Crystal Run 5k Fridays race series from a co-worker and promptly signed up for all four. "But this race was special for me," he said, "especially the week after Boston." When news of the bombings struck, he immediately thought of his friends running the race, he explained, adding, "They finished the race but other people weren't as lucky. My heart goes out to them."
Roethel was first across the line in 17:06. "I've never been first place before," he said, "so this was a breakthrough."
About two and a half minutes later, Schans crossed the line, pleased with his own effort.
And even though lightning forced race organizers to shorten the route for some runners, the race's atmosphere remained upbeat.
Near the three-mile mark, co-workers Chris Stewart, Jacqui Balough, and Andre Dalton, though finished with their own races, cheered for other runners.
"There was a lot of support here – a lot of people wearing Boston attire," said Stewart, 30, of Manassas, Va.
He added, "Obviously, from the turnout, people weren't afraid of getting out in a big group. I saw somebody who said it best: 'If you're looking to break the American spirit, then marathoners and runners aren't the people to target.'"
To which Balough, 26, of Arlington said, "It's almost an incentive to still come out here" in spite of the weather.
To which Dalton, 38, of Springfield, chimed in, "Life goes on; can't be scared. Keep on going."
The next morning, hundreds of runners gathered for group runs Saturday morning to show support for the Boston Marathon and recognize the bombing victims. Many wore any variation of the blue and yellow adidas shirts and jackets that are hallmarks of trips from Hopkinton.
The Washington Running Club's Dojo of Pain met Saturday morning to run and talk about what happened in Boston, but also to celebrate Silver Spring's Alan Pemberton's 60-65 men's age group victory (2:57:52). He was in a post-race stupor in a restaurant a few blocks away, but his celebration was short lived.
"I was deeply into my second chocolate milk when we heard what sounded like thunder," he said. "My wife was outside to get tickets for the post-race party, she said she thought it was a construction accident, building materials falling.
"Maybe a transformer blew? You're so slow to assume the worst, that actual evil people are trying injure people. We heard more and more sirens, then the congratulatory messages turned to concern. It became pretty clear something horrible had happened."
Casper Magacs of Binghamton, N.Y. was in town visiting his girlfriend's cousin and decided to join a run at noon near the Mall. On Marathon Monday, he noticed bomb sniffing dogs at the starting line. Officials told him they were doing training and to not think anything of it. That caused a little trepidation but he put it behind him when the race started. "I was worried about not hitting the wall," he said.
Virginia Jurica of Washington joined a DC Capital Striders run in the National Arboretum and brought a different perspective. After spending some time running in Baghdad's Green Zone while in Iraq for work, she grew accustomed to the threat of danger in the form of mortar shells. The difference, she said, was that she expected them, being close to an insurgent guerrilla campaign.
"None of those people in Boston expected there'd be any danger, and why should they?" she said.  It was a celebration."
The gap was just too much for Jordan McDougal to make up.
[button-red url="http://results.bazumedia.com/event/results/event/event-3289″ target="_self" position="left"] Results [/button-red]Anyone watching the finishing stretch of the St. Patrick's Day 8k would say that. Elarbi Khattabi, of Waynesboro, Pa.,was comfortably ahead heading back on Pennsylvania Avenue, having broken the race open at three miles. McDougal, of Warrenton, figured the lead was around 20 yards, but that seemed like a conservative estimate.
[button-red url="http://youngrunner.smugmug.com/Race-Photo-Galleries/St-Patricks-Day-8k-2013/i-DDqcQFJ" target="_self" position="left"] Photos [/button-red]As the pair looped to a turnaround on 10th street, McDougal had all but given up on going for the win, he was trying to preserve what he had.
"By the time we got to the turnaround, I wasn't even trying to catch him," he said. "But I saw that Gurmessa (Megerssa) was caching up to me. I figured If I don't move now, he was going to get me, so I had to push."
When he turned back onto Pennsylvania and could see the finish line, he was still sprinting.
"That stretch is so much longer than it looks," he said. "We got about halfway down and I cut the lead in half. I was like 'Wow, I might have a chance at catching this guy.' I guess adrenaline took over."
Shortly before the line, anything an earlier observer had assumed about the race was wrong. McDougal (24:32) passed Khattabi (24:38), who shut it down. Megerssa followed in 24:46 with Sam Luff two seconds behind and Sean O'Leary 10 seconds later.
That wasn't the only surprise in the race. Women's winner Claire Hallissey, or Arlington, doubled after having won the previous day's Four Courts Four Miler and had a comfortable lead over Meagan Nedlow of Salem, Mass. 27:14 to 27:42. Hallissey, a member of the 2012 British Olympic team in the marathon, is gearing up for the NYC Half next Sunday in Manhattan.
The bibs tried, but they couldn't tell the complete story.
They were color coded, trying to signal people's relationship status- available(green), in flux (yellow) or taken (red) at the Love the Run You're With 5k Sunday morning in Arlington.
[button-red url="http://results.bazumedia.com/event/results/event/event-3024″ target="_self" position="left"] Results [/button-red]Various levels of commitment to another person, but nothing to indicate the runner was in the throes of passion that accompany a new relationship that hasn't yet found its footing, no neon blending of yellow and green to reveal the madness and confusion of infatuation and hope for what may come of it all.
Not meeting someone new — falling in love with running. It happened for a lot of people out near Pentagon City.
Cedric Lawson certainly seemed smitten. After getting into intramural sports over the last year, the Washington  resident started running to get more in shape and jumped at the first race he could find. He popped in his headphones and rediscovered what he loved from his high school track days
"It cleared my mind, I just concentrated on my stride and kept pushing," he said. "I felt really good after. I see myself doing this a lot — it clears my mind."
The out-and-back course started in front of the Pentagon Row shopping center and turned onto Army-Navy Drive and immediately climbed a moderate steep hill.
Lawson liked being able to see people turning back ahead of him.
"It got me jazzed to see the front runners," he said. "I knew I could keep going, it wouldn't be too much longer."
Coming down the hill with a half mile to go helped launch Falls Church's Chris Mills into a furious kick that took him over the finish line in 14:51, a 17-second road race PR.
He had been running stride for stride with 2011 winner and course record (14:47) holder Jordan McDougal for the first 1.3 miles, when Mills simply went for it ultimately leaving McDougal behind by almost 30 seconds.
"I knew I wanted to go after that record, so I did what I had to so I could take a chance," he said.
By the looks of his turnover on the last stretch on South Joyce Street, he was doing all he could to get it, though he fell four seconds short.
McDougal set that record in his first race in a few years, during which he felt lethargic. This year he came in feeling sharp, but as it turned out, sharper for a 10k than a 5k.
"I felt like I could have kept going at that pace (4:55 pace for a 15:18 finish) for a while linger, but I couldn't speed up."
Women's winner Claire Hallissey felt the same as McDougal. Though the Arlington-based British Olympic marathoner won in 17:44 over Vienna's Nora O'Malley's 18:30, she was chagrined to run only a second per mile faster than she had a week last week to win the Kaiser Permanente San Francisco Half Marathon.
"It was a pretty slow race for me to be honest," she said. "Close to as expected, because I haven't been at full volume training since August. I have been trying to get my knees fully recovered from the traumas of all my marathoning."
Haymarket, Va. resident Madeleine Friedman finished her first 5k, with encouragement from her friend Rosie Montiel, of Alexandria.
"I've been wanting to do a 5k for a really long time,"she said. "I ran before I had a baby and I'm just getting back into it now, but I can't wait for my next race."
She has been training with the aid of a couch-to-5k app on her smartphone.
"The first half was a bear, but coming down that hill, I was more motivated," she said. "Coming down the hill and seeing the finish line, I knew I could do it. I learned I could do it."
Just because Chris Kwiatkowski was running 4:50 pace for the Jingle All the Way 8k, it didn't mean he didn't take time to look around.
[button-red url="http://results.bazumedia.com/event/results/event/event-2402″ target="_self" position="left"] Results [/button-red]While he was  pulling away from Jeff Brannigan and Dereje Girma to win in 24:00, he glanced around at the Capitol and Pennsylvania Avenue, which he said made the race go by a little faster.
"In college, you run a lot of the same courses year in and year out, you see them so often that they get longer and longer," he said. "Since moving here, I've run three races in the city and each one has an incredible setting. I really enjoy those settings and they make the race go by quicker."
That wasn't all he saw. Lining up next to the former University of Oregon Duck, Pacers owner Chris Farley was dressed as Santa Claus, beard and all, and still managed to run 6:13 pace.
"I don't know how he did it," Kwiatkowski said. "I would have torn that beard off a mile in."
His plan was to run hard without straining, and that's what he got. Dropping Brannigan and Girma in the third mile, he cruised in to a 22-second victory in a light misting, following a lot of cold rain.
"Before any competition I make sure I have a goal and my coach (Matt Centrowitz) agrees that it will take me where I need to go," he said. "December is an important month for getting strong aerobically and this race gave me a chance to do that."
Kwiatkowski may run the Fairfax Four Miler on New Year's Even before switching his efforts to the track.
Kerri Gallagher also kept on a lookout for remarkable costumes while she was running away from Claire Hallissey and Erin Koch to win in 27:21.
Her favorite, among many, was a family dressed as Joseph and Mary, pushing a jogging stroller ostensibly carrying the baby Jesus. That variety spectators something to enjoy, just in case the Christmas costumers were tending to be too "commercial."
Gallagher also got away from her pursuers after two miles, and she confirmed what she had learned about herself as she raced well above her primarily middle distance events.
"I learned I can put myself out there, take charge and take risks in a race," she said. This fall, she also won the Army 10 Miler and Clarendon Day 10k (also over Olympian Hallissey) and finished second at the Veterans Day 10k. She'll also compete in several indoor track races this winter under Centrowitz's tutledge.
Back in the pack, Sarah Morgan struggled to get out of bed for the race, and had a tougher time rousting her friend Melissa Dorn to join her, given the rain that intimidated them.
"We almost didn't go," Morgan said. "It looked pretty awful outside. I don't even know how I got Melissa to go."
The pair of old high school rowing chums have run countless races together over the years. They arrived just in time for the rain to stop and the race to start. Though they found the race less crowded than last year, when the race was first moved from Hains Point and cut down to an 8k to meet registration demands, but they saw a dramatic improvement in the quality of costumes.
Among Morgan's favorites:
Santa's sleigh, led by nine reindeer tied together
A man with a tuba, playing Christmas carols
Twelve runners, dressed as the gifts from the 12 days of Christmas
Four Contenders Racing Virgin London Marathon This Sunday
By David Monti
LONDON (19-Apr)–Only one spot remains on the British team for a woman to run this summer's Olympic Marathon here, yet five still hope to claim it. Four of them–Claire Hallissey, Liz Yelling, Louise Damen and Freya Murray–will compete in Sunday's Virgin London Marathon, while the fifth, Jo Pavey, will watch on television. All will be hoping for the best.
"It's make or break on Sunday for Olympic hopes," said radio commentator Andy Edwards at a press conference here this morning.
Jo Pavey, 38, a veteran of three Olympic Games, ran two solid marathons last year and provisionally holds the third team berth behind Paula Radcliffe and Mara Yamauchi who have already been selected. At the London Marathon last April in her debut at the distance, Pavey clocked 2:28:24, then came back to run 2:28:42 in New York last November on a much tougher course.
However, Pavey can lose her spot to any of the four women running here on Sunday should they surpass her time from London. Each of them would have to run a personal best to do so.
Claire Hallissey, 29, who holds a PhD in immunology and currently resides in Arlington, VA, likely has the best chance of displacing Pavey. The self-coached runner who just completed a stint of altitude training in Boulder, CO, dropped her marathon personal best by some seven minutes last year, clocking 2:29:27 on a warm day in Chicago. She said here today that her training had gone well, despite having a pair of her favorite shorts shredded when a dog tried to bite her on a training run.
"I was out in Boulder for a few weeks to do the bulk of my preparation, which is the same as I did for Chicago," Hallissey told Race Results Weekly here. "I've run a lot of the similar sessions, and they've gone as well, if not better, than they did in the build-up to Chicago. So, all of that is telling me that I'm going to run faster than in Chicago."
Hallissey raced two solid, but unspectacular, half-marathons during her London build-up, running 1:13:32 at Wokingham on February 19, then 1:12:58 at New York on March 18. She also ran a personal best 54:37 at the Credit Union Cherry Blossom 10 Mile on April 1, near her Arlington, VA home, finishing fifth. She said that her final race was her best.
"I was more happy with my pacing at the Cherry Blossom Ten Mile, my most recent race. But, I've always struggled with getting my legs up to race pace when I'm in the middle of marathon mileage and training. So, I wasn't that surprised that I wasn't able to run as quickly as I would have liked (in the half-marathons). I was satisfied with my performances, I'd say."
Louise Damen, 29, has only completed one marathon. She ran a surprising 2:30:00 debut at London last April, then dropped out of the Yokohama Women's Marathon in Japan last November, wilting in hot conditions.
"I think I've probably experienced two ends of the spectrum in running the marathon," Damen told reporters. "Things do go wrong in marathon running; it's a long way."
Liz Yelling, 37, has two Olympic Marathons under her belt. She finished 25th in Athens in 2004, and 26th in Beijing in 2008, despite tangling with Gete Wami, falling and cracking a rib. She has not broke 2:30 since 2008, yet still feels she can make a third Olympic team. Radio commentator Edwards said she would have to attack the race from the gun.
"There is no point in going at a 2:29 pace if you need to run 2:28:24," she said.
Freya Murray, 28, who is coached by Welshman Steve Jones, could surprise in her marathon debut. She has raced sparingly this year, just one cross country race in January, then the NYC Half in March where she ran a personal best 1:12:31.
For all of these woman, the chance to compete in an Olympic Games on home soil is a big incentive to give their best on Sunday. Yesterday marked the 100 day-to-go point before the Games, and it is hard to escape the hype everywhere in this city.
"Obviously, a home Olympics is a really big thing," Claire Hallissey said. "You can't escape it."
Should Pavey lose her marathon team spot, her coach and husband Gavin said recently that she would then try to make the British team at 10,000m. She finished 12th in that event at the 2008 Beijing Olympics, clocking a career best 31:12.30. She hasn't run a track 10,000m since 2010, however.