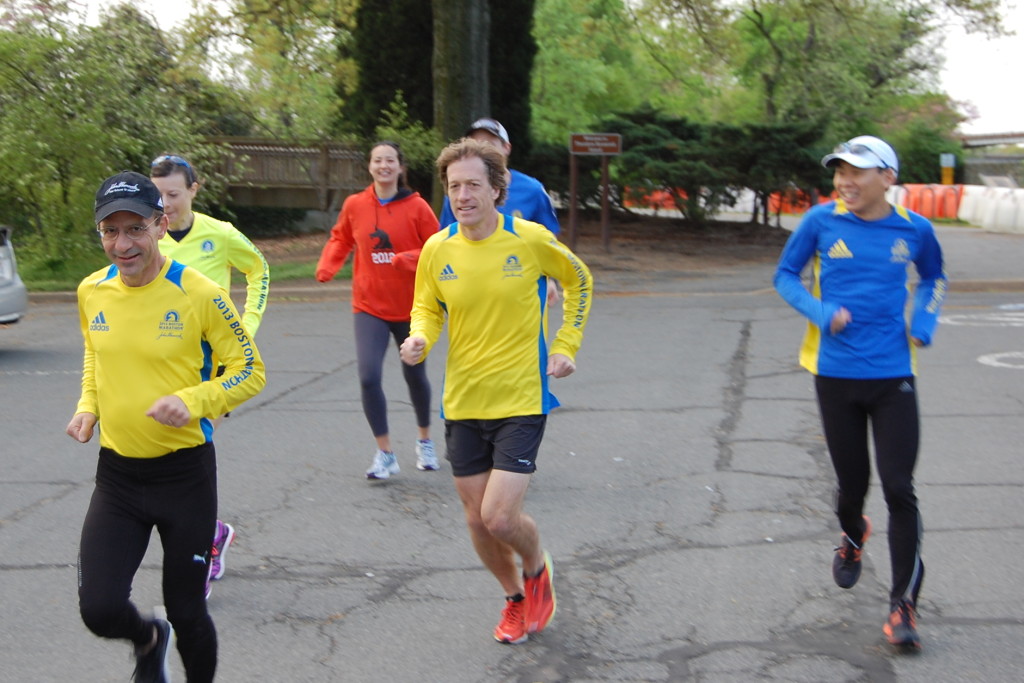 With some time, confusion and grief following the two explosions along the Boston Marathon sidelines turned to resolve and determination not to let terrorists ruin running. Hordes turned out Friday and Saturday to show that they would not be intimidated.
The bombing that left three dead and almost 200 wounded, including a Springfield woman who broke her leg, and the subsequent chase that claimed the life of a campus police officer only motivated those who turned out to the Crystal City Friday 5k, which took place as the surviving suspect was cornered in Watertown, Mass.
Adam Schans exited the Crystal City metro station Friday night with little time to spare.  On the sidewalk, about a quarter mile from the start, the Wilson High School freshman slipped into orange-black running shoes with neon laces, handed his track bag to his father, and took off for the starting line of the third of four Crystal Run 5K Fridays with an easy, feathery stride. Wilson High's track team was off today; he'd race an evening 5k on the streets of Arlington instead.
Arlington's Andy Murphy, 40, raced Friday night wearing his long-sleeved 2012 Boston Marathon shirt. He ran that year to raise money for the Dana-Farber Cancer Institute while his father, battling cancer, cheered him on.
During this year's Boston Marathon, Murphy attended his father's funeral in Arlington National Cemetery. Later that afternoon, after bombs exploded and tragedy struck Boston, his cell phone filled with text messages sent by concerned friends worrying he might be there.
Emily Dorsey, 30, also of Arlington, was racing 5k partly to celebrate her friend's birthday. Next weekend, she'll run the Nike Women's Marathon. But for the two-time marathoner and Boston University graduate, racing last night also just seemed like the right thing to do.
Watching the race last night, and hundreds of runners take to the streets (not long after work let out for many of them), showing no signs of fear or doubt. Few, if any, complained about increased security such as bag searches for those planning to use the gear check.
Nobody loudly expressed worry about the possibility that unsafe weather conditions might delay the 6:30 p.m. start by up to 30 minutes and require runners to take shelter until it all passed, or that if severe weather persisted past 7 p.m. the  race would be postponed until May 3.
Bags were checked. The weather was the weather – the big downpour holding off.
Jane Webster, 35, of D.C., said after the race, "I love it when it's overcast. She" – D.C.'s Rebecca Johnson, who she ran with – "loves it when it rains. Perfect."
After a moment of silence, the runners were off.
From teens like Schans to 70-something-year-old mega-racers like Robert Gurtler of the Plains, Va., the race was on.
And with less than a mile left, as Michael Roethel, 24, of Herndon made the turn onto Crystal Drive, Arlington's Claire Hallissey, who represented Britain in the marathon at the London Olympics, appeared to be reeling him in.
Roethel had heard about the Crystal Run 5k Fridays race series from a co-worker and promptly signed up for all four. "But this race was special for me," he said, "especially the week after Boston." When news of the bombings struck, he immediately thought of his friends running the race, he explained, adding, "They finished the race but other people weren't as lucky. My heart goes out to them."
Roethel was first across the line in 17:06. "I've never been first place before," he said, "so this was a breakthrough."
About two and a half minutes later, Schans crossed the line, pleased with his own effort.
And even though lightning forced race organizers to shorten the route for some runners, the race's atmosphere remained upbeat.
Near the three-mile mark, co-workers Chris Stewart, Jacqui Balough, and Andre Dalton, though finished with their own races, cheered for other runners.
"There was a lot of support here – a lot of people wearing Boston attire," said Stewart, 30, of Manassas, Va.
He added, "Obviously, from the turnout, people weren't afraid of getting out in a big group. I saw somebody who said it best: 'If you're looking to break the American spirit, then marathoners and runners aren't the people to target.'"
To which Balough, 26, of Arlington said, "It's almost an incentive to still come out here" in spite of the weather.
To which Dalton, 38, of Springfield, chimed in, "Life goes on; can't be scared. Keep on going."
The next morning, hundreds of runners gathered for group runs Saturday morning to show support for the Boston Marathon and recognize the bombing victims. Many wore any variation of the blue and yellow adidas shirts and jackets that are hallmarks of trips from Hopkinton.
The Washington Running Club's Dojo of Pain met Saturday morning to run and talk about what happened in Boston, but also to celebrate Silver Spring's Alan Pemberton's 60-65 men's age group victory (2:57:52). He was in a post-race stupor in a restaurant a few blocks away, but his celebration was short lived.
"I was deeply into my second chocolate milk when we heard what sounded like thunder," he said. "My wife was outside to get tickets for the post-race party, she said she thought it was a construction accident, building materials falling.
"Maybe a transformer blew? You're so slow to assume the worst, that actual evil people are trying injure people. We heard more and more sirens, then the congratulatory messages turned to concern. It became pretty clear something horrible had happened."
Casper Magacs of Binghamton, N.Y. was in town visiting his girlfriend's cousin and decided to join a run at noon near the Mall. On Marathon Monday, he noticed bomb sniffing dogs at the starting line. Officials told him they were doing training and to not think anything of it. That caused a little trepidation but he put it behind him when the race started. "I was worried about not hitting the wall," he said.
Virginia Jurica of Washington joined a DC Capital Striders run in the National Arboretum and brought a different perspective. After spending some time running in Baghdad's Green Zone while in Iraq for work, she grew accustomed to the threat of danger in the form of mortar shells. The difference, she said, was that she expected them, being close to an insurgent guerrilla campaign.
"None of those people in Boston expected there'd be any danger, and why should they?" she said.  It was a celebration."