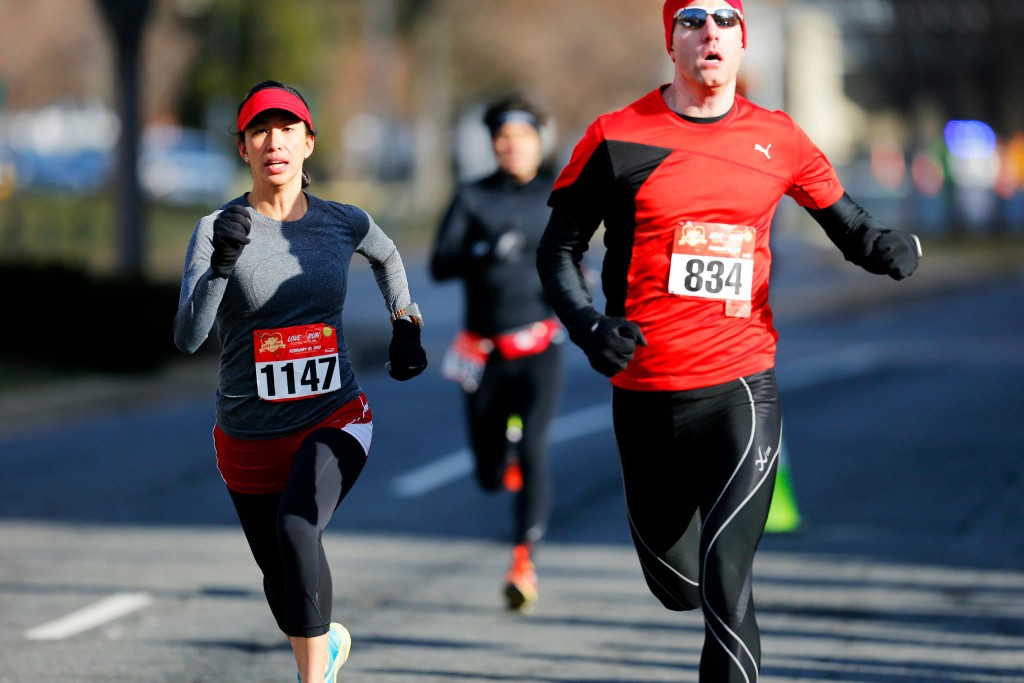 The bibs tried, but they couldn't tell the complete story.
They were color coded, trying to signal people's relationship status- available(green), in flux (yellow) or taken (red) at the Love the Run You're With 5k Sunday morning in Arlington.
[button-red url="http://results.bazumedia.com/event/results/event/event-3024″ target="_self" position="left"] Results [/button-red]Various levels of commitment to another person, but nothing to indicate the runner was in the throes of passion that accompany a new relationship that hasn't yet found its footing, no neon blending of yellow and green to reveal the madness and confusion of infatuation and hope for what may come of it all.
Not meeting someone new — falling in love with running. It happened for a lot of people out near Pentagon City.
Cedric Lawson certainly seemed smitten. After getting into intramural sports over the last year, the Washington  resident started running to get more in shape and jumped at the first race he could find. He popped in his headphones and rediscovered what he loved from his high school track days
"It cleared my mind, I just concentrated on my stride and kept pushing," he said. "I felt really good after. I see myself doing this a lot — it clears my mind."
The out-and-back course started in front of the Pentagon Row shopping center and turned onto Army-Navy Drive and immediately climbed a moderate steep hill.
Lawson liked being able to see people turning back ahead of him.
"It got me jazzed to see the front runners," he said. "I knew I could keep going, it wouldn't be too much longer."
Coming down the hill with a half mile to go helped launch Falls Church's Chris Mills into a furious kick that took him over the finish line in 14:51, a 17-second road race PR.
He had been running stride for stride with 2011 winner and course record (14:47) holder Jordan McDougal for the first 1.3 miles, when Mills simply went for it ultimately leaving McDougal behind by almost 30 seconds.
"I knew I wanted to go after that record, so I did what I had to so I could take a chance," he said.
By the looks of his turnover on the last stretch on South Joyce Street, he was doing all he could to get it, though he fell four seconds short.
McDougal set that record in his first race in a few years, during which he felt lethargic. This year he came in feeling sharp, but as it turned out, sharper for a 10k than a 5k.
"I felt like I could have kept going at that pace (4:55 pace for a 15:18 finish) for a while linger, but I couldn't speed up."
Women's winner Claire Hallissey felt the same as McDougal. Though the Arlington-based British Olympic marathoner won in 17:44 over Vienna's Nora O'Malley's 18:30, she was chagrined to run only a second per mile faster than she had a week last week to win the Kaiser Permanente San Francisco Half Marathon.
"It was a pretty slow race for me to be honest," she said. "Close to as expected, because I haven't been at full volume training since August. I have been trying to get my knees fully recovered from the traumas of all my marathoning."
Haymarket, Va. resident Madeleine Friedman finished her first 5k, with encouragement from her friend Rosie Montiel, of Alexandria.
"I've been wanting to do a 5k for a really long time,"she said. "I ran before I had a baby and I'm just getting back into it now, but I can't wait for my next race."
She has been training with the aid of a couch-to-5k app on her smartphone.
"The first half was a bear, but coming down that hill, I was more motivated," she said. "Coming down the hill and seeing the finish line, I knew I could do it. I learned I could do it."
Recent Stories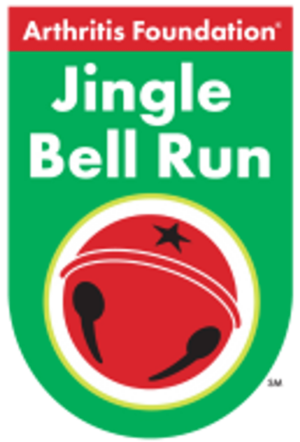 Be part of the original festive race for charity and signature Arthritis Foundation holiday event! Wear your favorite holiday attire and together, we'll jingle all the way to a cure! Register as an individual or bring a team of friends,