Adrenaline launches most kids through the first mile of a cross country race. Then reality catches up in the second mile, and when that's compounded with a long sunny stretch and temperatures well into the 80s, the overly bold typically pay for their exuberance.
Unless they are Ryan McGorty.
[button-red url="http://va.milesplit.com/meets/180507-monroe-parker-invitational#.VAzBXPldXDG" target="_self" position="left"] 2.98 mile Results [/button-red]With a 4:49 mile split through the Monroe Parker Invitational, the Chantilly senior cruised to a 20-second win in 15:02 over Burke Lake's 2.98 mile course, where his brother, Sean, won [button-red url="https://www.facebook.com/pages/Ed-Lull-Track-XC-Pictures-Northern-Region/106970012725268″ target="_self" position="left"]Photos and video by Ed Lull [/button-red]two years before. Behind him, Kevin Monogue and Alex Corbett finished second and third to lead Lake Braddock to a dominating win over West Springfield at the annual Northern Virginia season opening cross country meet. The Bruin duo led two more runners across the line in the top 10 (Colin Schaefer in seventh and Ben Fogg in ninth) to open a gap other teams had few hopes of closing. Defending 6A state champion Chantilly was fifth.
"I wanted to try to run 4:50s for the first two miles and hang on until the finish," McGorty said. "I was about 9:53 at two miles, so I slowed down after I got away from (Westfield's Johnny) Pace, but it felt great to hit '53 for two and keep going.
"In that last mile, I started to feel the heat a little, but I didn't see anyone in my peripheral vision so I took a chance and went for it. I wanted to get under 15 but I'll take 15:02."
He'll likely have his chance later; of the boys who have run under 15 minutes, all but one (Eric Kweeder, 1996) did it later than the Monroe Parker, according to Northern Virginia Cross Country/Track and Field Association records.
Race start times, ordinarily the least consequential of the five Ws, played a big part in the varsity races, with the boys' gun going off at 11:15 and the girls' at 11:45.
"We were very careful today," Lake Braddock coach Mike Mangan said. "We stayed back for a mile and a half. With temperatures like these, you'll hit the red line really fast."
Though the Bruins graduated three runners from their state runner-up team the year before, they also lost a few underclassmen whose families moved. But, in a fortunate coincidence, one new runner, Schaefer, moved into a departed runner's house.
"The start was a little funky, Alex and I didn't get out all that fast," Monogue said. "We made up a lot of time in the campground and had a good pack through the second mile."
The pair broke away in the third mile and Monogue edged Corbett by one second in 15:24.
Annandale's Aviad Gebrehiwot finished fifth (15:48) in a race he said demonstrated the gains he had made over the summer.
"I knew it at two miles," he said. "Usually, I'm absolutely dead heading up that hill (into the parking lot), but I had the strength to keep attacking there. It helped I was with a bunch of other great runners today. I've just never felt so strong on this course before. "
In the girls varsity race, a half hour later and even hotter, Chantilly senior Xaveria Hawvermale and James Madison senior Amanda Swaak battled for more than 2.5 miles before Swaak made a move with 600 meters to go that Hawvermale couldn't cover.
It was a much better result than Swaak expected, as recently as before the gun fired.
"I've had a hard training week, I didn't feel that good," she said. "Even on my warmup, I was going slowly and didn't know what to expect. I didn't want to focus on the time because of the weather, so I was just going to run for place."
She got stuck back in the lead pack early in the first mile, but before long had caught up with Hawvermale, at which point theybroke away.
"It was nice racing with her, because we worked together," she said. "I don't think I could have run as fast on my own."
Hawvermale said she was not made for running in the heat, but she put on as brave a face as she could for her team's sake and took a shot at the win. After racing sparingly in her first two years, she has had an unprecedented year of good health and is excited to build on that as the season progresses.
"Heat's something I struggle with, but when it gets cooler I should feel better," she said. "I'm much better off trying to run longer races, I avoid running the 800 on the track at all costs, so having weather where I can run hard will help."
Swaak's teammate, junior Morgan Whittrock, also was less than thrilled about the temperature, but she still managed to finish eighth, leading the Warhawks to a 75-99 win over Lake Braddock.
"It was beating on me," she said, "but I knew everyone had been out here for hours, just like us, so I tried to go out there, take it and race them."
James Madison sophomore Devon Williams finished 20th in her first cross country meet.
"She ran on our 4×8 team at states, so she's used to the competition, but three miles was a whole new race for her," said coach Craig Chasse. "The team as a whole, they did their work over the summer, they're off to a good start."
So is Chantilly freshman Harrison Shay, who ran 19:12 in the freshman boys' race for his first cross country meet.
"I felt awful at the end, and it wasn't even as hot as the later races," he said. "I was just trying to get up the next hill, around the next tree. I made it, and I didn't die."
A family running background got Shay into running, including an uncle who runs marathons.
"I liked being competitive," he said, noting that he eschewed team racing to go after his opponents one by one. "I think I'll stay with this."
0
Comments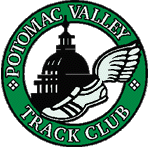 When it comes to Fourth of July racing, the Potomac Valley Track Club (PVTC) Go Fourth 8k is about as humble as a summer family barbecue. There are a number of Independence Day road races in the DC area, but PVTC's 8k is the D.C. area's best mile-per-dollar deal.
The weather was merciful early in the morning. Cloudy skies and a gentle breeze kept things fairly comfortable in the mid-70's despite the humidity.
"Well, we've got about 10 minutes. Maybe we should mosey on down to the start line." With those words from a race official, the crowd walked from the registration site to the race's starting point, a simple sign standing over a chalk line near the 12-mile marker on the W&OD trail. Brian O'Hara of Arlington liked this race for its distance; according to him, 8k is a good distance, especially for the $8 early registration price (race-day registration still only cost $20). He and his group of three other Arlington residents ran at the Go Fourth 8k last year, when it was in Bluemont Park.
The decades-old race has jumped around the D.C. area, with former locations in Alexandria, Hains Point, and Arlington before this year's debut in Vienna. PVTC President Craig Chasse said the W&OD trail worked well for the expected crowd size of 100-150 racers. Caitie Meehan of Alexandra liked the location. "Vienna is beautiful," she said, adding that she liked to get up and do something fun before the holiday celebrations.
The PVTC hosts five road races each year and a series of popular all-comers outdoor track meets throughout the summer. The Go Fourth 8k is third in the road race series, with the Cranberry Crawl 5k and 10k scheduled for November 23 and the Christmas Caper 5k and 10k in December.
The club has about 250 members, and race volunteers noted that it's nice to see regulars at events. The Go Fourth race itself was started decades ago by racewalkers in the club, a group still represented in this year's Go Fourth. John Morrison of Essex was the first place racewalker.
This is definitely a no-frills race. Participants were assigned leftover race bibs from past local competitions. The group sang the national anthem together on the starting line, while bikers and other trail runners stopped and joined in. The water station featured a single volunteer standing on the side of the trail. The short finish chute allowed another volunteer to string finishers' tags in order. The post-race festival offered cookies and watermelon.
Kristin Lubeck was in town for the holiday, and said she chose this race to fulfill her "one race a month" goal; plus, she used to run on the W&OD trail when she lived in Falls Church. She looked forward to a day of barbecue, pools, and, her favorite, fireworks.
Jonathan Baker of Cambridge, Mass., had at least a 60-second lead with two miles left, and opened the gap to win by nearly 3 minutes to finish in 27:15. Craig Chasse of Reston and Luis Navarro rounded out the top three finishers. DC's Rachel Clattenburg also won handily with a time of 33:16, finishing fifth overall. Macy Louise Warren of Springfield came in second place (35:55), closely followed by Gillian Livingston of Vienna (36:02).
There were almost 100 racers scattered along the trail, but you couldn't miss Irene Gillenwater. Decked out in red, white, and blue from head to toe, he visitor from Wheelersburg, Ohio, said her wide skirt and patriotic headband didn't slow her down; the spirited runner said she always dresses up for the holidays. After the race, she planned to go forth and watch the fireworks downtown that night.
[button-red url="http://pvtc.org/20130704.html" target="_self" position="left"] Results [/button-red]
2
Comment