The starting line was crowded when George Mason showed up for the cross country conference meet this fall, especially for the men.
Instead of facing off against four other teams, the scene at the last Colonial Athletic Association meet, the Patriots were one of 13 teams in the Atlantic 10. The women had previously competed in a pool of eight teams. In their first year in the A-10, the Mason men finished third and the women eighth, with Bethany Sachtleben winning the overall women's title. Longtime conference member George Washington finished 11th in the men's race and didn't score in the women's race after a runner dropped out with an injury.
"There's a lot more depth in the A-10," said Patriots coach Andrew Gerard. "For a few years, the CAA has been a dual meet between us and William and Mary, and that got old after a while. Now we have some new faces, new teams to compete against. We always want to have our best races at championship meets, so now we have a new challenge."
The men's field in the CAA has atrophied as James Madison and Delaware cut men's programs and Virginia Commonwealth and Georgia State left the conference.
Early leader Michael Conway (11th, 24:22) and John Holt (14th, 24:27) led the way with all-conference awards at Pole Green Park in Mechanicsville, Va., but Wil McRenolds (23rd, 24:43) Alex Ott (24th, 24:44) and Craig Morgan (25th, 24:45) all broke 25 minutes over 8k for the first time, closing the team's scoring and locking the Patriots in with 97  points behind La Salle (27) and St. Joseph's (75).
The men sported 10 finishers, a far cry from August 2008 when Gerard arrived with three distance runners on the roster.
"We're light years ahead of where we were then," he said. "Now we're consistently getting looks from kids who can run 9:20 for two miles. We've been doing most of this work with home-grown kids, and that's what's been exciting — watching them develop."
One such runner was formerly-home schooled Sachtleben. Having led the Patriots throughout her entire first year, she found herself in the middle of a sophomore slump.
"I think I came back a little complacent," she said. "My first three races, I felt like I shouldn't be hurting that much, I didn't want to push it, so this race was the time I wanted to leave everything out there, because the pain would be nothing compared to what I'd feel after the race was over and I'd cross the line in first."
As the pack meandered through the first mile on slightly rolling but hard ground, she was comfortable and a few rows back from the lead.
"I felt like I was jogging, but had to stay patient because someone was going make a move any time," she said.
That someone was Richmond senior Jill Prentice, who won the 2011 conference title and saw the Pole Green course with relative familiarity.
"I went with her and decided to wait until she tired out and make my move then," she said. "It happened right before the second mile mark and I just went for it. I didn't know if she'd have anything left at the end, and I didn't feel safe until the last bend."
She cruised to an eight-second margin in 16:54.
"She's gained a lot mentally this season over last," Gerard said. "Last year, she'd do anything in a race, do it well and take it at face value. Now she has something to look back on and compare it to. It's better than being a blank slate."
He also commented that the 5k distance put her at a disadvantage, because she tends more toward long races. She qualified for the first round of the NCAA outdoor track championships last spring in the 10k.
"We'd be much happier if this was an 8k or 10k for her," he said. "Sometimes these shorter, faster races exposes her to some shortcomings."
With a hilly 6k coming up Nov. 15 in Charlottesville, Sachtleben isn't ready to move too far up in distance just yet. But she isn't the only long distance specialist at GMU. Holt finished third last spring at the Rock 'n' Roll USA Half Marathon, running 1:08:20.
"John had been putting in 130 miles for five weeks and he really thrives off of that, though you couldn't tell by looking at this body type," Gerard said. "He built that up over a long time and we figured it would be a good challenge for him to put that to the test."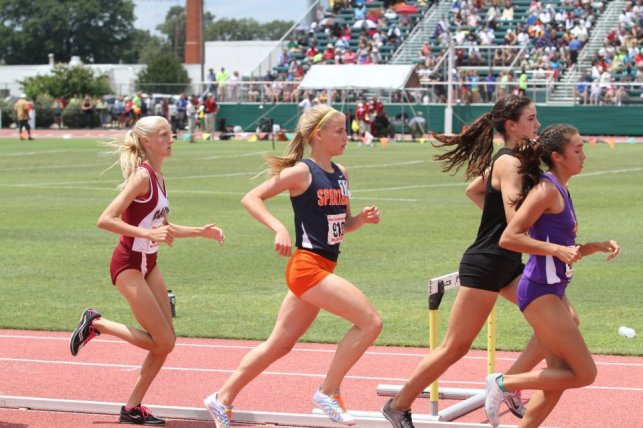 While she was worried about increased weekly mileage, fitting into a new team, and balancing running with schoolwork her first time away from home, Maddie Wittich's decision to run in college was ultimately easy.
"I can tell from the way I feel during my runs that I have so much left in me and I feel like I need to keep going," said Wittich, who is entering her freshman year at the University of Richmond. "I still want to improve so much and get new PRs and I know that college will offer that to me."
Wittich knew during her freshman year at West Springfield High School in Virginia that running in college was an option, having watched two of her senior teammates go on to run at Virginia Tech. She didn't seriously consider it, though, until her junior year, when she began receiving letters from college coaches and her dad, a marathoner, encouraged her to look at her opportunities. She toured Lafayette College, Virginia Tech and Richmond without contacting the coaches first.
"If I liked the school itself, I'd contact the coach to see if the program was interested in me," she said. "That's what I did … because I wanted to make sure I liked the school first."
She ended up visiting Richmond several times before contacting the coaches. The first was just a campus drive-through with her dad. When she liked the campus, her mother took her back for an official guided tour and visit. She fit firmly into one of Herndon High School coach Peter Sherry's typical prospective collegiate runner categories: She knew where she wanted to go and thought about competing later.
Other categories include students choosing a program based on the amount of scholarship money available and students who choose their college based on whether they can run on the team.
Wittich contacted the coaches during her junior year and the following summer made her official visit. The next fall, she had a partial scholarship offer and plans made for the next few years. The Springfield native is one of three new freshman girls to join the team this year, including Osborn High School's Emma Nowak.
Her approach to picking a college didn't surprise her coach, Chris Pellegrini.
"She's always been very mature," he said. "Her teammates call her either 'mom' or 'grandma' because she's the one they look to for leadership."
With fewer than 20 women on the Richmond Spiders, the coaches' personalized attention made her feel like she wouldn't get lost in the crowd.
"At a lot of big schools, I think there are so many athletes that the coaches have to focus on that they don't get personal focus," she said. "Richmond doesn't have that many athletes, so [the coaches] fit the program to you and make it very personalized. The coaches care a lot about each individual athlete."
Wittich is already working on a personalized training plan designed by Richmond coaches Lori and Steve Taylor and assistant coach Jon Molz. It includes speed workouts, strides, and longer runs once a week combined with other basic runs to hit about 40 miles a week. Her total weekly mileage will increase to about 60 by the end of the summer.
She comes from a lower-mileage high school program that emphasized quality. While college would mean more miles no matter where she went, she was looking for a college program with a similar philosophy.
"It'll be higher mileage, but I'm pretty sure I'm ready for that. If something starts to hurt, I'll contact my coaches," said the athlete, who remained injury free through four years of competitive high school running.
Other things that influenced her decision to continue running in college included the opportunity to run with and against skilled athletes, the chance to travel with the team, and the outlet of a team to make new friends. There were some negatives she had to weigh in her decision. She won't be able to go out every weekend like a lot of college freshman, and will need to focus on eating well, taking care of herself, and getting a good night's rest. However, she said she's already gotten used to living this kind of lifestyle after running four years competitively in high school.
Newfound freedom, and its pitfalls, are a major obstacle for freshman student athletes. Debbie Wilson, associate athletic director for academic affairs at George Mason University, said time management skills are the crucial link between success and struggling with college academics and athletics.
"College athletes are typically sleep deprived," she said. "They need the same seven or eight hours as a normal college-aged person, but they need additional resting time to recover from what they're doing to their bodies."
Wittich is a little worried about balancing school work with training her first time away at school. The Richmond team practices from 7:30 to 10 a.m. every day, with additional time spent cross training solo each afternoon.
"It's a different team, a new set of coaches to get used to, and adjusting to college at the same time," she said. Luckily, Wilson said, most colleges, and especially Division I schools, have full-time academic support staff on hand to assist students with their college transition. That said, collegiate athletes tend to graduate on time more than non-athletes
and with higher grades.
While Wittich may be running more miles and more hours, she won't be competing as often. While high school
runners have races every week, college athletes only compete every other week, she said. Now that she's formally committed to Richmond and is preparing to get started training with the team in August, she's happy with her decision.
"I'm very confident with my decision," she said. "I believe I'll have an absolutely awesome time, I've heard nothing but positive things about the Taylors' program."
She can only hope her college experience mirrors her running career thus far.
"I joined cross country my freshman year to make friends before going into high school, because I'd heard how scary
it is and knew it would be good to join a sports team," she said. "I knew there would be great people and that's exactly
what I got. I love team and will miss them. It was a great atmosphere, the coaches were fantastic. It opened up a lot of great opportunities for me."
Wittich is a member of the Class of 2017, but she expects to be a runner for life.
"I am unbelievably happy I decided to start my freshman year because I've really come to love the sport," she said. "I will definitely continue to do it. I'd love to do a marathon at some point when I'm done with college, that's one of my big goals."
For athletes interested in competing collegiately, Herndon High School Coach Peter Sherry, who has 11 former athletes running collegiately now, has a few pieces of advice:• Pick the school regardless of who is coaching, or even regardless of whether you are running. "Going to school somewhere is different if you're running than if you're injured. Like the actual school you choose."•When looking at a college, don't spend too much time getting to know the juniors and seniors on the team. "They'll be gone by the time you get there. Hang out with the freshmen and sophomores, they'll be your teammates for a few years."• If you want to run in college, you can make it happen. "It might be a matter of going somewhere out of state or a smaller school, but there are opportunities for everyone to run for a college team."
By Dickson Mercer
If Bethany Sachtleben tries out for cross country at George Mason University this fall, she will lack the high school running experiences other rising freshman will surely have.  On the other hand, Sachtleben, 20, who won this morning's second annual Let Freedom Run 5K in Fairfax, VA in 18:26, has already run a marathon, which is uncommon for a runner her age.
[button-red url="http://www.swimbikerunphoto.com/category/clients/pacers-racing/" target="_self" position="left"] Photos [/button-red]Sachtleben, by the way, didn't just finish a marathon. In March, at the inaugural SunTrust Rock 'n' Roll USA Marathon, the tennis and soccer player from Manassas, VA was 2nd in 3:08:43. (Sachtleben was home-schooled, she said, and starting running "casually" a few years ago.)
As for this Independence Day 5K, Sachtleben, who entered the race with a goal of breaking 20 minutes, said, "I think it was a lot more exhausting than the marathon because you just have to be all out the entire time. And it was nerve-wracking because I wanted to win, and there's such a short time.
She won by more than a minute, and her time of 18:26 – on a sunny and humid morning – was well under her goal.
Meghan Blackstone, 18, of Bristow, VA (shown right) was 2nd in 19:27. Kristi Markowicz, 42, of Arlington, VA took third overall and the master's title in 19:36.
In the men's race, Philippe Rolly, 39, of McLean, VA set the pace through the opening mile in around 5:10. Around halfway, though, Rolly was caught by last year's winner, Jordan McDougal, who cruised to repeat victory in 16:06. Rolly held on for 2nd in 16:42.
Heading into the race, Rolly had hoped to run about a minute faster, he said, but the heat and rolling course proved to be too much.
Rolly, meanwhile, has bests of 2:19 in the marathon and 29:40 for 10K, and for years ranked among this region's best. In his mid-30s, with three children and a busy job, he lost interest, he said. As of late, though, Rolly, native to France, has been on something of a comeback. At the beginning of this year, he returned to training with a simple goal: to return to solid form before Aug. 24, when he will officially become a master.
As for McDougal, it was amazing he was racing at all. On Saturday, the 25-year-old national 50K champion and North Face-sponsored ultra runner was in Ecuador for a 50K race in which he got lost, got sick, and failed to finish.
This morning, he came out to support the racing team he has helped to organized for The Running Store in Gainesville, VA, he said. As it happened, three of his teammates were not far behind 3rd place finisher Eric Makovsky, 39, of Washington, D.C., who ran 17:18. Rob Bell, Keith Freeburn, and Joe Blackstone – all from Gainesville – were 4th through 6th, respectively.
"I was coming out to run with them today," McDougal said. "If it wasn't for them, I probably wouldn't have been out there."
The Let Freedom Run 5K is staged on a loop course that starts and finishes at Fairfax Corner Shopping Center.  And as runners warmed up this morning in the parking lots or on a coned-off stretch of the course, it seemed for a time that they might at least benefit from overcast skies and a bit of a breeze.  About 15 minutes before the 9 a.m. start, though, out came the sun, and with it the expected heat.
It hardly deterred "Team Scotland," a family team of six that featured Bob Johnson, 51, of Oakton, VA, his wife Carrol Anderson, 53, and Carrol's sister, Gillian Anderson, 49, visiting from Edinburgh, Scotland.
Johnson noted that their Oakton home lost power for two days after Saturday's storm. "But it didn't keep us from training on Sunday," he said.
Andrew and Martina Crichton of Woodbridge, VA turned Let Freedom Run 5K into a family outing as well. Their youngest daughter, Alex, 1, was along for the run in a jogging stroller. Their older daughter, Melissa, 4, ran the Kid's Dash, which started an hour after the 5K.
The family's jogging stroller has gone up to a half marathon so far, Crichton said, who added that he hopes bringing his children to road races will set a positive example of healthy living.
Incidentally, the Let Freedom Run 5K's course also hosts the Halloween-themed Goblin Gallop, in which many participants race wearing costumes. For Let Freedom Run, the costumes stay at home, but participants in this young race have nonetheless started a tradition of celebrating Fourth of July by, for example, sporting the red, white and blue race t-shirt, carrying small flags, or wearing Uncle Sam top hats.
Debbie Whitfield, 39, of Potomac Falls, VA ran the race with her son, Tyler, 7. Tyler's older brother ran as well, she said.
"My husband and I will run our races" – including marathons – "on our own," she said. "Then we like to come and run with [our sons]."
Whitfield's parents were there to cheer them on.
"So it's a big family outing," she said. "We'll probably get together later and have a picnic, watch the fireworks. This is a great kickoff to Independence Day."