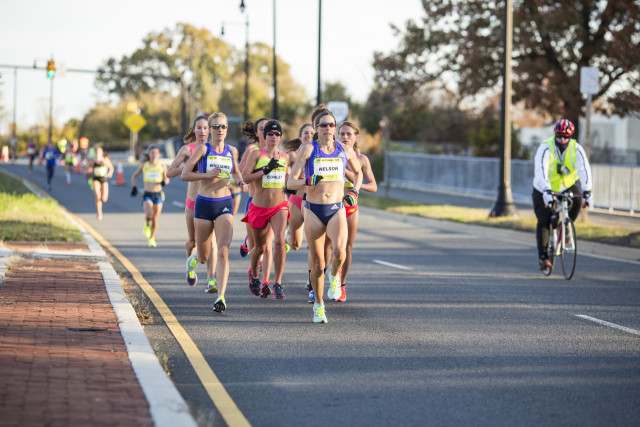 Molly Huddle took control from the start of the .US National 12k and concluded her scorched earth campaign through the USATF Running Circuit.
Since a last-second kick for third by Georgetown alumna Emily Infeld kept 31-year-old Huddle off the World Championships 10k podium, she has dominated the road racing scene, recording wins at 20k, 5k, 10 mile and 10k to win the domestic professional circuit.
[button-red url="http://www.areep.com/events/usatf12k/2015/" target="_self" position="left"] Results [/button-red]"I knew that was the safest way to win, to go out hard," she said of the 12k race. "I thought I could keep running 5:10 (per mile), but I knew Sara (Hall) and Kim Conley can finish really well. I was looking over my shoulder a little bit."
Her 38:36 finishing time for 7.45 miles gave her a 5:11 average and a 26-second win over Hall.
She opened a three-second lead by the first mile and crossed 5k in 16:05, 8k in 25:49 and 10k in 32:19.
"I didn't feel like my legs had much pop," she said. Despite her solitary race, "I couldn't have just done this in a workout, I need the adrenaline of a race to run like that. I think these road races definitely give you a bump you wouldn't get otherwise."
[Best_Wordpress_Gallery id="2″ gal_title=".US National 12k 2015″]
She'll take a long break until mid-March's United Airlines NYC Half Marathon before focusing on either the 10k or 5k with an toward the Olympics. She ran the 5k in the 2012 London Olympics. Her Providence-based training group includes last year's 12k runner up, Emily Sisson, who did not race this year.
Huddle has won each of the three 12k championship races contested in Alexandria. The contract for the race ended this year and the future of the race has not yet been determined. The overall race field has grown steadily, with 1,001 finishers, up from 933 last year and 713 in the inaugural race.
A chase pack stuck together behind Huddle on the out-and-back course on the George Washington Parkway, a change from last year when her pursuers strung out early.
"We had a huge group up there and it was a lot more fun," said third place finisher Alisha Williams, of Boulder. "People were throwing in surges, making moves, really racing."
Williams was 11th here last year, after an injury-riddled season, and this year's 12k comes at the end of series of successful road races. She was in the hunt for second as the chase pack neared the last mile.
"Coming off of the downhill, I knew I had to get things going," Williams said. "I like to do a long kick, and I was worried about Kim, because she's fast. The three of us battled for a long time; It was racing at its finest."
Though the last 1200 meters on Union Street to Oronoco Bay Park can be tricky, but kicking that early wasn't daunting to her.
"That last stretch looks long, but I knew it was just three-quarters of a mile," she said. "Once you think of it as just three laps of the track, it doesn't seem that bad."
Hall ultimately came out on top, invigorated in part by a the support of a cheering section assembled by a Stanford track teammate a mile from the finish. Her runner-up finish came five weeks after racing the Chicago Marathon in 2:31:14.
"I didn't really know what I had, but I felt fresh and I surprised myself with my kick at the end," she said. "The hardest part was the beginning because it was so fast, but as we went on I got in a rhythm and by the end, I was feeling pretty good."
The race went off without the chilly wind that marked the 2014 championship, which suited Hall.
"It seems like I raced on a lot of unseasonably warm days this year, so this was a nice change," she said. "It makes sense, though, D.C.'s my favorite place to race on the East Coast. It seems like it's always cool when I come here."
41-year-old Jen Rhines set a U.S. master's 12k record in 40:04, finishing 12th.
She ran with her B.A.A. teammates for most of the race, 15 days after running 1:12:45 at the Rock 'n' Roll Philadelphia Half Marathon.
"I ran about 29 seconds faster than last year, but I was hoping to run faster, finish a little higher," she said. "I'm in solid shape, I just want to improve from here."
She's taking a sabbatical from her non-running job, as a corporate accountant, to focus on preparing for the 5k and 10k at the Olympic Trials.
Perry Shoemaker, of Vienna, was the top master, by virtue of Rhines' participation in the advance start for professionals. Shoemaker's 42:03 came as a nearly-50-second improvement over last year, representative of the Fall season she has had that also saw her finish second at the Army Ten-Miler, a finish that wildly exceeded her expectations, at 44. She was the first local woman to finish the 12k.
"I planned on going out strong and finding a pack of men to run with," she said. "I was consistently faster than last year's race in every phase."
She chalks her success up to a lot more speed work as of late.
"I knew I had the potential to run faster," she said. "I did a lot of cross training while I was injured and when I could run again, I've made the most of it."
The Genesee Valley Harriers won the 40+ and 60+ national masters team titles and the Athena Track Club's B team won the 50+, Purcellville' Joan Hunter among the team members.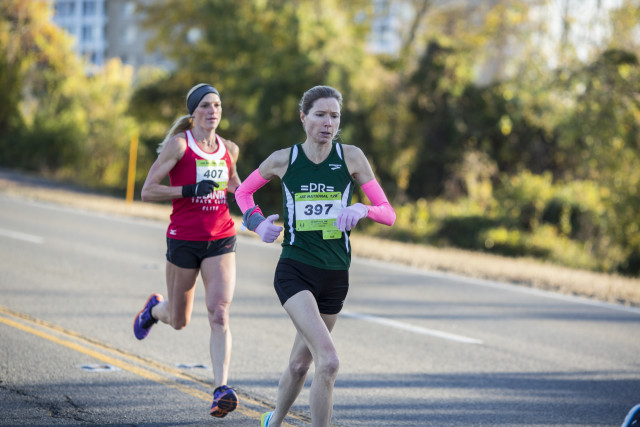 0
Comments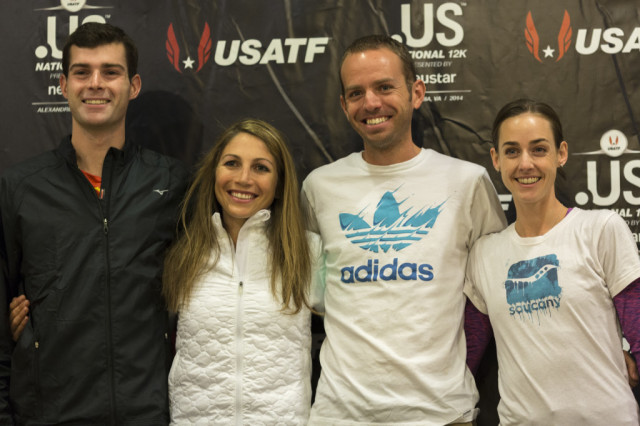 For the second year, the .US National 12K championships will be held in Alexandria, capping off the 2014 USA Running Circuit (USARC).
How it works: The USARC each year hosts national championships at distances ranging from one mile to the marathon. The first 10 U.S. runners at each race earn points, and also qualify for the 12K, which features $100,000 in prize money. Points are doubled at both the 12K and in the marathon.
***
Heading into tomorrow, Falls Church native Christo Landry, with 76 points, has an insurmountable lead in the men's standing. Landry is entered; Tyler Pennel, second in the USARC standings, is not.
Pennel established himself on the national stage at last year's 12k, finishing 3rd. In October, he won his first national title in his debut marathon.
For Landry, 2014 has been nothing less than a breakthrough year. In April, he won his first of three national championships on his home turf at the Cherry Blossom Ten Mile Run, prior to capturing titles at 10K and 25K. Five weeks ago, Landry was 13th in 2:14:30 at the Chicago Marathon. The result disappointed him.
Tomorrow, though, Landry, a graduate of Thomas Jefferson Science and Technology then William & Mary, who recently moved from Michigan to Charlotte, N.C., will give it his best shot, and, no matter the result, claim a USARC title and savor the opportunity to race in northern Virginia. "It's just great to come home," he said. "I grew up right nearby and anytime I get to come back to this area it just feels like coming home again, regardless of where I live at the moment."
During a press conference today, Kevin Ullman of RunnerSpace pointed out that Landry and Molly Huddle have a shot at becoming the first runners to ever claim four USA titles in one year.
Landry, after noting how special that would be, said, "It's more likely to be Molly's chance to do it first than mine tomorrow."
Huddle, the defending 12k champion and clear favorite, is just two points behind Sara Hall in the women's USARC standings. Both will race tomorrow.
"That's a pretty detailed stat," said the understated Huddle, to Ullman's question, "but I think it would be pretty special [to win four titles]."
Huddle has raced three USARC races and won as many times, claiming titles at 7 miles, 20K, and 5K. Last year, for Huddle, 12k, as a distance, seemed both strange and too long, even if she covered it in a national record time. This year, though, Huddle said she has a good "pace memory" for the distance and is focusing on winning a national championship. "Hopefully however fast we have to go I'm ready to do that," she said.
Hall, throughout her career, has had tremendous success in the middle distances on the track, but said she has had fun – not to mention success – experimenting with longer distances this year. She was the second American finisher at the Cherry Blossom Ten Mile Run, which hosted the national championship, and won and set a course record at the EQT Pittsburgh 10 Miler last weekend.
Had it not been for a burst appendix in August, Hall, who is married to American marathoner Ryan Hall, planned to run her debut marathon earlier this fall. That plan has simply been postponed.
"After this race I'll probably be turning the corner to more marathon specific training," she said.
***
After many near misses, Aaron Braun won his first national title at last year's 12k, "getting over the mountain," he said.
Braun added: "Once I know that I've done something once, then I have a lot more belief that I can do it again."
Braun's 2014 has been up and down. His debut marathon didn't go well. And in July, Braun, feeling overly fatigued, took a long break to recharge.
But Braun has since won the Great Cow Harbor 10K and San Jose Rock 'n' Roll Half Marathon, and is now focused on defending his 20K title. "I feel like I'm in as good of shape, if not better shape, than last year, so I should be able to pull it off again this year," he said.
Believing gait inefficiencies contributed to his difficulties in the marathon, Braun worked on his form, starting with a visit to Mark Plaatjes, a former world marathon champion and physical therapist, for video analysis.
"As soon as I watched the video, I was kind of like, 'Oh, gosh, that's pretty bad.' You always feel like you are the most beautiful runner, but when you actually see, actually critique yourself, it was kind of a good view into what was actually happening," he said.
Braun has been doing strengthening drills and has been more conscientious of not leaning too far back while running.
"Hopefully it pays off tomorrow and in my future marathons," he said.
***
A USATF spokeswoman said 1,300 runners will participate in tomorrow's race. It will be run on a different, and out-and-back, course, but will start and finish in the same place, near Oronaco Bay Park. (See map.)
The elite women will start at 7:15 a.m. The elite men, masters, and open race will start at 7:25. To watch online, see the live stream.
Lucas Meyer, a lawyer living in Washington, D.C., is in the men's elite field. See both elite fields.
RunWashington will cover both the elite men's and women's races. Follow @runwashington and @dicksonmercer for updates.
0
Comments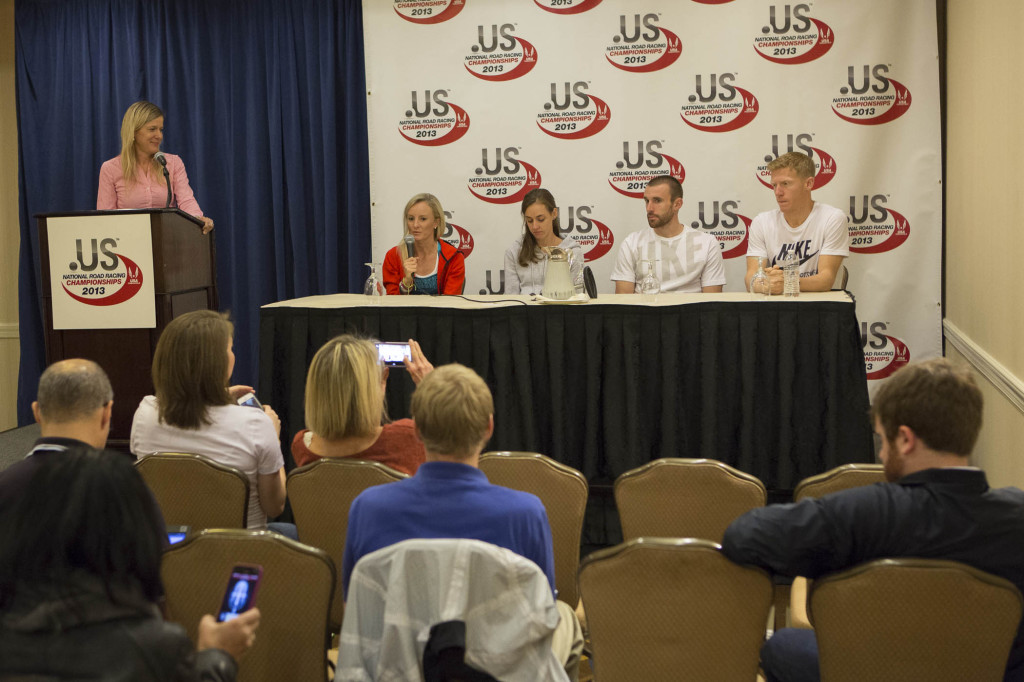 The 2013 USA Running Circuit (USARC) will culminate tomorrow morning on the streets of Alexandria, where some of America's best distance runners will compete for $100,000 in prize money, including $20,000 for the winners. The inaugural .US National Road Racing Championships – USA Track and Field's first wholly owned-and-operated road race – will take runners of all abilities on a 12k journey starting and finishing near Oronoco Bay Park, a spot local runners know well.
How it works: The road racing series includes national championships for races ranging from a mile to the marathon. The first 10 U.S. runners at each race earn points, with 15 points awarded for 1st, 12 for 2nd, and 10 for third. Tomorrow the top 10 finishers will earn triple points, which provides extra incentive for runners farther down on the leaderboard.
The top three on the men's side – Matt Tegenkamp (60 points), Shadrack Biwott (52), and Josphat Boit (50) – are entered. Among the top three women in the standings – Mattie Suver (47), Janet Bawcom (45), and Annie Bersagel (30) – only Bawcom is not entered.
As for tomorrow's favorites, keep an eye out for Shalane Flanagan (15) and Molly Huddle (15). On the men's side, Tegenkamp will be joined by training partner Chris Solinsky. Both fields are deep.
Brian Pilcher of Ross, Calif., and Kathryn Martin of Northport, N.Y., rank among the top entrants in the national masters championship.
Not Your Average Distance
Quick question for everyone running tomorrow: What's your 12k PR?
Exactly.
So how do you approach such an unfamiliar race distance?
Do you – as was suggested in a question to Huddle at a press conference this morning – race 10K and try to hang on for two more?
"More or less," said Huddle, who won the national 5k championships in September and the NYRR Dash to the Finish 5k two weeks ago (Flanagan was 3rd).
"This is pretty long for me," she said, "but I am excited to see what I can do over 12k and I think it is a pretty interesting distance for everyone else to try."
Asked to share his advice for taking on the 12k, Solinsky said to "find that comfortable rhythm that you are very confident you could do 10K or more at." If you feel good at halfway, go for it.
"Through the training," Tegenkamp said, "you have learned what you can handle in terms of pace." Late in the race, though, when things get tough, turn on the competitive switch. "That's what racing is all about," he said.
Flanagan won a national title this summer at 10,000 meters and went on to finish 8th in the world in Moscow. Tomorrow marks her debut at 12k.
"I am in the same boat as they are," said Flanagan, referring to the many runners who will race 12k for the first time tomorrow.
"It's a distance that I've never done. It's a brand new PR – so you have to just embrace it for the fun factor."
Flanagan's plan is similar to Tegenkamp's and Solinsky's: "I try to be smart the first half and then I switch over to being competitive – and that usually helps me pull out all the extra energy I have."
USATF spokesperson Jill Geer said 12k allows 5K specialists and marathoners to "compete on relatively even footing." But it's also a great distance for an event designed to celebrate both our sport's best runners and the many participants of all ages, levels of seriousness, and talent.
If you haven't run a 12k before, it's hard to cross the finish line, see the clock, and be disappointed. Take it from the first American to ever break 27 minutes for 10,000 meters.
"I've never run a 12k before so I know I'm going to get a PR tomorrow," Solinsky said.
Details
The women's championship race starts at 7:15 a.m. The men's championship, master's championship, and open race (also being referred to as the "community race") starts 10 minutes later. A 5k race starts at 7; a half-mile "Kids' Fun Run" starts at 9:30.
The 5K will include about 30 girls from the local Mount Vernon Woods Elementary School. The girls trained together for the race and Olympian Deena Kastor said she plans to meet them at the starting line for a pre-race pep talk. ("I think our greatest job as elite runners," she said at the press conference, "is to be able to inspire the Olympians of tomorrow.")
The race will be streamed live at USATF.TV.
RunWashington will cover both the men's and women's races.
0
Comments