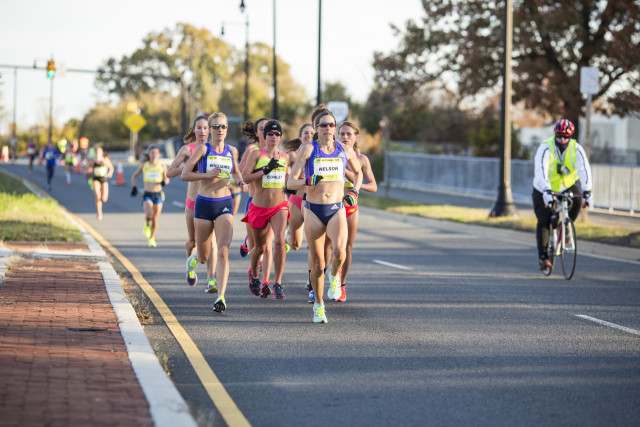 Molly Huddle took control from the start of the .US National 12k and concluded her scorched earth campaign through the USATF Running Circuit.
Since a last-second kick for third by Georgetown alumna Emily Infeld kept 31-year-old Huddle off the World Championships 10k podium, she has dominated the road racing scene, recording wins at 20k, 5k, 10 mile and 10k to win the domestic professional circuit.
[button-red url="http://www.areep.com/events/usatf12k/2015/" target="_self" position="left"] Results [/button-red]"I knew that was the safest way to win, to go out hard," she said of the 12k race. "I thought I could keep running 5:10 (per mile), but I knew Sara (Hall) and Kim Conley can finish really well. I was looking over my shoulder a little bit."
Her 38:36 finishing time for 7.45 miles gave her a 5:11 average and a 26-second win over Hall.
She opened a three-second lead by the first mile and crossed 5k in 16:05, 8k in 25:49 and 10k in 32:19.
"I didn't feel like my legs had much pop," she said. Despite her solitary race, "I couldn't have just done this in a workout, I need the adrenaline of a race to run like that. I think these road races definitely give you a bump you wouldn't get otherwise."
[Best_Wordpress_Gallery id="2″ gal_title=".US National 12k 2015″]
She'll take a long break until mid-March's United Airlines NYC Half Marathon before focusing on either the 10k or 5k with an toward the Olympics. She ran the 5k in the 2012 London Olympics. Her Providence-based training group includes last year's 12k runner up, Emily Sisson, who did not race this year.
Huddle has won each of the three 12k championship races contested in Alexandria. The contract for the race ended this year and the future of the race has not yet been determined. The overall race field has grown steadily, with 1,001 finishers, up from 933 last year and 713 in the inaugural race.
A chase pack stuck together behind Huddle on the out-and-back course on the George Washington Parkway, a change from last year when her pursuers strung out early.
"We had a huge group up there and it was a lot more fun," said third place finisher Alisha Williams, of Boulder. "People were throwing in surges, making moves, really racing."
Williams was 11th here last year, after an injury-riddled season, and this year's 12k comes at the end of series of successful road races. She was in the hunt for second as the chase pack neared the last mile.
"Coming off of the downhill, I knew I had to get things going," Williams said. "I like to do a long kick, and I was worried about Kim, because she's fast. The three of us battled for a long time; It was racing at its finest."
Though the last 1200 meters on Union Street to Oronoco Bay Park can be tricky, but kicking that early wasn't daunting to her.
"That last stretch looks long, but I knew it was just three-quarters of a mile," she said. "Once you think of it as just three laps of the track, it doesn't seem that bad."
Hall ultimately came out on top, invigorated in part by a the support of a cheering section assembled by a Stanford track teammate a mile from the finish. Her runner-up finish came five weeks after racing the Chicago Marathon in 2:31:14.
"I didn't really know what I had, but I felt fresh and I surprised myself with my kick at the end," she said. "The hardest part was the beginning because it was so fast, but as we went on I got in a rhythm and by the end, I was feeling pretty good."
The race went off without the chilly wind that marked the 2014 championship, which suited Hall.
"It seems like I raced on a lot of unseasonably warm days this year, so this was a nice change," she said. "It makes sense, though, D.C.'s my favorite place to race on the East Coast. It seems like it's always cool when I come here."
41-year-old Jen Rhines set a U.S. master's 12k record in 40:04, finishing 12th.
She ran with her B.A.A. teammates for most of the race, 15 days after running 1:12:45 at the Rock 'n' Roll Philadelphia Half Marathon.
"I ran about 29 seconds faster than last year, but I was hoping to run faster, finish a little higher," she said. "I'm in solid shape, I just want to improve from here."
She's taking a sabbatical from her non-running job, as a corporate accountant, to focus on preparing for the 5k and 10k at the Olympic Trials.
Perry Shoemaker, of Vienna, was the top master, by virtue of Rhines' participation in the advance start for professionals. Shoemaker's 42:03 came as a nearly-50-second improvement over last year, representative of the Fall season she has had that also saw her finish second at the Army Ten-Miler, a finish that wildly exceeded her expectations, at 44. She was the first local woman to finish the 12k.
"I planned on going out strong and finding a pack of men to run with," she said. "I was consistently faster than last year's race in every phase."
She chalks her success up to a lot more speed work as of late.
"I knew I had the potential to run faster," she said. "I did a lot of cross training while I was injured and when I could run again, I've made the most of it."
The Genesee Valley Harriers won the 40+ and 60+ national masters team titles and the Athena Track Club's B team won the 50+, Purcellville' Joan Hunter among the team members.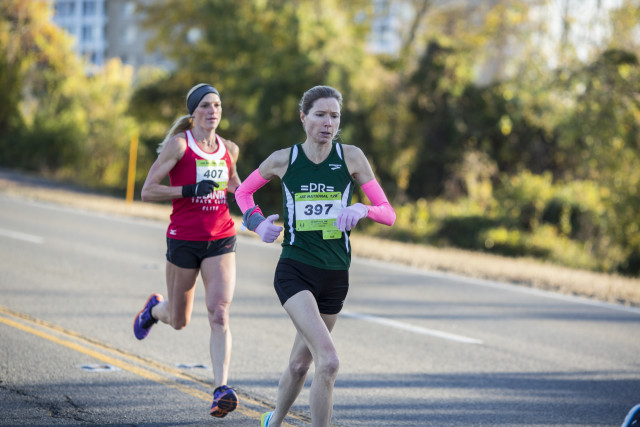 Recent Stories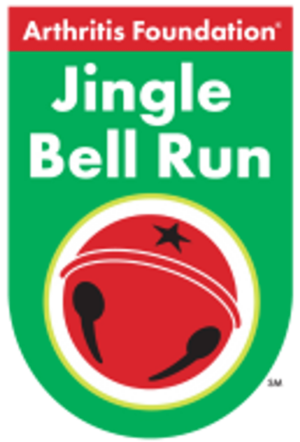 Be part of the original festive race for charity and signature Arthritis Foundation holiday event! Wear your favorite holiday attire and together, we'll jingle all the way to a cure! Register as an individual or bring a team of friends,