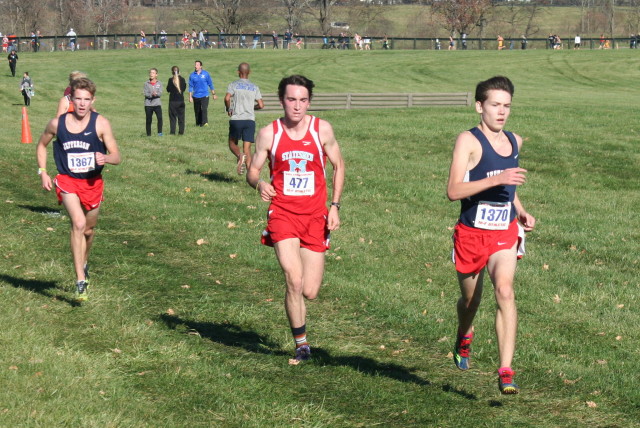 The patterns in the Virginia state cross country championships repeated almost as frequently as the pop music on the public address system.
By the time someone started wondering why Pink Floyd's "Run Like Hell" didn't make the mix, it was apparent: Dominant individual performances led to team victories.
Lake Braddock girls in 6A. Heritage girls in 4A. Loudoun Valley boys in 4A. Tuscarora girls in 5A.
Stone Bridge and Lake Braddock boys in 5A and 6A substituted three finishers in the top 10 to win their races.
[button-red url="http://www.runhigh.com/2015RESULTS/R111315AA.html" target="_self" position="left"] Results [/button-red]LB junior Kate Murphy and Heritage senior Weini Kelati each moved up one place from their 2014 finishes, and Loudoun Valley senior Drew Hunter won his first 4A title, after collecting the prior two 3A individual wins. Emma Wolcott took first in 5A, besting defending champion Heather Holt of George Marshall. Cox's Jonathan Lomogda, from Virginia Beach and Waleed Suliman, of Richmond's Douglas Freeman, won the boys 6A and 5A individual titles.
The course was slower than in years past, a combination of rain Thursday, long grass and strong winds. The Thursday rains caused the Virginia High School League to bar pre-race course access at Great Meadows in The Plains for previewing.
Without chances to run the actual state meet course at either of the two invitationals held at Great Meadows, the races played to the advantage of teams with experience on the course, like the West Springfield girls.
"I think it helped that our five scoring girls had all run this course before, so it didn't hurt us not to see it yesterday," said West Springfield coach Chris Pellegrini. "I told them to get in position in the first stretch, where the grass is even longer, but don't do anything more than you have to.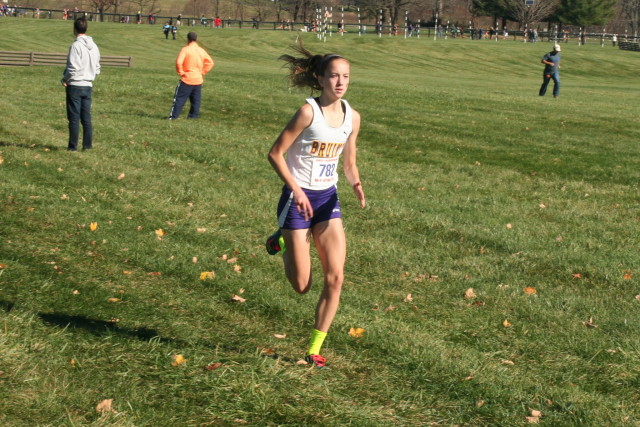 The highly-anticipated matchup between Kate Murphy and Patriot junior Rachel McArthur in the 6A girls race was deferred after an injury that took McArthur, the defending champion, out of the regional meet. The two traded titles at the outdoor state track championships in the spring and their careers have followed similar trajectories.
Patriot coach Adam Daniels held her out in hopes of giving it another week to heal, with a chance for her to run if her team finished in the top six at the North region championship, but the Pioneers finished seventh.
"She could have run the race and maybe finished in the top three, but it was a risk," Daniels said. "She'll have a lot of races in her future."
They will decide in the next week whether McArthur will try for Nike Cross Nationals or the Foot Locker championships or if she needs more recuperation.
Murphy, winner of August's Pan Am Junior Games 1,500 title, was left with little resistance on her way to a 26-second victory, in 18:20, over Cosby freshman Rachel Northcutt. Sarah Daniels (10th overall), Emily Schiesl (11th), Sonya Butseva (14th) and Samantha Schweers (16th) followed to close out the lowest team score of the day at 44.
Coach Mike Mangan said though the lack of a challenge up front to Murphy would have otherwise given her a chance to relax, the momentum from her competitive drive was too much to hold back.
"She's in great shape and it's hard to hold her back," he said. As for the team, he said, "everyone ran well. They went out there on a windy day and still had five in the top 16. I don't think you could ask for much more than that."
Two-time defending champion Oakton was second with 77 points, behind junior Casey Kendall and senior Jill Bracaglia's third- and fourth-place finishes. Kendall was fourth in 2014.
"We never really knew what we could, or couldn't, do," Kendall said. "We just put it out there and saw what happened. (Today,) Jill passed me with about a kilometer to go and she got some space on me but I knew, even though I was feeling bad, I had to be up there with her."
"We just race a lot better in the postseason," Bracaglia said. "Once we get to conferences, regions, states, we're ready to go."
Coach Alisa Byers shed some light on that.
The Cougars stayed away from a lot of the routine Northern Virginia invitationals, opting for trips to Raleigh and to Charlottesville's Panorama Farms course.
"A lot of our runners are new to cross country, so I wanted to give the track people some experience with flat courses early on," she said. "Once they got used to it, we moved everyone on to more of a real cross country at Albemarle (Panorama Farms) then shut it down and then we gave them a chance to rest up for the post-season."
James Madison finished third with 89 points through the efforts of a largely-underclass team, behind senior Morgan Whittrock's 15th place finish.
Two points behind fourth-place Ocean Lakes, West Springfield managed to move up a spot from the North region meet.
"I think we ran decently at regions, but today, we had two high-B performances, a B+ and two As," Pellegrini said.
Senior Reagan Bustamante was first for the Spartans, in eighth place.
"I just tried to get out of the wind in the first mile," she said. "I found a pack and stuck behind them. When they went, I went. Whenever I moved up, I would just hang behind people for a while."
The season's big surprise came from South County, which sent its first girls team to the state meet after finishing fourth in the Northern region championships. Much of that, coach T.D. Holsclaw said, came from planning their seasons more carefully.
"We decided to change some things from last year after talking to athletes and parents," he said. "They were always ending up being hurt by seasons end. We incorporating cross training and were taking it very easy at first."
He credited juniors Faith Zolper (ninth) and Louisa McPherson (29th), both individual qualifiers last year, with pulling the team along. They finished eighth at the state meet, one place behind Robinson, led by junior Lia Hanus in 27th.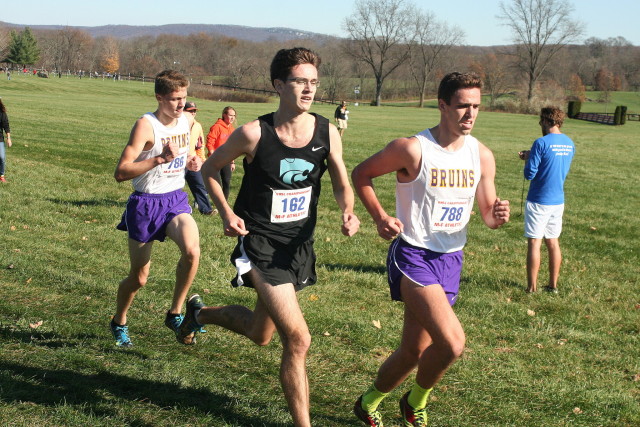 Despite losing their top two finishers from last year's state championship team, who incidentally finished first and second overall, Lake Braddock defended its 6A title with 46 points, ahead of James Madison, the surprise team on the men's side all year. The Bruins put three finishers in the top 11, with Colin Schaefer finishing fourth, junior Conor Lyons finishing eighth and senior Spencer Jolley finishing 11th.
"I felt like after our first race this year, we just came together and knew what we wanted to do this year," Schaefer said. "We wanted to win two state titles today and we got them."
Mangan said he told his runners to go out noticeably slow in the first mile to tuck in, away from the wind. That was tough for Lyons, who's pretty tall and would have trouble finding a fullback to block the wind for him. He's a transfer from Indiana, and Schaefer said the best way to orient him to running for the Bruins was to take him on the hilliest runs he could find.
"He didn't exactly like those runs," Schaefer said.
Lyons was a novice on the state meet course, and got a rude awakening from the long stretch to the finish, despite the bevy of supporters lining the fence a few feet away.
"That finish was quite possibly the hardest stretch I've ever run," he said.
Madison improved to second in the Northern region, and the state, after finishing 12th at the regional meet. They did it with strong pack running, though they lacked a front runner. Junior Sean Grimm led the way in 19th, but sophomore Zach Holden (25th), sophomore Chamberlain Zulauf (32nd), junior Patrick Murphy (33rd) and senior Conner Castellaw (36th) kept the pack close together.
Chantilly junior Brandon McGorty, most famous for his New Balance Indoor Nationals runner-up, resembled his long-distance-inclined older brothers Sean and Ryan, finishing sixth in what he said was by far his best cross country race.
"I had a long talk with my dad last night about where I was with running right now," he said. "I was about ready to get started with indoors, but he reminded me that this race was an opportunity and I came in with a clear head."
His goal was top 15, and raced with that in mind, but as he ate up ground, he found his energy maintaining more than it ever had before.
"I started passing people, and I don't do that too much late in a cross country race," he said. "I just felt better than I ever had in cross country after, basically, the first mile mark."
Contrary to expectations for a mid-distance runner, he was not salivating to unleash his kick on the long final straight.
"I was getting pretty tired by that point," he said. "I was ready for the race to be over."
Bobby Lockwood, a W.T. Woodson senior, edged McGorty by a place for fifth, in large part because of his racing savvy.
On his third try on this course, he figured out the vexing long, final stretch.
"I knew if someone sprinted at the start, they would come back to me," he said. "You can't push that whole thing, but I did have a constant debate in my head, should I not
let them go? What if I can't make up that ground?' But I was able to hold myself back."
Before he got there, he had his mind on the ground.
"I ran off of people's shoulders and listened to their footsteps," he said. "If it sounded quishy, I was going to find harder ground. I just tried to use the downhills to my advantage and not kill myself on the way up them."
Brent Bailey, a Centreville senior, also started slow, but wasn't sure how wise it was.
"Last year, I started too fast and died, so I started slow, but maybe too slow," he said. "I just tried to make up ground."
He had his entire team with him this year, a major improvement over 2014, when the Wildcats missed qualifying by two seconds. Bringing seven runners to this race was their goal all season. They finished 10th.
"It meant a lot to the school, they actually had a pep rally for us," he said. "It was awesome. It was unprecedented. People at school know how big this was for us to make it."
The Patriot boys made their first state meet in two years but a slim margin — four points over Chantilly at the regional meet. It was a kind reversal, after missing out by four points one year and three another. They finished seventh in the state this year.
"It was a special accomplishment," Daniels said. "It was exactly the situation you're talking about when you say every point, every man matters. We were on the wrong end of that before."
Junior Eric Speeney (26th) got a big assist this year from classmate Greg Moore (34th), who transferred from Grafton in Yorktown.
"Eric's the kind of guy who doesn't want to be number one unless he's worked for it, and Greg's been pushing him all year. It's been great for both of them."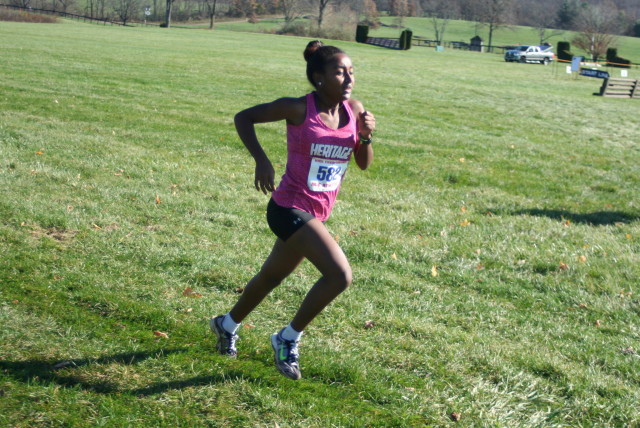 Weini Kelati did not let up this year. When the Eritrean-born runner came out of nowhere at last year's Oatlands Invitational and breezed through the field. It seemed like only a matter of time until she would be contending to be the fastest high school runner in America. Then she met E.C. Glass' Libby Davidson, who eased away from a fading Kelati when the postseason started.
Well, not anymore. With Kelati's adjustment to American culture has come a vastly-improved communication with coach Doug Gilbert.
"Now that I know more English, I can talk to my coach," she said. "We can make plans and talk about my training."
Which is terrifying for any Foot Locker hopefuls. Her 16:29 at the Third Battle Invitational in Winchester is the top-ranked cross country 5k, nationally.
She put seven seconds on Davidson by the first mile, 17 by the second, and she wound up with a 29-second margin in the 5A race, in 17:22 for the fastest girls time of the day. The thick grass, she said, bothered her, but apparently not too much.
Behind her, senior Georgie Mackenzie finished fourth to help the Running Pride claw its way up from last year's third place finish, and the team's  victory earned them Heritage's first state title in any sport.
"All seven of our girls stepped up and did exactly what we had to," Gilbert said. "I didn't want to get too excited, I told the girls rankings don't win races, but they've shown on tough courses they can run strong."
The team was third in 2014, and the four seniors on the team got to go out in historic style.
"This is the end of the road for some of our girls in terms of high school cross country, so this was special," he said.
Their shouts of delight when the results came out were matched, or even surpassed, but a chorus of "second!" from a sea of green-and-yellow-clad runners and their parents. Loudoun Valley had been second before, last year, in 3A, trailing powerhouse Blacksburg. But after losing four varsity runners, and finishing fifth at the West region meet a week before, the Vikings came back and passed up E.C. Glass, Jefferson Forest, Millbrook and Lafayette from the East region.
Before the race, coach Joan Hunter ruminated on her team's evolving goals, which once were to just qualify for the state meet.
"After seeing how close to second place we were at regionals, with two of our girls having sub-par days, (we figure) we might make some noise at state," she said.
Sophomore Natalie Morris rebounded from a rough regional race to lead the team in sixth, and felt a lot better along the way.
"I started out slow, so I felt good the rest of the race, I just kept passing people," she said. "Last year I barely broke 20 minutes, but I started out this season with a PR and have been running faster every race. We figured if we all ran well, be could catch a lot of the teams that beat us at regionals."
Junior Kimmie Donohue finished 22nd, impressive considering she started running almost two months ago after spending five months battling what Hunter called a gruesome foot injury, then racing herself into shape.
"Well, my times have been slower all year, but this race, I finally felt good again," she said. "I feel like myself again out here."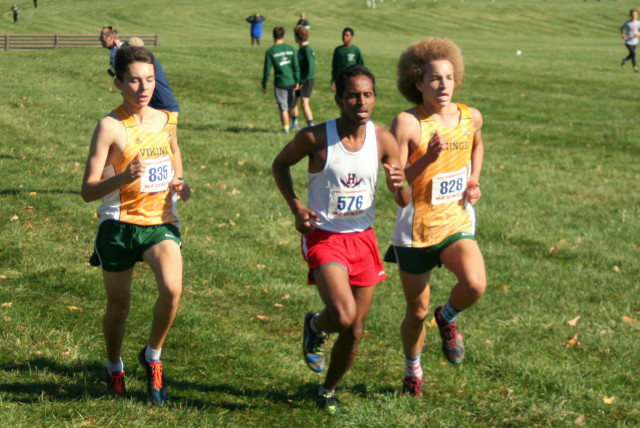 It would have taken a sinkhole on the course, or maybe two, to keep Drew Hunter from winning the 4A title, which he did by almost a minute in 15:03, compared to Lafayette junior Konrad Steck's 15:59, well off of his 14:41 record, set last year. Once he crossed the finish line, he stared back down the stretch to see the future of his Loudoun Valley program.
In fifth and sixth, sophomores Colton Bogucki and Peter Morris. In 20th, his brother, Jacob, a freshman. In 25th, sophomore Chase Dawson. They combined for 47 points to win over Fauquier's 114.
Bogucki knew that breathing was important in running his race, but found that too much air could be bad. The strong headwind kept him uncomfortable.
"When I opened my mouth, the wind would just push its way in and it hurt my chest, especially in the first stretch," he said. "Once I got into a rhythm and got my breathing on track, things got better. Peter and I worked together the whole race and we really picked it up at the end.
You may remember the Morris name from such races as the girls 4A, where his twin sister Natalie also finished sixth.
The team's goal for Drew Hunter individually has been to avoid overracing and prepare him for postseason championship racing in December, either at the Foot Locker championships, where he was fourth last year, or Nike Cross Nationals. He ran a hard 14:20 at the Third Battle Invitational to lead the country's high school boys, though times aren't comparable among cross country courses, and most races have been opportunities to tinker with approaches to racing with focuses on different segments of the race.
The 4A West teams wound up running their regional in Martinsville, near the North Carolina border, giving the runners a long school bus ride to and from the meet, but in contrast, the feeling of a relative home meet when coming to The Plains.
"I slept much better in my own bed," Bogucki said.
With only Drew Hunter, Will Smagh and Nick Mercuro graduating, the Vikings are in strong enough shape already for the future, but thanks to approval from the Loudoun Valley School Board to start a self-funded indoor track team, Hunter sees her team, and the county's running potential, get even higher.
"Not having indoor track was a problem mainly because of lack of structure for the kids," she said. "Even the most dedicated kids find it hard to stay motivated through the winter with no competition in sight."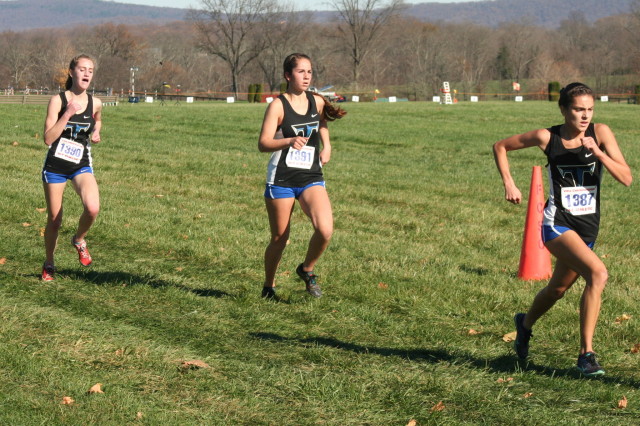 The 5A girls jumbled the finishing order from a year ago. Tuscarora sophomore Emma Wolcott, third last year, bested defending champion Heather Holt, and both outpaced Princess Anne's Doria Martingayle, from Virginia Beach, who finished third after recording a runner-up finish in 2014.
"I felt good at the beginning, but as I got close to the end, I lost feeling in my legs," she said. "I don't know what happened."
What happened, behind her, was the George Marshall team improving on its sixth place finish last year, by finishing fifth. And Holt's twin sister, Ashley, had a successful finish, placing 25th, after not finishing last year. The Statesmen return their top six runners next year.
"I feel like the team had more motivation this year," Heather Holt said. "We knew we wanted to get back to states, and we started getting more people coming out to run."
Tuscarora repeated as 5A champions with a 75-89 margin over Albemarle. Along with Wolcott at the front, freshman Ava Hasselbrock finished fifth.
"We had two up front, but we have a lot of experienced leadership, too, and that was important," said coach Troy Harry. "We knew the race would be won in the 3-4-5 slots."
It turns out the Huskies had one to spare. In addition to Raiya Alnsour (23rd), Kmaljeet Athwal (30th) and Mariam Kolbai (32nd), Gillian King (33rd) crossed the line at the same time as Kolbai.
"They know how to race people, run in a pack," Harry said.
Wolcott's bid for a state title came after studying Holt's general front-running strategy, one that worked out, to the tune of an individual title last year.
"I was stuck early on, but I got out to Heather and Doria but gave them about a three-foot gap," she said."We lost Doria, but when we got to the last stretch, Heather slowed down and I kept going."
"Racing was a lot of fun on this course," she said. "I really like it because it goes up and down a lot."
Judging from Tuscarora's last two years, she's familiar with the ups.
Potomac Falls finished sixth, led by Deirdre Gilmore in 10th.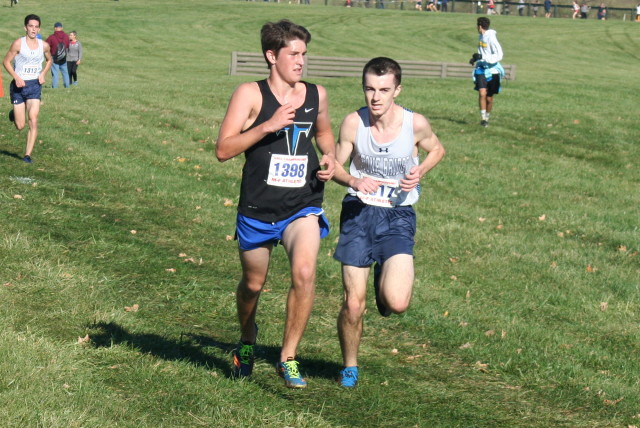 Stone Bridge knows all about small numbers. After missing out on a team championship by a few points here and there, they put a good team effort together to win the 5A division with 78 points, six ahead of Thomas Jefferson.
Senior Jack Morton led the way in fourth, and Andrew Matson and Joe Valle followed in eighth and ninth.
TJ kicked off scoring with junior Saurav Velleleth's third place finish.
Individually, Freeman's Suliman went out hard, and Tuscarora senior Fitsum Seyoum figured he, like many runners fighting the wind, would come back to him, but that didn't happen. Suliman had a 15 second margin, winning in 15:41.
"A lot of respect to him, he went out there the same way Drew Hunter did and just went for it," Seyoum said. "I beat him at the Milestat Invitational, so I knew I could beat him again, but it just didn't happen today."