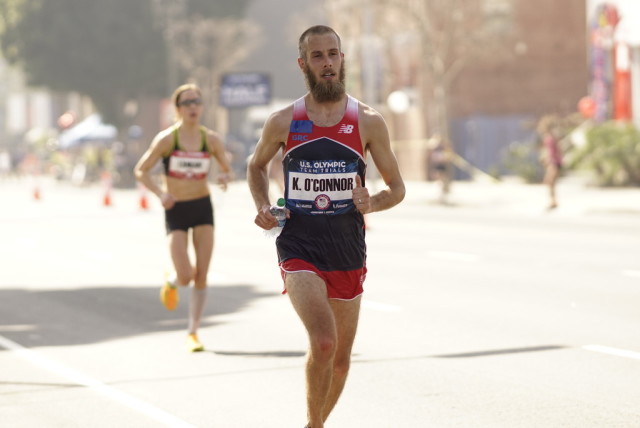 Some of the bags Kieran O'Connor took with him to Los Angeles were packed with racing shoes and a uniform to wear in Saturday's U.S. Olympic Marathon Trials. The others were stowed under his eyes, after his wife's early delivery three days before the race gave him their firstborn daughter and the peace of mind that she would not be going into labor while he was out of town.
On Sunday he flew home to his family with a hard-earned 24th place finish in 2:21:37, less than a minute off of his best marathon time run in much cooler conditions, and the knowledge that on the day that effort mattered, he was tougher than most of the field.
Ahead of schedule
His wife, Zyra, woke him at 2 a.m. Wednesday, shortly after her contractions started, two weeks before her due date.
"As soon as she was admitted, she told me I'd have to find another ride to the airport, " O'Connor said. "I told her to hold on a minute, but she kept telling me, 'you're getting on that plane.' She's my biggest supporter."
More Trials coverage
After about 45 minutes of pushing in the early afternoon at Georgetown University Hospital, the "textbook delivery " was over and O'Connor, 28, had an hour with his daughter Caoimhe (pronounced "Kiva") before he ran off to pick up his new uniform, pack at his Arlington home and bring some food back to the hospital before catching a few hours of light sleep. The airport shuttle picked him up a little after 4 a.m. at the emergency room entrance.
The couple knew, once O'Connor, 28, hit the half marathon qualifying mark at the Rock 'n' Roll Philadelphia Half Marathon Oct. 31, that the timing would be tricky with Zyra's pregnancy, but felt that more likely than not they'd be fine.
"I thought she was going to come when she was supposed to, or later," O'Connor said. "Honestly, I felt pretty good about it. I'm just so relieved she came when she did. It wasn't the best timing but it could have been a lot worse."
It helped that two of Zyra's friends had planned to visit this weekend, just in case she went into labor while Kieran was out of town.
"I slept on the shuttle, I slept on the plane," he said. "When we got to the hotel, I took a four-hour nap. Then we went to the dinner Thursday night and I slept another nine hours after that."
All competition
Though O'Connor was primed to improve on his PR of 2:20:47, the forecast was going to make that a substantial task. The heat, forecast for the mid-60s around the 10:06 a.m. start, was only going to get worse over the next two hours, and runners would spend most of the 26.2 miles running in the sun.
They were the kind of conditions an uninformed weatherman would call 'perfect' for a marathon.
So time was out the window, as it would be for the entire field. O'Conner accepted that early and got even more excited about his chances.
"I told my family that my definition of success was going to be finishing in the top 25," he said. "You know, why not? Why can't I be top 25? If I ran tough, I knew I could do it."
His qualifying time of 1:04:38  from Philadelphia seeded him at 145th place of the 169 men who declared for the race. But this wasn't a time trial and the meritocratic method of selecting an Olympic team based on on the three top finishes meant racing ability, not just flat-out seed, was paramount
"It was a matter of competition," O'Connor said. "Pure competition. I monitored the clocks for five miles to make sure I got in a rhythm, but after that I didn't look at them. I just didn't care."
He hung on to one of the chase packs for two of the four six-mile loops running south from downtown L.A. to the University of Southern California and then back north, winking and giving thumbs ups to spectators.
"You could tell he was loose and taking it easy early on," said Jerry Alexander, O'Connor's Georgetown Running Club coach. "I saw him look uncomfortable once, at mile 21, but that was it."
O'Connor was in 46th place when he made his break with eight miles to go and started to move up on his own. He passed five people in mile 18, four in both 19 and 20, then the places were harder to come by.
"People had really strung out, so just kept on passing them," he said. "Men, women, there was always someone ahead of me."
He was in 29th place at the start of the final loop, continuing to feast on the victims of attrition, and there were many. Of the 167 runners who started the race, 62 dropped out, including 2008 Olympic Marathoner Dathan Ritzenhein.
"I knew I just had to keep grinding for six more miles," he said. "There's nothing else I had to do, just keep grinding. With about three miles to go, I thought, 'I just have to finish up this loop and I can go home and see my daughter.'"
His mile splits were slowing, but not as fast as others'.
That was about when three people passed him and put a little doubt in his mind. It was the first time he had fallen back in the standings since he made his move at mile 16, but he made up for it as the race went on. With a little more than one mile to go,  Alexander told him he was in 26th, and O'Connor saw his targets getting closer.
Tim Ritchie, the 22nd ranked runner, was ahead of him, and O'Connor moved to the other side of the road.
"I had to sneak past him and not give him a chance to latch on," he said. "If he came with me, I'd have been in trouble, because he's a much faster runner than me."
Ritchie didn't go, and once O'Connor was clear, he focused on the last man ahead of him and surged for home.
Warm reception
While most of the field was bemoaning the high predicted temperatures in the days leading up to the race, O'Connor saw an opportunity. Despite having only about 48 hours to acclimate to the heat, he was confident in his natural resistance to it.
"Maybe if I had been somewhere warm for a few weeks to get ready, it might have made a little difference, but I was fine without it," he said.
His 2012 Boston Marathon finish, 22nd on a day when temperatures hit the mid-80s, gave him a lot of confidence. Coming from below-freezing temperatures in D.C. didn't bother him either. He spent early 2012 training in New York City and likewise had no heat acclimation prior to Boston.
"I was less nervous for this race than any race I've run for the past four or five years," he said.
Alexander echoed that.
"That was what jumped out at me, how excited he was to run in the heat," he said. "We talked about how there were going to be guys quitting out there. On the last lap they're thinking about what they have to do and deciding it's not worth it and they'll go in the tank."
It was confidence that Alexander developed within a few months of O'Connor joining the Georgetown Running Club in 2013. At the USATF Club Cross Country Championships in Bend, Ore., O'Connor, who had never run a track race in his life and skipped running cross country while at Notre Dame, finished 50th on a rugged course that left many pedigreed runners staggering to the finish line.
"I could see he was the kind of guy who was going to run the entire race, not leave any opportunities out there," Alexander said. As for Los Angeles, "Obviously he was in phenomenal shape. The mileage, his workouts were fantastic, it couldn't have been a better buildup, but the mental part preparation is where he made the difference. There couldn't have been more than five guys ahead of him who were better prepared mentally, he couldn't have done better for his ability level right now."
Any question of O'Connor wilting were laid to rest three weeks prior, when he spent the Saturday during Snowzilla running most of his 24.5 miles under the Whitehurst Freeway in Georgetown, a roughly kilometer-long stretch.
"If you're going to spend 24.5 miles running under Whitehurst Freeway, what do you have to lose at this point?" Alexander said. "He's already playing with house money, the odds of him being here a year ago were probably 20-to-1."
Well aware a top-three finish was unthinkable, O'Connor approached this race as his Olympics, but approached it with the same looseness that served him well in the opening miles.
"If I had been just 20 spots higher, I'd have been one spot off of the Olympic team," he said.
While not going that far, Alexander was confident that O'Connor's performance was a strong baseline from which to begin even more improvement.
"We're looking for better in four years," Alexander said.
The O'Connors will have plenty of leeway to schedule Caoimhe's fourth birthday party around the race.
0
Comments