For running fans, the U.S. Olympic Marathon Trials are like a cult classic on a four-year loop. Every time the races are upon us, it feels as if we just saw the last ones yesterday. We again wonder: who will break through to the Olympics, who could surprise us, and who among our local running scene will be there.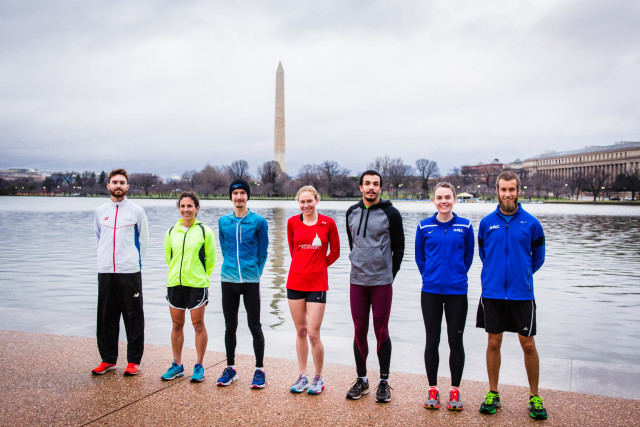 Meanwhile, outside the circle of hardcore running fans, there is some confusion about what the marathon trials even are. We saw this in 2003. Alexandria's Heather Hanscom won the Marine Corps Marathon, her debut, fast enough to qualify for the trials and was interviewed by Andrea Koppell on CNN. Koppell asked if Hanscom's goal had been to make the Olympic team; Hanscom explained she had only qualified for the trials; and Koppell ended the segment by wishing Hanscom luck … in the 2004 Olympics.
Follow the race
The race will be broadcast at 1 p.m. eastern on NBC and will stream on NBC Sports Live Extra, Saturday Feb. 13. You can download the app here.
The men's race will begin at 1:06 and the women will start at 1:22.
RunWashington will be at the race posting updates about local athletes to Facebook and Twitter (@RunWashington) and Instagram (also@RunWashington)
So, what are the U.S. Olympic Marathon Trials, exactly?
The trials — first contested by men in 1968 and by women in 1984 – are both the inspiration and culmination of dreams. There is no qualifying race for the Olympics in which the door is open wider to amateur athletes. They just have to climb a mountain to go through it.
To qualify for the 2016 marathon trials in Los Angeles, men had to run a marathon faster than 2:19 or a half marathon faster than 1:05, while women had to go under either 2:45 or 1:15. (In December, both marathon standards were softened slightly — by a minute for men, two minutes for women — but they are still tougher than they have been historically.)
For D.C. runner Jim Hage, the marathon trials was a force that pushed him to go all in. Before his second trials, in 1992, he quit his job to train full time and went on to finish inside the top 10. His eighth place finish in fact matched his prediction for himself in a prerace trials pool with friends — "but that was based on a best-case scenario," he says, "and I was ecstatic with the finish."
For Landover legend Darrell General, the trials fueled consistency. He is among a rare few to run in five trials.
And for Hanscom, a physician assistant in Arlington, the trials was an opportunity to put her best fitness on the line and see where it would take her. Coached by Matt Centrowitz, the 2004 race was only her second marathon, and she knew it would be much dfferent than her first, which she won by more than 20 minutes.
As she steeled herself for the next challenge of going toe to toe with the nation's best, Hanscom's mantra became: "to be able to walk away from a race, or any experience, and know that I did my best." She remembers seeing her family members and friends who traveled to St. Louis to support her. She remembers feeling the whole time like she would "implode" and the way everything hurt, especially her blistering feet. And as she crossed the line, and as her sixth place, 2:31:53 performance — a seven-minute personal best — came into focus, Hanscom could see that "anything was possible" and, almost immediately, started looking towards the future.
The marathon trials, seen from a national perspective, trace the history of modern road racing: boom after boom after boom. And as we head into the 2016 trials, in Los Angeles, and look at this from a local perspective, we can see our own boom: our running scene has never had more representation.
By our count, ten athletes residing in either D.C. or Northern Virginia will be on the starting line Feb. 13. In the Baltimore area, Andy Weaver has qualified, too.
Here are some of the storylines we're following.
The contenders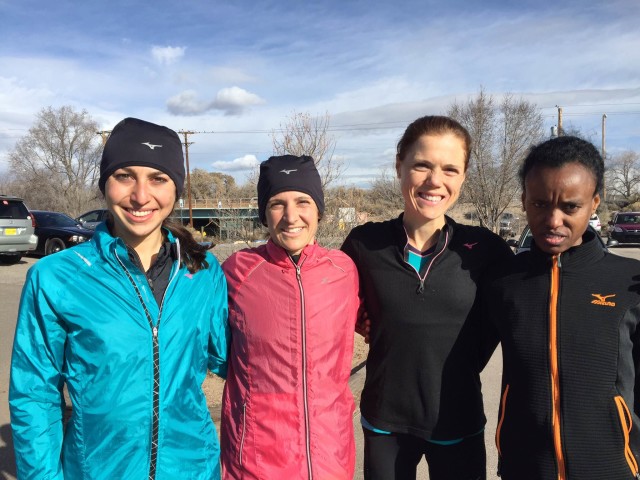 In the women's race, Shalane Flanagan is the clear favorite. But take note, we have our own Flanagan to cheer for: Lindsay, an Illinois native and recent University of Washington graduate. She moved to Silver Spring last year to join a Mizuno-sponsored training group with Maegan Krifchin and Serena Burla.
Flanagan's 2:33:12 debut in Houston seeds her at 19th heading into the trials, but her second marathon, though slower, was even more impressive. At last summer's Pan American Games in Toronto, Flanagan went out with the lead pack and persisted through humid, brutal conditions to earn a bronze medal in 2:36:30. An American woman had not medaled in the event in 20 years.
As of December, when we reached out to their coach, Flanagan and her training partners were out in Albuquerque, New Mexico. In a RunWashington story last fall, though, Flanagan talked about their routine when training in Silver Spring. The trio would meet for workouts at 7 a.m. and in the late afternoon, with Burla commuting in from her home in Stafford.
At the last trials in Houston, Burla, now 33, was in the mix at the front of the pack, but collapsed at 18 miles due to hypoglycemia. Burla, however, had already conquered tougher setbacks. In 2010, for instance, after finishing second at the USA Half Marathon Championships, she scheduled some tests to figure out why her hamstring was hurting. Turns out, the pain had been stemming from a malignant soft-tissue tumor that required a radical surgery. Her surgeon was concerned that Burla would never run again.
Burla not only ran again – she qualified for the marathon trials, and after dropping out, came back in her next marathon to chop her personal best down to 2:28:27. She has since chiseled her personal best down to 2:28:01, giving her the 5th seed heading into Los Angeles. In 2014, she triumphed at the USA Half Marathon Championships. And last year, a month after Flanagan's result in Toronto, Burla finished 10th in the marathon at the world championships in Beijing.
Krifchin, too, could factor in the race to make an Olympic team. The New York native and Syracuse graduate's marathon debut of 2:33, run last year at the Hamburg Marathon, seeds her two spots behind Lindsay Flanagan. In October, though, Krifchin, a part-time occupational therapist, also won the Rock 'n' Roll Philadelphia Half Marathon in 1:09:50, giving her a faster half marathon than Burla. Even professionals often approach their debut marathon more conservatively to gain experience, and Krifchin's was  described as a controlled effort (she ran even splits). What's in store, then, for the 27-year-old's second attempt at the distance in Los Angeles?
The dreamers
Eight years ago, at the women's marathon trials in Boston, Teal Burrell and her sister hatched an experiment while they were watching from the sidelines. How long, they wondered, could they keep up with America's best? When one pack came along, they took off sprinting, and just as quickly fell behind.
Some time before this, Burrell had run a marathon in 4:07 and checked the goal off her list of things to accomplish. For a few years, that was enough. But that day in Boston, Burrell was in the early stages of plotting a comeback. She recalled this memory in 2012 in launching her blog, "Miles to the Trials," to chronicle her seemingly improbable goal to reach the marathon standard. By then, Burrell had gone from being a recreational runner to sub-3, but she was still a long way from running under 2:45.
Burrell signed off the post, as she typically does, by saying "Dream Big" – and that is exactly what she did, even at times when those dreams seemed unrealistic. Like in 2014 at the California International Marathon, when she lined up with the goal of dipping under the then-trials standards of 2:43. Had Burrell put her recent half marathon best, 1:19:28, into a race predictor calculator, the computation would have read: don't even think about it. Instead, after running 16 miles at goal pace in practice, she pressed forward, and believed, and crossed the line in 2:42:13.
Now that moon-shot race is here, and Burrell, who is coming off a half marathon PR that still not does compute to sub 2:43, has yet again attached herself to what she describes as another unrealistic goal. Like usual, the pure marathoner is operating on a combination of confidence and fear.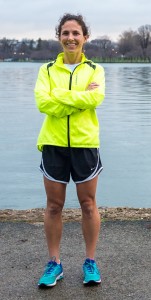 "I'd say I'm more confident in my abilities since CIM, but I certainly still have many, many moments of self doubt. I think that's the same it's been in my entire progression as a runner — with every new PR I think I can keep getting faster … but I also have days when my new goals seem crazy, and it's hard to believe I ever ran 2:42."
Meanwhile, one of Burrell's teammates on the Pacers Running//GRC New Balance team, Emily Potter, of Alexandria, has qualified for her third trials, but this was one was perhaps the least probable.
The 36-year-old had the will to train and get in races to advance her preparation. But Potter also had more on her plate – namely, raising two young daughters, Evelyn, 3, and Adelaide, 1. Potter, frankly, was not sure if she could find the time to train like she has in the past, and she hasn't trained the same way. To make it work, Potter has been bringing Evelyn and Adelaide along for the ride, logging the vast majority of her miles while pushing them in a jogging stroller
In August, with qualifying time running out, Potter headed up to the Edmonton Marathon and covered the course in 2:42:56, just under the standard yet 18 minutes ahead of second place. She set a course record, too.
Since qualifying for the trials, Potter has been trying to make sure she at least gets to run solo for a weekly workout and long run. Otherwise, not much has changed.
"Training wise, I'm just trying to fit in as much running as my kids will tolerate. So it's less mileage and quality work than I did before previous trials, and practically zero recovery time, but that's life as a mom."
The debutants

As the Jan. 17 qualifying deadline for the trials approached, runners needing the standard flocked to fast half marathons, including the Philadelphia Rock 'n' Roll Marathon on Halloween. For those who succeeded, oftentimes the next question became: "Do I really want to run my first marathon at the trials?" Carlos Jamieson, who qualified in Philadelphia, and Chris Kwiatkowski, who notched his second sub-1:05 half marathon there, decided the timing was right.
In Philadelphia, Jamieson, 28, a physical education teacher in D.C., qualified by running a three-minute personal best, 1:04:27. The American University graduate had been making a gradual shift up to longer distances, starting with a win at the D.C. Rock 'n' Roll Half Marathon in March, while he was training for track races. Last spring, he ran 13:50 for 5,000 meters, a personal best.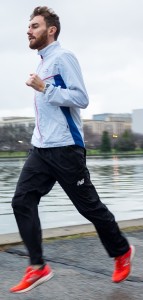 After track season, Jamieson upped his mileage and lengthened his intervals to gain the strength he needed for longer races. But even after qualifying, Jamieson says he had his doubts about whether it was wise to make his marathon debut in such a high stakes, competitive race.
To gain clarity the self-coached Jamieson consulted with his "advisors." College teammate Dustin Emrani, a half-miler and member of Israel's Olympic team, told him: if he was going to do it, make it count. Colin Eustis, who has the school record in the indoor 5,000, urged him to take advantage of what could be a once-in-a-lifetime opportunity. So Jamieson again increased his mileage— he's up as high as 105 miles per week, all in single runs. He says his goal is "to compete to the best of my ability" and meet what he describes as an "ambitious goal."
Kwiatkowski, an American University assistant coach, competed for the University of Oregon but was limited by a series of injuries. Since settling in Arlington, though, Kwiatkowski has established himself as the top runner in the area, most notably with his fourth place, 48:17 finish at the Army Ten- Miler in 2013. Kwiatkowski says his decision to make the leap up in distance came down to wanting to take advantage of a great opportunity. "I had a small debate about whether to run or not, but I decided pretty quickly to compete. You only get the opportunity every four years, and I felt like it would be a shame not to compete."
Over the holidays, Kwiatkowski, coached by Matt Centrowitz, returned to his hometown in Bellingham, Wash., maintaining weekly mileage north of 100 miles. "I've been feeling good. … I am definitely a little scared of the marathon distance, but I have been approaching it the same as any race: preparing the best I can to get to the starting line healthy and excited to compete," he says.
The rising star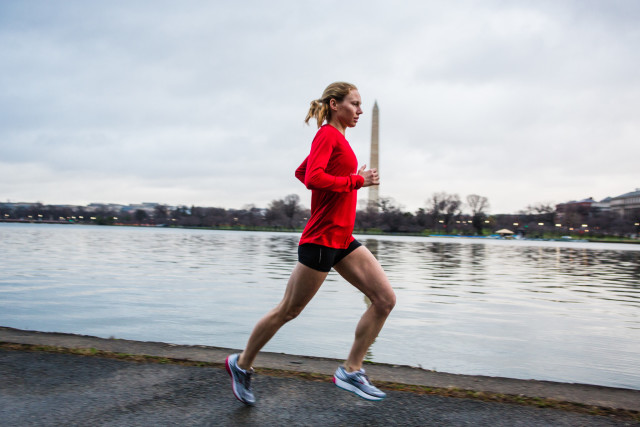 You may recognize me
Some runners with local connections will racing in L.A.
Sara Bard
former Leesburg resident and
Capital Area Runners member
Anna Corrigan
Lake Braddock High School
Ricky Flynn
Damascus High School
Everett Hackett
George Mason University
Mark Leininger
American University
Matt Llano
Broadneck High School
Christine Ramsey
former Baltimore resident who raced here often
Julia Roman-Duval
Columbia resident with an interesting story
Katie Sheedy
former D.C. resident and Capital Area Runners member
Andy Weaver
Baltimore resident who won the 2015 Parks Half Marathon
Hiruni Wijayaratne
Herndon High School
Like Kwiatkowski, Susanna Sullivan was a strong prep runner whose progress in college was slowed by injuries. Sullivan, of Falls Church, ran at George Mason High School and continued at Notre Dame, but has seen her best success on the local roads and at major races around the country. She trains with Capital Area Runners.
Sullivan's stock shot up in 2014 with a fourth place finish in the national 10 mile championships (none other than the Cherry Blossom Ten Mile Run) and a nation-leading 26:51 at the St. Patrick's Day 8k. A month out from the trials, Sullivan, not yet in taper mode, lowered her half marathon personal best to 1:12:56.
The ride hasn't always been smooth. Sullivan, roughly a year ago, did experience some of her first injuries since college. But the 25-year-old school teacher bided her time, completing tough pool workouts and shifting her marathon debut to last year's Grandma's Marathon in June.
Her goal was to achieve the trials "A" standard time of sub-2:37, for which athletes get their race expenses covered, and Sullivan says she was surprised by how controlled the pace felt in running 2:35:37. "I was hesitant to make any moves or press too much because I was just focused on finishing. I wanted to get to the finish line with something still in the tank so that I could be excited to really race my next marathon."
The hard training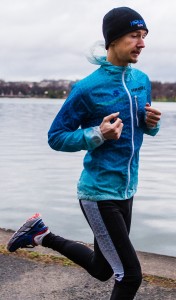 Our trials qualifiers did not get a respite from training during the holiday season. Instead of happy hours and cookies and leisurely mornings, they turned to grueling workouts and two-a-days.
On Christmas morning, Tyler Andrews woke up early and set forth on one of his staple marathon workouts: a continuous effort covering the full marathon distance. He did seven 5k reps at goal marathon pace separated by 1k intervals at a more moderate pace (around 6:00 per mile). The total workout gave the 25-year-old Alexandria resident a full marathon in 2:18, only two minutes slower than his personal best.
There must be a thread on some running message board devoted to the pitfalls of such workouts. But for Andrews, it is clear that  workouts like these, and 160-mile training weeks, have led to a transformation: the Tufts graduate, who was never a Division III All-American, is now a 2:16 marathoner poised to go further in the trials.
"It's all relative, and it has never been about big jumps [in training], just finding what works for me and focusing on increasing that specific stimulus from season to season and year to year," says Andrews, who is sponsored by Hoka One One and works for Strive  Trips, which organizes student service trips. On one hand, Andrews represents a sea change in marathon training, a new generation of marathoners inspired by new, more intense, more hyper-specific training methods espoused by coaches like Renato Canova.
But perhaps it's simpler than that. Perhaps it goes back to the dream. Consider Kieran O'Connor, who probably doesn't know who Canova is.

A couple summers ago, he showed up to a Pacers Running//GRC New Balance practice having dabbled in running in high school and having skipped collegiate competition. He had picked running back up after college and, unbelievably, was the 8th American at the brutally hot 2012 Boston Marathon. Except O'Connor had then spent a brutally hot year in Egypt, for graduate school. And there he was, new in town, doing a track workout in basketball shorts and training shoes.
It soon became clear that O'Connor only had one pair of real running shorts. Prior to joining the club, he raced shirtless. At the Leesburg 20k, he had to be shown how to look up his race bib number and then got caught in the bathroom line. His teammates still do call him "the rube."
But with each race, and each workout, O'Connor crept closer and closer to where he was before Egypt. Then he surpassed that level, and surpassed more levels. After lowering his marathon personal best to 2:20 at Grandma's in June, O'Connor finished a bit behind Jamieson in Philadelphia to punch his ticket to the trials. One Saturday morning at the track recently, O'Connor set out on a 10-mile tempo with the goal of going under 50 minutes, his teammates flowing in out and out — two laps, three laps, a mile, as far as they could go. O'Connor was rolling.
And it was all part of the plan. "Even when I was a 2:30 marathoner, I was pretty sure that I could get to the trials, which, I don't  now, maybe that's crazy," he says. "Now that I've reached this level, I have the same certainty that … I can do more and get better."
With O'Connor, and all of our qualifiers, at the trials, the bar will be set even higher. And when the gun goes off, the dream chasing will continue.
---
Limbo Relief for one runner
Our soon-to-be-released spring magazine notes that 10 local athletes will compete in the U.S. Olympic Marathon Trials. It also mentions that one runner's entry was still in limbo.
Julia Roman-Duval, 33, of Columbia, Md., had run a personal best and trials-qualifying 2:40:55 at the California International Marathon — but as we went to press, she was still waiting to hear whether or not she would be allowed to compete.
Good news: Roman-Duval is in.
The backstory is that Roman-Duval, native to France and a permanent United States resident for five years, needed one of two things to happen to compete in the trials. She either had to gain citizenship before the race or the USATF had to be satisfied that her citizenship would be granted before the Olympics in August.
At this point it looks like Roman-Duval will have both scenarios working in her favor, though it was a long, tense ride to get there. She had applied for citizenship in July and, through her own homework, determined that the United States Citizenship and Services' office in Baltimore would not process her application until March. Too late.
Next she turned to the USATF. But as of last week, no decision had been made, and Roman-Duval said that a USATF staff member had cautioned her not to get her hopes up. It was not likely she would be allowed to compete, she said she was told, unless her naturalization interview was scheduled before the trials.
"Hope started to fade at that point," she said, "and I started to prepare myself for the idea that I would not be at the trials."
Imagine training your heart out for a dream race that might not happen. On Saturday morning, Roman-Duval, physically able but mentally exhausted from all of the uncertainty, set out for her last long run still wondering if it was all for naught. That afternoon, though, she went to the mailbox one more time and found her answer. It was none other than a letter from U.S. Rep. Elijah Cummings (D-Md.) containing the good word that his staff had successfully expedited her naturalization interview.
The interview will happen this Friday, eight days before the trials. Thus, on Friday, Roman-Duval expects to both gain her citizenship and, at the very least, could present impending proof of citizenship to USATF. With that, early this week, Roman-Duval heard from USATF's Jim Estes that she was in.
Roman-Duval has resided in the United States since 2006. She and her husband, who is a U.S. citizen, have three children, and as an astrophysicist, Roman-Duval is part of a team that contributes to the success of the Hubble Space Telescope. A triathlete who did not run in high school or college, she achieved solid marathon results off running just 12 miles a week. Based on that, her Howard County Striders teammates convinced her to gradually increase her mileage and intensity so she could take a shot at the trials standard.
"I still can't believe it," she said. "It has been such a long and hard struggle to make this dream come true before the deadline," from trimming 20 minutes off her marathon personal best to finally gaining eligibility.
"My family" — including her husband, Miguel Roman — "is very excited and proud," she said. When she told her youngest children, 3 and 4, about the news, they "listened, nodded, and moved on with their activities." Her oldest, who is six, is anxious knowing she will be away from home for a few days, but has nonetheless been sharing the news at school.
Her Striders teammates are relieved too.
"Julia is a fantastic runner," said masters runner Mick Slonaker. "She trained very smartly to get her trials qualifying time. We are very happy for her and proud of her."
In 2000, McLean resident and fellow native of France Philipe Rolly was not as lucky. As a permanent resident, he was forced to sit out of that year's trials and never ran the standard again.
But Roman-Duval will get her shot, and though she is not sure if another miracle is on the horizon, she is ready, for now, to relax and enjoy the taper. "I am also starting to think about the future," she said, "and how this milestone will help me take my running to the next level."
This story appears in the Spring 2016 issue of RunWashington.
Recent Stories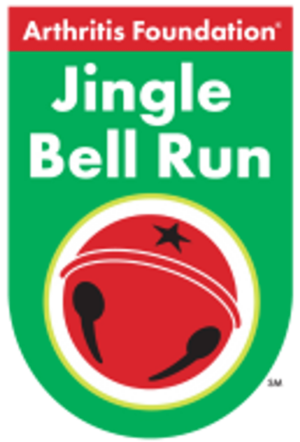 Be part of the original festive race for charity and signature Arthritis Foundation holiday event! Wear your favorite holiday attire and together, we'll jingle all the way to a cure! Register as an individual or bring a team of friends,