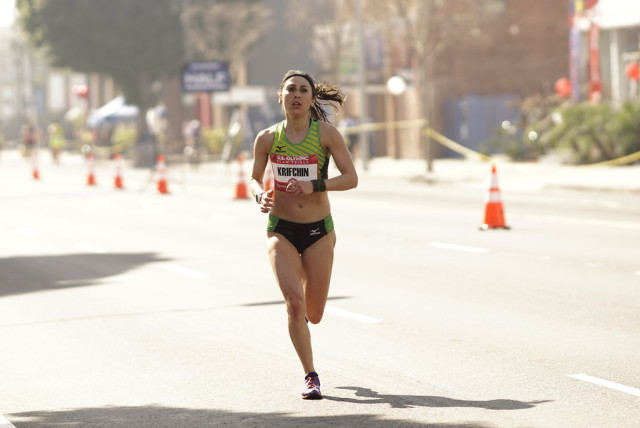 ---
Correction: On subsequent inspection, several other competitors ran personal bests in the race.
---
Maegan Krifchin might not have made the U.S. Olympic team for the marathon, but she got something out of Saturday's Olympic Trials in Los Angeles that nearly as rare: a personal record.
[button-red url="http://www.usatf.org/Events—Calendar/2016/U-S–Olympic-Team-Trials—Marathon/Results.aspx" target="_self" position="left"] Results [/button-red]She was one of as few as six finishers in men's and women's races, 254 in total, who improved on a previous marathon best. 
"Obviously the main goal was to make the team, but I came a little shy of that," Krifchin said. "Being in the top 10 was a good thing to accomplish."
More Trials coverage
She was one of four D.C. area women to finish in the top 25. Krifchin and Lindsay Flanagan, who finished 14th, live in Silver Spring and train with Stafford resident Serena Burla, who finished in eighth place. The trio are sponsored by Mizuno. Susanna Sullivan, of Falls Church and Capital Area Runners, finished 20th.
The feat was remarkable because of both the heat and amount of sunlight that baked the course after a late-morning start, taking temperatures to the high 70s, and because the championship setting, with the top three making the Olympic team, made the race tactical.
"They went out pretty conservatively, but they stuck their noses in there. Maegan had the confidence to do that even though it's just her second marathon," said Isaya Okwiya, the Mizuno women's coach. "Time is out the window and you're just racing people.
"There are a lot of variables in the marathon even in good weather. You don't know how much your body can handle, so it's very difficult under these conditions to know where your red line is."
Krifchin spent most of the race on her own after the lead pack broke during mile 12, but she felt like she made the right move holding back, especially because even then she didn't feel "safe."
"I think if I had gone with the lead group, I probably would have fallen off earlier," she said. "It was really lonely out there, that was even worse than the heat for me, but I feel happy with how I ran."
The conditions were improved from her win at the Rock 'n' Roll Chicago Half Marathon last July, with added high humidity to race temperatures that topped LA's.
Krifchin, Burla and Flanagan spent a few months prior to the trials training in Albuquerque, which forced the trio to train in layers to help them acclimate to a hot race day.
Burla came into the race with the fifth-fastest seed time, but her training leading up to the race left her worried.
"I think I prayed from the very start to the very end," she said. "That, and just putting one foot in front of the other was the only way I was going to finish. It hurt every step of the way."
Despite that difficulty, and with her 2012 trials dropout still haunting her, Burla was determined to race.
"I had to adjust and just try to put myself in a good position and make gradual moves," she said. "I wasn't going to be able to make surges so I sought consistency. There wasn't a whole lot of movement, or other people out there, so I spent a lot of the race thankful for the chance to be out there."
Burla finished in 2:34:22.
Flanagan did try to cover the lead pack's move in mile 12, but learned quickly it was a little too much for her.
"I took too big of a chance by surging with the lead pack," she said. "It hit me really soon, within a mile, and I knew I was in for a rough ending."
She was able to pick off a pair of runners in the closing miles to rebound a little to finish in 2:39:42.
"It was pretty brutal. It took a lot to finish, and I'm proud that I competed and finished, because it got pretty tough."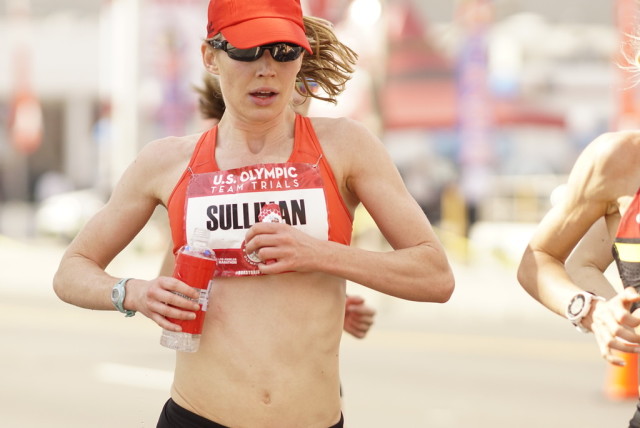 Sullivan finished 20th in her first trials, running 2:41:18.
"It was kind of a bloodbath out there, I just had to keep it in my head that I could keep going," she said. "I used the cooling stations, took a lot of gels, drank a lot of water, but my quads were just shot. I never thought I wouldn't finish the race because I ran out of energy, but I might have had trouble just because my legs didn't work."
But she held on, which is more than 49 of 198 who started could say. Sullivan was ranked 32nd among full marathon time qualifiers coming into the race.
"In one stretch, I went from 25th to 19th, but it was because people were dropping out," she said. "I knew I could make it to the finish line, but I wasn't sure if it would be walking."
"I knew I wasn't going to feel the way I did at Grandma's (her first marathon, in June 2015)," she said, "but with nine miles to go, I felt worse than I did at any point during Grandma's."
"Who would have guessed 2:41 would get 20th," said Sullivan's coach, George Buckheit. "She'll be back, she's only 25. She did everything she could have done, and she did pretty well."
She joined Buckheit and several teammates in Virginia Beach during Snowzilla to keep her training going during the blizzard.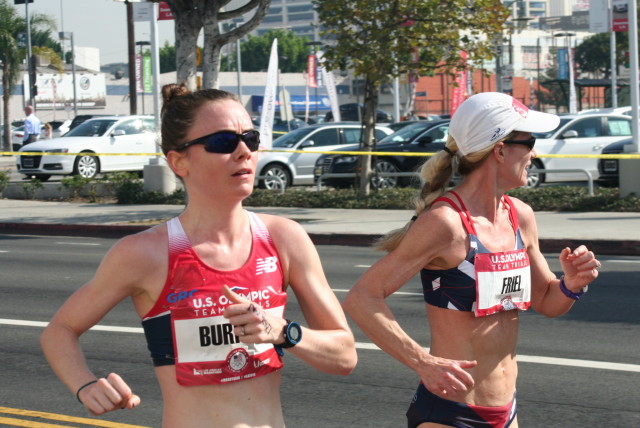 Teal Burrell, on the other hand, was stuck in D.C. as the blizzard approached and fretted about what to do for her last long run. She moved it up a day until Friday, when Beach Drive in Rock Creek Park would not be closed to traffic, and switched the venue to a windy and demoralizing few laps of Hains Point in East Potomac Park. It left her wounded three weeks from the race, but not dead.
The race was the culmination of a dream old enough to be in third grade. Her chiseling and hacking away from a 4:07 debut marathon down to to a 2:42:13 at the California International Marathon to qualify for the trials, along with the openness and vulnerability that were hallmarks of her blog, made her a role model to many.
And even though her race didn't have the absolutely storybook ending she set out for once she wrote her ticket, she wound up in the top half finishers on a day that could have been a nightmare for her. As much as Krifchin can adapt to the heat, Burrell can struggle in it.
"I wanted to get a PR, that's what I trained for, but the weather wasn't cooperating," she said, following her 2:50:35 finish for 72nd out of 149. "My goal was going to have to be to enjoy the race, and I was at peace with that for about two laps."
Actually, at mile 10, she was on pace to break her personal record.
"But the next mile I was way off, so I didn't even look at the clock until I had a mile to go," she said. "Usually I'm super upset when I don't get a PR and I kind of act like a brat, but I feel a lot better today. I think I'm more mature about it."
Toss in the fact that her time was her second-fastest marathon, she has to be happy about that. Aside from the weather, the race was a dream.
"I was so excited to have my name on my bib," she said. "People I didn't know were cheering for me and that really drove home how different this race was. Everyone was so supporting, they told me to keep picking people off. By that point, I was just putting one foot in front of another."
The cooling stations, which included sponges and wet towels soaked in ice water, became something to look forward to.
"The had it set up so you went by it twice on every lap," she said. "I was putting the towels around my neck like I was in an Ironman."
She also got a boost from her 20 family members and friends who traveled to watch the race.
Jerry Alexander, coach of the Pacers/Georgetown Running Club New Balance team Burrell joined in 2012, said her 72nd finish, after being seeded 117th among marathoners, was a testament to her arrival on the scene.
"When we look at all of the people Teal beat today, people who have run much faster, on a day that was not at all suited to her strengths, she's going to be very excited about where she's come."
Emily Potter, of Alexandria, a recent addition to the Pacers/GRC New Balance team, finished 102nd in her third Olympic Marathon Trials, running 2:55:10. Though far from her goal, Potter tried to make the most of the race.
"I'd look around when the lead packs would come and hope I'd at least wind up on the tv broadcast," she said.
Alexander could see from the start Potter wasn't comfortable.
"She didn't give up, though," he said. "By the third and fourth laps, she was actually looking better than a lot of people."