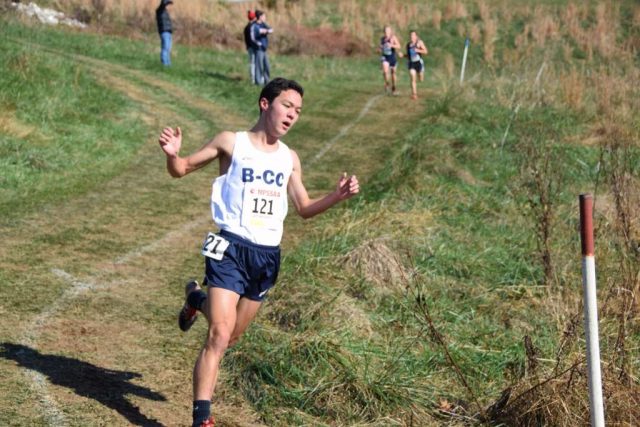 Nobody on the Walter Johnson girls' team has ever known a world in which they haven't been defending state champions. That will continue for another year, after the Wildcats won their record fifth straight 4A title.
0
Comments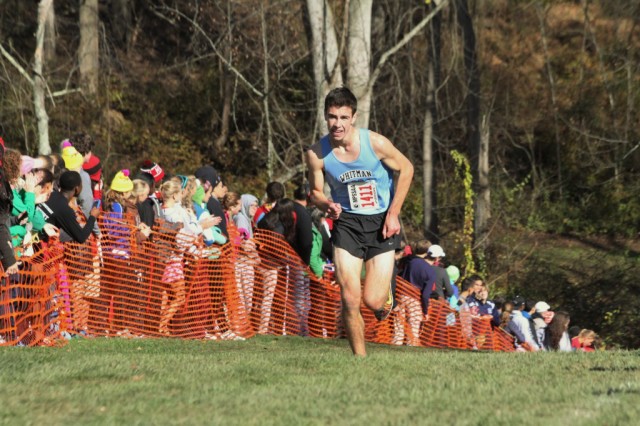 Evan Woods decisively won the boys 4A Maryland cross country state championships Saturday, snapping rival Diego Zarate's winning streak for the season.
Woods, a senior at Walt Whitman, finished in 15:49. Eric Walz, a junior at Dulaney, took second in 15:56 with Zarate coming in third less than a second behind.
[button-red url="http://www.motiontiming.com/node/144″ target="_self" position="left"] Results [/button-red]"It's by far the best cross country feeling I've ever had. The best running feeling ever," Woods said. "It was a hard race, there are a lot of good guys in this field. They took it out hard and this is a course where it'll beat you up in the second half."
Last month's Montgomery County championships saw Zarate barely edge out Woods in a photo finish. Woods said he tried not to let that affect his performance on Saturday.
"It was really hard to get prepared mentally for this race. He out-kicked me at counties and just out-gunned me at regionals, so I felt like I was a little bit hopeless," he said. "But I came into this race just trying to put everything behind me and come at it with a fresh mindset."
Zarate had about a five-second lead on the pack through mile two, when Woods caught up to him and thought it was time to make his move for the lead.
"That's a hard place to be mentally where you're way out in front and the pack catches you. So I decided that was the best time to go," he said. "Sometimes you can't afford to hang out them for too long or there'll catch their breath."
Woods and fifth-place Amir Khaghani led Whitman to a third-place finish behind Severna Park, which placed its five scoring runners in the top 11 to win the program's third straight title; and Dulaney, winners of the Glory Days Invitational in October. Zarate's Northwest team edged Bethesda-Chevy Chase by a single point to claim fourth place.
In another exciting race, Nick Fransham, a senior at North Harford, won the boys 3A contest in 15:41 after a couple lead changes in the last quarter mile. Fransham was in the lead as runners headed toward the finish, but David Eisenhauer, a senior at Wilde Lake, pulled ahead. It appeared Eisenhauer would win when Fransham unleashed his kick and finished less than a second ahead.
"Near the end I just had one last push, had to make things happen," Fransham said. "I didn't quit, I just waited him out a little bit longer and used the hill to help me with my kick."
Eisenhauer said the two have had close finishes before in the 3200m in outdoor track state championships.
"With 800 meters to go back then I could kick for 800 meters on the track, so I took off and ended up running nine seconds faster than him. Cross country is a whole different ball game, especially on this course when you're either going up or down a hill, so that took all the finishing speed out of me," he said.
Both boys races went out fast. Paul Hugus, the boys coach at River Hill, said the 3A race started at a 4:55 pace, faster than the regional meet.
Albert Einstein, led by Alejandro Arias, lost third place to Mt. Hebron on a sixth-man tiebreaker.
Nora McUmber, a senior at Bethesda-Chevy Chase, opened up a huge lead in the last half mile and won the girls 4A race in 18:40, more than 10 seconds ahead of the Maria Coffin, the second place finisher from Annapolis. Last year, the state meet was McUmber's only hiccup in a season that saw her go otherwise undefeated until the Nike Cross National meet.
McUmber said she and Winston Churchill's Lucy Srour, who finished in third and led her team to third place, took turns in the lead for the beginning of the race, with McUmber moving ahead on the uphills and Srour flying in front on the downhills. McUmber was able to make her move on her second lap on the huge hill rising from "the dip," and opened up her lead over the last half mile.
"I can't believe it. I knew this was going to be a really hard race and I think I really prepared myself. It's great, senior year, this is now or never," she said. "I kept thinking this is my last chance to really get it because there isn't a next year. It means a lot."
Walter Johnson repeated as state champions, widening their lead on McUmber's Barons for the second straight year, 51-91. Abbey Green's fourth-place finish made her the fastest freshman in the race by more than 90 seconds. Behind her, Emily Murphy (seventh), Katrione Kirsch (ninth), Kiernan Keller (15th) and Jasmine Garrett (26th) took control of the race for the Wildcats to be the only team champions from the D.C. area.
They had a target on their backs all season, which added some stress to their title defense.
"I saw they were feeling all the pressure about repeating. They weren't having as much fun," said coach Tom Martin. "We just concentrated from beginning of October on just having fun. When the girls starting having fun again, they started racing better."
He pointed to a couple stand out performances among girls on the team, including Garrett and Keller, who raced with an injured hamstring.
"She did that just out of sheer guts and love for her teammates," he said.
Many of the top finishers at Walter Johnson are underclassmen, and freshman Sadie Keller was just five seconds behind Garrett as their sixth finisher, which setting the team up to have another successful season next year where they could potentially be vying for a three-peat. Martin said he'll do his best to keep the pressure off the athletes next year as well.
"I'll just remind them that without the fun, this isn't worth doing," he said.
Urbana took the top two spots in the girls 3A race, with senior Emily Mulhern winning in 19:02 and team mate Maria Carberry, a junior, finishing about eight seconds back. Mulhern, who previously won states as a freshman and sophomore. She said those wins came much easier, and the hard work she had to put in to take the top spot this year makes this the most meaningful state title for her.
"I have had a lot of ups and downs this season. I didn't even run at regionals because of a hamstring issue, so today I just wanted to cross the finish line healthy and happy," she said.
The teammates ran together for much of the race, which both girls say helped them keep a competitive pace.
"Just being there with Maria, I don't think I've ever felt so in sync with her before as today. We just were really feeding off each other and I could just tell we were both having great races," she said.
Carberry said it was the first time all season both girls have had a successful race at the same time.
"I'm really glad that Emily and I ran it together because both of us haven't had our best race together and I think this is the first time we did, so I'm really happy about that," she said.
Both the boys and girls teams from River Hill won the team competition. Coach Earl Lauer said each runner knew what he or she had to do to help the team place, and that many ran better than expected.
"We kind of punched everyone in there and we had five in the top 25. You do that, you're gonna be hard to beat," he said. "I told them over a month ago, it's yours to lose."
He said the team has the potential to be successful in 2015, since five of their top finishers are not graduating and will run next year as well.
Albert Einstein edged Urbana for second place, 105-108, with Pauline McMurry and Ciciely Davy leading the way in 13th and 14th.
In the 2A class, Zach Gascho, a senior at Catocin, won for the boys in 16:24, helping propel his team to the top spot. Hayley Jackson, a sophomore from Patuxent, finished in 18:48. Liberty took the top team spot for girls. Poolesville finished fourth for the boys and seventh for the girls.
For 1A schools, Ty Franks, a junior from Boehmia Manor, won the boy's race in 16:26. Katie Leisher, a senior at Manchester Valley, won in 19:42. Southern Garrett boys won the team competition, and Smithsburg was the top girls team.
The Maryland Public Secondary Schools Athletic Association announced realignment plans that would shift various schools, including several in the D.C. area, into new classifications and regions.
0
Comments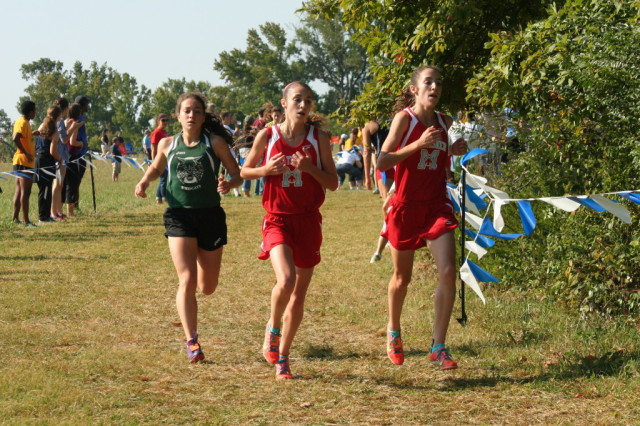 Loudoun County's cross country teams were gracious hosts at the Oatlands Invitational, but not pushovers.
Last year's 3A state champion Andrew Hunter of Loudoun Valley continued to exhibit his dominance that has been budding since last spring to win in 15:21, and Heritage newcomer and Eritrean native Weini Kelati surprised the field with an early lead that was never threatened, despite a loose shoelace that forced her to stop twice. She won in 18:12.
Kelati came to Leesburg to live with her cousin, Amselom Teklai, who serves as her guardian, after running the IAAF World Junior Championships in Oregon over the summer.
"The team has been very welcoming to her," he said. "They've taught her a lot and helped make her feel comfortable at school."
Without any fluency in English, Teklai said, the county considers her a freshman, but at 17, she has two years to compete. With a 9:12 3,000 meter to her name, a race without two stops certainly would have put the 18:04 course record, by Hannah Davidson of New York's  Saratoga Springs, in jeopardy.
Her emergence on the scene will turn some heads throughout the state and beyond, from the epicenter on the hilly course laid on the grounds of the Oatlands Plantation.
When Kelati took off, Loudoun Valley senior Ciara Donohue, who finished third in 18:57, was taken by surprise.
"I had no idea who she was, but I just let her go," she said. "She was either going to get tired and come back or not, and chasing her seemed like a bad idea that early on."
Heritage coach Doug Gilbert added that along with junior Georgie Mackenzie's (11th, 19:20) emergence,  the season is shaping up to be exciting for the Pride.
"(Kelati) is an amazing kid that is making the adjustment to high school running," he said. "It is, of course, very different for her and the language barrier presents us with some challenges, (but) just in the first week she has picked up a lot and I have no doubt that she figure the rest out quickly."
The race offered the first of several chances for teams from Virginia, Maryland and D.C. to compete against one another. Defending Maryland 4A champion Walter Johnson crossed the river to take on Virginia's James Madison, who looked strong in a win two weeks ago winning the Monroe Parker Invitational. Madison took the victory 109-133, with a wide gap back to last year's Virginia 6A runner-up, Washington-Lee with 286.
Madison senior Amanda Swaak, who won the Monroe Parker individual title, finished fourth in 19:05, followed by first-year cross country runner Devon Williams in 16th, Morgan Whittrock in 19th and Laura Sullivan in 26th.
"We figured we could have four in the top 25 and we were just off that," said Madison assistant Matt Kroetch. "We had a hard week of training and fit a 10 miler in on Thursday, so they weren't tapered but managed to run pretty strong anyway. You can't always prepare for the kind of hills you get here, but if you're mentally tough, you can overcome a lot of those things."
Despite coming up short, Walter Johnson assistant Ashley St. Denis saw a lot to tout from the race.
"We like to give our freshmen a chance to run at these big races to give them a taste of what it's like," she said, noting this was one of the largest fields the Wildcats will see. "You can'y run girls at that talent level in small races where they're beating everybody, that doesn't help them."
Senior Kiernan Keller led the team in 7th in 19:11 with freshman Abbey Green four seconds behind in 10th. Junior Emily Murphy followed in 13th, squeezing three between Madison's first and second finishers.
"I just love that fearless freshman mentality, where they don't know how talented they are," St. Denis said about Green. "It's so much fun…she doesn't know who anyone is, she just goes out there and races.
"They (the freshmen) are coming in and seeing how hard our team works and they follow. They're running faster than our freshmen have in years."
Freshmen also finished sixth and seventh for the Wildcats. Additionally, two rookies led Virginia's George C. Marshall team — Ashley and Heather Holt, who finished eighth and ninth at 19:14. The twins started their high school careers the week before, each running a 2.5k legs at the Braddock Relays, but Oatlands was their first high school 5k race.
"We just wanted them to run smart, get some experience and then they'll be ready to run faster," said Statesmen coach Darrell General. "I told them to just avoid getting boxed out, stay near the leaders, don't get overwhelmed."
Marshall finished sixth in the girls' varsity race and added a junior varsity title.
"It's the best girls team we've had since I started in 2002," General said. "We're very deep. We've had a good varsity squad before, but we have a really good junior varsity team too."
Hunter made short work of the field for a 34-second win over Walt Whitman's Evan Woods, just missing Louis Colson's 15:16 meet record from 2013.
"I made a significant move up the hill in the woods at 1.5 miles," he said. "When I hit the top of the big hill, I laid off a bit to save a little for the last 200 meters."
It was a 24-second improvement from his 15:45 finish last year.
"I just want to compete, try different things in races," he said of the early part of the season. "This is going to be the hardest course I run, so to run low 15:20s here makes me feel pretty good. Maybe if I had pushed harder early on I could have gotten the record but I can't complain about a win."
In contrast, Woods was pleased with a more conservative opening mile, downhill, around the high 4:40s.
"Last year I tried to run with the big guys and I spent the last two miles suffering," he said. "This year I hung back and didn't get worn out. It was a lot more fun."
Teammate Alex Roederer outkicked Millbrook's Alec Shrank to finish 10th and help Witman to the runner-up position. The Vikings (242 points), save for an asthma attack affecting one of their runners, were in a position to strike Brentsville District (177). Chantilly, lead by Ryan McGorty in fourth, finished with 258 points.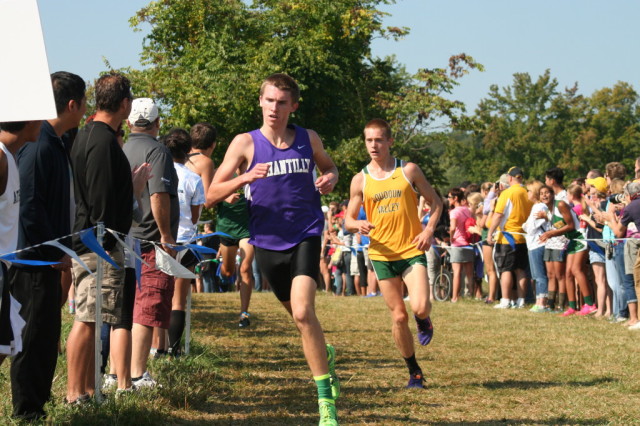 0
Comments