Don't be surprised if you look along the starting line of your next neighborhood 5k and see a fourth grader wearing a cape. You might be looking at that cape once Matteo Lambert speeds off down the course, raising money for his very own non-profit, Off the Charts Club.
Vienna native Matteo, 9, spent 2019 running 33 charity-driven races in 15 states and Canada, totaling over 100 miles and racking up nearly $65,000 to donate to Hopecam, an organization that helps kids with cancer stay connected to their classmates through technology.
This year, Matteo embarks on an even more ambitious endeavor, one he's coined "L2L" – Lincoln to Liberty. He will compete in 5k and 10k races across the United States to total 220 miles – the distance from the Lincoln Memorial to the Statue of Liberty.
0
Comments
Nothing the doctors told her about her daughter's Type 1 diabetes diagnosis sounded like "you will direct a race in 10 years."
She was more worried that Isabelle couldn't eat when she was hungry, which emotionally tough for both of them, on top of Isabelle's physical discomfort. She was concerned with how much she could eat relative to her insulin levels, trying to avoid a seizure or diabetic coma. She was concerned with keeping Isabelle's blood glucose levels under control while she was playing, trying to let her just be a kid.
Meanwhile, Jackson became a running ambassador for a local Lululemon store, and the managers soon asked if she could think of a community event that would bring people together in a healthy way. 
"I had wanted to start a 5k for T1D for a few years," Jackson said. "We had done walks for T1D research organizations, but felt I like (they) didn't represent my active daughter."
0
Comments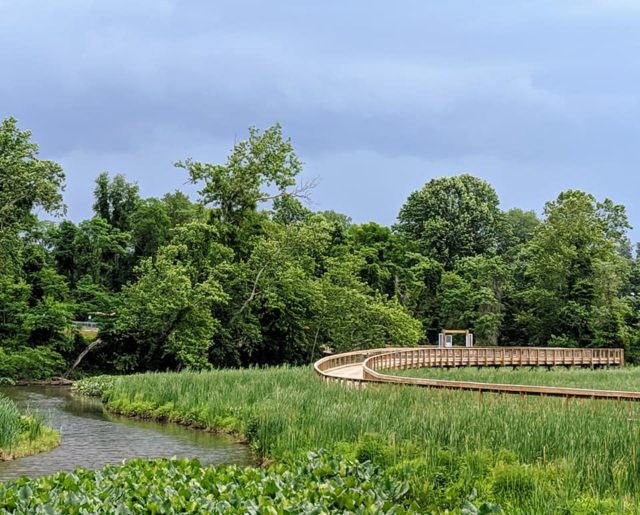 As a new resident of the Woodbridge and Occoquan River region, I was eager to explore what the local running trails had to offer this past summer. On one early morning run in June, I passed a freshly paved blacktop trail veering off from the sidewalk along Rippon Blvd., which hadn't been there the week before.
I followed the trail for a few minutes to discover a spacious parking lot and a playground. As I continued, I came around a bend in the trail to discover a wide, pristine boardwalk winding like a serpent over Neabsco Creek and the surrounding wetlands.
0
Comments