Don't be surprised if you look along the starting line of your next neighborhood 5k and see a fourth grader wearing a cape. You might be looking at that cape once Matteo Lambert speeds off down the course, raising money for his very own non-profit, Off the Charts Club.
Vienna native Matteo, 9, spent 2019 running 33 charity-driven races in 15 states and Canada, totaling over 100 miles and racking up nearly $65,000 to donate to Hopecam, an organization that helps kids with cancer stay connected to their classmates through technology.
This year, Matteo embarks on an even more ambitious endeavor, one he's coined "L2L" – Lincoln to Liberty. He will compete in 5k and 10k races across the United States to total 220 miles – the distance from the Lincoln Memorial to the Statue of Liberty.
"These monuments are America's symbols of freedom," Matteo said. "I want all kids with cancer to be free of their medical charts. That's why I started Off the Charts Club."
The first hint of their son's passion and talent for running for Brandon and Diana Lambert came in June of 2018. Matteo raised $250 and raced a Zero Prostate Cancer 5k in honor of his grandfather John, a cancer survivor. Matteo place second in the 12 and under category under the proud gaze of his grandfather.
His parents acknowledge that they there are naysayers who think they are the ones pushing Matteo to compete, they counter, "These people have clearly never met Matteo. At every race he says, 'Let's do that again, right now!' while grinning ear to ear."
Brandon and Diana offer tangible support for Matteo, including providing transportation, juggling fundraising efforts and helping to manage his social media outreach. The family drove about 10,000 miles between March and November last year to make Matteo's dream a reality. He hit Pittsburgh, St. Louis, Chicago, Long Island, Kansas City and Vancouver, among other cities. He's done  Tedx Talk in Tyson's Corner.

"Not once did we think about whether it was worth our time," Brandon said. "We feel very thankful to have two healthy children and we know that could change tomorrow."
Planning how to get to all of these races is like fitting together pieces of an intricate puzzle. Brandon and Matteo often sit together on the couch with a laptop, Matteo's travel soccer schedule in hand, as they map out which races will fit on the calendar.
While his parents help manage race logistics, Matteo is the one who fuels the fire to keep them going. Although they say their son's accomplishments aren't a result of anything special they've done, the Lamberts follow a special family motto centered on the importance of showing up.
"More than half of life is continuing to show up in different ways," Brandon said. "If you stay at home on your couch, you have no chance of making a difference. Just show up, and you never know what kind of magic will unfold. For now, we're going to keep showing up."
For Matteo, that means showing up at the starting line week after week. He loves running because it makes him feel strong and powerful when he's competing. While part of his goal is to transfer that sense of strength and stamina to kids who are bravely fighting their diseases, he considers them to be the truly courageous ones. Matteo wears a different cape for each race, which bears the name and photo of a local kid with cancer. He calls these kids "cancer-fighting warriors," and he says they lend him their super powers for each race.
"After the race, I return the super powers by giving the boy or girl the cape and any medals they win," Matteo said. "You see, my finishing time is their time, and not mine, because it's their bravery that inspires me to run."
Matteo has also collected donated gifts from local sports teams, including game balls and autographed jerseys, to give to kids fighting cancer.
"My favorite part is seeing how happy it makes kids with cancer to receive a gift from another kid – me," he said. "They realize that I have their backs. It's important for kids to support other kids. We can't wait on adults to do everything."
Matteo has a few words of encouragement for other kids who want to contribute towards a cause they care deeply about.
"I think other kids should follow their passion to make a difference," Matteo said. "If you do what you love and think about how you could help others, you will feel good about your efforts and want to do it more. You don't have to finish first in a race or raise thousands of dollars to make a difference. Just enjoy it and remember that it's often the thought that counts."
While Matteo usually has a blast at races, he acknowledges that not every race or training session is going to be fun.
"When you run every weekend like I do, there are many days when the weather doesn't cooperate," Matteo said. "Anytime I start seeing that as a challenge, I think about what kids with cancer go through. Their goal is to reach the finish line – remission. I use their courage to keep trying hard until the finish line, even if I don't feel my best."
Although these wise and selfless words are spoken by a kid who just barely tops four feet, Matteo has lofty goals for years to come. When he gets older, Matteo dreams of becoming a professional soccer player. This summer he will travel to Milan, Italy to compete with AC Milan's 10 and under team for an international competition. Matteo also wants to work at NASA to continue to explore space. His modest goal is to hold the first 5k on Mars.
Matteo has another big dream too: running the New York City Marathon, like his idol Steve Sodergren, who ran 50 marathons in 50 states to support the St. Jude Children's Research Hospital. When Matteo follows in his hero's footsteps and finally runs the New York City marathon, he wants to make it a big deal.
"I want to run local marathons first and then show the Big Apple how fast I can run," Matteo said. "But, I want many kids with cancer to be at the finish line so I can give them a hug. It will be our finish. And, I won't be done running races until every kid can say 'Remission Accomplished.'"
Recent Stories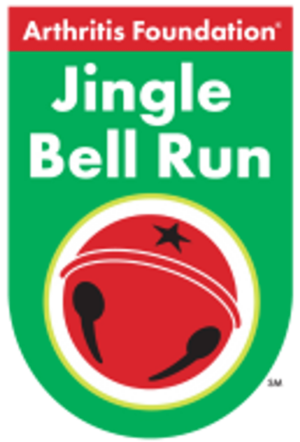 Be part of the original festive race for charity and signature Arthritis Foundation holiday event! Wear your favorite holiday attire and together, we'll jingle all the way to a cure! Register as an individual or bring a team of friends,