Nothing the doctors told her about her daughter's Type 1 diabetes diagnosis sounded like "you will direct a race in 10 years."
She was more worried that Isabelle couldn't eat when she was hungry, which emotionally tough for both of them, on top of Isabelle's physical discomfort. She was concerned with how much she could eat relative to her insulin levels, trying to avoid a seizure or diabetic coma. She was concerned with keeping Isabelle's blood glucose levels under control while she was playing, trying to let her just be a kid.
Meanwhile, Jackson became a running ambassador for a local Lululemon store, and the managers soon asked if she could think of a community event that would bring people together in a healthy way. 
"I had wanted to start a 5k for T1D for a few years," Jackson said. "We had done walks for T1D research organizations, but felt I like (they) didn't represent my active daughter."
Jackson would get unsolicited advice from people that was clear they didn't understand Type 1 diabetes. She wanted the race to reflect her daughter's life, one that embraced fitness and challenges.
"I hoped to share with race participants that T1D is actually an autoimmune disease, not related to diet or exercise," she said.
Lululemon fully funded the race in 2015, allowing all proceeds to go to T1D research. Jackson called the race, in Vienna on the W&OD Trail, the Countdown to None 5k, because the goal is to ultimately reach a cure. The first race on New Year's Eve in 2015 drew about 150 runners and raised $12,000 and by 2019, the race drew 400 runners and raised over $50,000. To date, Countdown to None has donated over $100,000 for T1D research though the Juvenile Diabetes Research Foundation, and they have no intentions of stopping. 
Isabelle, now 14 and a freshman in high school, has been involved in the race from its inception, checking runners into the race, serving as her mother's running buddy and speaking in front of groups about her life as an active child with T1D. Being involved in Countdown to None has given her a positive platform to educate and raise awareness about her T1D. 
"It has always been difficult to do the activities things I love . . . it takes extensive planning to be able to run one race, so any step closer to a cure is a huge deal," Isabelle said. "It's so nice to have a positive representation of T1D in general, because the stereotype of overweight, unhealthy diabetics is far from the truth. Seeing our community come together to support such an important cause at the race every year is really an amazing thing." 
While Jackson's race helps her expresses her gratitude for her healthy daughter, Clare Goldfogle celebrates her son Ben's memory through Ben's Run each April.
Goldfogle described Ben as, "A kind soul who rarely complained, despite all he went through. He was a fun kid to be around and a great friend."
She lost Ben after a six-year battle with Leukemia Sept. 3, 2009, weeks before his 12th birthday. Clare and her husband Tom wanted to show their appreciation for the treatment and care young Ben received at Children's National Hospital. Clare's neighborhood running buddies, who had been a source of strength through the process, gave her the inspiration to start Ben's Run and their non-profit, Ben's Gift. 
"We wanted to create a legacy for him," Goldfogle said. "I think the money we have raised in his memory and honor have allowed us to help other kids who've been diagnosed with leukemia and other forms of cancer. He would be very proud that the funds have gone on to help kids just like him."
Ben's Run starts and finishes in the parking lot of Stonegate Elementary School in Silver Spring, where Ben attended first through fourth grades when his health allowed. The course winds through the hilly neighborhood where Ben loved to run around and play with his friends.
In its first year, the race drew 800 participants and raised $33,000.
"We felt very lucky we had that kind of community support right off the bat," Goldfogle said. "Now we average about 1,000 participants annually, but we're hoping to blow past that for our 10th run this year." 
After 10 years of fervent support from her volunteer team, Goldfogle wants to give them a break and wind down the race. She and the team set a specific goal of $252,500 this year, which would bring their total donations to Children's National to over $1 million. That would fund 22 more patients currently enrolled in clinical trials for Leukemia treatments. Their nonprofit, Ben's Gift, will continue.
"We've had a good long run these last ten years. It's just time to do something else in his memory to honor him," she said. "We want to make the best of this last race."
Goldfogle's story of losing a child to cancer is not unique, but for many, it's difficult to figure out how to cope with such devastation.
"You don't want to just give up because you've lost a child," she said. "You have to find what your passion is, what brings you joy, in order to help you get through these difficult days, weeks, and years. Ask yourself what allows you to honor and celebrate your child's life. For us, this run has been a Godsend."
While Countdown to None and Ben's Run raise impressive sums for their respective causes annually, Kelly Vigil of Woodbridge wanted to offer opportunities for runners to participate in races to support worthy charities on their own time just by stepping out their front doors. So in 2014 she founded More Miles Races.
Vigil was inspired to start her fist virtual race after she lost a friend to cancer, which prompted her to raise $1,500 for Stand Up to Cancer. 
"I had fun with the event, but I didn't think it would be something that I'd continue to do. Opportunities kept popping up, so I took them, and pretty soon More Miles branded itself into a business."
She created races to benefit a variety of other non-profits including Every Mother Counts, Girls on the Run and the ASPCA. In 2017, when Hurricane Harvey devastated south-central Texas, one of her Instagram followers messaged her, requesting that Vigil set up a virtual race to benefit the victims. She raised $60,000 for the American Red Cross for disaster relief. 
Vigil's main goal is raising the maximum amount of funds as well as getting as many people involved in supporting each cause as possible. Virtual races are suited for this because they don't require a physical course, staffing, road closures or supplies. Just her fee, in lieu of charging a portion of donations.
"It's a great opportunity for community-building, because when you're doing this race with others, it's not about what you get, but who you're running for," Vigil said. 
Runners register for a race online, paying $5 for a 5k or $10 for a 10k, with the option to make an additional donation. They can choose when to run the distance, with or without others. 
Vigil is currently promoting a race, Run for Australia, to support the Australian Red Cross and New South Wales Rural Fire Service. Over 2,200 runners have raised over $25,000 so far, and the race will be open through Jan. 31. 
Whether you are a seeking an organized race day experience like Countdown to None or Ben's Run, or you prefer the informal convenience of More Miles virtual races, these are just a few examples of the many opportunities for Washington area runners to lace up in honor of their favorite causes and use their miles for good. 
Recent Stories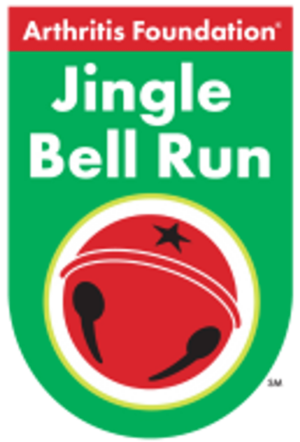 Be part of the original festive race for charity and signature Arthritis Foundation holiday event! Wear your favorite holiday attire and together, we'll jingle all the way to a cure! Register as an individual or bring a team of friends,