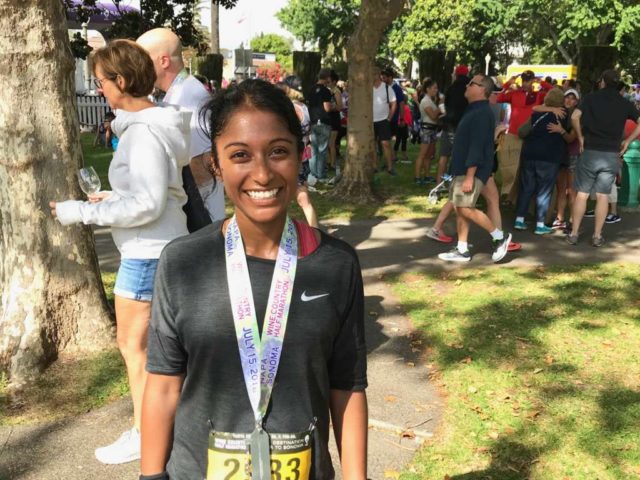 Name: Tanya Senanayake
Self-described age group: F 35-39
Residence: D.C.
Occupation: Attorney specializing in campaign finance litigation
Volunteer roles in the running world: I love mentoring other runners, especially women and those new to running. I also created an Instagram account (@oaktreerunner) to bring attention to mindful running and women's running, and to connect with women of color runners, since a meaningfully diverse representation of runners encourages even more people to try out this great sport. And I assist Coach Wilson Komen with his outreach and community partnerships building.
Why you run: Running makes me feel stronger, builds my resilience, and gives me space to find stillness. There is something about running that makes me really attentive to my surroundings, like the sounds of gravel crunching underfoot and the presence of roots and rocks and frogs, but also lost in a flow state at the same time. This is meditative and healing for me.
When did you get started running: I started running after I turned 30, during my first year in D.C. On a whim I decided to organize a team at work for the Lawyers Have Heart 10K. At the time, I couldn't run more than a few blocks, but I printed a 10-week Hal Higdon plan that I found online. I crossed out Weeks 6 and 8 because there wasn't enough time (mistake!) but ended up loving the feeling of camaraderie and friendship that come with training for a race and the feeling of accomplishment at running a half mile without stopping, then a mile, then two miles, and eventually the race.