Name: Josh Lasky
Self-described age group: "No longer spry but not yet seasoned" aka 30-39 (I'm 36)
Residence: Kingman Park
Occupation: Managing Director and Chief Strategist, LINK Strategic Partners (communications and social impact consultancy)
Volunteer roles in the running world: Member of the Board of Directors, Climate Ride
How has your running changed in the last six months: My running during the pandemic is mostly about maintaining my mental health. Running has created a much needed calm, focused space away from Zoom calls, my Twitter feed, and the non-stop 24-hour news cycle.
Why you run: I run for meditation, adventure and fitness, usually in that order.
When did you get started running: I started running after I broke my ankle in 2012. It was a wake-up call for me to take advantage of my health and my able-bodiedness in a way that I never truly had. The injury came at a time when I was looking after my father, who suffered with Parkinson's Disease for 23 years, and I suddenly felt more like him than ever before. As soon as I recovered, I rode my bicycle from Washington, D.C. to Portland, Ore.. Two weeks after I returned from that trip, I ran my first race–a marathon–and I've run more than 70 races ranging from 5K to 100 miles in the seven years since then.
Have you taken a break from running: I've taken a few weeks off here and there, but I try to run at least a few miles a week even if I'm not training for anything, if only to stretch the legs and get my heart rate up.
Training shoe: Altra Lone Peak 4.5
Coach or training group: I mostly run alone–whenever I can carve out time in the schedule–but I've run with Pacers and H Street Runners on occasion in the past.
The hardest race you've ever run: The Rocky Raccoon 100-Mile Endurance Run was the hardest race I've ever run. The distance is immensely challenging from a physical perspective, but I vastly underestimated the mental component of the race. At some point after 60 or 70 miles, my mind became the most important "muscle" in my body, especially as day turned to night and I was running alone by headlamp on the trail. It takes an incredible amount of focus to will your body forward for hours in the dark as everything starts breaking down and the pain sets in from head to toe.
Most adventurous decision you've made with your running: After placing it on my bucket list years ago, I ran the Grand Canyon Rim-to-Rim-to-Rim last year. The combination of distance (~49 miles), elevation (~10,000 feet of gain), views, and self-reliance make for an incredible adventure. Epic in absolutely every way.
Running mentors: I'm a huge fan of runner-storytellers, particularly the creators on YouTube that have become de facto organizers and historians for the trail running and ultra community. Ethan Newberry (The Ginger Runner), Billy Yang, and Jamil Coury come to mind.
My favorite place to run in the D.C. area is: I love running in Rock Creek Park and the National Arboretum, but I've spent a good chunk of time in places like Fountainhead Regional Park, Hemlock Overlook Regional Park, Lake Fairfax Park, Seneca Creek State Park and Wakefield Park.
Favorite local trail: I live on the east side of D.C., so I spend a good amount of time on the Civil War Defenses of Washington Hiker-Biker Trail, a great urban trail that winds through neighborhoods from Deanwood to Anacostia.
My best race was: My first ultra was the Bull Run Run 50-Miler, and it was a great initiation to ultra distance. It proved that I could push myself harder and farther then I previously thought was possible, and that realization opened up so many possibilities in my life.
Favorite local race: I am a huge fan of anything produced by EX2 Adventures, a racing outfit led by Andy Bacon. Great courses, staff, volunteers, runners, post-race food, and swag.
Ideal post-run meal: Pizza and Pilsner.
Favorite flavor of gel, gu, etc: Espresso Love flavor Gu is my personal turbo button.
Pet peeve: Waiting in line for the bathroom before races.
Goals: Stay healthy. Also, find more one-day running adventures to focus on. Since the Grand Canyon Rim-to-Rim-to-Rim, I've completed the Presidential Traverse (NH) and set an FKT on the entirety of the Rock Creek Trail. I'd love to attempt the Timberline Trail around Mount Hood in the next few years.
Your advice for a new runner: Focus on your form, start slower than you think you need to, and stay within your comfort range until you feel confident. Then begin to test yourself in ways that feel right, but always listen to your body.
Favorite running book: What I Talk About When I Talk About Running by Haruki Murakami and Born to Run by Christopher McDougall. Note: I just wrote a book that talks both about my experience as a runner and as a caregiver for my father. It's called Every Step Is a Gift: Caregiving, Endurance, and the Path to Gratitude, and it'll be available on Amazon in December. More info is on my website at joshlasky.com.
Song in your head during a run: Rüfüs Du Sol – "Innerbloom"
Have you dealt with a major injury: I haven't dealt with any major injuries since I started running in 2013, but I've had a nagging calf injury that flares up usually once a year when I ramp up my training in the spring. It's a reminder to slow my pace down a bit and take it easy, and then weave in additional strength conditioning to make sure my legs can manage the miles I'm demanding in my training and racing.
Running quote: "Adventure is a path. Real adventure – self-determined, self-motivated, often risky – forces you to have firsthand encounters with the world. The world the way it is, not the way you imagine it. Your body will collide with the earth and you will bear witness. In this way you will be compelled to grapple with the limitless kindness and bottomless cruelty of humankind – and perhaps realize that you yourself are capable of both. This will change you. Nothing will ever again be black-and-white." – Mark Jenkins
Why is the D.C. area a great place to be a runner:  Great community of runners and incredible places to run, ranging from the monuments on the National Mall to hundreds of trail miles in Rock Creek Park and the local and state parks within a 45-minute drive of the District.
Recent Stories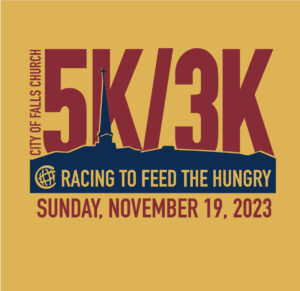 The out and back Falls Church City 5K/3K course is mostly flat on the W&OD Trail starting and finishing at 103 Columbia Street. Overall male and female winners earn free shoes and medals are awarded to all categories. Great family