Name: Michaela Guerin Hackner
Self-described age group: The "faster as a master" crew
Residence: Arlington, but soon-to-be Bozeman, Mont.
Occupation: Design director, Upwork
How has your running changed in the last six months: For the past six years I've trained for triathlon and road races pretty much year-round in hopes of getting faster and hitting milestones like completing an Ironman and qualifying for the Boston Marathon. I achieved both those goals, and at the start of the pandemic I was about a month away from running the Boston Marathon for the second time. That was postponed and well, most of life was postponed. So, while I started out doing challenges like the Yeti 24-hour Ultra, I quickly made the decision to give my body a much-needed break and take all goals off the table. That's turned into running for fun and making time for other kinds of outdoor activities, like 15-mile hikes and cross-country skiing. We're in the process of moving across the country to a place that is covered in snow, but my plan is to resume training more regularly once we're settled again.
Why you run: I love to run because it makes me feel alive. There's nothing quite like blasting your favorite song while you feel your legs fly through the air, or the closeness you feel with another runner when you're sharing stories as you slog through a 15-mile run in 90 percent humidity. Running has brought me to places I never would have seen otherwise and it's something I can do anywhere in the world that allows me to explore, learn, and connect with every facet of life. It's the embodiment of what being human is all about.
When did you get started running: I came from a "music and arts" family, and none of us participated in sports. However, my high school boyfriend was very competitive in cross country (among other sports) and wanted me to sign up to be the team manager. When I spoke with the coach he told me that he thought I should run on the team instead. I told him I wasn't sure I could even run a mile. We made a bet, and I lost. I started out as the slowest runner on the team, but surprisingly found myself as the seventh runner contributing to our state championship by the end of the season. I was on the team for three years (and picked up soccer), but then only ran casually after that until I was 30 and trained for my first marathon. I've been running and competing regularly since.
Have you taken a break from running: Running casually like I am now is the closest to a break I've ever had (other than taking a 6-8 weeks off for injury). It feels weird, but I also know I have a lot more running in me and I'm excited to get back into it and hopefully do more trail running.
Training shoe: I am not a fan of Nike, but unfortunately my favorite shoe is the Nike Zoom Fly. Nothing feels quite like it and I've had a hard time quitting it (though I've tried).
Coach or training group: I've trained with Becki Spellman over the past year, but have also worked with Trimarni Coaching and Taneen Carvell when I was competing in triathlon. Working with a coach was life-changing for me and I highly recommend it if you're working to achieve big goals. I'm also a part of the Oiselle Volee team, which has been a great opportunity to meet and run with women from all over the country. The D.C. chapter is fairly large and has made the city feel very small since I'm always running into people I know when I'm out on the Mall or running on the Mount Vernon trail.
The hardest race you've ever run: Last year, I ran the Marine Corps 50k as my first (and only) ultra. I'm one of the few people who's not a huge fan of Marine Corps, but thought this might be a new way to appreciate this iconic race. Unfortunately we had horrible weather–crazy rain and then blazing hot sun–and 30+ miles pounding the pavement did some serious damage to my left knee. I thought it was never going to end and I sincerely hope I never have to run that stretch from Crystal City to Rosslyn ever again. I think Marine Corps and I aren't meant to be :).
Most adventurous decision you've made with your running: When I turned 40, some friends and I celebrated by running the Grand Canyon from Rim-to-Rim. This is one of my favorite running memories and something I highly recommend if you ever get the chance. There's nothing quite like seeing the change of scenery from one end of the canyon to the other, and you can't beat 15 miles downhill along the most beautiful canyon walls in the world.
I also participated in two "Swim Run" races, which was probably the craziest (and most fun) type of race I've ever been part of. Imagine running 15 trail miles in a wetsuit, and swimming in 50 degree water with your sneakers on, all while tethered to a partner. That's SwimRun.
Running mentors: Lauren Fleshman — for the way she connects the practices of running and writing (two things I love); Ali Feller from the Ali on the Run show — I just love her honesty, humility, and the positive energy she brings to the running community; my running best friend Amanda — because there's nothing she can't or won't do, and she always has the most positive attitude of anyone I know.
My favorite place to run in the D.C. area is: I love running through Rock Creek Park in the fall, the reflecting pool for track workouts, and a loop around the Potomac River through Georgetown and across the Key and Memorial bridges for an easy five miler.
Favorite local trail: Anything flat, along the river in Rock Creek Park.  
My best race was: The 2018 Boston Marathon. There was high wind and torrential rain, and it was the slowest marathon I'd ever run. But, I was smiling from ear to ear the entire time because it was a 10-year dream come true and nothing was going to keep me from enjoying every second. Finding out the Des Linden became the first American woman in 33 years to win was icing on the cake!
Favorite local race: The GW Parkway Classic is my favorite distance on my favorite course. Every time I do this race I have an amazing time — between the net downhill and the great party afterward, it can't be beaten.
Ideal post-run meal: A South Block Warrior Bowl.
Favorite flavor of gel, gu, etc: I'm not a huge fan of any of these things — they all taste too sweet to me — but I can tolerate Skratch raspberry chews and Boom gels.
Pet peeve: Bikes that come up behind you when you're running and don't let you know they're there.
Goals: Complete all six Abbott World Marathon Majors and miraculously break the 3:30 marathon barrier.
Your advice for a new runner: Find your people — running is infinitely better when you immerse yourself in the incredible community. Also, be patient. Endurance and speed take time but the investment is worth it. Keep showing up and remembering to have fun. You get to do this! 🙂
Favorite running book: Let Your Mind Run by Deena Kastor. I absolutely loved every second of this book and the ways that Deena not only tells the story of her incredible career but the humility and kindness she brings to the sport and her coaching. The way she's been able to master the doubts and negative thoughts in her brain is admirable and something everyone can learn from.
Song in your head during a run: "This Time" by Janet Jackson or "Shake It Out" by Florence and the Machine
Have you dealt with a major injury: I tore my labrum a few years back and spent a lot of time in physical therapy working to avoid surgery. It worked and I haven't had significant issues since. Now I'm dealing with deteriorating cartilage in my knee, which is really frustrating and part of the reason why I've taken some time off. I've done some physical therapy for it and recently got a gel injection, but I think this might be permanent. Getting old is no fun.
Running quote: "There is no secret. Keep going."
Why is the D.C. area a great place to be a runner:  The community of people and the variety of terrain — from gorgeous rocky trails to miles and miles of paved paths — DC is truly unique. There's nothing quite like running around the National Mall with some of the most passionate and dedicated public servants, scientists, activists, and changemakers in our country.
Recent Stories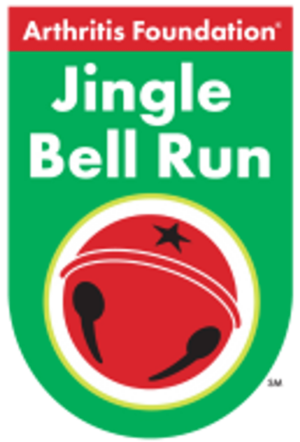 Be part of the original festive race for charity and signature Arthritis Foundation holiday event! Wear your favorite holiday attire and together, we'll jingle all the way to a cure! Register as an individual or bring a team of friends,