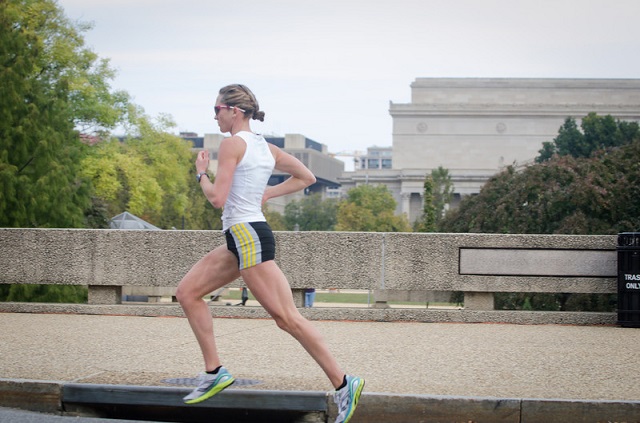 With a strong lead in the Marine Corps Marathon, Army Capt. Kelly Calway had her opportunity–run harder now or spend seven months regretting it. With an impending deployment to Kuwait waiting for her a week later, the cool day in Washington was her chance to take care of qualifying for the U.S. Olympic Trials.
She was able to pull things together and close out the race with a 2:42:15, 45 seconds to spare and a 5:48 lead over Gina Slaby. She finished 25th in the 2012 Olympic Trials while running in the Army's World Class Athlete Program.
"My daughter is going to be thrilled," she said. "Hazel is six and so competitive, she loves hearing about when I win."
It was a somewhat surprising win, given the limited training window she gave herself. Busy with command responsibilities in Monitou Springs, Colo., she rotated out in advance of her deployment and had roughly a month to get into racing shape.
"I spent a lot of that time at Stanford with my husband, running my workouts on that great track," she said. "I had about a week here after running the Army Ten-Miler (57:06 for sixth place) and got a good tuneup on Hains Point. They had the mile markers out."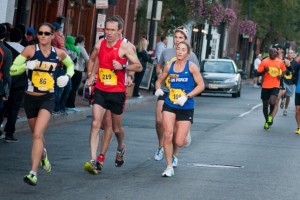 Though her parents now live in Washington State, Calway, then Kelly Brown, attended West Potomac High School and North Carolina State, and got to see teammates and friends from earlier in her career.
"Erin (Taylor) and Kelly Swain were out there on the course, I knew them from Lake Braddock and Erin from college," she said. "Claudin (Hull) Magnum was out there, she went to state, too."
Magnum, a Quince Orchard alumna, finished fifth in 2:50:47.
Five minutes behind her, Gina Slaby of Virginia Beach(2:48:03), and Emily Shertzer of Jonestown, Pa. (2:48:07), completed the military sweep of the women's podium. Slaby is a Navy Supply Corps Officer and Shertzer works for the Army National Guard, while also serving in the Air National Guard.
Slaby qualified for the trials two weeks before at the Chicago Marathon. The other half of the duo, Shertzer, did a lot better than she had expected.
"I had a terrible month in September running a 20k (New Haven) and a half (Navy-Air Force Half) and it was not good confidence building," she said. "July and August were great, so I was glad September was a fluke, but it really made me question my preparedness."
Top 10 women's finishers
1
Kelly Calway
2:42:16
29
Manitou Springs, Colo.
2
Gina Slaby
2:48:04
32
Virginia Beach, Va.
3
Emily Shertzer
2:48:08
33
Jonestown, Pa.
4
Emily Potter
2:50:25
34
Southern Pines, N.C.
5
Claudin Mangum
2:50:48
32
Raleigh, N.C.
6
Rachel Booth
2:51:25
32
Springfield, Va.
7
Samantha Bower
2:53:32
23
New York, N.Y.
8
Christina Noordstar
2:55:01
37
Tierra Verde, Fla.
9
Paula Pridgen
2:56:05
27
Charlotte, N.C.
10
Amanda Allen
2:56:41
26
Boston, Mass.
Full results
0
Comments
By Brenda Barrera
Washington, DC
October 30, 2011
For the Washington Running Report
Charles Ware wins it all in a near Olympic-class 2:19:16.
What a weekend with so many elements of drama. A rare fall storm hit the mid-Atlantic on Saturday bringing not only rain, but hail, sleet, slush, and snow. On Sunday, however, the skies cleared in time for the 36th Marine Corps Marathon where Army 1st Lt. Charles "Chad" Ware from Wheeling, IL won in an impressive 2:19:16 and Tezata Dengera, from Ellicott City, MD by way of Turkey, claimed the women's title in 2:45:28.
With early morning temperatures hovering in the mid 30s and a slight breeze kicking up, there was nary a trace of the storm from the prior day except for a few slick spots on the roads and muddy fields as 20,895 runners completed 'The People's Marathon' under bright sunshine and blue skies.
"Cold weather is a good thing for me," smiled Ware, 27, as he soaked in his victory after giving thanks by looking upward, giving the number one sign and breaking the finish line tape.
A head taller than most of the lead runners, the lanky Midwesterner was easy to spot during the race. "I felt good through the early hills," he said, then lost a little ground at mile 13 before he made his move at mile 19 to take the lead for the rest of the race.
When asked, Ware claimed he was not aiming for the U.S. Olympic Marathon Trials standard time of 2:19:00, but he knew it was within his grasp.
"If I kept on 5:18s [per mile], I knew I could get it," he acknowledged. By the last couple of miles, however, he slowed a bit, narrowly missing the qualifying standard by 16 seconds.
Brushing off that topic, Ware emphasized the honor to run for the All-Army Team. "It's a privilege to be able to represent the Army and wear the Army singlet," he said. An Army Reservist, he will be going on active duty this January.
While most of Ware's competition was either dropped or dropped out, stalwart Michael Wardian, who gives his all whether the distance is a 5K, 42K, or 100K, was trying to reel in the leader.
"I saw him at Crystal City and thought that wasn't too far," remarked Wardian who thought he might be able to catch Ware but was not able to do so. The Arlington running icon took the runner-up spot three minutes later in 2:23:46. Representing the Coast Guard, Patrick Fernandez, 24, from Alexandria finished next in 2:26:37.
Finishing in the top ten was Adam Condit, (left) a familiar runner on the local scene who recently moved to Cedar Rapids, IA. Condit ran the Medtronic Twin Cities Marathon two weeks ago finishing in 2:27:20. At this race he ran 2:29:28 to clinch 5th place.
The women's competition as not decided until after the 35K mark where the trio of Tezata Dengera (217), Emily Shertzer (146), and Getachew Shiferaw(3) all went through in 2:16:44 battling for top honors. It was after that mark when Dengera and Shertzer pulled away from Shiferaw, making it a two-woman race to the finish. Dengera prevailed to cross the finish line 27 seconds ahead of her competition, 2:45:28 to 2:45:55.
In photo race winner Dengera (217) races in a tight pack through Georgetown early in the race.
Two weeks ago Dengera ran the Under Armour Baltimore Marathon finishing 7th among the women in 2:37:52. So it is understandable that, while her time was a bit slower, capturing the victory was certainly sweet.
Shertzer, 31, from Jonestown, PA and representing the Air Force, made her marathon début this past May at the National Guard/Lincoln Marathon. On Sunday, she crushed her May début time (2:54:20) with her 2:45:55 runner-up finish and also qualified for the U.S. Olympic Marathon Team Trials. Shiferaw, 27, from Ellicott City, MD (ETH) took the final podium spot with her 2:47:30.
Arlington's Lindsay Wilkins, 33, cracked the top 10 with her 6th place finish in 2:53:28 after running the Bank of America Chicago Marathon two weeks ago where she posted a 2:50:41.
Top wheelchair finishers in the rim category were Jacqui Kapinowski, 48, from Point Pleasant NJ in 2:05:46 and David Swope, 45, New Windsor MD in 2:12:12. The wheelchair crank field boasted almost 100 competitors. Leading the way in this division were Scot Seiss, 44, from Ricky Ridge, MD who crossed the finish 1:28:41 and Erica Davis, 30, from Carlsbad, CA who was the first woman in 2:13:52.
Most runners did not recognize a participant without his trademark wide-rim black glasses, but TV host and comedian Drew Carey, 53, finished his first marathon in 4:37:11. Carey finished 555th among the 1,170 competitors in the 50-54 age group.
Also among the marathon finishers . . .
Chas Bellew, 27, from Washington, DC who ran at Princeton decided to enter this race in 2010 and posted a 3:00:53 finish. He improved this year, bringing his time down quite a bit to 2:38:53.
Wearing bib #101, two-time Marine Corps Marathon champion Darrell General (1995, 1997), who is 45, ran a 2:48:06, placing third in his age group and 72nd overall. "My legs never loosened up," he said afterward.
Kaitlin Koplin, 27, (left) from Washington, DC tried hard to break 3 hours but had a hard time warming up. She had to settle for 3:00:13. "I was still cold even at mile 8," she said.
Speaking of cold, Maria Kozloski, 46, (right) from Bethesda, MD was all smiles at the finish but laughed as she recalled the chills earlier in the morning, "My teeth couldn't stop chattering at the start." Kozloski's 3:08:54 was good enough for a second place in her age division.  She has now completed 20 marathons.
Caroline Bauer, 28, from Columbia, MD credits the group runs with the Howard County Striders for helping her finish in 3:17:35.
Among the many runners who raced in a costume was Sean Kelly, 25, from Annapolis MD. Here is a clue to his race day outfit: What is black and white and waddles? Yup, he donned a penguin suit and finished the race in 4:20:31. Kelly said the comments along the route included: "Go Penguin!" "Great, now I'm getting beat by a penguin!" and "Go Happy Feet!"
Araceli Uranga, 40, from Vienna, VA was dressed in pink from head to toe, including a tutu and even ran with a wand. Her time was 3:50:25.
At the runner finish area, Matt Stevenson, 40, from Arlington was happy to get off his feet and rested with his back against a fence, soaking up a little sun after finishing his 6th Marine Corps Marathon in 4:34:29.
The MCM 10K had 6,867 finishers and a new course record. Reuben Mwei, 25, from Acworth, GA handily won in 30:37, smashing the former record of 32:52 (Wyatt Boyd, 2009). Brian Dumm, 28, from Colorado Springs, CO finished next in 32:52 followed by the top local, Luke Belford, 29, from Nottingham, MD who finished the race in 33:13.
In the women's 10K competition, Navy Lt. Amanda Rice, 27, from North Bethesda, MD, cruised to a 36:30 win. Rice said in an E-mail that being a member of the Armed Forces made the experience even more rewarding. Showing her competitive side, Rice admitted to adjusting her game plan mid-race from not only winning the women's title, but seeing how many men she could beat. Her overall place was 14th and she beat 2,708 men. Jennifer Perrottet, 31, from San Marcos, CA took the runner-up spot in 39:22 and was followed by the top local Christine Rehwald, 32, from Arlington who crossed the line under 40 minutes with her 39:54 finish.
0
Comments