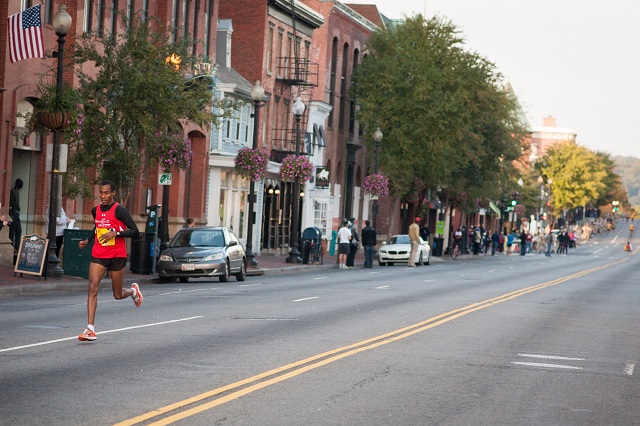 Wire-to-wire.
It almost has no place in any talk about a marathon, maybe only in a tall tale. The race is too long, too grueling, too open to disruption.
But Girma Bedada did it at the Marine Corps Marathon, running 2:21:31.
"I was in good condition and had good training," he said through a translator. "I knew this week that I was going to win."
It's not a stretch, for a 33-year-old marathoner with a 2:13 to his credit. But without a prize purse to draw him here, versus other races with even a modest award, the Ethiopian, who has been living in the United States for seven months and living mainly in Columbia, Md., said a more universal currency attracted him.
"It's a military race, I respect them," he said. "When I learned about it, I wanted to do it."
He went hard from the gun, averaging 5:25 pace for the largely-uphill first 5k before settling into running generally 5:15 pace for most of the race. He said he wanted to go for Jeff Scruffins' 2:14:01 course record. His modest lead grew more dramatic shortly after the first mile mark. He passed halfway in 1:08:59.
"I had a pain in my foot, but knowing I was going to win made it go away," he said with a smile.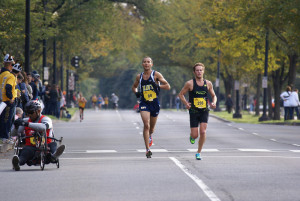 Coast Guard Lt. Patrick Fernandez took second in 2:22:51, reeling in Bedada as much as he could, cutting his 2:10 lead to 1:20 in the last mile and a half, but it wasn't enough. Still, Fernandez, 26, an Alexandria resident, was buoyed by a PR and his all-time-best finish in the race, following a third-place finish in 2011 and sixth in 2012.
He followed coach George Buckheit's advice in putting his race together.
"He told me, don't go out and be the aggressor, just kind of settle in, get an idea of the competition, and that's what I did," he said. "I sat back, I made sure to hold back on the downhills because some other runners were sprinting down them, but that early in the race it's a good way to hurt yourself."
That wasn't an issue in mile nine this year, because a major course change eliminated a loop following Canal Road off of the Key Bridge, a tight turn and steep uphill into the Pallisades before turning down Foxhall Road into Georgetown. The course instead routed out and back on Rock Creek Parkway.
"You can't complain about taking the hill out," he said. "I really like running Rock Creek Parkway, it's true racing, just tracking guys down, focusing on not letting anyone get any distance on me."
Third place finisher Richard "Skeeter" Morris of Burkeville, Va.  notched a roughly five-minute PR on his way to running 2:24:01.
"I could see the clock on my way up the last hill and just knew I had enough to get there, but not in time to break 2:24," he said.
He was planning to go out at 5:30 and hold that, but the uphill that was not struck from the course, Lee Highway, held him to a 5:37 average for the first 5k.
"I didn't get out the way I wanted, but I got a second wind from miles 13 to 20," he said. "The last two miles were a little rough. My eyes were getting spotty going under the bridges."
The 25-year-old coaches track and cross country at his alma mater, Nottoway High School, and recently coached at Longwood University.
Morris is coached by fellow William and Mary alumnus Ed Moran, a coach for the Pacers-New Balance team.
| | | | | |
| --- | --- | --- | --- | --- |
| | Top 10 men's finishers | | | |
| 1 | Girma Bedada | 2:21:32 | 33 | Columbia, Md. |
| 2 | Patrick Fernandez | 2:22:52 | 26 | Alexandria , Va. |
| 3 | Richard Morris | 2:24:02 | 25 | Burkeville, Va. |
| 4 | Timothy Richard | 2:25:57 | 25 | North Little Rock, Ark. |
| 5 | Michael Wardian | 2:27:06 | 39 | Arlington, Va. |
| 6 | Jake Buhler | 2:27:08 | 26 | Edmond, Ola. |
| 7 | Japheth Ng'ojoy | 2:27:51 | 25 | El Paso, Texas |
| 8 | Chris Pruitt | 2:29:41 | 31 | Arlington, Va. |
| 9 | Eric Delion | 2:29:50 | 30 | Winchester, Calif. |
| 10 | Ben Payne | 2:31:32 | 32 | Ft. Walton Beach, Fla. |
| | Full results | | | |
Recent Stories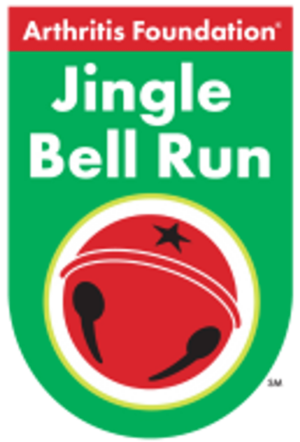 Be part of the original festive race for charity and signature Arthritis Foundation holiday event! Wear your favorite holiday attire and together, we'll jingle all the way to a cure! Register as an individual or bring a team of friends,