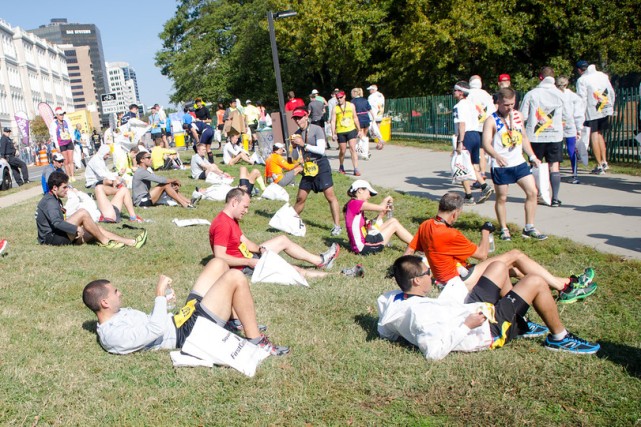 Much like Girma Bedada and Kelly Calway's efforts, Mike Kunzer's race at the Marine Corps Marathon was the culmination of years of preparation and training.
But Kunzer wasn't focused on winning the race. He was thrilled to have finished, and it showed on his ebullient face.
"My coworkers had been nudging me to give this a shot," he said. "It took a while but I got up to the distance."
He credited his wife with supporting him through his training, dropping water bottles off for him during his long runs from his Manassas home.
"I don't think I could have done it without her help," he said. "She's excited to run the Cherry Blossom race, now."
More than 6413 runners from the Washington area finished the race, out of the 23,513 total, the second largest number of finishers in race history.
Andrea Burkhart of Washington, D.C. didn't run as fast as last year, but didn't mind being out on the course a little longer.
"It's a lot more fun than running in Hurricane Sandy," she said. "But it wasn't so bad last year, because I came back and did it again, and I'll do it again next year, too."
She didn't run as fast as in 2012, but that didn't bother her.
"I ran a happy pace rather than all out, and that was a little more fun," she said.
Rob Shepherd of Germantown, Md. was walking in a straight line after the race, durability he attributes to his diet.
"Eating real food, staying away from toxins and no meat," he said. "Eighty percent raw, lots of juices."
He didn't find any vegan protein shakes at the various aid stations, but he still felt good for most of the race.
"I had to dig those last two miles, but it felt great to finish," he said. "The support, the marines along the course, it was all great."
As happens in many races, some characters dressed up for the run.
"It's not a kilt if you wear shorts underneath," said German Alba of Great Mills, Md., clad in a tartan-patterned cut of wool and apparently only a tartan-patterned cut of wool. "Otherwise you're just a guy in a skirt."
He was glad to have missed the windy 2012 race, which would have made him regret his wardrobe choice.
"It's really, really, really comfortable," he said. "So liberating. A few friends convinced me to give it a try a few months ago and I'm enjoying it. I saw a few other guys wearing them out there and we waved to each other."
Matt Brennan of Vorhees, N.J. ran the entire race dressed as a cup of Dunkin Donuts coffee, a costume he wore in exchange for a late entry to the race.
"My girlfriend was running the race, her sister, my brother, my mom was running–it was her first marathon," he said. "I heard they all signed up and I wanted to do it too."
There was apparently a women running in an iced coffee cup costume, too. Brennan had run Chicago two weeks before, so he was trained for the distance. He probably prepared with a few runs in the costume, right?
"I tried it on for the first time last night," he said. "It took a few miles to figure out how to run in it, how I could position my arms so it wouldn't flap in my face. Once I got settled in, by 13 miles, I kind of forgot I had it on."
It wasn't all fun and games, though.
"I actually wish I had more caffeine in my system," he said.
Recent Stories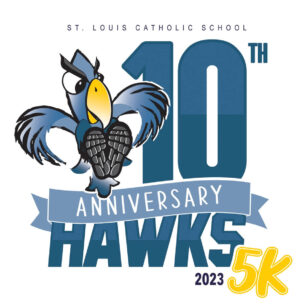 2023 will be the 10 year anniversary of the St. Louis Hawks 5K and Fun Run for Health & Wellness. The USATF certified course runs through the historic Hollin Hills neighborhood in Alexandria, VA.
The Hawks 5K goal, in conjunction