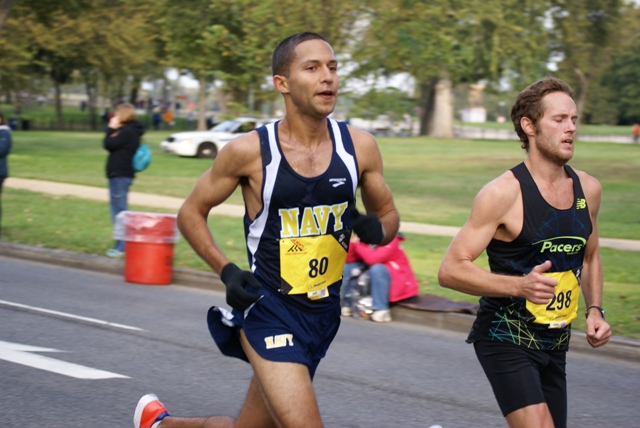 It's frustrating when people attribute competitive athletes' success to natural ability.
Anyone who dabbles in competitive endurance sports knows natural ability will only take you so far. The mind and the heart separate the good from the truly great. In every elite athlete there is a visible intensity with which they pursue nearly everything they do.
That describes Patrick Fernandez, an officer in the United States Coast Guard stationed in the National Capital region and one of the military's top distance runners. I understand why he is a truly great runner. He finds inspiration all around him — what would seem an obstacle is to him a welcome challenge and he sees every day as an opportunity for self improvement.
With this approach, I don't think anything will stop him from achieving his lofty goals in running, in the military and in life. One of which is the Marine Corps Marathon this fall. Later, a U.S. Olympic Trials qualifying time in the marathon (sub-2:18). Patrick finds inspiration and motivation to fuel his athletic pursuits through his day-to-day experiences and in the people that surround him. His grandfather was a competitive distance runner. In grade school a gym teacher noticed running distances came somewhat easily to Pat. With his grandfather's influence and encouragement from his gym teacher, he competed in his first official running race in third grade. From there the love and passion for running only grew. Patrick ran on his high school's first cross country team to make the California state meet, then on the track and cross country teams at the U.S. Coast Guard Academy.
Though he was a successful runner through high school and college, it wasn't until after college, when most athletes' interest in training wanes, that Patrick really found his stride.
As an active duty Coast Guardsman, Patrick faces a bombardment of obstacles to training. Facing an inconsistent sleep schedule, and piecewise training, he saw training while at sea as keeping him grounded. Port calls were opportunities to experience exotic locations in a way others could not. From hours in a metal box running on a treadmill, the ship rolling with the sea, to climbs up Mount Ballyhoo in Dutch Harbor overlooking the snowcapped peaks of the Aleutian islands.
He had one of his breakthrough performances during his first attempt at the Marine Corps Marathon. He set a challenging goal of finishing in the top 10 in under 2:30, but he was weighed down by thoughts that the goal was too ambitious. Instead of letting doubt and negativity take over, Pat found the motivation he needed during a training run in  Washington, D.C. Halfway through a 20-mile run, he stopped to read the granite monoliths surrounding the Theodore Roosevelt Island memorial. On the tablet titled Manhood was the quote "It is hard to fail, but it is worse never to have tried to succeed."
While he may have heard these words in the past, reading them at that moment was exactly the reminder Patrick needed that the only route to greatness involved facing his self doubt head on.
He stepped up to the starting line of his first marathon reciting Roosevelt's words in his mind. Patrick went on to wipe away any bit of reservation he had about his ability to race 26.2 miles. He ran his way into third place in 2:26, surpassing what he earlier thought was too ambitious a goal.
To concisely explain his feelings toward competitive running Pat directed me toward a quote from the book Again to Carthage, by
John L. Parker, Jr. He felt it perfectly described why he loves competitive running and why he eagerly takes on the  hardships of training.
"When you're a competitive runner in training you are constantly in a process of ascending…It's not something most human beings would give a moment of consideration to, that it is actually possible to be living for years in a state of constant betterment. To consider that you are better today than you were yesterday or a year ago, and that you will be better still tomorrow or next week… That if you're doing it right you are an organism constantly evolving toward some agreed-upon approximation of excellence."
The human body and mind have boundless capabilities. With hard work and self discipline anything is possible. The mindset drive's Patrick's intensive training and it is why he has continued to improve as a runner. His next goal is an Olympic Trials qualifier in the marathon, sub 2:18. He has since joined the Capital Area Runners and is coached by
George Buckheit, leading to a remarkable year, including victory at the Historic Half Marathon in Fredericksburg, Va. in 1:11 and the Navy-Air Force Half Marathon.
The Athlete, by Patrick Fernandez
The Athlete indeed is a breed that is rare,
His lungs need much more than a mere mortal's air;
He'll inhale his Dreams, and exhale the Impossible,
To suffocate Doubt, and surmount every obstacle.
He cannot subsist on just bland food and drink,
His body needs more to be pushed to the brink;
Victory his prey, which he stalks in life's jungle,
He feeds on great feats, to ensure Failure crumbles.
His muscles, though strong, cannot fully contract,
Unless he has in him a reason to act;
With Hope as his weight, he will strengthen his soul,
To lift all that's daunting, and reach for his goal.
It isn't just blood flowing deep in his veins,
His heart needs a means to erode what constrains;
Belief mixed with Grit are pumped into each limb,
To ignite both his Drive and Desire to win.
His habitat more than some comfort-filled cage,
His sheer Will alone needs a much larger stage;
The whole world his book, where he writes his own chapters,
To publish his Courage and show what he's mastered.
Though his body may slumber, his mind never rests,
Preparing itself for a new day of tests;
And when the sun rises, so too does his Pain,
Which he gladly endures, to lend History his name.
So should you encounter this rare, untamed breed,
You'll know why he suffers, you'll know why he bleeds;
It's more than just proving how strong or how swift,
It's to cast off life's limits, and unleash life's Gifts!
Recent Stories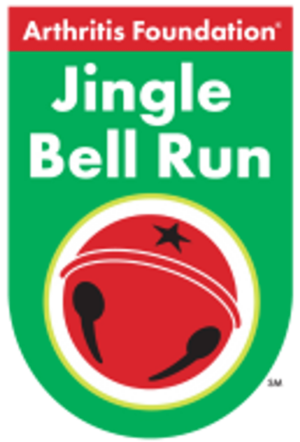 Be part of the original festive race for charity and signature Arthritis Foundation holiday event! Wear your favorite holiday attire and together, we'll jingle all the way to a cure! Register as an individual or bring a team of friends,