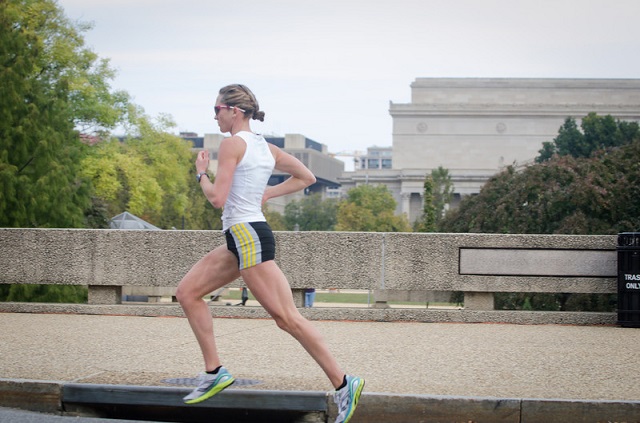 With a strong lead in the Marine Corps Marathon, Army Capt. Kelly Calway had her opportunity–run harder now or spend seven months regretting it. With an impending deployment to Kuwait waiting for her a week later, the cool day in Washington was her chance to take care of qualifying for the U.S. Olympic Trials.
She was able to pull things together and close out the race with a 2:42:15, 45 seconds to spare and a 5:48 lead over Gina Slaby. She finished 25th in the 2012 Olympic Trials while running in the Army's World Class Athlete Program.
"My daughter is going to be thrilled," she said. "Hazel is six and so competitive, she loves hearing about when I win."
It was a somewhat surprising win, given the limited training window she gave herself. Busy with command responsibilities in Monitou Springs, Colo., she rotated out in advance of her deployment and had roughly a month to get into racing shape.
"I spent a lot of that time at Stanford with my husband, running my workouts on that great track," she said. "I had about a week here after running the Army Ten-Miler (57:06 for sixth place) and got a good tuneup on Hains Point. They had the mile markers out."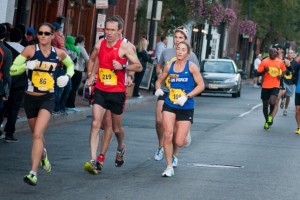 Though her parents now live in Washington State, Calway, then Kelly Brown, attended West Potomac High School and North Carolina State, and got to see teammates and friends from earlier in her career.
"Erin (Taylor) and Kelly Swain were out there on the course, I knew them from Lake Braddock and Erin from college," she said. "Claudin (Hull) Magnum was out there, she went to state, too."
Magnum, a Quince Orchard alumna, finished fifth in 2:50:47.
Five minutes behind her, Gina Slaby of Virginia Beach(2:48:03), and Emily Shertzer of Jonestown, Pa. (2:48:07), completed the military sweep of the women's podium. Slaby is a Navy Supply Corps Officer and Shertzer works for the Army National Guard, while also serving in the Air National Guard.
Slaby qualified for the trials two weeks before at the Chicago Marathon. The other half of the duo, Shertzer, did a lot better than she had expected.
"I had a terrible month in September running a 20k (New Haven) and a half (Navy-Air Force Half) and it was not good confidence building," she said. "July and August were great, so I was glad September was a fluke, but it really made me question my preparedness."
Top 10 women's finishers
1
Kelly Calway
2:42:16
29
Manitou Springs, Colo.
2
Gina Slaby
2:48:04
32
Virginia Beach, Va.
3
Emily Shertzer
2:48:08
33
Jonestown, Pa.
4
Emily Potter
2:50:25
34
Southern Pines, N.C.
5
Claudin Mangum
2:50:48
32
Raleigh, N.C.
6
Rachel Booth
2:51:25
32
Springfield, Va.
7
Samantha Bower
2:53:32
23
New York, N.Y.
8
Christina Noordstar
2:55:01
37
Tierra Verde, Fla.
9
Paula Pridgen
2:56:05
27
Charlotte, N.C.
10
Amanda Allen
2:56:41
26
Boston, Mass.
Full results
0
Comments