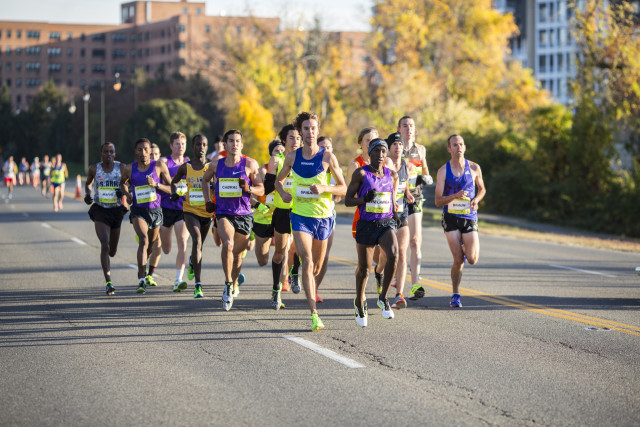 It looked like Sam Chelanga was ready to press the pace. The lead pack – more like the entire elite field – was approaching the two-mile mark, stretching across George Washington Memorial Parkway, when the 30-year-old moved out front and took control of the national 12k championship this morning.
Turns out it was just a test, or more like a suggestion. "I was just trying to instigate the guys to go faster but they didn't want to do it," said Chelanga. So he slowed down, the pack again enveloped him, and Chelanga steeled himself for the  final three-quarter-mile long straight shot to the finish.
Even then there were still at least 10 potential winners. But as one kick led to another kick, and as that kick led to a sprint, Chelanga finally found himself out front for good, able to hold off Tyler Pennel by a fraction of a second to win his second national road title in 34:35, a pace of 4:39 per mile for more than 7 miles.
"At some point the last stretch I felt like maybe Tyler's got it more than me," said Chelanga, "but then I've been there before and I just know be patient, be patient."
The Kenya native and recent U.S. citizen had in fact been there as recently as last month, when he outsprinted Pennel to win the 10-mile championships in Minneapolis.
"It is always good to go home knowing you ran through the line, you gave it your all," said Chelanga.
[button-red url="http://www.areep.com/events/usatf12k/2015/" target="_self" position="left"] Results [/button-red]This was the .US National 12k championships' third running since USATF and Neustar partnered to launch this event in Alexandria. Previous renditions have pitted runners peaking specifically for the race with runners still recovering from fall marathons. But with the marathon trials ahead, fall marathons were skipped. Meanwhile, most members of the field were united in seeing the road ahead of them as part of the longer road to trying to make an Olympic team. The marathon trials are in February in Los Angeles, while the track trials will be held in July in Eugene.
"I would have liked to win. That's why I'm out here," said Pennel. The Blowing Rock, N.C.-based runner added, however, that today's race was the latest indicator that he is entering the buildup to the marathon trials in a good place – mentally, physically, and developmentally.
"You run for third, you can get fourth. If you run for the win and get third, you still make the team," he said, describing what will be his approach to the trials.
Defending champion Brian Shrader, of Flagstaff, Ariz., figured the marathon focus was part of what kept the early pace slower than in the first two runnings of the 12k. The leaders went through the opening mile in the low 4:50s, as opposed to 4:40 in previous years.
[Best_Wordpress_Gallery id="3″ gal_title=".US National 12k 2015″]
Shrader's own shift at the front, which came after the turnaround of the out-and-back course, was inspired by seeing the now-three-time 12k winner Molly Huddle opening up a huge lead. "She has a 50-meter lead already. It's like, we need to start actually racing. … So I tried to throw in some surges to make it more of a race," he said.
Shrader's efforts did lower the pace closer to 4:30-per-mile for much of the second half of the race, yet a big lead pack remained intact.
"It was comfortable the whole time," said Shadrock Kipchirchi, who finished third in just his second road race in 34:37. But this race came down to the final minute. And when push came to shove, the U.S. Army World Class Athlete Program member discovered, like others, that he "didn't have that gear" to break the tape.
Jim Spisak, who was fourth in an identical time to Kipchirchi, came to the same conclusion. Spisak trains in Rhode Island as a member of the nonprofit New England Distance Project, which supports elite athletes in exchange for them contributing to community programs (he provides tutoring in math to middle and elementary school students), and is coached by Kurt Benninger, husband of 12k champion Molly Huddle. "With about a half mile I tried to move but just couldn't go with them," said Spisak, referring to Chelanga and Pennel.
Shrader came through in fifth, two seconds behind Spisak. Since winning here last year Shrader has not created headlines, so to speak, but he did set personal bests at 5k and 10k, qualified for his first national championship (something he never did in high school or college), and has his sights set on the track trials.  Shrader's training partner, Diego Estrada, national half marathon champion, was seventh in 34:46, and, like Chelanga, is preparing to make his marathon debut at the trials.
Then there was Aaron Braun, of Alamosa, Colo., who won his first national title here in 2013. Last year, in trying to defend his title, he led the whole race until the final quarter mile. "This year my plan was basically to do the exact opposite," he said. And true to form, Braun could often be seen flanking the lead back, in a way running his own race.
"I am disappointed with how today went specifically, but in the big scheme of things I know that I am where I should or need to be for the [marathon] trials," he said. "I just need to be becoming really efficient at that 4:50-, 5-minute pace."
Braun expressed appreciation for this still relatively new event. Neustar and USATF are at the end of their three-year agreement, and Braun said he hopes the 12k will continue.
"It's been great for me," Braun said. "It's been great for a lot of guys who weren't superstars."
It was great, for sure, for Jared Ward, who won the national marathon championships in March and finished sixth today to win the 2015 USATF Running Circuit, in which American runners earn points by competing in various national championships.
"Today was about one more opportunity to have a good race and learn something about me and learn something about the other guys I'll be competing against in the [marathon] trials," Ward said.
Asked what he learned about his competitors, Ward said:
"You watch a guy like [Chelanga] out there and he takes his turn leading to keep the pace honest, but as you saw at the end he's also a speed runner. But you look at [Pennel] as well. I've always looked at [him] as a strength runner; he's tough on the hills, but he's got some wheels when we get into these rhythm races too. I keep seeing stuff that indicates we have a lot of serious guys vying for a championship, so it gives me motivation to go home and say, it's time to get some work in."
D.C. area runners were keeping pace with the nation's best today and will seek to do the same come February. Though he was not listed as an elite athlete, Chris Kwiatkowski, of Washington, D.C., was in the thick of the lead pack until 10k.
Tyler Andrews of Arlington was 18th in 36:39.
Andrews said he was coming out of a big block of training. And before he starts focusing specifically on the marathon trials, he has one more race to tackle: none other than the world 50k championship, in less than three weeks.
The race also played host to the national masters championship, won by 49-year-old Kristian Blaich in 39:29. McLean's Philippe Rolly finished second, leading the Baltimore Washington Athletic Club to the 40+ title. Playmakers Elite/New Balance won the 50+ team title, the Boulder Road Runners won the 60+ title, and the Shore Athletic Club won 70+.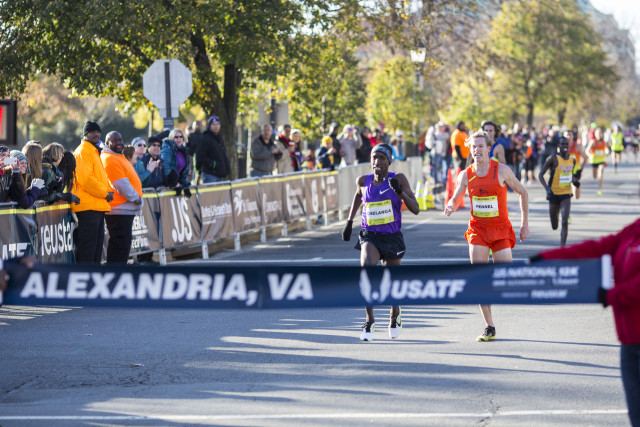 0
Comments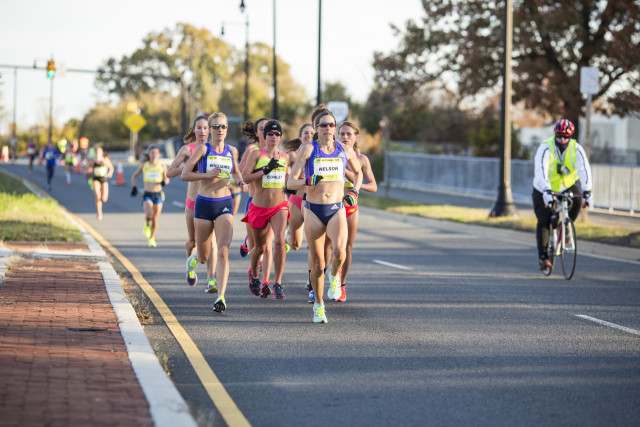 Molly Huddle took control from the start of the .US National 12k and concluded her scorched earth campaign through the USATF Running Circuit.
Since a last-second kick for third by Georgetown alumna Emily Infeld kept 31-year-old Huddle off the World Championships 10k podium, she has dominated the road racing scene, recording wins at 20k, 5k, 10 mile and 10k to win the domestic professional circuit.
[button-red url="http://www.areep.com/events/usatf12k/2015/" target="_self" position="left"] Results [/button-red]"I knew that was the safest way to win, to go out hard," she said of the 12k race. "I thought I could keep running 5:10 (per mile), but I knew Sara (Hall) and Kim Conley can finish really well. I was looking over my shoulder a little bit."
Her 38:36 finishing time for 7.45 miles gave her a 5:11 average and a 26-second win over Hall.
She opened a three-second lead by the first mile and crossed 5k in 16:05, 8k in 25:49 and 10k in 32:19.
"I didn't feel like my legs had much pop," she said. Despite her solitary race, "I couldn't have just done this in a workout, I need the adrenaline of a race to run like that. I think these road races definitely give you a bump you wouldn't get otherwise."
[Best_Wordpress_Gallery id="2″ gal_title=".US National 12k 2015″]
She'll take a long break until mid-March's United Airlines NYC Half Marathon before focusing on either the 10k or 5k with an toward the Olympics. She ran the 5k in the 2012 London Olympics. Her Providence-based training group includes last year's 12k runner up, Emily Sisson, who did not race this year.
Huddle has won each of the three 12k championship races contested in Alexandria. The contract for the race ended this year and the future of the race has not yet been determined. The overall race field has grown steadily, with 1,001 finishers, up from 933 last year and 713 in the inaugural race.
A chase pack stuck together behind Huddle on the out-and-back course on the George Washington Parkway, a change from last year when her pursuers strung out early.
"We had a huge group up there and it was a lot more fun," said third place finisher Alisha Williams, of Boulder. "People were throwing in surges, making moves, really racing."
Williams was 11th here last year, after an injury-riddled season, and this year's 12k comes at the end of series of successful road races. She was in the hunt for second as the chase pack neared the last mile.
"Coming off of the downhill, I knew I had to get things going," Williams said. "I like to do a long kick, and I was worried about Kim, because she's fast. The three of us battled for a long time; It was racing at its finest."
Though the last 1200 meters on Union Street to Oronoco Bay Park can be tricky, but kicking that early wasn't daunting to her.
"That last stretch looks long, but I knew it was just three-quarters of a mile," she said. "Once you think of it as just three laps of the track, it doesn't seem that bad."
Hall ultimately came out on top, invigorated in part by a the support of a cheering section assembled by a Stanford track teammate a mile from the finish. Her runner-up finish came five weeks after racing the Chicago Marathon in 2:31:14.
"I didn't really know what I had, but I felt fresh and I surprised myself with my kick at the end," she said. "The hardest part was the beginning because it was so fast, but as we went on I got in a rhythm and by the end, I was feeling pretty good."
The race went off without the chilly wind that marked the 2014 championship, which suited Hall.
"It seems like I raced on a lot of unseasonably warm days this year, so this was a nice change," she said. "It makes sense, though, D.C.'s my favorite place to race on the East Coast. It seems like it's always cool when I come here."
41-year-old Jen Rhines set a U.S. master's 12k record in 40:04, finishing 12th.
She ran with her B.A.A. teammates for most of the race, 15 days after running 1:12:45 at the Rock 'n' Roll Philadelphia Half Marathon.
"I ran about 29 seconds faster than last year, but I was hoping to run faster, finish a little higher," she said. "I'm in solid shape, I just want to improve from here."
She's taking a sabbatical from her non-running job, as a corporate accountant, to focus on preparing for the 5k and 10k at the Olympic Trials.
Perry Shoemaker, of Vienna, was the top master, by virtue of Rhines' participation in the advance start for professionals. Shoemaker's 42:03 came as a nearly-50-second improvement over last year, representative of the Fall season she has had that also saw her finish second at the Army Ten-Miler, a finish that wildly exceeded her expectations, at 44. She was the first local woman to finish the 12k.
"I planned on going out strong and finding a pack of men to run with," she said. "I was consistently faster than last year's race in every phase."
She chalks her success up to a lot more speed work as of late.
"I knew I had the potential to run faster," she said. "I did a lot of cross training while I was injured and when I could run again, I've made the most of it."
The Genesee Valley Harriers won the 40+ and 60+ national masters team titles and the Athena Track Club's B team won the 50+, Purcellville' Joan Hunter among the team members.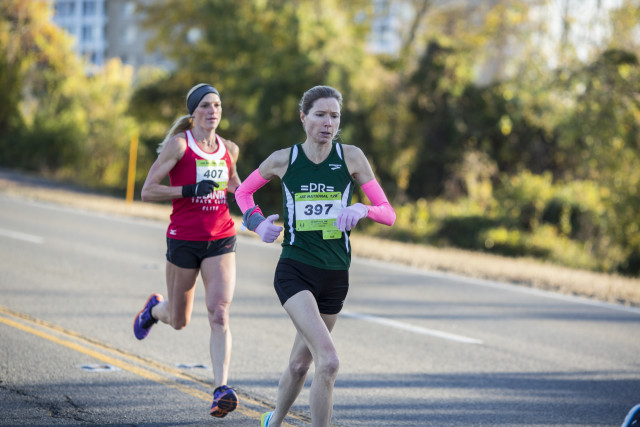 0
Comments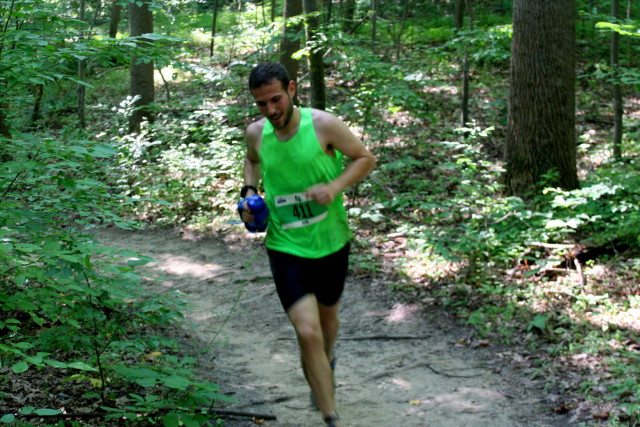 Despite the reliable mercury-busting temperatures, Don Bowman insists that the Rosaryville Trail races are aimed at beginner ultra runners.  This year's running of the 10k, 10 mile, 25k and 50k runs around Rosaryville State Park took place on the hottest day of the year, with dew points bottoming out in the low 70s and temperatures reaching the mid 90s five hours into the race.
[button-red url="http://www.bluepointtiming.com/files/results/2015/Rosaryville%20overall.htm" target="_self" position="left"] Results [/button-red]"We designed it for the novice runners," Bowman, the race director, said. "They get to run next to the runners who are experienced and they can say they ran with these great trail runners, they don't have three legs or anything special. They learn that they could be like the people in the front if the race agrees with them and they want to improve."
Indeed, both of the winners were relative neophytes, each on their third 50k or longer race.
Chris Patrick, who won the women's 50k title in 4:56:40 ( a 9:32 average), set her sights low but finished high — third overall.
"It's cheesy, but I just wanted to have fun," she said. "If I won, that would be nice, but I just wanted to enjoy myself. It was a very specific kind of fun."
Patrick, a 21-year-old Serverna Park resident, started "painfully slow" and then moved up in the second of three nearly-10-mile laps, though her third was "a lot of whimpers."
""Trail racing is great because even when everything is feeling terrible, you can still look around and everything is wonderful."
She isn't a frequent racer, has never run a marathon and rarely, if ever, competes on the roads. She signed up for Rosaryville two weeks ago while looking for a challenge. That contrasts with men's winner Jarrod Brennet, of D.C., who focused on this race and conducted a deliberate taper.
"There was no way I was going to back out," he said, when weather forecasts warned of high temperatures and humidity. "I wanted to prove I could do a fast 50k."
He too struggled over the third loop, but a winter 50 miler in the Everglades still felt hotter than Rosaryville, so running 7:50s en route to a 4:03:38 finish wasn't as impossible, but it still required some adjustment. At 25, he's still new to ultarunning.
"I was going to run by heart rate, but early on I was 20 beats per minute faster than my target so I had to forget about that and just go by feel," he said.
The forested loops of the park in Upper Marlboro, Md. were almost entirely single-track, with clearings dotting the loop and bathing runners in sun. The last mile stretch to the finish was completely exposed to the sun, giving runners one last challenge. Sixty-eight people finished the 50k, skewing slightly female, and 82 finished the 25k, just slightly favoring the men. The looped course made it easier for runners to downgrade their distance, an option Rosemary Lather, of Columbia, took.
"I got to the second aid station, which was about halfway through the course, and I felt like I had run more than half of the race," she said. "I decided to head back early, and because of that, I feel like a million bucks."
Like Patrick, she was a relative last-minute registrant. Her children pleaded with her not to do the 50k, her husband was more understanding. She responded by taking off her wedding ring during the race, but it wasn't to pick up sweaty runners.
"My hand was swelling and my ring finger turned purple," she said. "It took a lot of Vaseline to get it off. I'd recommend people not wear jewelry for hot races like this."
She's new to the trails, and hopes to reap the benefits when she races either the Erie, Richmond or Houston marathons.
"I knew to not even think about trying to run a certain pace," she said.
Meredith Gray of Bowie, a recent transplant from Ohio, adjusted her goals for the 25k, part of her training for the Monumental Marathon in Indianapolis this Fall.
"I knew conditions were going to be tough," she said. "I walked when I needed to. I haven't felt summer weather like this, but I kept telling myself that it will pay off when the weather cools down."
Aaron Gow, of Dumfries, also sees his trail running experience making a difference in his road racing. He's run more than two dozen half marathons. The Rosaryville 25k was his first-ever trail race, done with his girlfriend's encouragement.
"It was a challenge course for someone used to running on the roads," he said. "I'm assuming if I do this more often, my road running will improve."
His girlfriend, who ran the 50k, tried to set him up for success with a series of training runs on trails ahead of time.
"I was told slow the pace down, eat at all the rest stops, take in a whole lot of water and just walk the hills," he said. "Basically, check my ego at the door. On a day like today, it wasn't too hard to do that. We never got a break from the humidity and the heat just kind of built up the entire time."
The 50k boasted 68 finishers, and 82 ran the 25k.
0
Comments