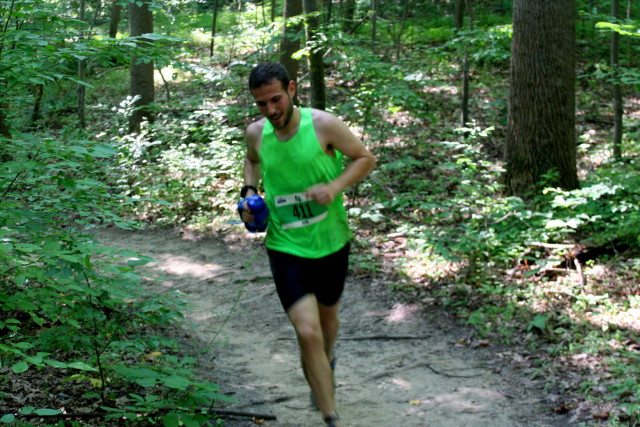 Despite the reliable mercury-busting temperatures, Don Bowman insists that the Rosaryville Trail races are aimed at beginner ultra runners.  This year's running of the 10k, 10 mile, 25k and 50k runs around Rosaryville State Park took place on the hottest day of the year, with dew points bottoming out in the low 70s and temperatures reaching the mid 90s five hours into the race.
[button-red url="http://www.bluepointtiming.com/files/results/2015/Rosaryville%20overall.htm" target="_self" position="left"] Results [/button-red]"We designed it for the novice runners," Bowman, the race director, said. "They get to run next to the runners who are experienced and they can say they ran with these great trail runners, they don't have three legs or anything special. They learn that they could be like the people in the front if the race agrees with them and they want to improve."
Indeed, both of the winners were relative neophytes, each on their third 50k or longer race.
Chris Patrick, who won the women's 50k title in 4:56:40 ( a 9:32 average), set her sights low but finished high — third overall.
"It's cheesy, but I just wanted to have fun," she said. "If I won, that would be nice, but I just wanted to enjoy myself. It was a very specific kind of fun."
Patrick, a 21-year-old Serverna Park resident, started "painfully slow" and then moved up in the second of three nearly-10-mile laps, though her third was "a lot of whimpers."
""Trail racing is great because even when everything is feeling terrible, you can still look around and everything is wonderful."
She isn't a frequent racer, has never run a marathon and rarely, if ever, competes on the roads. She signed up for Rosaryville two weeks ago while looking for a challenge. That contrasts with men's winner Jarrod Brennet, of D.C., who focused on this race and conducted a deliberate taper.
"There was no way I was going to back out," he said, when weather forecasts warned of high temperatures and humidity. "I wanted to prove I could do a fast 50k."
He too struggled over the third loop, but a winter 50 miler in the Everglades still felt hotter than Rosaryville, so running 7:50s en route to a 4:03:38 finish wasn't as impossible, but it still required some adjustment. At 25, he's still new to ultarunning.
"I was going to run by heart rate, but early on I was 20 beats per minute faster than my target so I had to forget about that and just go by feel," he said.
The forested loops of the park in Upper Marlboro, Md. were almost entirely single-track, with clearings dotting the loop and bathing runners in sun. The last mile stretch to the finish was completely exposed to the sun, giving runners one last challenge. Sixty-eight people finished the 50k, skewing slightly female, and 82 finished the 25k, just slightly favoring the men. The looped course made it easier for runners to downgrade their distance, an option Rosemary Lather, of Columbia, took.
"I got to the second aid station, which was about halfway through the course, and I felt like I had run more than half of the race," she said. "I decided to head back early, and because of that, I feel like a million bucks."
Like Patrick, she was a relative last-minute registrant. Her children pleaded with her not to do the 50k, her husband was more understanding. She responded by taking off her wedding ring during the race, but it wasn't to pick up sweaty runners.
"My hand was swelling and my ring finger turned purple," she said. "It took a lot of Vaseline to get it off. I'd recommend people not wear jewelry for hot races like this."
She's new to the trails, and hopes to reap the benefits when she races either the Erie, Richmond or Houston marathons.
"I knew to not even think about trying to run a certain pace," she said.
Meredith Gray of Bowie, a recent transplant from Ohio, adjusted her goals for the 25k, part of her training for the Monumental Marathon in Indianapolis this Fall.
"I knew conditions were going to be tough," she said. "I walked when I needed to. I haven't felt summer weather like this, but I kept telling myself that it will pay off when the weather cools down."
Aaron Gow, of Dumfries, also sees his trail running experience making a difference in his road racing. He's run more than two dozen half marathons. The Rosaryville 25k was his first-ever trail race, done with his girlfriend's encouragement.
"It was a challenge course for someone used to running on the roads," he said. "I'm assuming if I do this more often, my road running will improve."
His girlfriend, who ran the 50k, tried to set him up for success with a series of training runs on trails ahead of time.
"I was told slow the pace down, eat at all the rest stops, take in a whole lot of water and just walk the hills," he said. "Basically, check my ego at the door. On a day like today, it wasn't too hard to do that. We never got a break from the humidity and the heat just kind of built up the entire time."
The 50k boasted 68 finishers, and 82 ran the 25k.
Recent Stories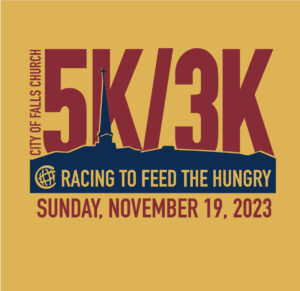 The out and back Falls Church City 5K/3K course is mostly flat on the W&OD Trail starting and finishing at 103 Columbia Street. Overall male and female winners earn free shoes and medals are awarded to all categories. Great family