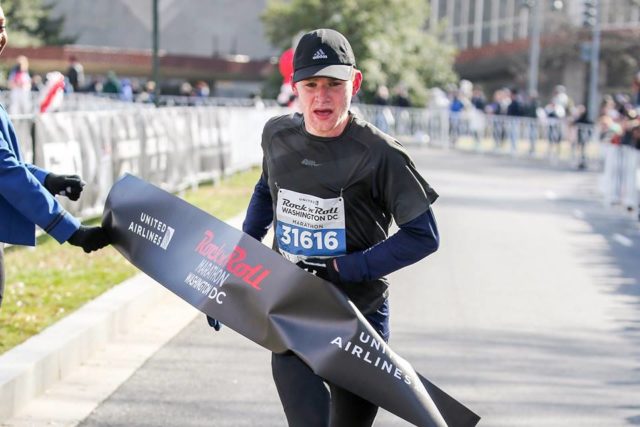 For a year and a half, Sam Doud didn't race.
After he walked away from collegiate running at American University, he just logged his miles, enjoyed the sport and bided his time until he was ready to race truly long distances.
"I've never been one of the fast guys, I never broke 4:20 for the mile," he said. "A marathon seemed pretty natural for me."
Rock 'n' Roll D.C. Marathon
March 11, 2017 – Washington, D.C.
In February, he started getting itch to see what he could do — he was running fast and ready for the challenge. The Rock 'n' Roll D.C. Marathon started a few miles away from his Glover Park home, what better place to see what he could do? Ended up being a good move.
In winning the race Saturday morning, he blazed the fastest time (2:26:57) since the course was beefed up two years prior, and left two solid marathoners in his wake in 2013 Marine Corps Marathon Champion Girma Bedada and six-time Rock 'n' Roll/National Marathon winner Michael Wardian.
Doud, 21, showed up with his roommate and put on his bib — number 31616 — and saw Wardian (bib number 1) and Bedada (bib number 2) near the starting line.
"I has no idea who they were, but they looked fast and people were taking a lot of pictures with Wardian," Doud said. "My main plan was to not blow up, so I wasn't going to go with them. I'd let them do their things."
But he ended up catching them both, running with Wardian between miles 11 and 17, then reeling in Bedada with a mile and a half to go before putting three minutes on him.
Though the back half of the race is always lonely, marathoners usually have the half runners to keep them company through 12 miles. This year the marathoners started an hour and a half before the half. With Metro's Safetrack restrictions keeping race organizers from opening the system early, they started marathoners early and allowed the more than 13,000 half runners take the trains into the city. The marathon's 2,373 finishers were on their own to get to the start. That meant empty streets for Doud and his competitors, with few spectators braving the cold, though he got a boost from passing the statue of Simón Bolívar near the first mile mark.
When Doud crammed for the race with a few marathon-pace workouts, he targeted 5:50 miles. On race day, he averaged 5:36 per mile, and only his cautious first mile was slower than his initial goal pace.
"This has me wondering what I could do if I seriously train for a marathon," he said a day after the race.
Despite his early success, he has a lot to learn. For instance, Wardian remarked to him after the race that he hadn't seen Doud eat anything during the race.
"I told him I didn't see any food," he said, at the time unaware of the bevy of running gels and calorie-replacement options available to runners, including at one water stop.  
Still, he never hit the wall, and felt comfortable throughout the race, even in the latter stages. He remarked that the climbs around Fort Dupont Park were far more difficult than out of Rock Creek Park on Shoreham Drive.
Doud, a Bloomington, Ill. native, has less than a year until he graduates with majors in math and computer science, and is tossing around the possibility of running the Marine Corps Marathon.
There, he'll likely face warmer weather than the mid-20s that greeted him on race morning.
On Saturday, he played it safe, wearing extra layers, including two hats, for his first marathon.
"I don't want to be the guy wearing shorts and a singlet and freezing," he said. "I thought I might look a little dumb in the race photos, but it's better than being cold for two-and-a-half hours."
He took time after the race to find out a little bit more about the marathoning world from Wardian, particularly how he should expect to feel in the morning.
"He told me I should run the next day," Doud said. "I woke up feeling like I had put on about 30 years, but I got out there."
And ran 13 miles, a little faster than 7:20 per mile.
Christie Wetzel, of Falls Church, won the women's marathon in 3:04:01, two years after running 3:58 in her first marathon here. She ran the race with her husband, Rodrigo Garcia, pulling ahead of him near the finish. Ithaca, N.Y. resident Sabine Fischer-Daly was second in 3:08:41 and Hyattsville's Angela Hartman was third in 3:10:07.
In the half marathon, Mizael Carrera (Addison, Ill.)1:05:51 defended his 2016 title, Austin Whitelaw (Johnson City, Tenn.) was second in 1:07:59 D.C.'s Paul Thistle, recovered from a long foot injury, was third in 1:08:27. D.C.'s Kerry Allen (1:19:20) won the half after finishing second in 2014 and 2016. This title comes three weeks after she won the Dahlgren Heritage Trail Half Marathon in Virginia. Jenny Mendez Suanca, the 2015 Marine Corps Marathon champion, was second in 1:21:37 and Fairfax's Sarah Bishop was third in 1:22:02.
0
Comments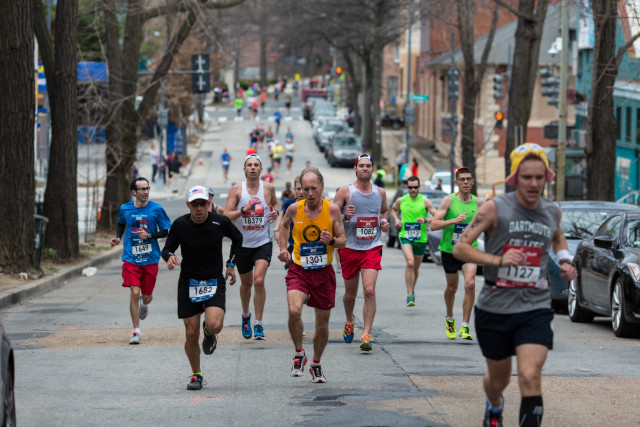 See results at http://www.runrocknroll.com/finisher-zone/search-and-results/?eventid=13
Mother Nature must have been feeling merciful. A radiant sunrise turned to overcast skies, 50-degree temperatures and a slight breeze, providing ideal conditions for over 19,000 racers at the Rock 'n' Roll D.C. marathon and half marathon.
Runners at the starting line were happy to avoid a repeat of last year's cold rain.
"Perfect. This is perfect," said Alex Smith, who flew in from Milwaukee for the race. He chose Rock n' Roll because it was the closest big marathon that would motivate him to keep training in Wisconsin's harsh winter.
Vincent Reddish and Joshua Cowan said they were excited, nervous, and ready to start. Cowan was one of 518 runners at today's race running on behalf of St. Jude Children's Research Hospital; the team raised over $200,000 for the charity.
Martha Nelson, though, missed the rain. The defending champion said last year was the smoothest marathon she's ever run whereas this year proved to be more of a mental challenge.
"Getting the F1 [bib number] puts a lot of pressure on. I knew as much as I told myself you don't have to win, you're always going to have that defending champion bullseye on your back."
Nelson, who lives in D.C., relaxed by helping pace a friend to a sub-3:00 finish and taking advantage of her hometown advantage. "It's a fun race for me because I get to see a lot of friends along the course," she said.
Nelson reeled in the eventual runner-up, Lori Nedescu (2:59:55), on the big hill in Fort Dupont Park near mile 21. "I felt if I could pass her going up the hill, that meant that I had more strength. It's a hard thing to take the lead when you're that exhausted."
She struggled in the final miles, but gutted it out to finish in 2:58:02. Katie Moran (3:04:33) finished in third.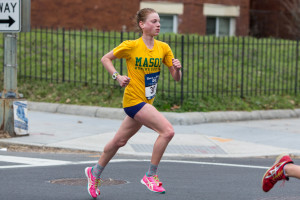 The closest 1-2 finish of the day came during the women's half marathon. Bethany Sachtleben (1:19:43) and Kerry Allen (1:20:07) raced together for the first half,  with Laurel Le Moigne joining for part of the Rock Creek Parkway portion, but Sachtleben pulled away around mile eight and never gave up the lead.
"It was fun to have our little pack for a while," Sachtleben said. Today's race helped her prepare for the U.S. half marathon championships in late April.
Hannah Eckstein (1:19:24) finished third in her first half marathon.
Both men's races were blowouts. Mizael Carrera (1:06:16) went in knowing he could be the top finisher and left no doubt as he led from the gun, two minutes under his PR and over a minute-and-a-half ahead of his nearest competitor.
He slowed from his goal pace of 5-minute miles as he got into the race. "I didn't look at the course elevation, so I didn't know there were hills. I kind of backed it off because I didn't want to hit the wall."
Carrera is training through this race to prepare for an April marathon in Germany, where he hopes to qualify for Puerto Rico's Olympic team.
D.C.'s Carlos Jamieson edged out Bethesda's Andrew Brodeur for second place. At the awards ceremony, Brodeur said "the wheels just came off" in his final ten steps. Jamieson won last year's race and later qualified for the U.S. Olympic Marathon Trials, but a hot day in Los Angeles forced him to drop out halfway through. He wore his old high school uniform, that of North Rockland, N.Y., which saw its girls distance medley relay team with the New Balance Nationals Indoor title the day before, in a national record time.
Alfredo Arevalo Reyes, who signed up for the marathon this week, ran a lonely 2:30:04 to win by over four minutes. Even with the commanding lead, the two-time Olympian glanced over his shoulder throughout the race to make sure no one would catch up to him. To his surprise, no one ever did.
Reyes, 40, was excited to win a marathon on U.S. soil, even if he didn't get his qualifying time for the 2016 Olympics. At the finish, he hoisted the flag from his home of Guatemala, one of 47 countries represented by Rock n' Roll racers this morning.
Steve Chu (2:34:09) finished in second while Dirian Bonilla (2:37:25) finished third.
Dickson Mercer (16:10) and Kendahl Melvin (20:54) each took first place in the 5k. Guler Koca (2:16:38) and Salomon Vazquez (3:34:39) won the marathon's wheelchair division; Daniel Hagarty (2:12:15) was the top wheelchair finisher for the half marathon; Amanda Strite (33:23) and Erin Kelman (26:45) won the wheelchair 5k.
[Best_Wordpress_Gallery id="5″ gal_title="Rock n]
D.C.'s weather also made an impact on the finish area this year. Race organizers added changing tents after soggy runners went home shivering in 2015 and moved the finish line because the original spot was still covered in stubborn snow piles.
Aimee Price of Williamsport, Md., said the mild winter this year made training for the half marathon a little easer. She and Tamara Krumm both loved the course. "It's always good. You can see all of Washington," Krumm said.
Brigitte Todd said her half marathon time wasn't her best because she's coming back from injury. "I took it easy, I stopped a couple times, I drank champagne and margaritas on the way" courtesy of some roadside fans in the middle of the race.
"I wasn't taking it very seriously," she said with a laugh.
Neither was the runner dressed as a slice of pizza.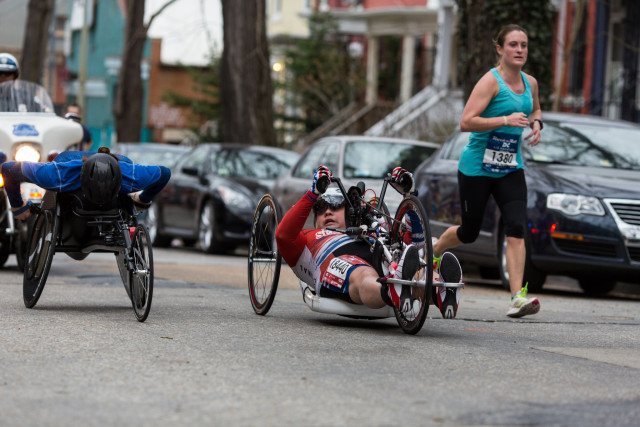 0
Comments