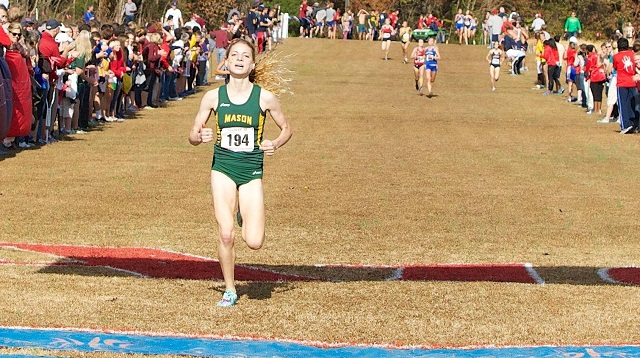 She knew what "a lap" was, so that was a start.
But how far was a lap? George Mason cross country coach Sita Waru-Ewell had some basic terminology to go over with her new walk-on in 2012.
"She was clueless when she started," Waru-Ewell said. "I had to pull her aside and explain everything before a workout started so she knew what she'd be doing."
But Bethany Sachtleben would be a quick study. A little more than a year later, nobody had to tell her what "conference champion" meant. Waru-Ewell got the email while she was getting ready for the start of George Mason University's cross country season. Sure, she'd have a look at a transfer student from Northern Virginia Community College. But the girl hadn't run competitively before?
Not exactly.
Sachtleben had recently won the Fourth of July's Let Freedom Run 5k a few weeks before, and had finished second in the Rock 'n' Roll USA Marathon in 3:11 at 20 years old. But without any structured distance training? She wasn't on her high school team? No, she didn't have a team. Nor a high school. While being homeschooled in Manassas, she played tennis and soccer with her sister, but her heart wasn't in either.
"Running was just something I did, but it became a big part of who I was," she said. "Once I got to races and felt the environment–all these people who loved what I loved–I was hooked. My family saw I had a talent for it and my dad encouraged me to call (George) Mason."
Despite some initial skepticism as they got to know each other, Waru-Ewell's curiosity piqued when Sachtleben came to campus to talk before the team got together for the season.
"She looked like a runner," Waru-Ewell said. "She had the tools. The big part was going to be learning how to use them."
That took some trial and error.
"I was so scared, I had no idea what I was getting into, what I was doing," Sachtleben said of her first practices with the  Patriots. "My coaches were so patient with me, but I was terrified my first week. I couldn't grasp the sport. I could never imagine that workouts could be so hard, that races could hurt so bad."
A little education eased that. Waru- Ewell got a good sense of just how feral Sachtleben's running style was when her class schedule kept her from practice and the two met to do a workout together.
"She showed up at the track and said she was ready to start," Waru-Ewell said. "I asked her when she warmed up and she said she hadn't. She ran for about 20 minutes then wanted to start the workout and I had to explain she needed to stretch, do progressions to get ready to run hard. All of this was new to her."
Though it sounds frustrating for a Division I coach to teach a remedial course on running physiology, Waru-Ewell said that was far from the case.
"She was very raw, yes, but the talent was there, and she was eager to learn," she said. "She never questioned (coaches) she always wanted to learn. She never said she didn't want to do anything."
That investment of time paid off. Sachtleben led the Patriots in every race that season, with an All-Conference finish at the Colonial Athletic Association meet and a victory at one of the Eastern College Athletic Conference championship races. All the while, she wasn't sold on the sport.
"It was hard, I wanted to quit," she said. "It wasn't until I got to track that things started to make sense."
Then, everything clicked. Maybe it was the success, maybe the fact that she had measurable goals to chase in her best times. She was a new person–who she recognizes today.
"I discovered who I was," she said. "I didn't have something I was so passionate about, didn't have an identity like this until I found running. It's changed my life and I can't imagine it being any other way."
Running helped her adjustment to college, too. Though she interacted with peers on soccer teams and in her  homeschooling co-op, she arrived at George Mason only two years into structured educational environments. Her team helped her become more outgoing and vocal. Her success continued that spring, with a win at the Penn Relays in the 10k and an appearance in the first round of the NCAA outdoor championships.
Despite those successes, though, and strong summer training, her cross country season started out lethargic. She still led the way for the Patriots, winning the team's home meet by two minutes, but she wasn't putting the kind of edge she had developed over track season into her cross country races.
"She was running fast, and doing phenomenal workouts, but in races she was just kind of hanging back behind the lead girls and not going for it," Waru-Ewell said. "She didn't seem to want to win as much."
Sachtleben put an end to that at the Atlantic 10 Championships. With a new conference for the Patriots came new faces in the post-season. Sachtleben was pitted against Jill Prentice, a Richmond senior who had won the conference meet two years prior (before Sachtleben had ever put on a pair of spikes) and was running on her home course in Hanover County, Va. The pair was inundated in the pack through a mile that seemed slow before Prentice picked it up. Sachtleben followed and started observing, finding the things she loved about racing before.
"I like to sit back and see how other people race," she said, both about the A-10 meet and generally. "I like to listen to their breathing. When they breathe hard, I know I've got them. That's when I feel strong."
Right before the second mile mark, Prentice's breathing changed and Sachtleben made her break, putting as much distance between her and the Spider over the last 1.1 mile of the rolling grass course on her way to victory.
"Now I have to work on putting it in my mind that I'm good enough to do these goals. Last season, I didn't have the experience. If girls beat me, it was okay because I didn't know anything. Now, I belong here; I'm stronger and better. I belong here."
In some ways, her inexperience may help her.
"Nobody knows who she is, well, now they do," Waru-Ewell said. "She wasn't some fantastic high school runner who made a name for herself, and that's good because she doesn't have long histories with girls she's going to run against. She's not afraid of anyone because she has no reason to be. She's game for anything."
Sachtleben has her eyes on an NCAA championships qualifier in the indoor 5k and advancing to the finals of the outdoor 10k. Even though she didn't run while at NOVA, enrolling started Sachtleben's five-year clock to use four years of athletic eligibility. As 2014 starts, she has two indoor and outdoor track seasons and one cross country season.
"We'll see if there's anything in the rules that will help her recover that year," Waru-Ewell said. "It's exciting, having an  athlete that's so new, who doesn't know what she can do. We built a foundation last year and it's time to build on it with volume and intensity and see what she can do."
Recent Stories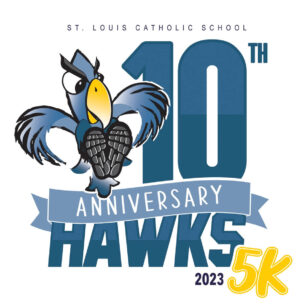 2023 will be the 10 year anniversary of the St. Louis Hawks 5K and Fun Run for Health & Wellness. The USATF certified course runs through the historic Hollin Hills neighborhood in Alexandria, VA.
The Hawks 5K goal, in conjunction