By Steve Nearman
Alexandria, VA
January 7, 2010
For the Washington Running Report
The destination half marathon will begin at the historic Mount Vernon home of George Washington in Alexandria, Virginia, and will end at the new luxurious National Harbor resort in Maryland. The 13.1-mile course will be USATF certified.
Registration began today at www.wilsonbridgehalf.com. Entries will be limited to 4,000 starters for the inaugural running.
For the first time since the Woodrow Wilson Bridge was first constructed in 1961, runners will have an opportunity to race across the infamous bridge which has been the bain of frustration for motorists passing over the Potomac River from Maryland to Virginia and back on the congested Interstate 95.
"Runners love bridges and until you actually run up and over the Wilson Bridge you cannot believe what a cool feeling that is," said Steve Nearman, founder of Endurance Enterprises and event director of Woodrow Wilson Bridge Half Marathon. "You are right there with the vehicles and the view of Washington's monuments is spectacular."
Runners will be transported from National Harbor by bus to the start line at Mount Vernon. From there, the scenic course rolls along the George Washington Memorial Parkway to quaint historic Old Town Alexandria, then over the Potomac River via the Woodrow Wilson Bridge. The world-famous Awakening statue will greet the runners at the finish line at National Harbor.
"The challenge on this course is the rise up the bridge at 10.5 miles, more than a half mile climb I affectionately call 'The Rude Awakening,'" said Nearman, a veteran running journalist and distance competitor. "Boston may have its Heartbreak Hill, but we have a heartbreak hill of our own, too."
Pacers Events, the race director for the highly successful GW Parkway Classic 10-Miler and other quality Washington area running events, will serve as race director for the Woodrow Wilson Bridge Half Marathon. See www.runpacers.com.
The race will benefit more than a half-dozen local charity partners. Training programs associated with the half marathon will be announced soon. Age group awards and prize money will be announced as well.
Hotel packages are being arranged for those athletes and their families interested in a weekend sightseeing visit to Washington's plethora of attractions.
For information, visit wilsonbridgehalf.com or call Steve Nearman at 703-587-4321.
Recent Stories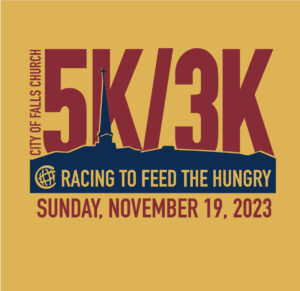 The out and back Falls Church City 5K/3K course is mostly flat on the W&OD Trail starting and finishing at 103 Columbia Street. Overall male and female winners earn free shoes and medals are awarded to all categories. Great family